Persuading website visitors to become members isn't always easy. However, having a professional-looking website that conveys trust and reliability goes a long way toward improving membership sign-up rates.
In this guide, we'll cover some of the free things you can do to make your membership site more professional, as well as a few suggestions that require a financial investment. Depending on how serious you are about taking your website to the next level, you should have a long to-do list by the end of this article.
Top Tips for Making Your Site Look Professional
Getting people to your site in the first place can be difficult, so once they have arrived, it's highly recommended you do all you can to turn those visitors into paying members.
An unprofessional-looking website could be one reason why visitors are leaving without signing up. So if you're interested in learning how to make your site look more professional and something people are happy to invest their time and money in, here's the information you need.
Purchase a Premium WordPress Theme
Although it's possible to get away with a free WordPress theme for your paid membership site, unless you're on a very strict budget, paying for the right premium WordPress theme is a great investment.
Not only do paid themes tend to look better than free options, they also often include extra features and tools that facilitate setting up your website. For example, paid themes typically give you more control over the design and appearance of your website.
This allows you to ensure that the style of your site (i.e., typeface and colors) matches your branding and appeals to your target audience. Other tasks, like uploading your logos and adding a favicon to your website, are usually easier to perform with a good paid theme.
Furthermore, some premium themes, like the popular Divi and Avada, include additional features, like page-builder tools, that let you customize your website even further. And sometimes you also have access to useful add-ons for carrying out split testing to optimize your site for more conversions.
In fact, the Divi theme from Elegant Themes has a layout pack designed for promoting membership sites. And MemberPress features a built-in add-on called MemberPress Courses, that lets you build and sell beautiful online courses in a flash.
With some of the most popular premium WordPress themes available for around $60, this is one example where a low-cost investment can have a big impact on your membership site. Check out our guide to choosing a WordPress theme for your membership site if you'd like more advice on this topic.
Invest in Fast Web Hosting
Every website needs web hosting, and although you can pick up cheap hosting for a few dollars each month, if you're serious about your membership site and growing your business, it's well worth investing in good web hosting.
What does good web hosting mean? As site speed has a big impact on website conversion rates, with slow loading times reducing the number of visitors who sign up and become members by a considerable amount (some studies state that a one-second delay can reduce conversion rates by 7%), good hosting in this context means a service that can serve web pages as quickly as possible.
For some membership-site owners, especially those just starting out, this could mean choosing a budget-friendly shared host with a good reputation, such as SiteGround,. For those with bigger budgets, investing in premium managed WordPress hosting from a company like WP Engine or Kinsta can have a big impact on loading times.
Often, paying more for better hosting also reduces instances of downtime while giving you access to more experienced support staff and extra features like staging sites, automatic website backups, and improved security.
Keep Your Website Optimized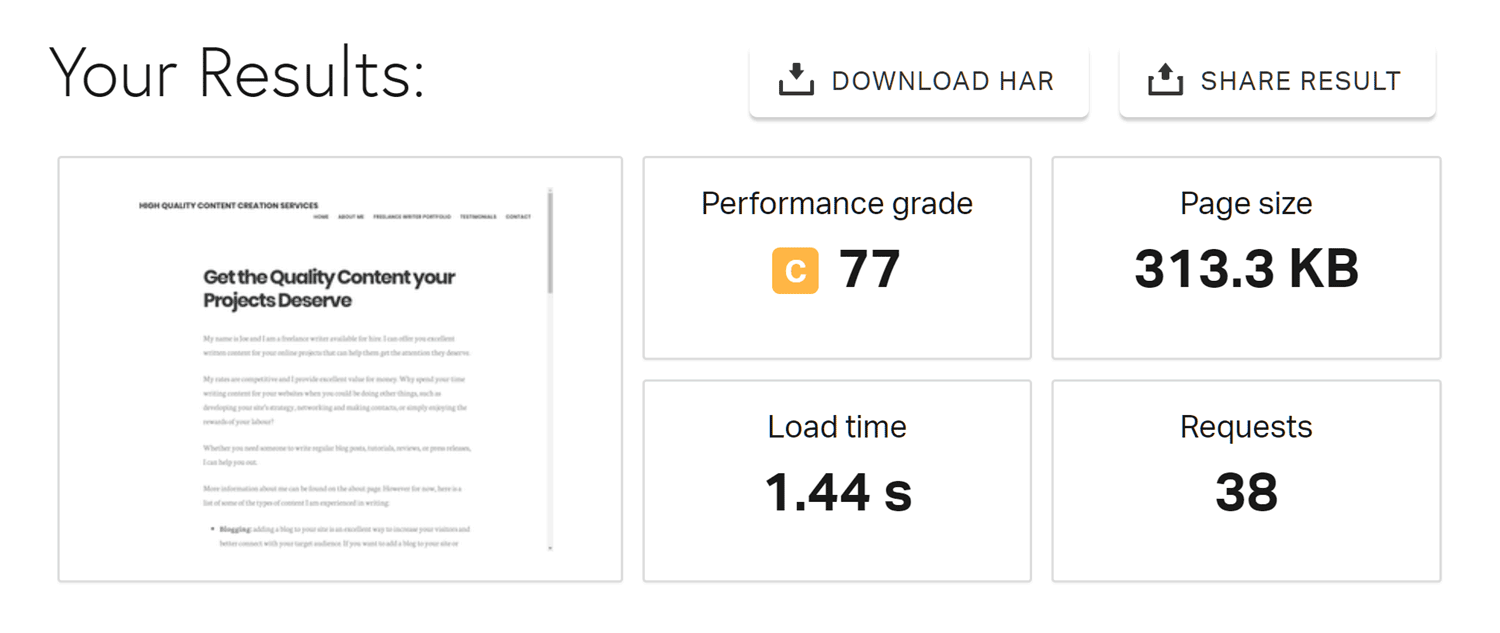 Upgrading your web host isn't the only way to improve the speed of your membership website and make it look more professional. Installing a few free or paid WordPress plugins allows technologies like caching and image optimization to help your site load faster and hopefully increases membership sign-ups.
Site optimization also helps reduce the page errors that can instantly make a site look untrustworthy and unreliable. We've compiled a collection of tools and services that can help you monitor the performance of your WordPress website so you'll know whether this is an area you need to focus on.
Display Client Logos, Awards, and Badges
Similar to member testimonials and reviews, publishing the logos of organizations you've worked with or awards you've received gives your site a more professional look. Even if it's the logos of clients you've worked with on previous projects, as long as you make it clear what the relationship was, this information helps demonstrate your professionalism to membership site visitors.
Publish Member Testimonials and Reviews
Displaying testimonials, reviews, and feedback from members is an effective promotional tool. Apparently, 88% of consumerssay they trust online reviews as much as personal recommendations, so it's well worth soliciting and publishing feedback from your members if you want to make your site more professional and generate more sign-ups.
So once a few members have gone through your site, be sure to ask for their feedback. If it's positive, share it on your site to let visitors know your membership program is worth investing in. If you've yet to sign up any members, consider contacting people you've worked with in the past who can provide a few positive words about your expertise, knowledge, and character. For extra points, try publishing video testimonials as they are said to be even more effective than text-based content.
If you're really serious about sharing how valuable your membership program is, consider publishing case studies on your website as well.
Proofread Your Website Copy
There's not a lot that looks more unprofessional than typos and other errors in your website copy. Thankfully, there are great tools out there that can help reduce the occurrence of this problem. For starters, most browsers now have built-in spellcheckers that highlight errors while you're working in the WordPress Editor. For extra vigilance, a free browser extension like Grammarly can catch even more errors.
If you don't write your website content in a word processor like Microsoft Word or Google Docs before uploading it, it's well worth copying and pasting your content into one of these apps to use their often superior proofreading and spell-checking tools.
By using a few different tools and services to create multiple layers of protection, you'll catch most errors before they can damage your online reputation. However, if you're still having problems, our guide on how to find a good editor for your website can help you get some extra assistance.
Work on Your Search Engine Optimization
Search engine optimization (SEO) not only helps more potential paying members find their way to your membership site, but prominence in search-engine results gives your site an air of professionalism.
For those potential members doing a lot of research before deciding which membership site to sign up with, high visibility in the search engines is seen as a sign of credibility, trustworthiness, and professionalism that makes the difference between choosing one option over another. Thankfully, there are a few simple SEO strategies that can help you optimize your membership site without too much effort.
Final Thoughts
Hopefully, you now have a list of tasks you can implement to make your membership site look more professional.
Some options, such as upgrading your web host, will require a financial investment, while others, including checking your content for errors and publishing testimonials, are free to implement.
But whatever your budget, this guide to taking your website to the next level has given you some ideas on how you can improve your membership site for better conversions and more membership sign-ups.
What have you experienced that has made a website look unprofessional? Please share your thoughts in the comments below.
If you liked this article, be sure to follow us on Facebook, Twitter, Instagram, and LinkedIn! And don't forget to subscribe in the box.