Want to grow the number of members for your online course or other type of membership service? You may want to consider starting an affiliate program.
An affiliate program allows you to pay a commission to anyone who sends a new member to your site. This gives your existing members, fans, and Internet entrepreneurs incentive to promote your membership course both online and off.
Unlike advertising, where you pay up front for exposure and hope you'll receive a return on your investment, affiliate programs only require you to pay out when a new member signs up.
Performance-related payments are just one of the benefits of creating an affiliate program for your membership site. There are more, and we'll cover them in a minute. By the time you've finished reading this article, you'll not only know if using an affiliate program is right for you but also how to get started and handle the technical aspects of implementing your own.
What Is an Affiliate Program?
As mentioned, an affiliate program rewards people for sending new customers to a specific destination, such as an online shop or membership course. Affiliate programs have become increasingly popular online, with even huge retailers like Amazon jumping on board. In the case of Amazon, anyone can join their Associates program. Each time a person (aka affiliate) sends a customer to Amazon and that customer makes a purchase, the affiliate earns a commission.
MemberPress has its own affiliate program, giving you an opportunity to earn up to 30% commission on each new customer you recommend our plugin to. We've found it's a great way to bring in business.
If you're looking for a fantastic way to build a customer base for your premium membership site, offering a referral commission to anyone who successfully promotes your membership content is a popular option.
The Benefits of Implementing an Affiliate Program for Your Membership Website
We've mentioned how running an affiliate program for your membership website is a cost-effective way to attract new members. As you only pay those who are successful at generating new members, there are very few up-front costs involved. It's a no-results, no-fee, performance-based model. In addition to that appealing fact, here are some of the other benefits to launching your own affiliate program.
Leverage the Followings of Others
If your membership service is new and you don't have much of a following yet, you probably want to want to gain some attention, right? One option is to leverage the audiences of others by offering affiliate commissions.
For example, if you run a fitness-related membership website, then approaching a popular fitness blogger and introducing them to your affiliate program can be a win-win opportunity for everyone involved. You get more exposure, they earn money, and their audience is introduced to a useful resource.
If there's someone in your industry who's particularly influential, you could offer a higher commission rate than normal in order to make it more attractive for them to promote your course. Don't be afraid to give them free access to your product so that they can confidently promote it to their followers.
Give Something Back to Your Loyal Members
Another advantage to starting an affiliate program is that you can reward your existing members and give them a chance to earn an incentive each time they recommend your course to one of their contacts.
This not only results in more new members for your course, but it can also help retain existing members. Their affiliate rewards can be used to offset the monthly costs of your membership course, helping you to reap the benefits of a large community of established members.
Increase Exposure and Sales
Even if your affiliates' promotional efforts don't immediately lead to a membership increase, each time they send a new visitor to your course or publish a link back to your website, the visibility of your project is expanded.
If you've set up an email list or have been publishing useful content on your blog, there's a good chance those new visitors will become subscribers. Those links back to your site can help with search engine optimization (SEO), too.
The Downsides of Running an Affiliate Program
One of the main downsides of running your own affiliate program is that it often involves additional work on your part. As we'll soon see, the technical aspects of setting up an affiliate program are relatively straightforward. However, installing an appropriate plugin and defining your program are tasks that'll need to be completed in addition.
Then there's working out how much commission to pay your affiliates and deciding whether you want to offer bonuses to high performers. Offering incentives to those with large audiences to join your program is something else to consider.
Thankfully, a good affiliate solution can take care of most of the work—such as the registration of new affiliates, monitoring and tracking sales, and handling payouts. But be aware that an affiliate program is something you'll need to think about often and actively engage in if you want to see results.
Another potential downside is that your membership website could end up being promoted by unscrupulous affiliates. You might discover that your offer is being promoted by those looking to make a quick buck. These schemers are prepared to make outlandish claims in order to get a sale and collect an affiliate payment. One way to effectively avoid this is to carefully vet applicants or work on an invitation-only basis.
As with most things in life, there are drawbacks. However, if you start carefully, choose the right tools, and monitor results, launching an affiliate program is a proven way to generate more business.
How to Start an Affiliate Program for Your Membership Site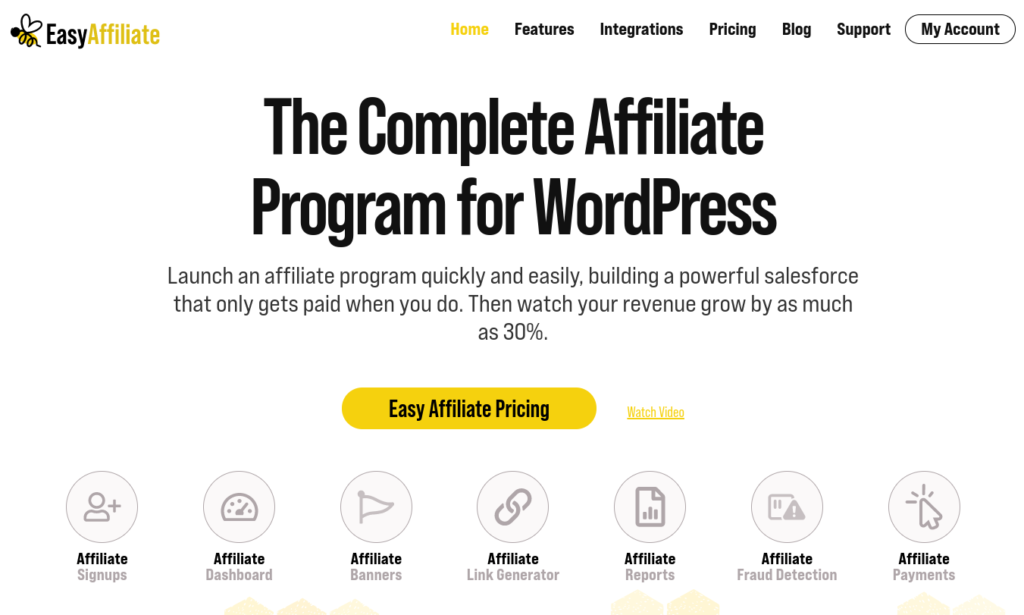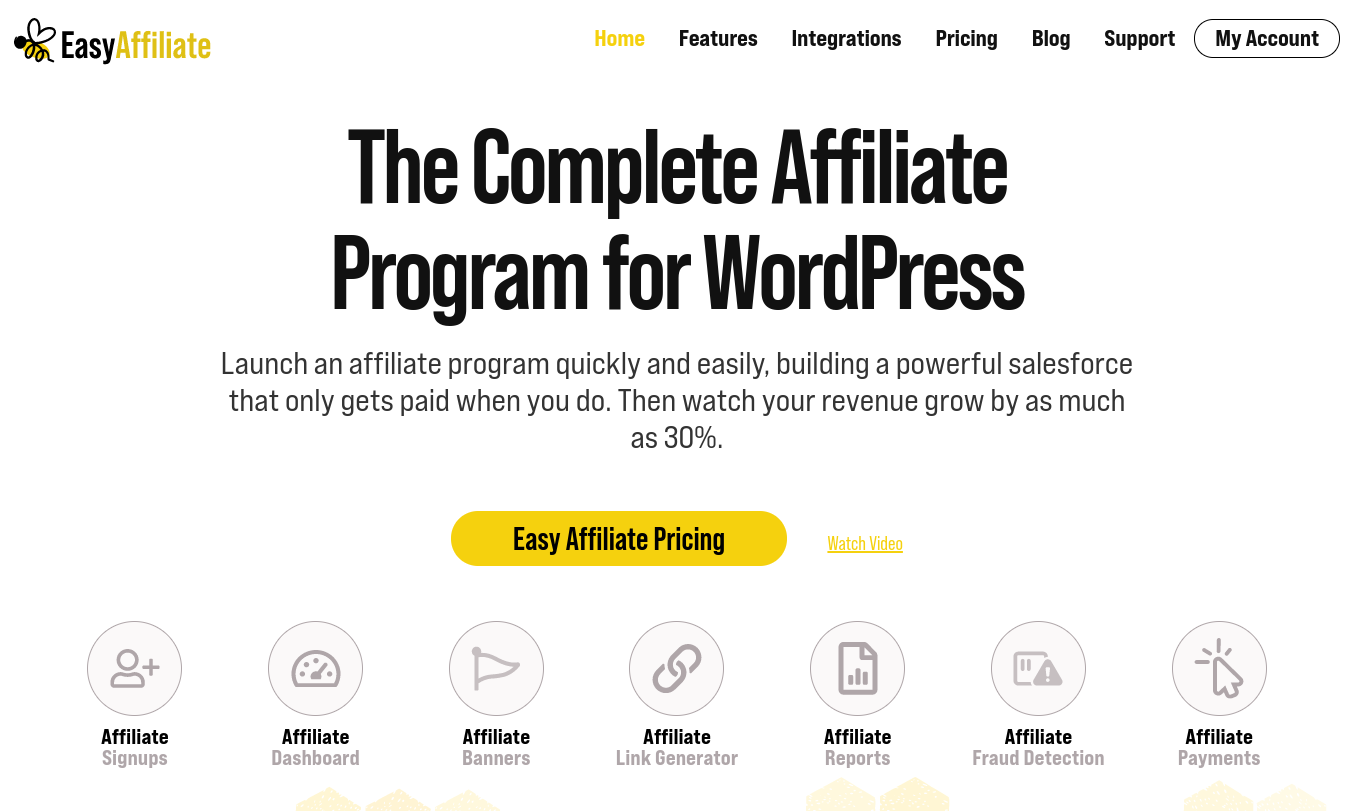 One of the easiest ways to start your own affiliate program is to use a WordPress plugin like Easy Affiliate. In fact, this WordPress plugin is created by the same folks as MemberPress, which means integration is seamless.
Once you've activated Easy Affiliate or another suitable plugin on your WordPress membership site, you can start defining the structure of your affiliate program – you'll decide how you accept affiliates to your program, how much commission they'll earn for each referral they send your way, and you'll work with other settings, such as how and when to pay your affiliates.
To help your affiliates achieve success and to generate more new members for your course, you can create banner adverts and other promotional content for them to make use of. Your affiliates can then log in to their dashboard area to access that content, as well as track their stats through their own control panel.
If you choose the right tool, running and managing an affiliate program is surprisingly hands-off.
Final Thoughts
By launching your own affiliate program, following the best membership site marketing strategies, and implementing proven SEO strategies, there is no reason why you can't increase the number of registered users on your course or other membership projects.
If you've yet to choose MemberPress, don't forget that the Easy Affiliate WordPress plugin integrates seamlessly, giving you a great way to promote your project with affiliate marketing.
What's stopping you from starting an affiliate program for your membership site? Share your thoughts in the comments below.
If you liked this article, be sure to follow us on Facebook, Twitter, Instagram, and LinkedIn! And don't forget to subscribe in the box below.