What if there were a way for you to make more money from the free and premium content you've already written on your Membership Site? Well, there is … it's called affiliate marketing. All you need to do is sign up for the affiliate programs of products you've endorsed or mentioned, create an affiliate link (which tracks your referrals) and add them to your website!
Unfortunately, it's hard to manage the placement of your affiliate links manually, especially if you have a large backlog of content. You're also guaranteed to miss out on important revenue, because it's easy to miss pages and posts where you could add an affiliate link when doing so manually.
Enter the joys of WordPress auto-linking plugins! These tools not only help you manage your affiliate links on your WordPress website but they will search through all of your pages, posts and other content and will replace keywords with Affiliate Links—like magic!
In this post we'll look at the top three content auto-linking plugins you can add to your membership site to instantly start making more cash.
How Does Content Linking Work?
Content linking is the process of connecting the link from one website or web page to a page within your website.
Content linking can be done internally (linking other pieces of content within your website) or externally (using outside links, such as affiliate links).
Content linking is a great way to build SEO and market your business. It also allows you to earn passive income by generating revenue through your affiliate links.
As mentioned, one major drawback to manually adding links to your content is that it can be easy to miss all the places where you can add those affiliate links, which leaves money on the table.
So let's take a look at the best content auto-linking plugins you can use on your membership website.
Pretty Links is a WordPress plugin that makes shortening, managing, and implementing your affiliate links a breeze.
Pretty Links gives you the tools to manage all the links of your choice, including social media links, affiliate links, and more. With Pretty Links, you have complete control over how your links look and where they direct, and they are all available right from your membership site's admin area.
Pretty Links is a WordPress plugin, so installation is simple. All you have to do is purchase the plugin, upload the plugin's zip file to your website, activate it, and you'll be able to start creating links immediately.
This tool can automatically create short links for all of your pages and posts. It can even automatically tweet a customizable message to as many Twitter accounts as you want when a post is published, as well as customize your posts on all of your social media platforms.
In addition to all of that, Pretty Links allows you to group, sort, search, and track your link's clicks in real-time. The plugin gives you all of the tools necessary to manage all of your links: social media links, redirects, affiliate links, and any other link you choose. Another beautiful part of this tool is that you can easily access it from your WordPress dashboard, so you won't have to worry about accessing another site or using another tool to manage your links.
Pretty Links has three annual plans to choose from:
Beginner – $99
Marketer – $149
Super Affiliate – $199
ThirstyAffiliates is another excellent WordPress affiliate link management plugin that allows you to add, manage, and easily insert affiliate links into posts and pages on your membership site.
Settting up ThirstyAffiliates is simple and easy. All you have to do is install the plugin, add your link, and start writing your blog post. The cool thing about this plugin is that is creates new, shorter links to use instead of a long, drawn out affiliate that now contains your site's URL. ThirstyAffiliates even has a button in your post editor so you can also manually add your links.
Another cool element included in ThirstyAffiliates is the Link Health Check feature, which automatically checks on your links to make sure there are no broken links or 404 errors, ensuring your links are always working for you! This is an major time-saving feature, because you won't have to worry about manually going through all of your many affiliate links to check for errors or updates.
ThirstyAffiliates also has the ability to group your affiliate links into hierarchical categories. For example, you can place all of your software links together or all of your financial affiliate links in another category.
With ThirstyAffiliates, you get tools like automatic keyword auto-linking, link fixing to ensure your links stay up-to-date, reporting, Google Analytics integration, and more.
The tool is also compatible with other affiliate programs.
ThirstyAffiliates offers the following annual pricing plans:
1 Site License – $99
5 Site License – $149
10 Site License – $199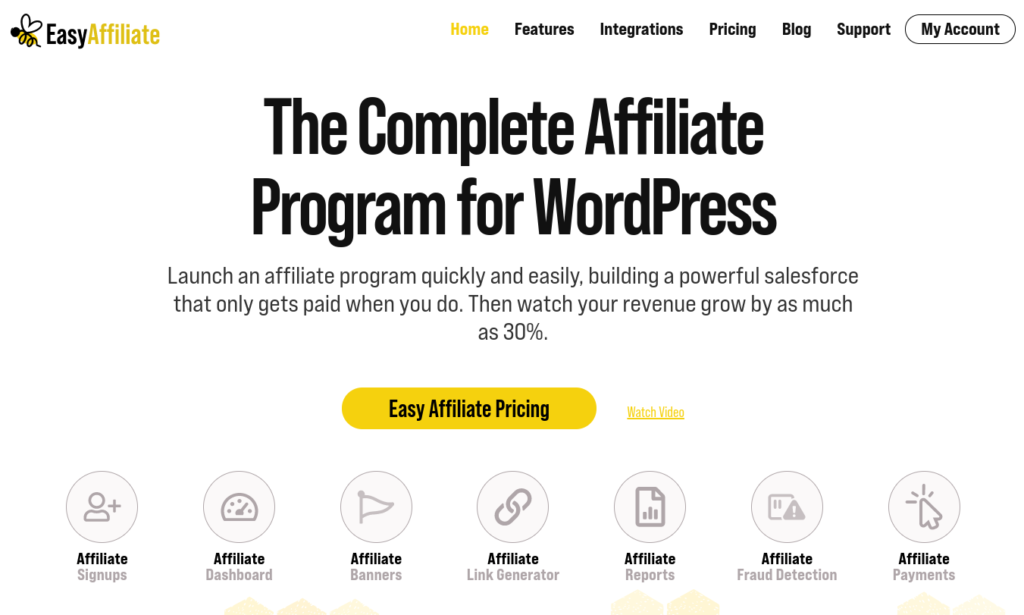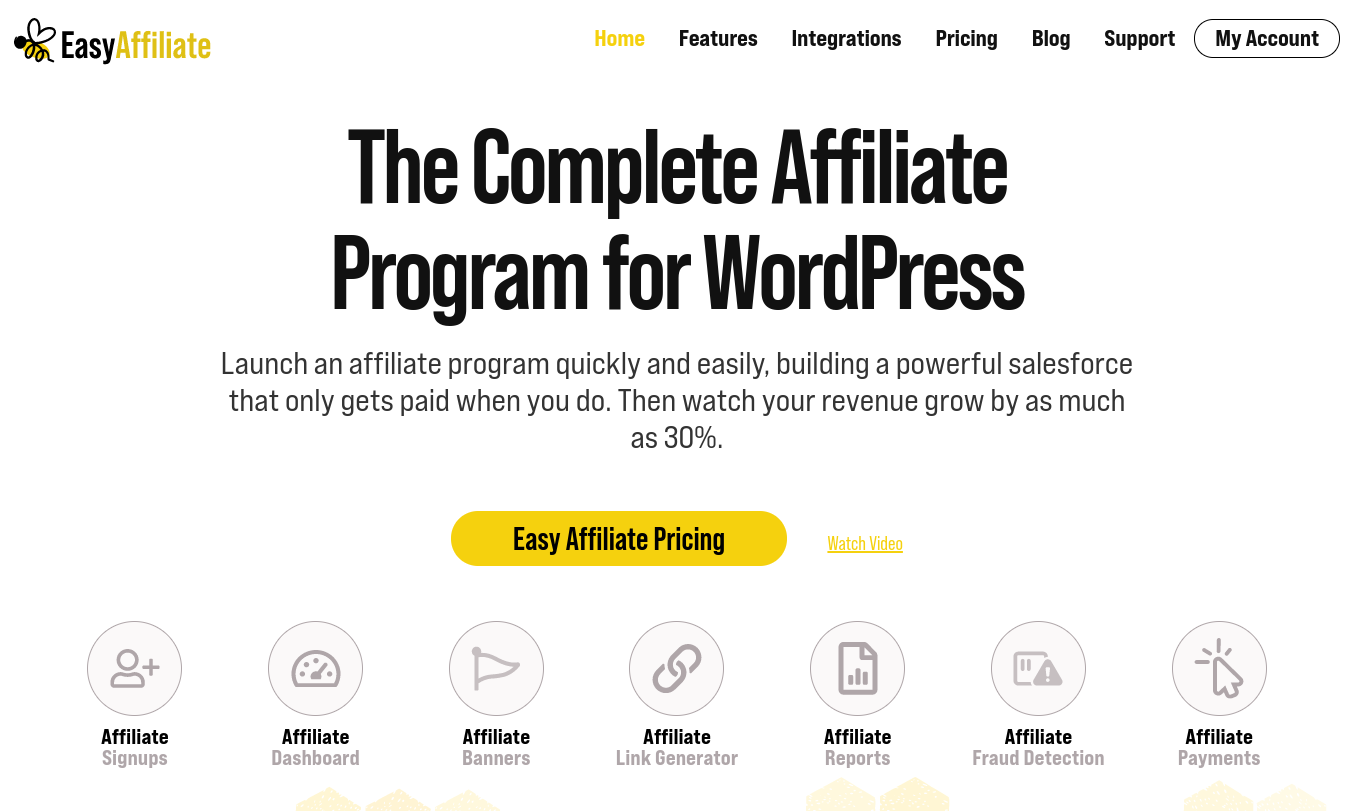 Have an affiliate program within your membership site? Check out the WordPress plugin, Easy Affiliate. This plugin is also an excellent option for online business owners who want to manage, implement, and track affiliate links for their affiliate program effectively and efficiently.
Easy Affiliate is super simple to set up, easy to use, and easily integrates with your WordPress website. If you're a MemberPress user, you can rest assured that it works seamlessly with your membership website. It's created by the same folks as MemberPress!
Easy Affiliate has three annual subscription options:
Basic – Currently $99
Plus – Currently $129
Pro – Currently $199
Affiliate link management tools can be a lifesaver for your online business. Utilizing them means you no longer have to worry about remembering where and when to insert your affiliate links. Using any of the tools above will help you take advantage of all the money you've been leaving on the table with manual affiliate linking.
We hope this article helped you. If you are interested in learning how to implement the tools above on your website, be sure to check out this awesome post from WPBeginner with step-by-step directions. You may also want to check our list of the best live chat software and best WordPress plugins to maintain your membership website.
If you liked this article, be sure to follow us on Facebook, Twitter, Instagram, and LinkedIn! And don't forget to subscribe in the box below.