Create The Ultimate Contest With These Online Giveaway Tools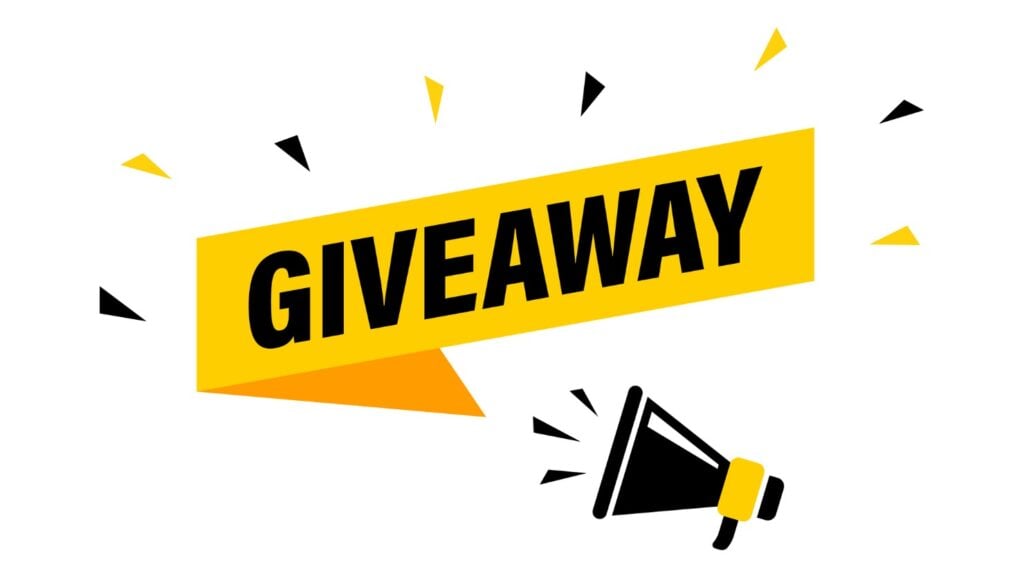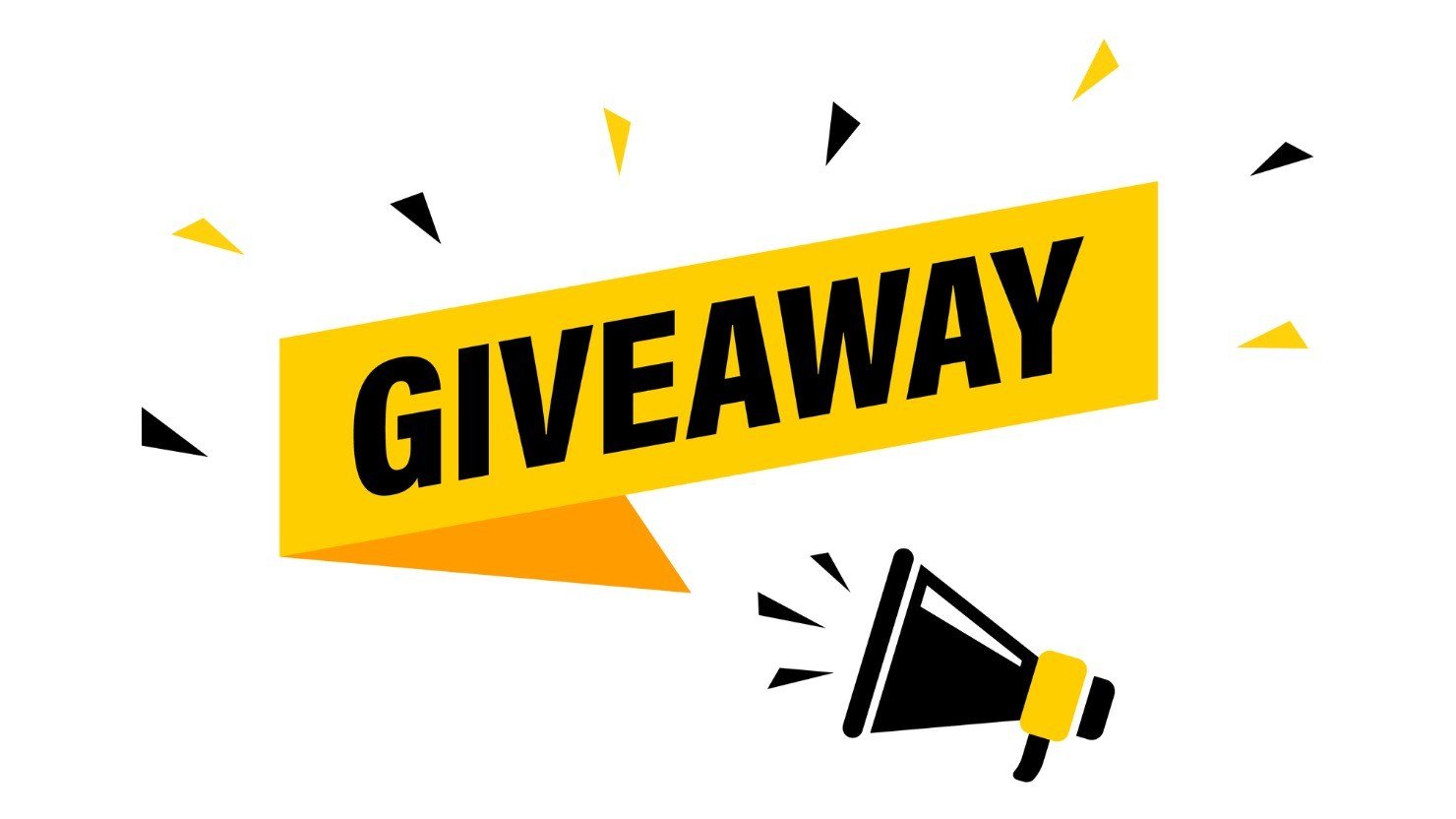 Who doesn't love a good giveaway?
Running giveaways are an excellent way to engage & reward your members, and promote & grow your membership site.
And what's even better, there are a ton of inexpensive tools out there that can help you host the ultimate giveaway, without breaking a sweat or the bank. There are very few marketing activities you can do that have a better ROI than a well planned & executed giveaway.
If you don't have one yet, start a membership site today! Then you'll be set to start your giveaway with one of these tools tomorrow.
In this post, we are going to share seven tools that will help you to create a giveaway that your customers and followers won't want to miss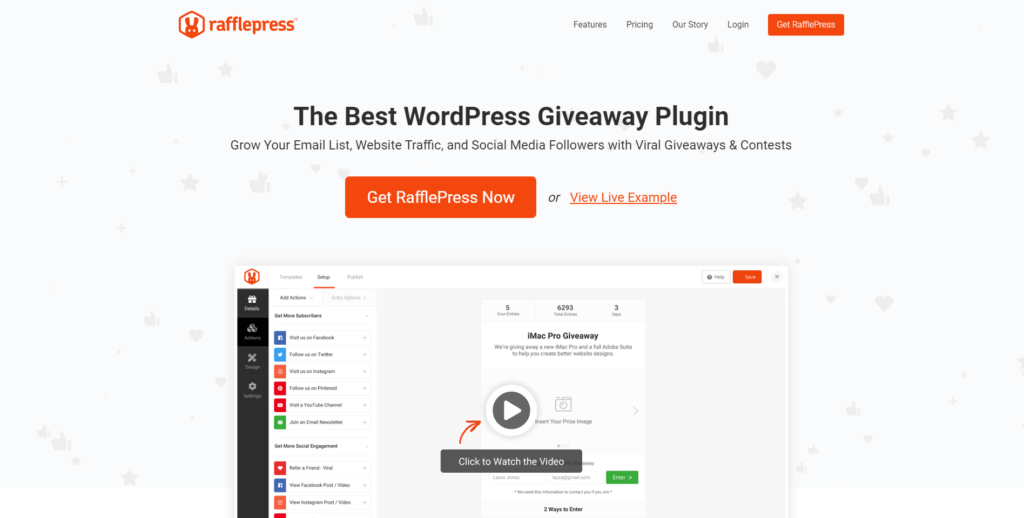 RafflePress is the best contest and giveaway WordPress plugin. We use RafflePress here at MemberPress to run promotional giveaways and giveaways to our customers. It works insanely well.
RafflePress was created to make the process of creating and managing your website's giveaway much easier. RafflePress does this by offering pre-built templates and a drag-and-drop builder so you can quickly build your contest's landing page. Then you can have it up and running in no time without negatively impacting your WordPress website or theme!
RafflePress also includes fraud protection, which means that your giveaway doesn't have to worry about any dishonest people trying to cheat. This tool has a feature to help you easily create contest rules – and these are included in the free version!
RafflePress also has a paid version. With paid plans, you get great features like Email marketing and CRM integrations, image submission entries, viral sharing features, and polls and surveys.
A paid subscription to RafflePress starts at $49 per year.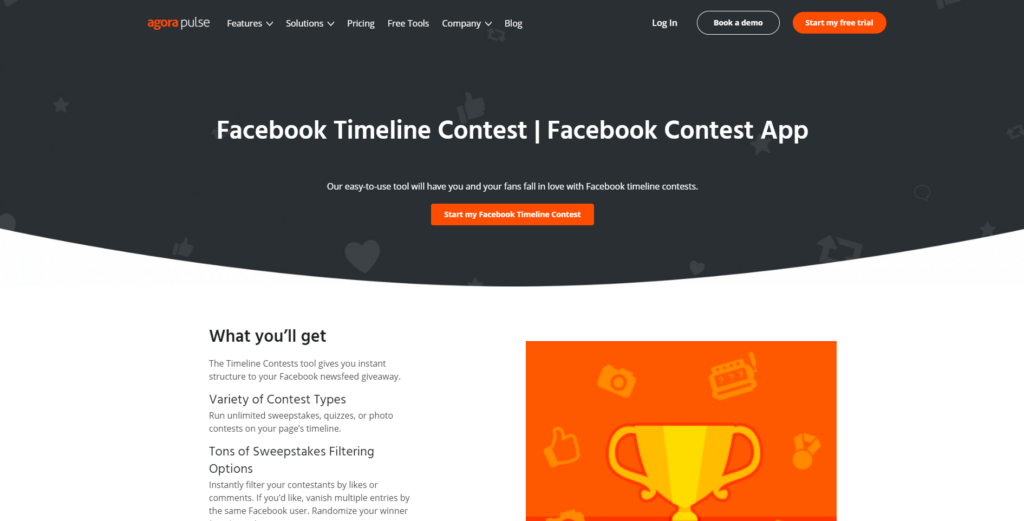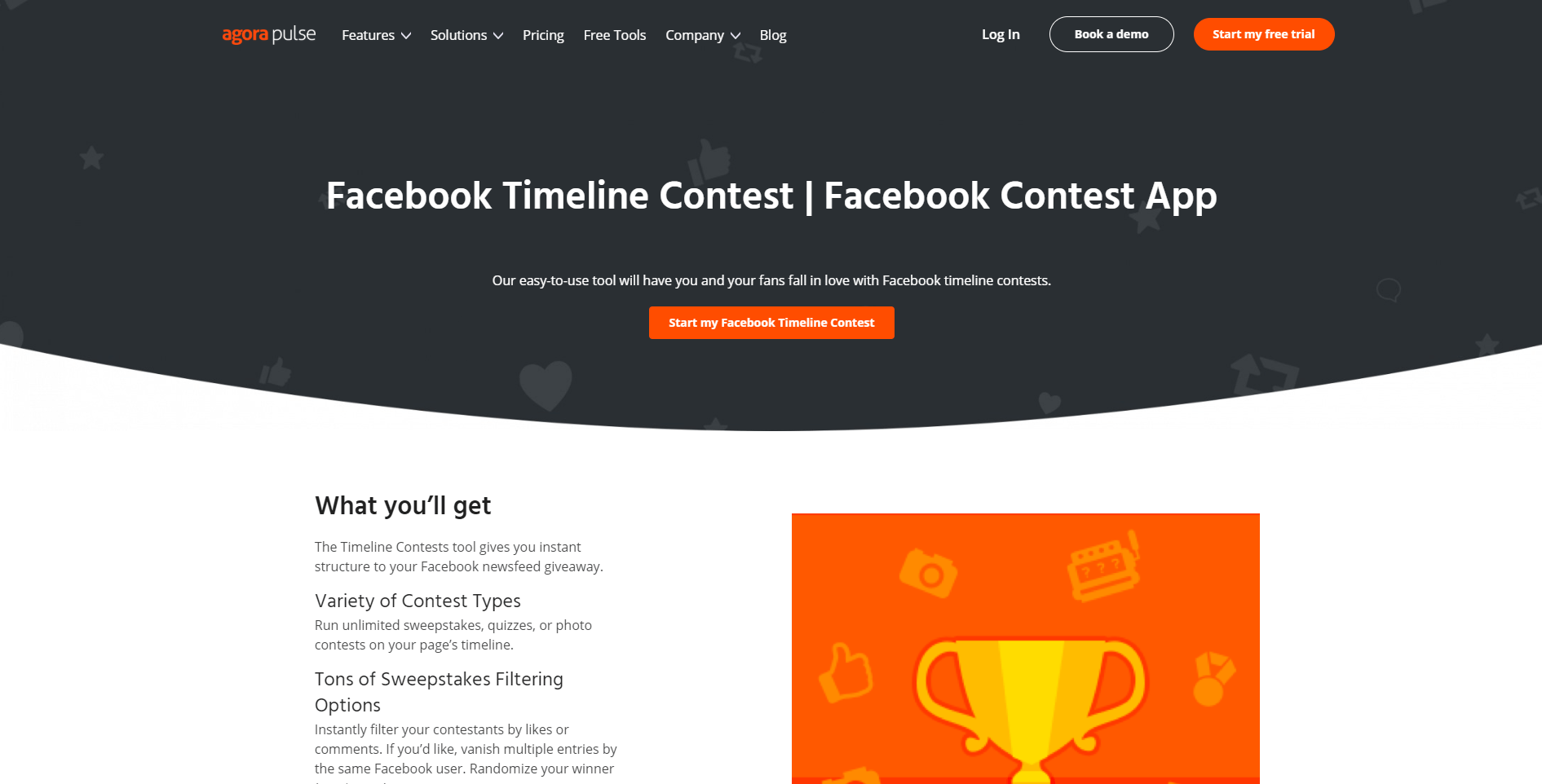 Agorapulse is mostly known for being a great social media management tool, but it also has a great Facebook Timeline Contest App.
With this feature, you can filter entries, randomly pick contest winners and even automate this process during contests that require engagement, such as a contest where the person with the most likes on their photo wins. The coolest thing about the Facebook Timeline Contest App is that you can create several types of contests with this feature.
Although this tool is limited to Facebook contests, this tool is easy to use and can get the job done!
This particular tool is entirely free, but if you are interested in using Agorapulse for social media management, pricing begins at $79/month when billed annually.
The third giveaway tool on our list is ShortStack!
ShortStack is a tool that allows you to create giveaways, contests, quizzes, landing pages, and more.
With ShortStack, you get all kinds of great features, such as the ability to create landing pages, email and live chat support, fraud protection, unlimited giveaway campaigns, automatic winner selection, and much more.
Best of all, ShortStack's content software is free! However, ShortStack does have premium plans to choose from, starting at $29 per month.
Next on our list is Woorise, a platform that helps you create giveaways and contests to increase sales and engagement in your online business.
This tool allows you to create contests using several cool features in both its free and paid plans.
In Woorise's free plan alone, you can take advantage of free content and features like detailed analytics, 1-click random winner, pre-made layouts, and the ability to export data using CSV files.
Interested in the paid version of Woorise? There are even more features to take advantage of:
Drag and drop builder
Multi-language support
Create polls, quizzes, and surveys
Country restrictions to run giveaways in specific regions
Email integration
Priority support through email and live chat
GDPR support
Ability to accept payments
And much more!
Woorise's paid plans start at $23 per month per website.
Number five on our list is Woobox! Woobox is another WordPress giveaway plugin that uses shortcodes so you can embed your contest content on your WordPress site easily.
With Woobox, you can take advantage of many features, similar to elements in the tools we mentioned above: customizable templates, numerous integrations, landing pages, random winner selection, and even entry collection via hashtags, likes, and comments on social media.
Woobox does have both a free plan and a paid plan that starts at $37 a month.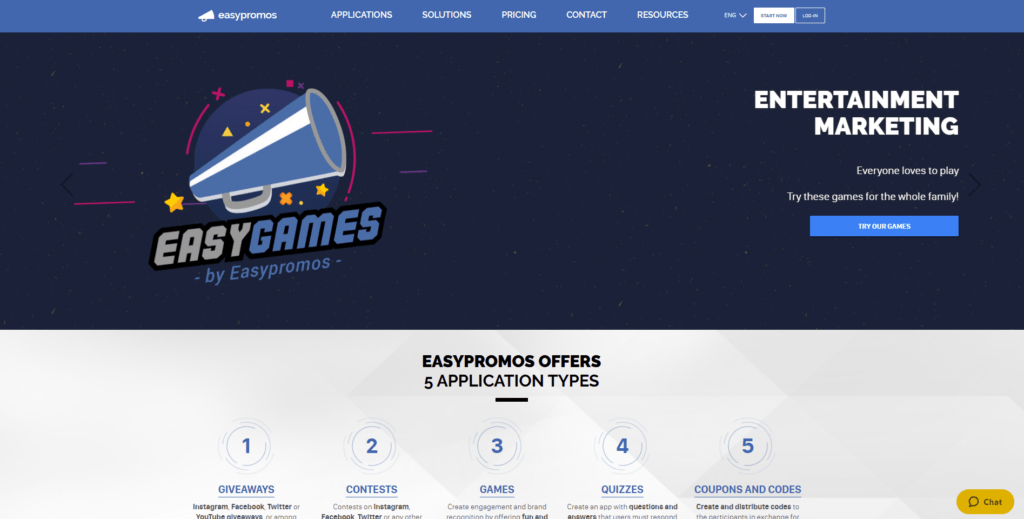 Easypromos prides itself in being "the most comprehensive and reliable platform for promotions on Instagram, Facebook, Twitter, YouTube, and around the web."
This tool offers assistance with five different application types: direct giveaways, social media contests, games, quizzes, coupons and codes.
Easypromos comes with fraud protection, multilingual promotions, the ability to utilize influencers and sponsors in your giveaways, detailed reporting, and mobile-responsive designs for your giveaways.
Easypromos does not have a free version; However, it does have a paid subscription that starts at $29 per month. They also have the option to purchase a single promotion(excluding certain types of giveaways) for a set price, depending on the length and type of promotion that you want to run.
KingSumo is an online contest tool that comes from the same team that creates AppSumo.
This tool is relatively straightforward and offers benefits, such as:
Facebook pixel tracking
Contest start and end scheduling
Custom branding
Zapier integration
Another cool thing about this tool is that they have versions available for both for WordPress users and non-WordPress users so that anyone with a membership program can use it!
KingSumo does have a free version, but to take advantage of the many benefits of the platform, it would be a good idea to purchase the paid option, which is $19 per month. However, you can also buy a license that lasts a lifetime, which means that you pay one time, and you're done!
A Personal License with KingSumo is $198. You can snag a Developer License for $594.
Final Thoughts
Giveaway plugin tools can make your life a lot easier while still creating an awesome contest for both your members and your membership site.
Giveaways are a great way to get attention for a new membership site when you're first launching. Get your membership site started today then use your giveaway to get it off to an amazing start!
If you use any of the tools we mentioned above, you'll be sure to have a great promotion!
What is your favorite giveaway WordPress plugin? Tell us in the comments below!
If you liked this post, then please follow us on Facebook for more great content. You can also find MemberPress on Twitter and Instagram.