Captain's Log, stardate 21153.6. 40% of the American workforce are now freelancers and the number continues to climb at a breakneck pace.
While we may be talking about a time five years in the future, Business Insider predicted back in 2013 that by 2020, 40% of American Workers will be freelancers. Thats over 60 million people in the US alone!
What that means for the typical business owner, is that it will become increasingly easy to hire, train, and manage a team of globally diversified employees in the years to come.
If you're running a growing membership site, it won't take long before your workload starts piling up and you find yourself needing help. At this point, turning to the freelancer market might seem like a good idea.  However, you may well have some concerns about hiring a team of workers on this basis:
Which aspect of hiring a freelancer deserves the most consideration?
What should you expect from your remote worker that is different than an in-house employee?
How can you keep people happy and productive?
These are all important questions that need to be answered. That's why we're going to cover four key points that will help you hire a remote team capable of functioning as smoothly as the Star Trek Bridge Crew.
Oh, and in case you're worried this can't be done, we'll start by showcasing three companies who have built a thriving business with teams that are incredibly diverse and distributed.
Three Companies Who Have Successfully Built Distributed Teams
Here are three successful companies who have thrived while utilizing teams of remote workers:
Automattic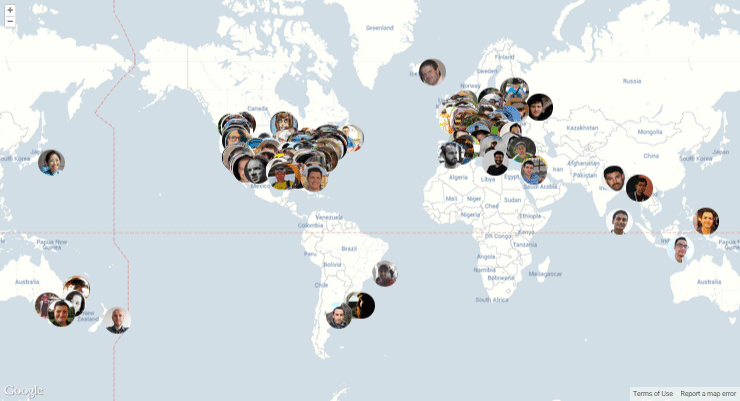 Although you'd never know it, Automattic, the company behind WordPress.com and a major contributor to the WordPress core has team members in 36 countries around the globe, covering every single continent.
Groove
Alex Turnbull at Groove decided from day one that he would build his new start-up using a distributed team. He made the decision after building a centralized team at his previous company in New York City and realizing that, although not perfect, a distributed team offered several distinct advantages.
BaseCamp
As one of the leading project management apps, BaseCamp takes a slightly different approach. With a head office in Chicago, BaseCamp offers its employees the opportunity to work from a centralized location or, alternatively, anywhere in the world. This flexibility has allowed them to build a team spread over 26 countries.
The three companies above represent a growing trend towards building distributed teams. But if you're running a smaller business, you might be wondering how to get started building your own distributed team. What are the most important considerations to think about before you get started?
Four Key Points To Be Aware of Before Building Your Remote Team
While it might seem daunting, if you keep these four key points in mind, you should be able to get your remote team off to a great start:
Focus on Systems
Building a remote team is not all that different than transporting a landing party to an (as of yet) undiscovered planet. You want to assemble a group of people with diverse skills who are capable of working efficiently as a team, but that can be a real challenge without the appropriate systems in place. Let's be honest: if you've ever worked in an environment where office politics are the norm, you'll know that's no walk in the park either!
Managing distributed workers means you'll have to place an emphasis on systems and procedures including the following:
Create standard operating procedures (SOPs) wherever appropriate. Obviously, some positions such as a front-end developer may not fit well into a specific mold, while others such as member service representatives probably will. Creating job descriptions and workflow templates for each position will make your job easier when the time comes to expand your team or replace an employee/contractor.
Establish a method of communication for your team and require that everyone is on board. Whatever you do, stay out of your inbox. Services such as Slack or BaseCamp provide an easy way of centralizing your workflow and communication.
A Great Employee Isn't Always a Great Remote Employee
Just because someone has a demonstrated the ability to work well in an office environment, it does not mean that they will be capable of self-managing their work as a remote worker. Working as part of a distributed team requires a completely different skill-set and you'll need to outline your requirements from day one, focusing on:
Communication
Deadlines
Reporting
Availability
Learn To Let Go
If you're accustomed to managing people in an office, prepare yourself for a major change. Building and managing a remote team requires the ability to let go of certain things. You'll no longer be able to walk by someone's desk to check on their progress or monitor their time on social media.
But that's not necessarily a bad thing because, those micro-managing tasks are really just taking you away from your more important work. Instead, you'll need to learn to focus on the work that needs to get done – by you and your team.
Let go of the little details and focus on the big picture. More important than anything else is making sure that the work gets done on time and that your business is moving forward.
Treat People Well and They'll Stick Around
Depending on whether you're building out a team of distributed employees or contractors, you're going to be faced with the very real challenge of keeping everyone feeling like they are part of a bigger purpose. Once you've hired a great employee or contractor, you want to keep them around, right?
You can call it a team atmosphere or corporate culture, it doesn't matter. Either way, by investing time and effort into keeping people happy they'll feel like they are part of something great.
Equally important is the idea that no two team members are alike. Listen to each individual and find out what they value in a work environment. The Energy Project and Harvard Business review conducted a survey of over 12,000 employees that showed the greatest levels of productivity and satisfaction were achieved when all four core needs were met including emotional, physical, mental, and spiritual. It's not all about a paycheck!
Conclusion
Building a remote team can seem like an insurmountable challenge. But teams are also also a critical step in the growth of your business. If your membership website has grown to the point where you are having a hard time managing all the tasks yourself, it's probably time to start looking for help.
Start small by hiring one team member – make sure Scotty has the engine room functioning at 100% capacity – and then expand as necessary. Your business should be running smoothly at each step along the way before you bring you next team member aboard.
If you've built out a team of remote employees or contractors, please share your experiences in the comment below! What were some of the challenges you faced?
photo credit: Juskteez@Unsplash.com