How to Accept User Submitted Blog Posts from Your Members
Key to running a successful membership site is creating a sense of community. After all, if members feel like part of a team and have a sense of belonging, they're more likely to be more engaged with your program. A strong community aspect can also have a positive impact on your membership site's churn rate. And there are other benefits, which we'll cover shortly.
So how do you go about fostering this sense of community among your members?
One way is to give users the ability to add their own content to your membership site, whether in a community contribution section or on a members-only blog.  That's what we'll cover in this guide on how to accept user-submitted blog posts from members and in turn increase their sense of being invested in your program.
Why Accept User Submitted Content on Your Membership Site?
Before we get to how to start accepting user-generated content on your membership site, let's quickly cover why you may want to do so.
First up is that letting your members have more input on your content increases their sense of ownership, which often leads to improved levels of connection and turns passive consumers of content into members who feel more involved with your site.
By letting your members take a more active role in your program, you help them feel like a more integral part of the site and less like just another username on the list of members. You'll even find that some of your members become cheerleaders for your membership platform, taking a more active role in sharing your site with their followers and networks. They'll also be less likely to let their memberships lapse, helping decrease your membership site's churn rate.
Another benefit of giving members the ability to publish their content on your site is that it adds more content to your platform. User-generated content that's only available to other members helps increase the perceived value of your program, whereas content that's publicly available on your website helps bring more visitors via search engines.
Because WordPress is such a flexible platform, you have many options for how to accept user-generated content on your website, as well as what types of content can be submitted. Options include forum discussions, video uploads, knowledge-based articles, and all the other types of content you can create for a membership site.
However, in this guide, we'll focus on user-submitted blog posts, as these can be used for a wide range of purposes and published inside and outside your members-only area. Whether you want to accept the occasional article for your membership site or start a members-only blog, adding this functionality to your WordPress website is easy.
How to Accept WordPress Blog Post Submissions from Users
Thankfully, WordPress has a plugin for almost any feature you'd like to add to your website, and accepting user-generated content is no exception.
While you could simply create a new user account for the member who wants to upload a blog post, there are better and more efficient ways to start letting members submit their own content. With the plugin we're about to explore, you can not only simplify the process of uploading the content—especially for members who aren't familiar with the back-end WordPress interface—but also reduce your workload when it comes to initiating and managing this process.
How to Use the User Submitted Posts Plugin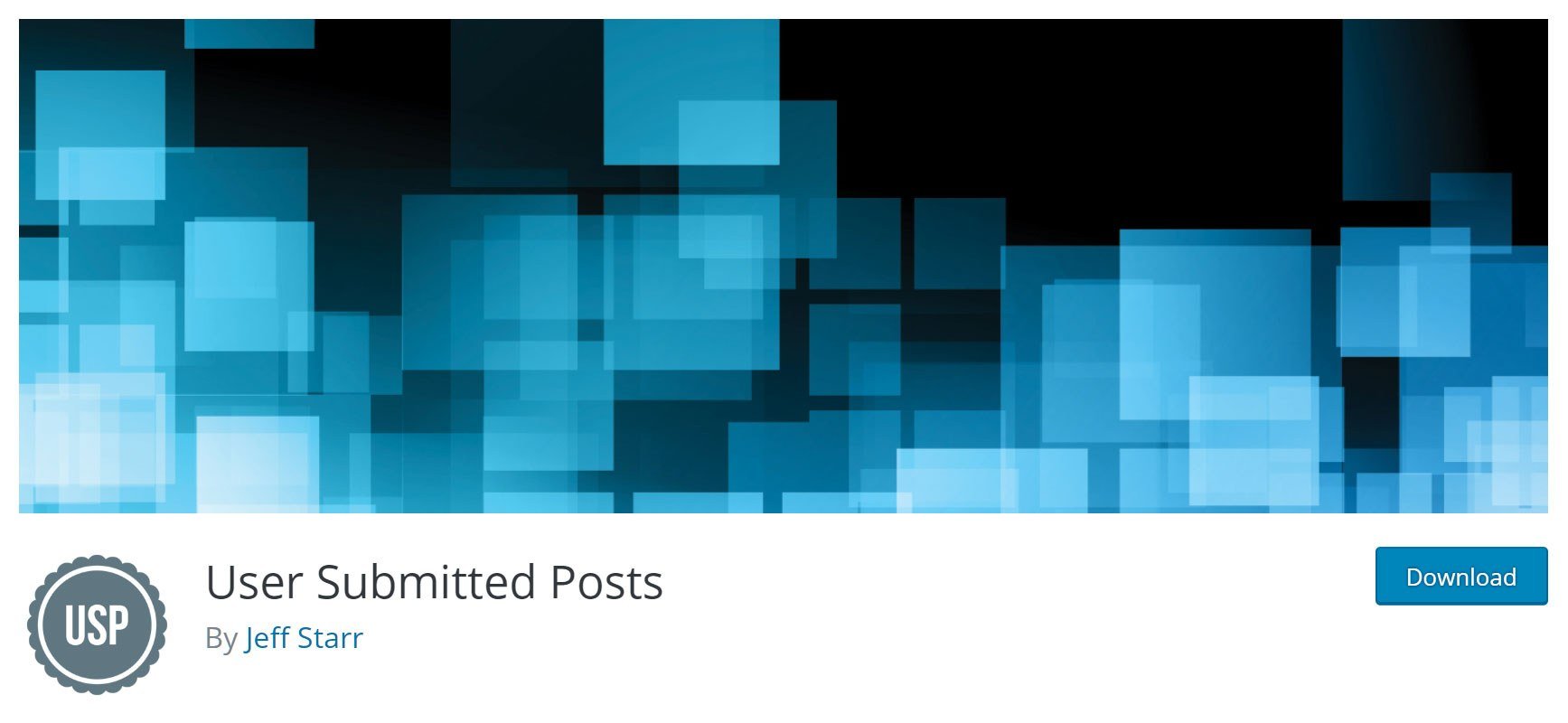 Installing the free User Submitted Posts plugin on your WordPress website instantly gives members the ability to upload content to your website. To get started, simply log in to your WordPress dashboard, then head over to the Plugins page. From there, search for User Submitted Posts. The plugin we're looking for will be the first result returned.
Once you've clicked on the Install Now and Activate buttons, the new feature is ready to go. Although you could just create a new post or page and insert the content submission form, it's worth checking out the plugin settings first. If you just want to test out the forms and see what they look like and how they work, try creating a new blog post or open an existing one for editing, then pasting the shortcode into the content area:
 [user-submitted-posts]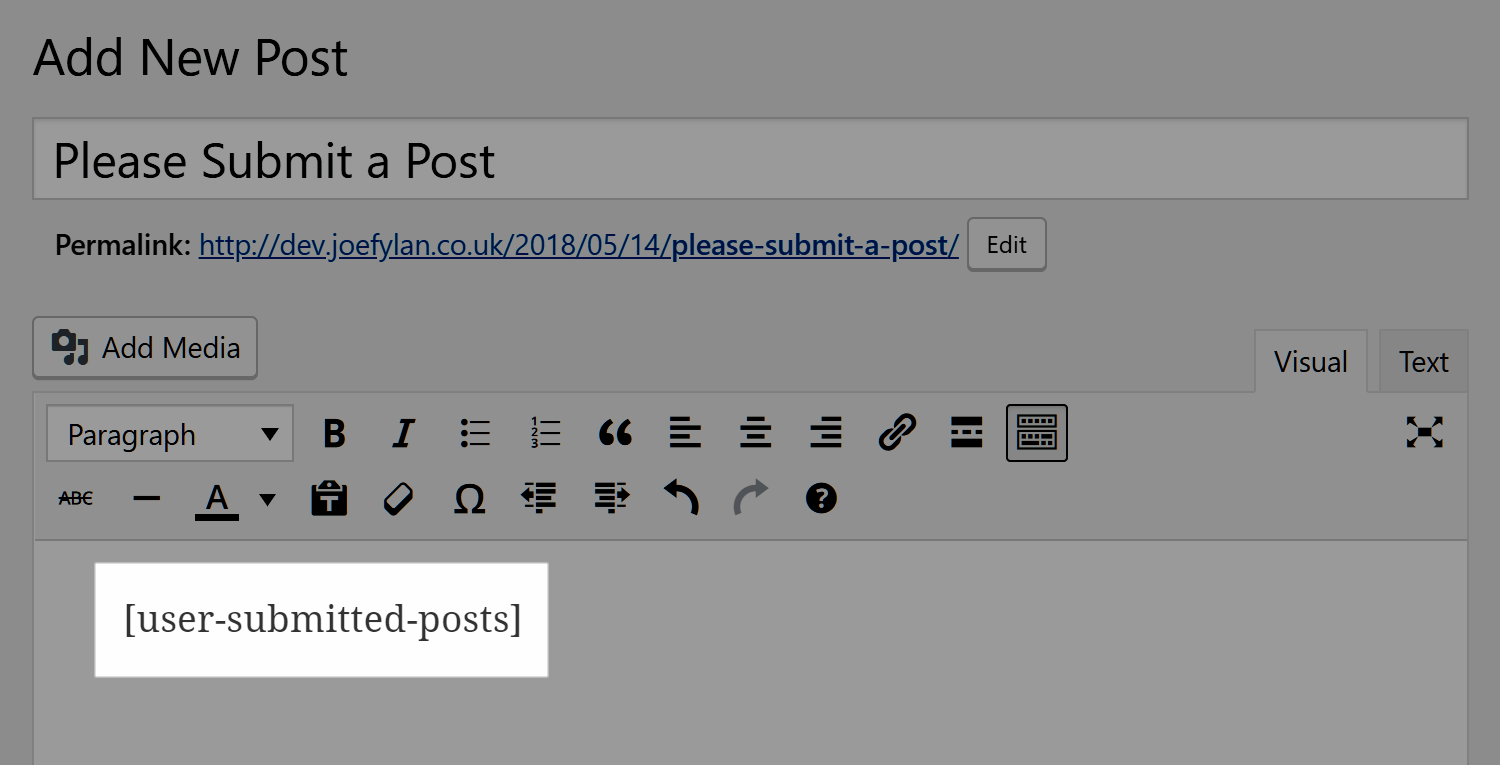 When you preview or publish the content, the shortcode will be replaced with the post-submission form, using the default settings of the plugin.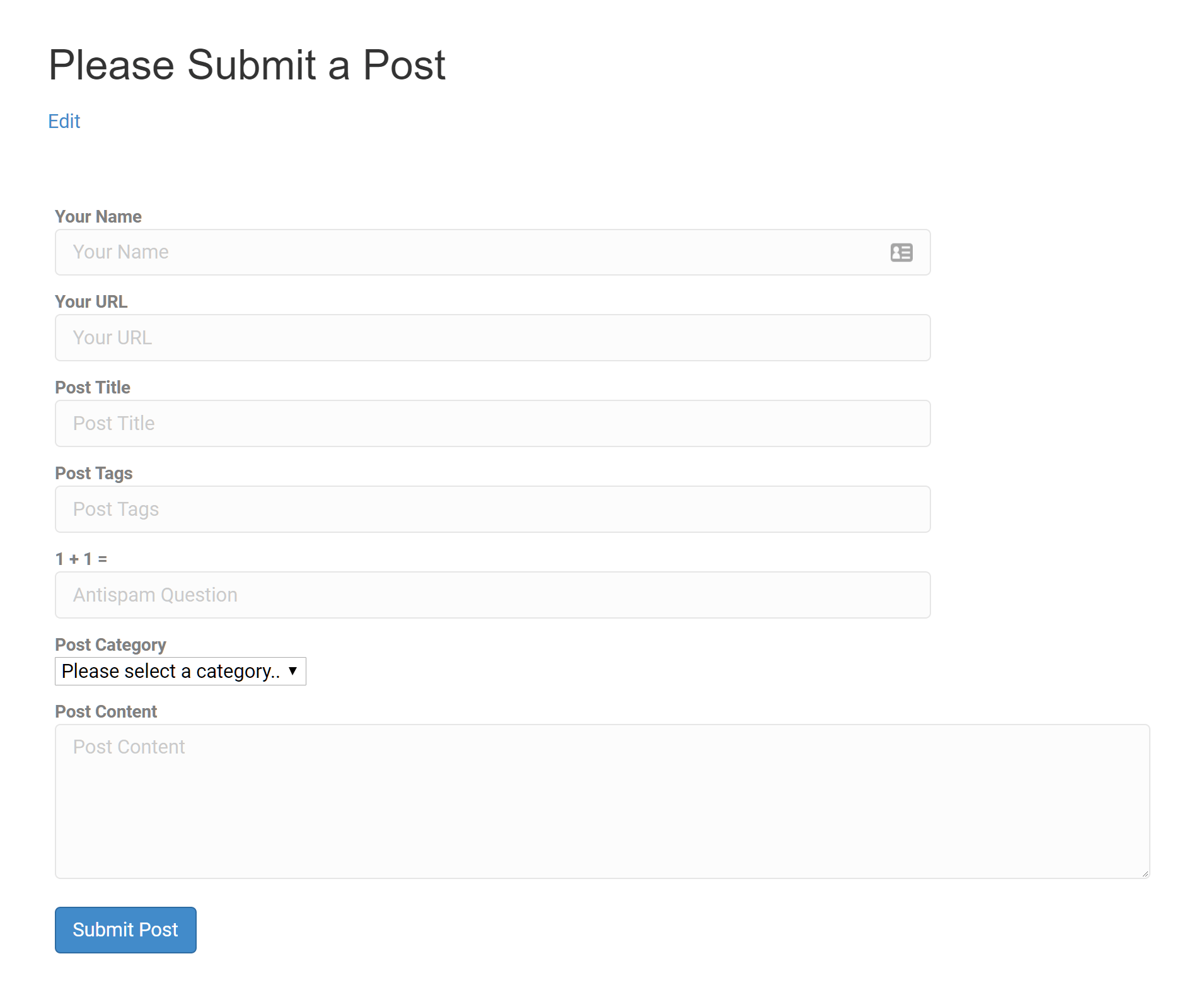 You'll notice there are quite a few fields on the front-end blog-post submission form in the default settings display. If not all fields are necessary for your project, navigate to the plugin settings page to customize what fields are displayed.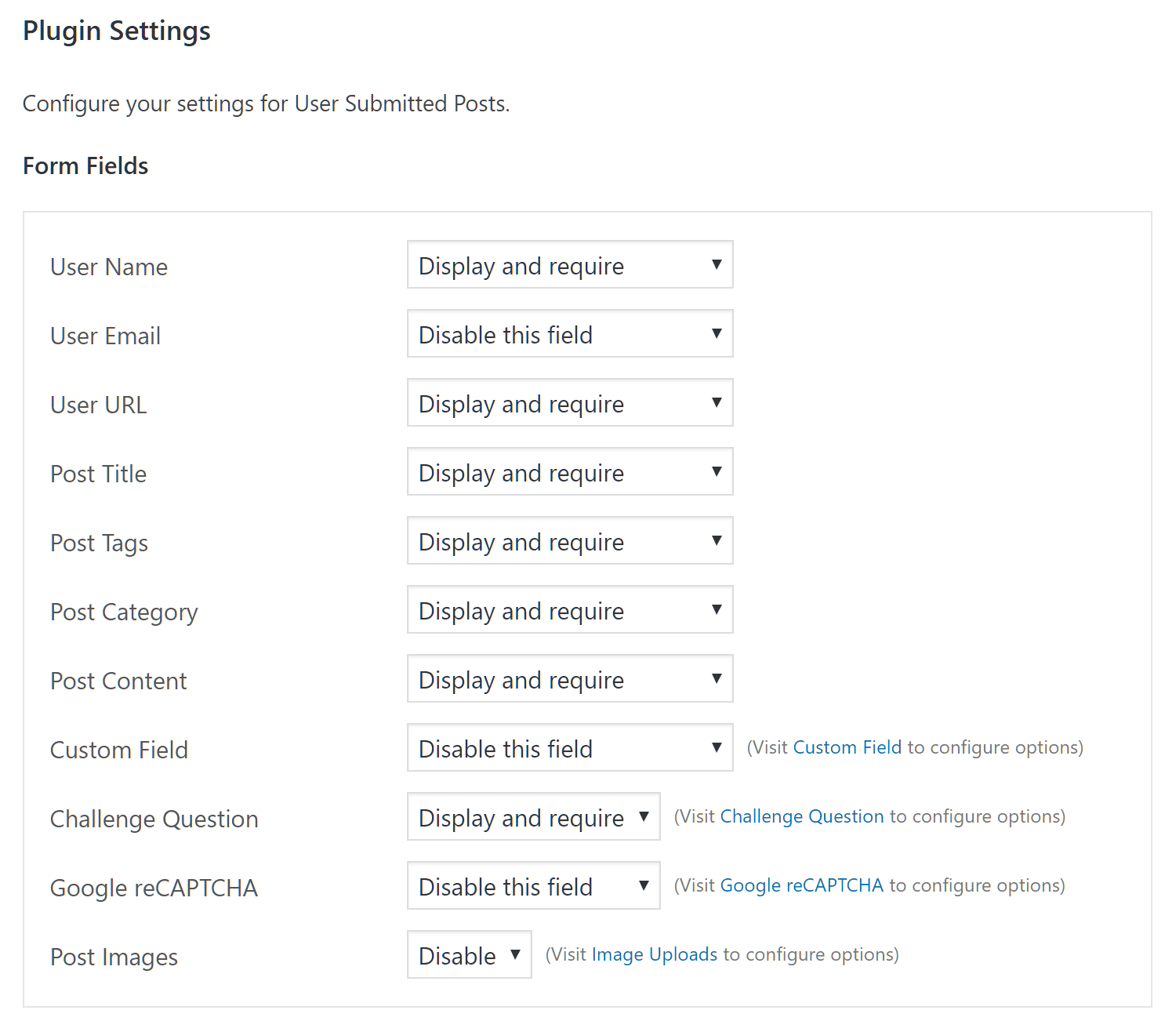 Controlling which fields are shown on the form is as simple as using the drop-down menus. Another setting you should be aware of is the option to set the status of the posts. By default, they are set to pending, giving you the opportunity to approve or reject the publication of each submission. But you can also allow the content to be published automatically if a user has previously published a number of submissions on your site. This can help you automate the publication process for users who have already successfully submitted content you've approved.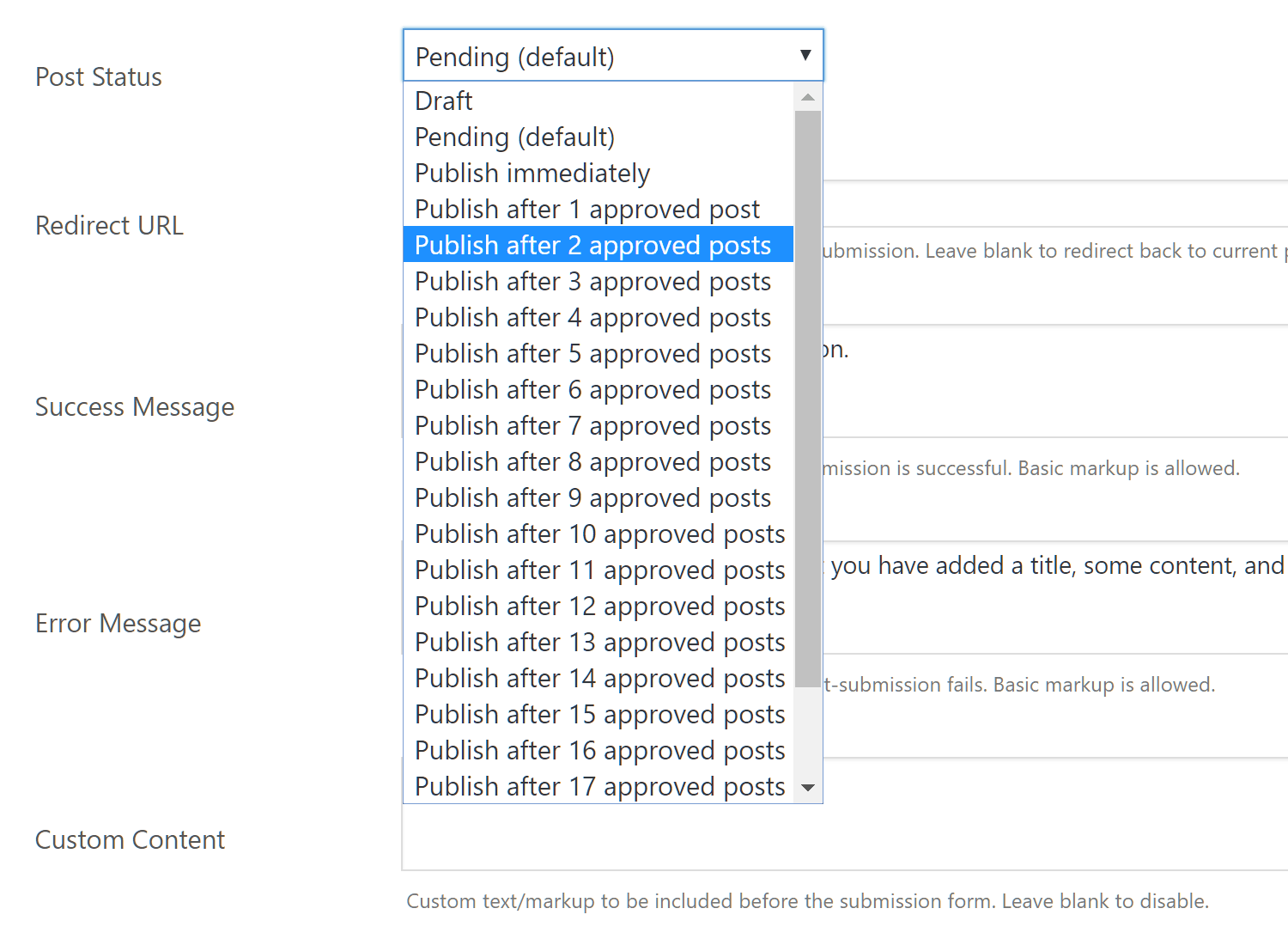 If you want to restrict the content-submission feature to members, be sure to publish the forms on a protected area of your site using a plugin like MemberPress and its access rules. This can be useful if you want to create a members-only blog on your website.
Final Thoughts
An interactive membership site is an engaging site. If you want to keep members interested in your program and coming back for more, you should definitely have a go at making your WordPress membership website more interactive.
Accepting guest posts from members is a win-win. On one hand, it gives members a way to share their thoughts and expertise as well as develop a deeper sense of connection with other users on your site. On the other, as the membership site owner, you now have more content to help with SEO and increase the perceived value of your program to other members
Will you be giving your members the opportunity to publish content on your website? Let us know in the comments section below.
3 Comments
RyanB

May 17, 2018

Interesting, I'll try that plugin out looks to have good configuration too.

Chris Parker

September 5, 2018

In the example form in this article, you show fields 'User Name' and 'User Email'. Given that the user must be logged in to access the page with the form, can we get Memberpress to enter these fields automatically and simply display the results, without allowing the user (the member) to enter or change them? If this is possible, how do we do it?
Paul C

September 6, 2018

Because MemberPress uses the built-in WordPress Users storage and authentication system, it would definitely be possible for that to happen, but it's something the User Submitted Post's plugin author would need to implement for logged in users. You might reach out to their support to see if that's something they already support or not.