Having a business email address gives your company that professional edge. Imagine if you were emailing an employee from a large stuffed-animal company and you got a reply from mike.johns@gmail.com. It could seem little off-putting, couldn't it? It might make you wonder if the email address is legitimate. It's not something you'll see from many of the bigger, more reputable companies. An email address like mike.johns@massivestuffedanimals.com would probably make you feel more secure. Additionally, a business email address allows for flexibility (more users, etc.) where a personal email does not. So do yourself a favor and create a business email.

If you're not sure how to create one, don't sweat it. Creating a business email is not much harder than setting up a personal email account. Here are some quick-and-easy steps to get your business email started:

Make sure you have a domain.
Prior to creating an email, you must have either a website or a purchased domain. If you haven't already created one, do so before taking steps toward creating a business email.

Check to see if a business email comes with your web host, and then decide which email host is right for you.
Don't rush into creating a business email. Before you spend any money, check to see if your web host includes email hosting. Many WordPress hosts, such as Bluehost, GoDaddy, iPage, and more, offer less-expensive and free plans. You can also select a third-party host, like G Suite. Additionally, website-design sites like Wix.com also include email package options. Of course, you don't always have to go with a free or more affordable option. Not whether to use a third-party platform? Check out this article on the best email hosts.
Create an account and sign up for the service you desire.
If you choose to go with a third-party host, you'll need to create an account using their site. If, for instance, you decide to go with G Suite (a third-party host we love), press "Get Started" on their main page.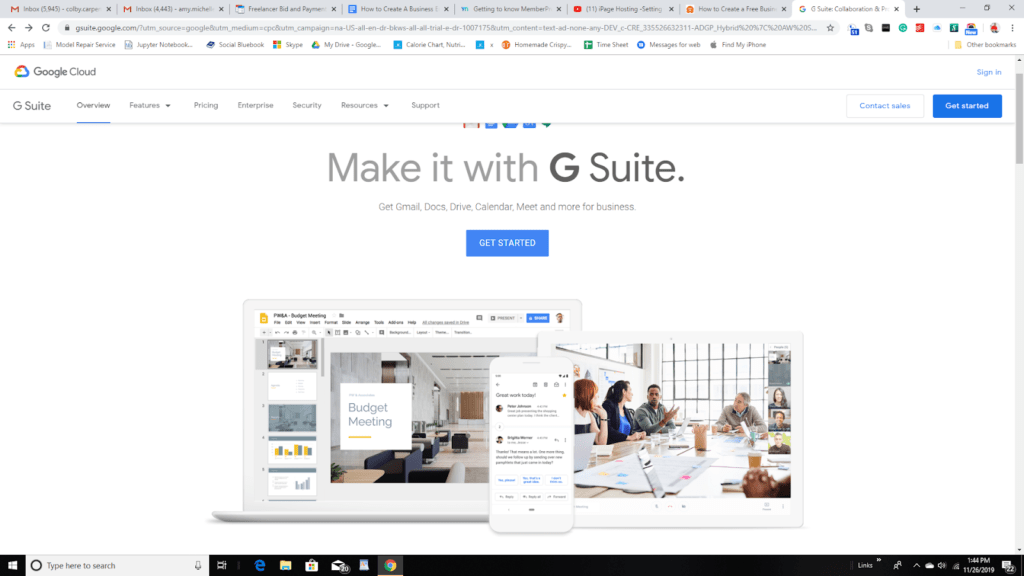 You'll be asked a series of simple questions. Enter your name, the name of your business, the number of employees, etc., then put in your domain name. Next, create a username and password.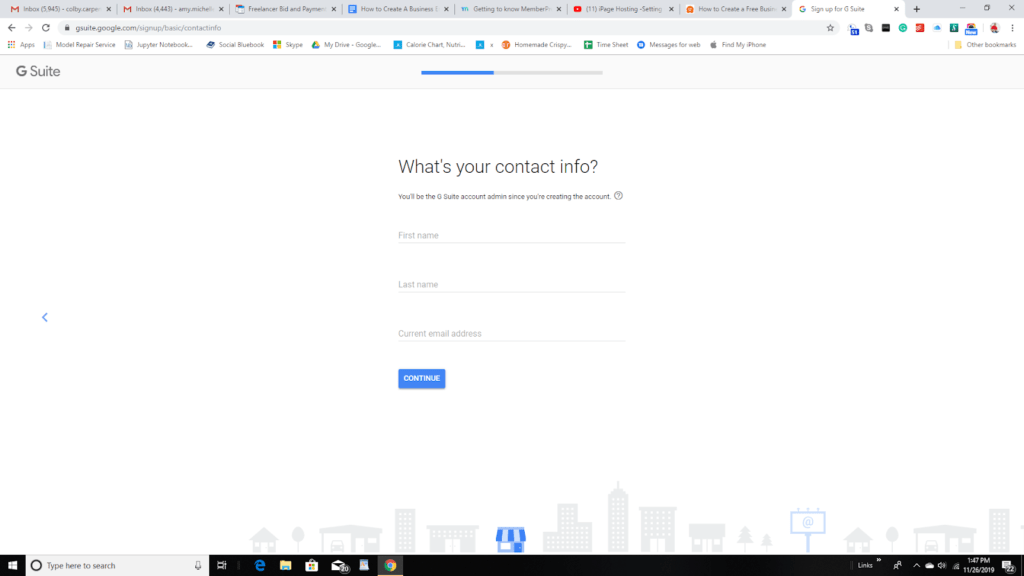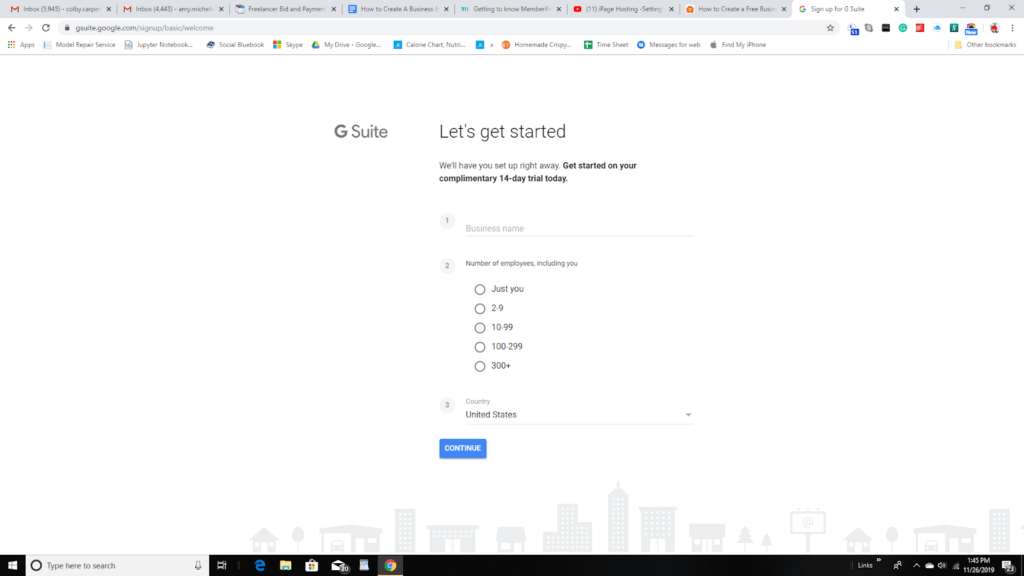 Google will select a plan for you based on the information you've provided, but you can choose to explore other options by clicking "Learn more" when offered a plan. 

If you are using your website host, you'll want to sign in to your current account. With iPage, for instance, you'll sign in to your account and select "mailcentral." From here, you can set it up by creating a domain name and entering a password. Hosts like IPage will allow you to choose from a variety of plans as well. Bluehost offers great plans for both large and small companies. 
Manage your email.
How you manage your email will vary depending on which host you select. With G Suite, it's quite simple. Check your email account as you would with a regular Gmail account: go to gmail.com and sign in with your email and password. If you are a Gmail user, it will look like what you are used to.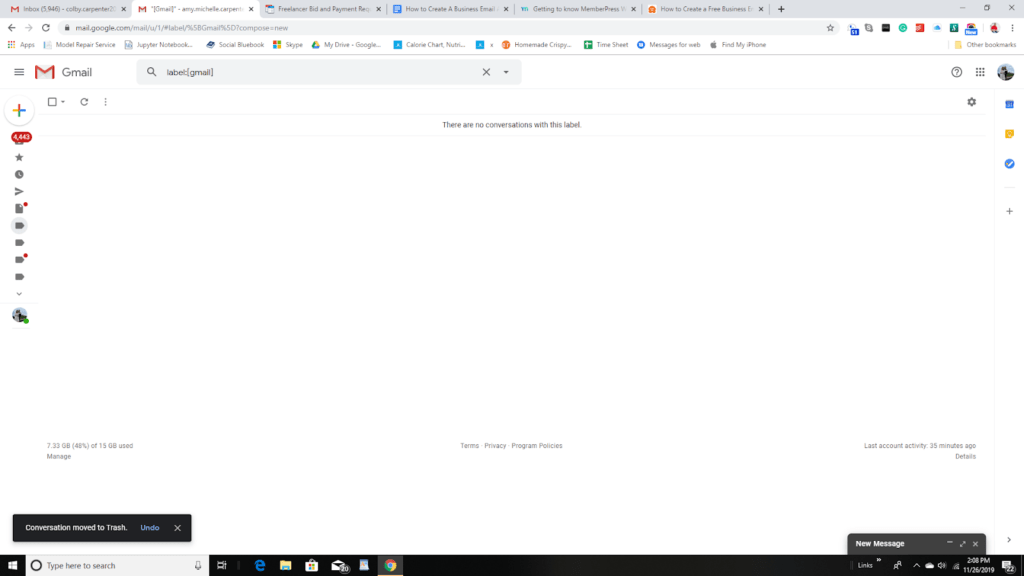 If you are using a host site, you'll manage your email by signing into the host site. For instance, on Bluehost, you'll sign in to your Bluehost account, then click on the email section and select "access webmail." You can also choose to forward emails.
Tips:

Create a simple, easy-to-remember email address.

Keep your email address simple. Use your name or a generic category like "info" or "questions" @ your website or business name.com. For instance, if you've got a business called Cutie Lemons, a good email might be info@cutielemons.com.

Use free trials.

Take advantage of any free trials offered. Do your research for good deals. For instance, some blogs offer discount deals for Bluehost. Before purchasing your email, find the best deal on what you're looking for.

Regularly check your emails.

Once you set up an email, make sure you regularly check your inbox. If you don't, you could miss out on a good sales opportunity.
Remember:

Be sure you have a domain prior to setting up an email.
You can use either your host or a third-party platform to create your email.
Make sure you go through the steps necessary to set up an account.
Select a plan that's right for your company.
Sign in to your email via your host or third-party service.
Have any concerns with setting up your email? What challenges have you faced when setting up your business email address? If you liked this post, please follow us on Facebook for more great content. You can also find us on Twitter and Instagram.