If your membership business has a blog, you're probably familiar with link shorteners. Using link shorteners is a great way to easily and quickly share links without including long, complicated URLs in your posts.
Although link shorteners are extremely convenient and easy to implement, it's important to understand how they work and what your options are when using them. In this post, we're going to cover the ins and outs of link shorteners, how they work, and how to make the most of them in your online business.
Ready to get started in the world of online business? Get started with MemberPress!
How Can Link Shorteners Benefit My Business?
There are a number of reasons that links shorteners are great for online businesses, including:
Shorter, More Attractive Hyperlinks. No one likes long, messy-looking links cluttering up their business' social posts or promotions.
No SEO Penalties. Your links are never flagged as spam or penalized by Google.
Less Room For Error. When someone is trying to copy and/or share a longer hyperlink, they're more likely to make mistakes, meaning that potential visitors will never get to see your website or learn about your business. Shorter links are less difficult to remember, meaning that they're easier to share with others.
Tracking Capabilities. Depending on the link shortener you use, the shortened links may also come with a tracker. This means that you can track and see how many people are interacting with your links and how they're finding your content.
Getting Started With Link Shorteners
Before you dive into the world of link shortening products, here are a few questions you may want to think about first.
Many link shorteners have both free and paid options. If you find a product you like that has a cost, be sure to look at your budget and think about what your business can afford.
Consider the needs of your marketing team. If you have a large group of people on your team who need access to link shorteners for different reasons, consider the capabilities you'll need. Will everyone need their own accounts? Or can everyone share one company account?
Think about what exactly you need the URL shortener for. Do you need this tool simply to shorten links? Track clicks? Cloak affiliate links?
How To Use Pretty Links For Link Shortening
Pretty Links is one of the easiest-to-use and most comprehensive link shorteners on the market, allowing you to create your own customized short links. This WordPress plugin has both a free and paid option, and it is straightforward to get started.
Install and activate the Pretty Links plugin from the WordPress Plugin Directory
In the Pretty Links admin panel, click Add Pretty Link.
On the next screen, add your target URL, pretty link, title, and notes.
Click Create and you have your new, shortened link!
Once you've created your link, you can now share with your audience, track link clicks, and customize and download reports.
Pretty Links Lite can be downloaded for free from the WordPress Plugin Directory. Paid plans start at $99 per year.
More Link Shortening Options
In addition to Pretty Links, there are a number of other options to look into: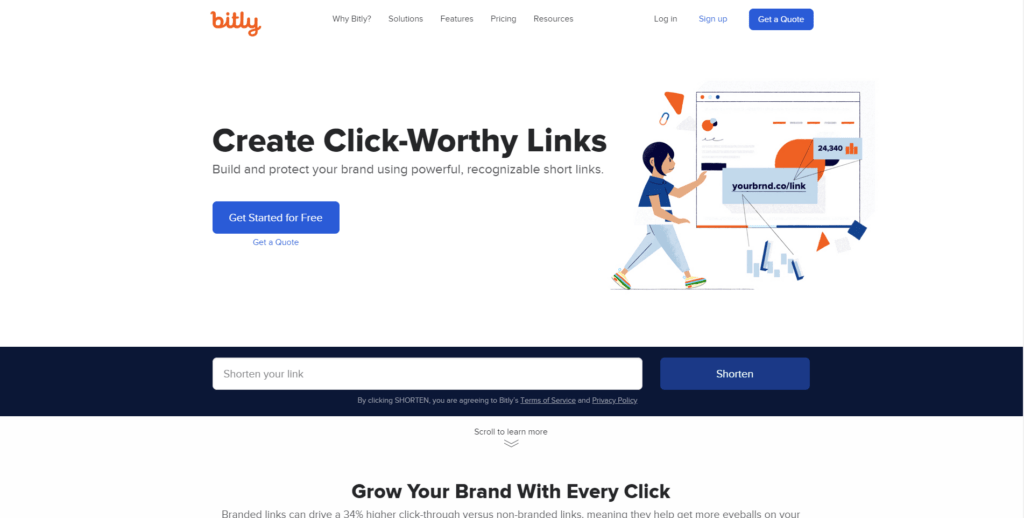 Most likely, Bitly is one of the first URL shorteners you'll hear about when you begin learning about link shortening tools for small businesses. If your business is still fairly small and you don't have a ton of links, you can use this tool to easily and quickly shorten and share your URLs.
Another great thing about Bitly is that it has both a free and premium option, so you can start using Bitly no matter what your business' budget! Also, the paid plan for this product is only $29 a year under the annual plan.
Jetpack is a popular WordPress plugin used on many business websites, but did you realize that this plugin also has a link shortening tool?
Once you install Jetpack, you can find the option to create WP.me shortlinks when creating your posts and pages on your WordPress website. All you have to do is install Jetpack in your WordPress dashboard and activate the setting. After that, you're ready to go!
This tool is convenient because you can install it on WordPress and easily share shortened links in minutes. However, it doesn't have tracking and customization capabilities. That said, this tool can be used for free with the Jetpack plugin, so this is another great alternative for you if your business is on a tight budget.
Are you currently using the social media management tool Hootsuite for your business? Then you already have access to Ow.ly, their link shortening tool.
You can track links in your Hootsuite dashboard and track your progress while managing your social media platforms. This link shortener is available on both the free and paid options of Hootsuite, which start at $29 per month.
Another URL shortener similar to Bitly is Rebrandly. This tool boasts that it has "the most advanced features available on the market," including analytics, traffic routing, workspaces, and more.
Rebrandly does have a free option that allows 5,000 tracked clicks per month, 500 branded links, and more. However, paid plans start at $29 per month and include additional features.
Manage your membership site easily and efficiently with MemberPress. Get started now!
In Conclusion
Link shorteners are very helpful to online business owners for many reasons, including shareability, tracking capabilities, and much more.
Choosing the right URL shortening tool for your business may seem a bit overwhelming at first, but if you've established your business' goals and understand your budget, you should be able to decide which link shortening tool will work best for you.
Are you currently using a link shortening tool in your online business? Tell us which one you use in the comments!
If you liked this post, then please follow us on Facebook for more great content. You can also find Memberpress on Twitter and Instagram.