Here at MemberPress, last year was crazy… and amazing! So much good happened in 2021 it would almost be overwhelming – if it weren't so awesome. And even more goodness is shining out over the horizon. All thanks to you – our incredible customers.
I wanted to take this opportunity to recap 2021, and give you an update on how the very bright future is shaping up here at MemberPress. So without further ado…
Cool Stuff That Happened in 2021
$1 Billion Benchmark
We have some of the most exceptional customers in the world, and this is definitely the most exciting thing that happened in 2021.
Early last year, MemberPress users hit what we call the $1 Billion Benchmark. That is, you collectively made more than $1 billion in revenue using MemberPress. (You can check out the original post here.)
Not only that, MemberPress users made about 95% more revenue in 2021 than in 2020 – adding an additional $500 million to the pot. So, our customers are kind of a big deal.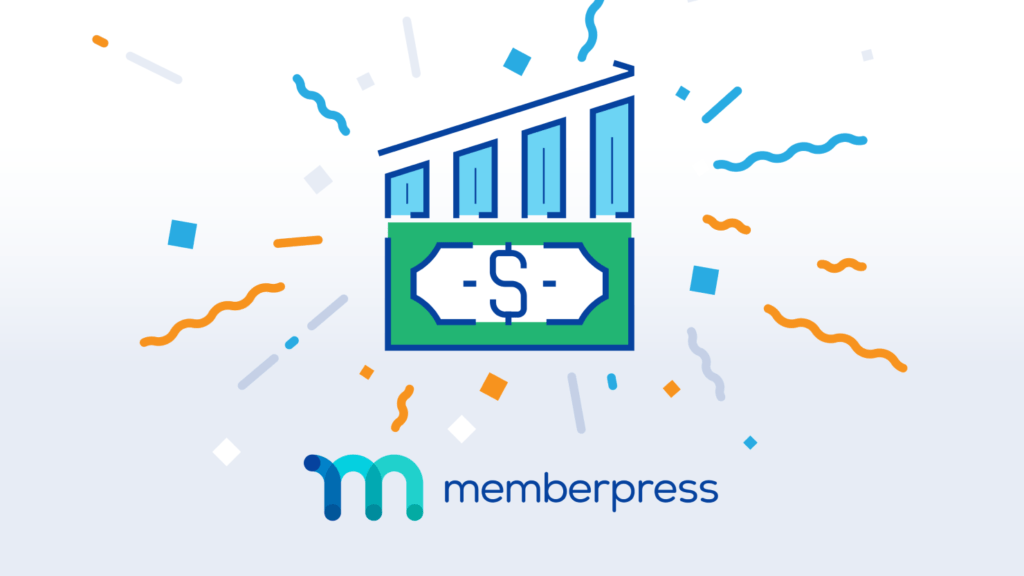 Four big factors combined to create this success:
An upward trend in the membership site model (with no signs of slowing down)
The incredible scrappiness and entrepreneurial chops of our customers
Major growth in the usability, features, and popularity of MemberPress
Launch of the MemberPress Courses feature driving more ways for customers to make money
As it turns out, it's a magical equation.
Outstanding Customer Reviews
Speaking of MemberPress' popularity, another exciting event of 2021 happened over at the G2 software review site.
Thanks to you, MemberPress won numerous awards at G2 in all four quarters last year. Quarter four was exceptionally amazing.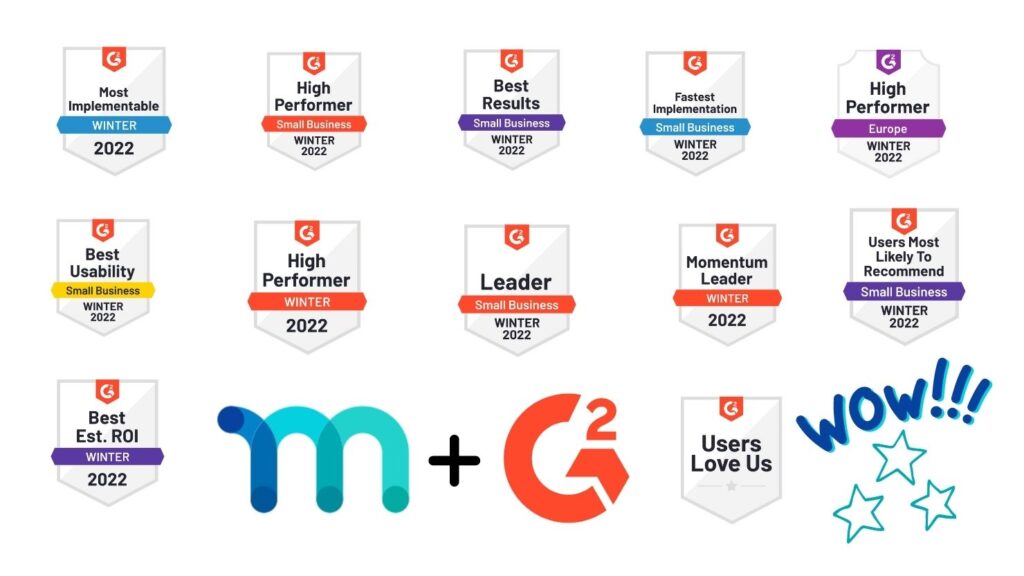 The image above is just a sample of the more than 20 awards MemberPress earned at G2. Our favorite, of course, is the coveted "Users Love Us" badge. We hope you know – we love our users too! We couldn't do any of this without your support.
New Products and Features
In 2021 we introduced all kinds of new enhancements, but these three take the cake.
MemberPress Gifting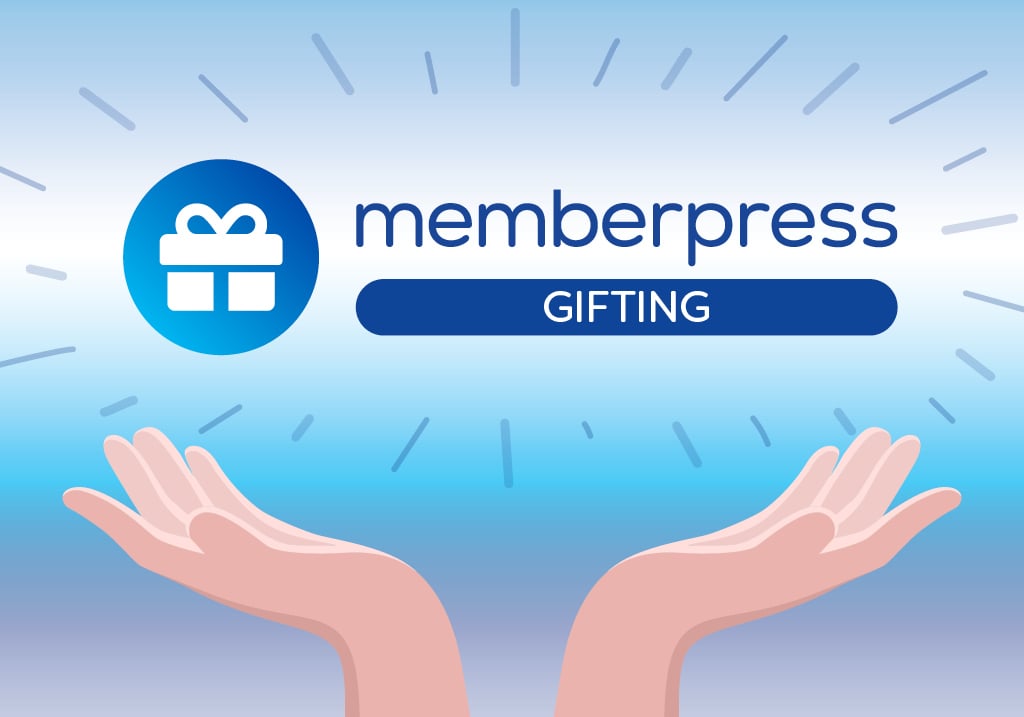 The new MemberPress Gifting feature was a major marketing moment for our users. Launching this add-on in July opened up an entirely new (and completely massive) audience for you to target: people who know people who could use your product or services.
Now you can market to moms, dads, siblings, friends – really anybody – who might know someone in your target audience. Once you activate the Gifting Add-on, your potential audience more than doubles in size.
Stripe Gateway Upgrades
We also made several major upgrades to our Stripe payment gateway integration. The most important of these was the addition of onsite Apple Pay and Google Wallet transactions to Stripe Checkout and Stripe Elements.
Now, if your customers want to pay through either of the two major digital wallets, you can give them two options:
Make a payment on the Stripe website (redirected payment)
Make a payment on your website (self-hosted payment)
This was a big one, because diversity in payment options is incredibly important. The more options you offer your customers, the lower the chances you'll miss out on a sale.
Affiliate Marketing Plugin Launch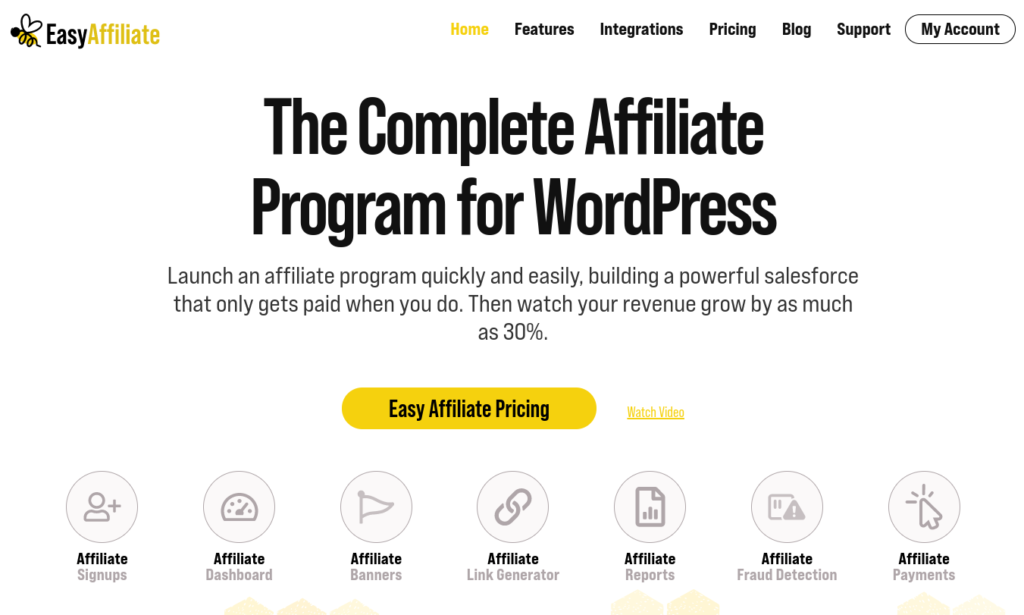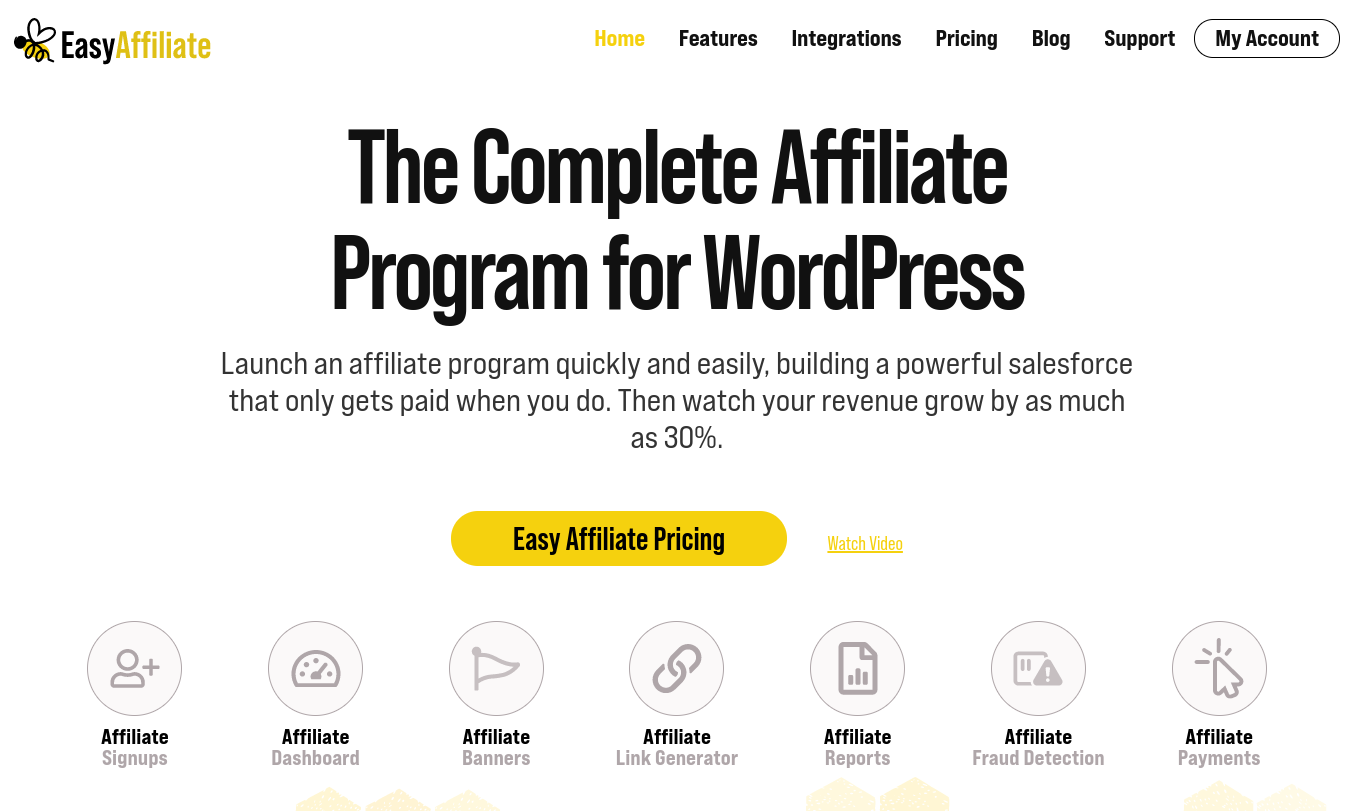 Our team built and launched Easy Affiliate. In case it's not on your radar yet, Easy Affiliate is a new WordPress affiliate program plugin that works seamlessly with MemberPress. It works beautifully with WooCommerce too.
This launch has been a major marketing enhancement for our customers. That's because the Easy Affiliate plugin gives you everything you need to build your own non-salaried sales team from the ground up.
To put it another way, it lets you take advantage of the most effective and affordable promotion tool for new small businesses – referral marketing.
Stuff We're Excited About for 2022… and Beyond
So those were the happenings around here last year. Now on to that very bright future I mentioned earlier…
WordPress & Data Decentralization
When it comes to exciting stuff in the future, data decentralization tops our list. There are a few reasons the movement toward data decentralization is awesome if you're using WordPress.
The first of these being that self-hosted WordPress is (and always has been) a decentralized platform by nature.
That'll be even more important as time goes on because, unlike SaaS, decentralized platforms are self-hosted. That means if you run your small business on WordPress + MemberPress you…
Own your data
Own your content
Own your revenue
Ownership of those three things will be more and more critical in the future. Here's why.
Data Scarcity
As an online business owner, you probably already know we're in the era of "data scarcity". In a recent article on data decentralization, venture capital expert Alex Rosen put it really well:
…as Google and Facebook have taken over the ad market, marketers are getting only 'cohort-level' data, which makes analysis in one central data store impossible…. It looks like this trend won't stop anytime soon since moves like the banning of third-party cookies and Apple's move to ban IDFA are only consolidating more power in Google, Facebook, and somewhat in Apple.
---
Rosen went on to say that privacy measures and other regulations like the GDPR (the EU's General Data Protection Regulation) and CCPA (the California Consumer Privacy Act) are only getting stricter.
This strictness will make it increasingly difficult to use data and even move it around.
If you have an online course, paywalled, or subscription-based business built on SaaS platforms like Patreon or Teachable, they own your data and part of your profits.
Build the same business on WordPress, and your data (and your money) belongs to you. You have direct access to the customer info you need for…
Targeted marketing
Product development, and
Migrating your site
Plus your profits aren't getting sucked into revenue sharing as your business grows.
Not only that, with WordPress, your data and content also belong to you, which brings me to my second point.
Building a More Resilient Business
The risk of "de-platforming" is another huge reason more business owners are moving away from hosted cloud solutions and toward self-hosted platforms like WordPress.
>> In the online business world, de-platforming is when a platform bans an organization due to a perceived offence, usually related to content.
In a recent article on Medium, elite developer and computer science educator Lee Nicholson hit the nail on the head:
Although you may not consider yourself or your company to be 'radicalized' or 'political'… you certainly don't want the fate of the entire operation in the hands of one vendor which could suddenly decide that they need to distance themselves from you. You may think it can only happen to someone else because you are in a completely non-political business…, but it may just take one statement, spokesperson, whistleblower, or relationship to trigger a disaster in today's… environment.
---
Of course I don't condone anyone starting a site operating in the gray area or that's a negative force in the world in any way. And for most businesses, being de-platformed is probably unlikely.
But as a business owner, your membership site, its content, customers, and subscriptions are your livelihood… so, where you store your data is critical.
As I said, when you build your business on hosted SaaS platforms like Teachable, Kajabi, or Patreon, their platform controls everything – your data, customers, payments, subscriptions, and content. You're putting all your eggs in one basket.
When you build your site on WordPress + MemberPress, you own it all. WordPress can't (nor can its plugins) ban you from your own site.
Of course, your webhost can drop you.
Fortunately, when using self-hosted WordPress, you own your data and you can store it online, offline, or wherever you want. We recommend setting up regular backups of your MemberPress site stored somewhere other than your webhost.
Although this threat is probably remote – it can happen. And your business is your lifesblood. So you want the peace of mind knowing that – if you were de-platformed – you'd be able to spin up your site with a new webhost in no time.
In short, self-hosting protects your business from a de-platforming disaster.
Plus as I mentioned, with self-hosting you get direct access to your customers, and you keep your revenue. There's no big cloud platform taking a cut of your profits.
And "profits" brings me to the next thing we're most excited about as we head into the future…
Making It Easier for Small Businesses to Make Money
I hope I've made it clear that customers are the top priority at MemberPress. We know there'd be no MemberPress if it weren't for you – our users. So we've built all our processes around optimizing your potential to make money with the plugin.
A big part of that optimization is future-proofing through innovation and awareness of movements and trends. Right now we've got initiatives in the works for all kinds of future-forward, profit-focused features.
Here are just a few…
Cryptocurrency, Web3, and the metaverse.
Digital payment systems and the online world supporting them are only growing more relevant. We're watching these trends and have been setting the stage to add capabilities to MemberPress to take advantage of them in the future.
Commitment to product education.
We're growing the MemberPress video library like crazy. And we're working in lots of other support channels to make MemberPress even easier to use.
For example, as part of our commitment to product education, we released the Getting Started with MemberPress online video course in late 2021. It's now included in our upgraded onboarding process.
Data reporting and payment upgrades.
Incredibly enhanced data reporting and payment method features are in the works to make reporting clearer and payment options more diverse.
Courses enhancements and a continuing shift into online education.
Online learning is the future, and we're determined to remain a key player in the self-hosted LMS space. We're just days away from launching MemberPress Courses Quizzes, and Certificates are in development for 2022.
New MemberPress website.
You might've noticed that we just launched a brand-new, easier-to-use website. We hope it'll help you learn more about MemberPress and how to create a successful membership site. And how to get what you need to support your business on-going.
The Takeaway
So much changed over the last couple of years – especially in 2021. But one thing stayed the same (and always will): Our devotion to our customers frames everything we do.
You are our heroes – smart, scrappy, doing things that inspire us every day. We're committed to listening to you and staying maniacally focused on responding to your needs. (Yes, I said "maniacally" because we're that crazy for our users.)
We'll continue to deliver a product that's constantly improving and support that never wavers. We're determined to help you make more money.
And we know the only way to do that is to keep on giving you what you deserve – the best membership, paywall, and online course platform in the world.
Here's to an even more awesome 2022!
Blair Williams
MemberPress Founder & CEO
If you liked this article, be sure to follow us on Facebook, Twitter, Instagram, Pinterest, and LinkedIn! And don't forget to subscribe in the box.