These 4 MemberPress add-ons tackle some of your top issues
When our users send us feature requests and feedback, it never falls on deaf ears. We listen, because we know the extreme value of what you have to say.
MemberPress is your tool, and we want to do everything we can to make sure it does what you need it to do!
That said, the MemberPress dev team has been busy the past few months getting new features added to the mix. These add-ons are designed specifically to make your experience more convenient and give you more paywalling power and control.
You talked. We listened. And here's a breakdown of the most recent additions…
#1 – Boost average order value with Order Bumps
Tap into the power of spontaneous shopping with our latest add-on, Order Bumps. Enable "treat yo self" mode in your customers by suggesting additional products and services at checkout.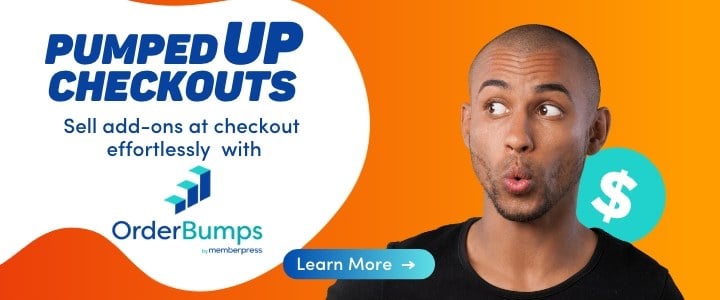 Enhance your offerings with everything from product bundles, membership upgrades, digital products, and more.
For example, if you run a personal training business, why not offer branded training merch when members sign up? Or an ebook of recipes to help them on their fitness journey?
If you offer online counseling, you could offer an additional 1:1 session at a discounted price.
Whatever combination you choose, the Order Bumps add-on makes upselling and cross-selling a breeze. Drive up your average order value, get that revenue pumping!
#2 – Get fine-grained control with the Membership Registration Restrictions Add-On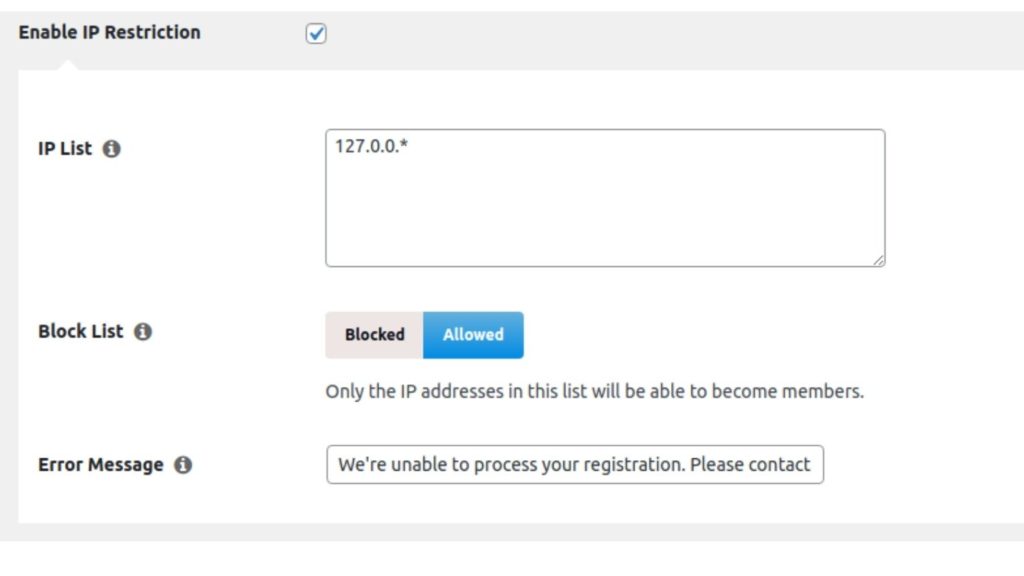 With the new Membership Registration Restrictions Add-on, you get total control over who can sign up for your memberships.
You can use the add-on to restrict membership signups based on…
IP address
Email domain
Email address
Age
If you choose to restrict signups by IP address, email domain, or email address, you can set whether the restriction is based on a blocklist or an allowlist.
You can also set a maximum active registration limit for each of your memberships. That way, only a specific number of people are allowed to register.
If you like, you can also set a customized error message for each restriction. This message is shown to any restricted user who attempts to sign up.
Membership Registration Restrictions Add-On Use Cases
There are a thousand ways to use this new add-on. But some of the more popular include…
Employee training
Premium VIP content
Age-restricted communities
Allow only .edu emails on student discounts
#3 – Reduce churn with the Cancel Override Add-On
You might already know you can add a cancellation link to your memberships by checking the "Allow members to cancel their own subscriptions" option under the MemberPress > Settings > Account tab.
Doing so gives users the power to cancel their recurring subscriptions.
What's new to the cancellation flow is the "Cancel Override" functionality. With this add-on, any member who clicks the cancel link in the Account > Subscriptions section is automatically redirected to a custom landing page.
Cancel Override Add-On Use Cases
With the Cancel Override Add-on, the conversation doesn't have to end at "cancel my account". You can use the landing page to reduce member churn through things like discounts, downgrades, and free-trial incentives.
You can also use the page to collect cancellation data. For example, you might present a survey using a forms plugin to better understand why users are cancelling. Then take that info and set to work on improvements.
#4 – Account Nav Tabs Add-On
The new Account Nav Tabs Add-on lets you add custom navigation tabs on the members account page.
You can add new content (for example, a post or page) or have the link open to an outside URL. You also have the option to open the nav link in the same page or on a new page.
Account Nav Tabs Add-On Use Cases
The use-case possibilities are endless with the Account Nav Tabs Add-on.
You can pretty much add a tab for anything that might be helpful to your users. That'll vary depending on the nature of your membership site.
Here are a few suggestions…
Upsell premium restricted content. For example, create a VIP community tab that's visible to everyone. But only allow users subscribed at the premium level to access it. Set it up so that all other users are met with the paywall and option to upgrade.
Link to WordPress plugins. If a plugin offers a shortcode, it can be added to a tab, giving your members super easy access.
Present forms. Like plugins, any form with a shortcode can be added to a tab.
House your downloads. Make it easy for your users to access downloads like templates, eBooks, images, etc.
Create a video library. Keep your video collection in one, easy-to-access place.
Provide Outside resources. Give your users fast passage to outside resources like websites and other platforms.
Add a support page. Create a traditional support page where members can submit support tickets and get to your knowledge base.
Wrap Up
Whether you run an online course website, a publication, a community, or something in-between, four three little features add some big firepower to your business-building arsenal.
Order Bumps
Membership Registration Restrictions
Account Navigation Tabs
Subscription Cancellation Override
Check them out. And in the comments, let us know how you put them to use.
Also, don't hesitate to reach out to the MemberPress Support Team if you've got questions or need some help setting things up.
These add-ons are just the tip of the iceberg. We're constantly working to make MemberPress better. If you haven't already, be sure to subscribe to the MemberPress Blog. That way you're one of the first to know when we come out with something new!