Just about everyone understands the importance of social media marketing at this point. Still, it can be easy to assume that social media platforms are only really beneficial to large companies, which can gather extensive followings and post constantly. If you only have time to post once a week, it may not seem worth the effort to maintain your online presence.
However, this "all or nothing" approach is a myth. Social media is still an effective way to keep your followers in the loop and boost your business' visibility, no matter how large or small your audience may be. In fact, over 90% of small businesses use social media. It is true, however, that small businesses will need to take a different approach to posting than their larger competitors do.
In this article, we'll discuss the four main reasons it's vital for small businesses to be active on social media. Then, we'll give you some advice about how to get started. Let's jump right in!
1. You Can Increase Brand Recognition
Social media is an excellent way to achieve greater brand recognition. That's because you can use social media to emphasize your brand's uniqueness, which is important for small businesses that need to stand out. You'll have to help your potential customers understand why they should choose you instead of a bigger company like Amazon, which may be able to offer similar products and services for cheaper.
For example, online clothing company Everlane uses Snapchat to offer tutorials, and give customers a behind-the-scenes look at how its clothes are made:
You can develop your own brand strategy by brainstorming what makes your business unique, and understanding what your target audience cares about. This may not even be solely related to your products or services. For example, some companies stress the fact that they give a percentage of their profits to charity, or that they use only ethical means of production.
It's also important to consider your brand's visual aesthetic. This can be as simple as choosing a color scheme and recognizable logo to use on your website and across social media sites. This way, customers may start to recognize your company at a glance, no matter where they encounter it.
2. Customers Expect to See Recent Activity
To 'win' at marketing, you have to stay in the game. This is especially true for small businesses. If potential customers check your Facebook feed and find nothing but cobwebs, they may think something's wrong, or that you've folded up shop.
This is crucial if you have an online store – your customers need to feel confident that if they order a product, you'll deliver it. If you post inconsistently, or let a customer question go unanswered, customers may shy away from your company. Nowadays, people expect quick response times from businesses on social media.
Ideally, you should be posting at least once every week on each platform, in order to keep your feeds active. We'll offer some tips for easy ways to set up regular posts later in this article.
3. You'll Be Improving Your Return on Investment (ROI)
As a business, you need advertising. If customers aren't aware of your company, they can hardly purchase your products or services. However, putting up a physical ad, such as a billboard, can cost thousands of dollars.
In contrast, it costs relatively little to advertise on social media. For as few as $5, a Facebook ad can help you reach a wide audience. This can help you see quickly which advertising strategies are having an impact, and which are not:
Even though organic reach on social media is dropping, ads can still offer a strong ROI if you're smart about your strategy. Even better, the option to designate custom audiences enables you to ensure you're reaching your exact target audience. For even better results, you can tailor your ads to the specific platform they'll be displayed on.
Even if you don't directly make a sale from a Facebook ad (or one on another platform), you're still helping to build brand awareness. The more you get your company 'out there', the more its name is likely to stick in your audience members' minds the next time they are ready to make a purchase.
4. It's Easier to Develop a Loyal Readership
If your membership site already has a blog (and it should!), you can share on social media every time you create a new post. This will help alert your fans whenever your site updates, while also keeping your social media feeds populated.
If you develop meaningful blog content, this can be an easy way to keep fans coming back to your site. Higher page traffic and dwell times result in better Search Engine Optimization (SEO), increased ad revenue, and a larger number of potential customers that you can speak to.
Depending on the type of membership site you're running, you can even use your blog to tease content that's behind a paywall. For example, if you have a web design course, you can post a few free samples and plug the benefits of your paid course at the bottom of the article. Then, you can share that article all across social media.
How to Share Your Blog Posts on Social Media
Fortunately, it's never been easier to generate automatic social media posts based on your blog content. You can find plenty of tools that will share messages to your chosen social media platforms whenever you publish a new post.
If your site is built in WordPress, you can set this up using the Jetpack plugin. Jetpack is a handy tool that offers a wide range of solutions. Most importantly for our purposes here, its Publicize feature lets you set up the social media sharing we've been talking about.
You can download Jetpack for free, and install it on your site. Then, in your site's dashboard, visit Jetpack > Settings > Sharing. Select Automatically share your posts to social networks: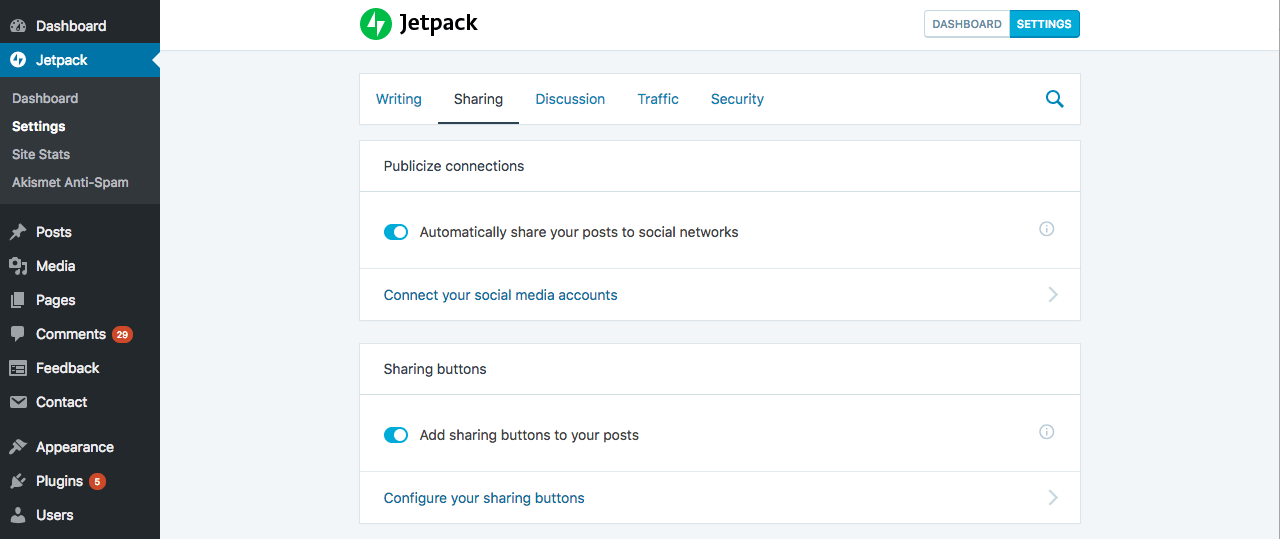 Then, click on Connect your social media accounts to set up social sharing for whatever platforms you choose:
Now, whenever you open a new blog post, you should see a box in the right-hand sidebar labeled Publicize. Click on Edit to draft a custom message:
That's all there is to it! When the post is published, it will be automatically shared on the platforms you picked, along with your message. This lets you get multiple uses out of the same content, and keeps your social media accounts active.
Conclusion
As a small business, it can be hard to get attention and fight for your share of the market. That's why it's crucial to maintain an active presence on social media.
The four most important reasons you should use social media include:
Greater brand recognition. Building brand awareness with social media is important, if you want to set your company apart from its competitors.
Proof that your business is active. Having an empty social media feed may look unprofessional and scare people off. Customers want to know that you'll respond quickly on social media.
A higher Return on Investment (ROI). Social media offers an advertising platform with relatively low barriers to entry, and a high ROI.
The opportunity to develop a loyal readership. You can share blog posts on social media, and remind visitors to check out your site. As long as you create quality content, this is an excellent way to build a following and drive traffic.
Do you have any questions about how to develop your small business' social media strategy? Let us know in the comments section below!