Operating a membership site is slightly different than the traditional marketing website where you're selling physical inventory. Learning the differences may seem challenging, but they are worth exploring. If you learn to look at your website in a different way, you'll stand a better chance of sticking out from your competition.

So, what are the differences?

The key to discovering the difference comes down to one thing — your numbers. There are certain metrics you'll need to track on Google Analytics to make sure you're on the right track building your website as a strong force in the membership-style website market.

We are going to look at some of the metrics that every membership website should track to make sure they are getting the most from Google Analytics and that your marketing is on the right path.

Installing Google Analytics to Your Website
Before we dive into the metrics you need to know, we are going to show you how to get Google Analytics on your WordPress website. There are many plugins, but we prefer MonsterInsights since it is updated regularly and gives us the freedom to customize our visual preferences when looking over our analytics.

If you go to the WordPress plugin page, you can search for MonsterInsights and it will pop up as the first result on the top left side of the page. Click on Install Now to get the plugin for your website.

After you've installed the plugin, go to Installed Plugins and look for MonsterInsights under the page of inactive plugins. Click activate to turn on the plugin and then your WordPress dashboard will reload.

You'll now notice on the bottom left side of your dashboard there is a button that says "Insights." If you click on insights your websites Google Analytics data will display directly from your dashboard, as you can see below.

This method makes it easier than ever to access your Google Analytic data and keep track of all of the metrics we mention here.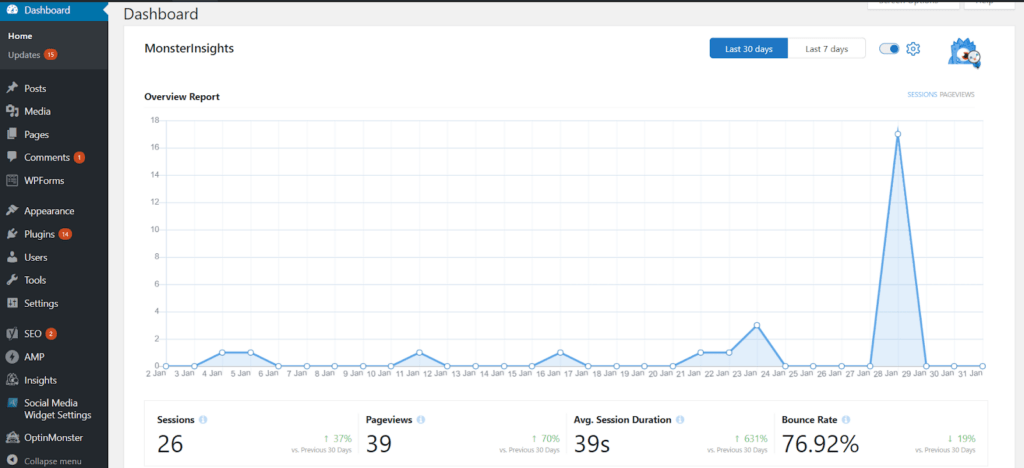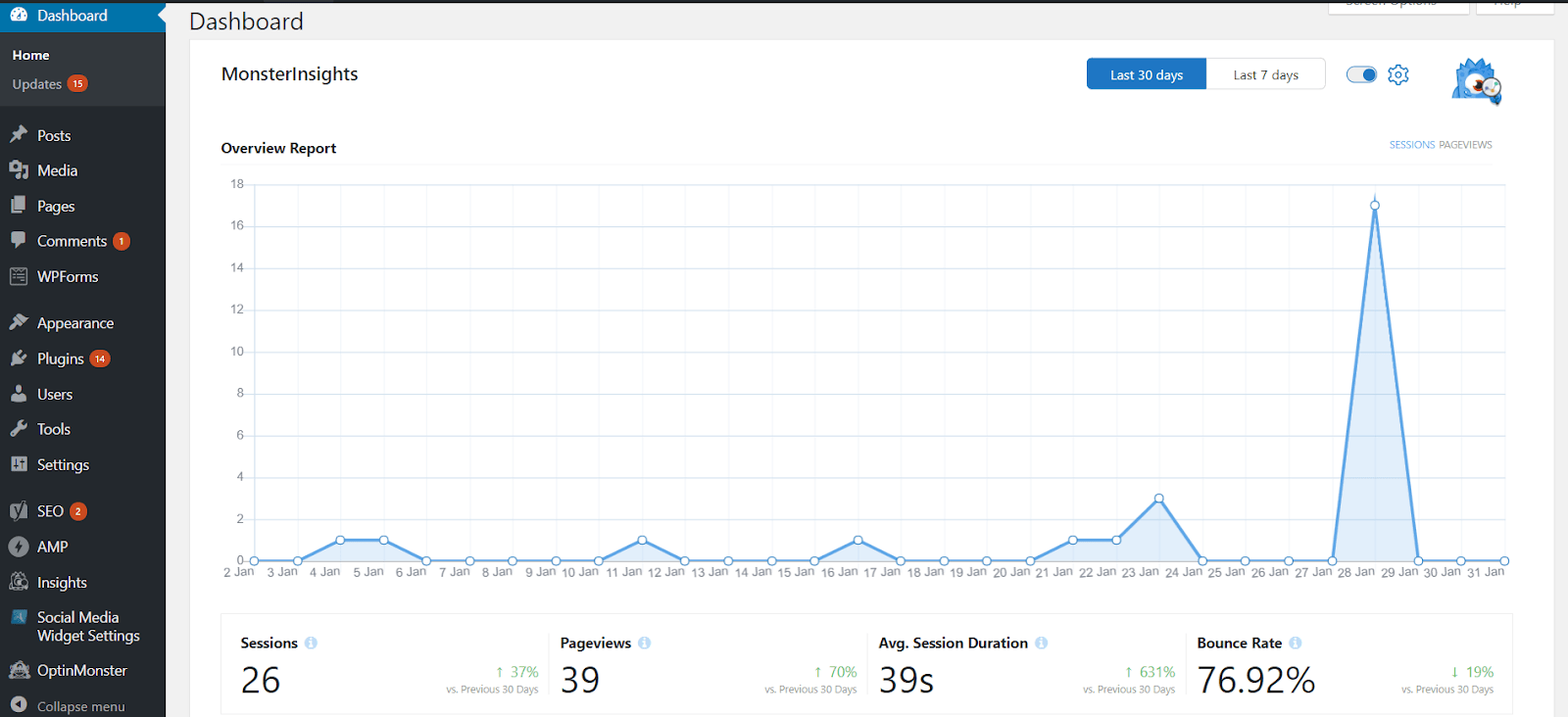 Page Views // Sessions
One of the most important metrics to look at is your page views per session. Essentially, Google Analytics counts a page view as an action that takes place while a person is on your website. A session, on the other hand, is the overall time the user spent on your website interacting.

Why is this important?

You can have unique page views, and that's excellent. But your page views per session will really help you get inside the mind of your end user. You should watch this metric because it shows you the process your user takes when they come to your website. Are they sticking around one or two pages, or are they exploring your entire website during each session?

The data can tell you a couple different things. Users may focus around one or two pages if those pages are the only ones they find relevant. For example, if your e-commerce site gets page views on the product screen, checkout screen, and order confirmation screen, that's great! However, if your running an e-commerce store and your blog is getting all the love, this could cause issues with your conversions and impact your bottom dollar.

Improving the flow of your website can help you get more page views and longer sessions. You could try moving your Call to Actions (CTAs) to more logically fitting locations to keep your customers around and looking at content longer.

Bounce Rate
Your website's bounce rate is determined by the number of times a person goes to your website, takes no action (IE: doesn't follow a CTA or open any new pages). An excellent bounce rate for a website should be between 26 and 40 percent, according to RocketFuel.  Though anything up to 70 percent can be considered "average."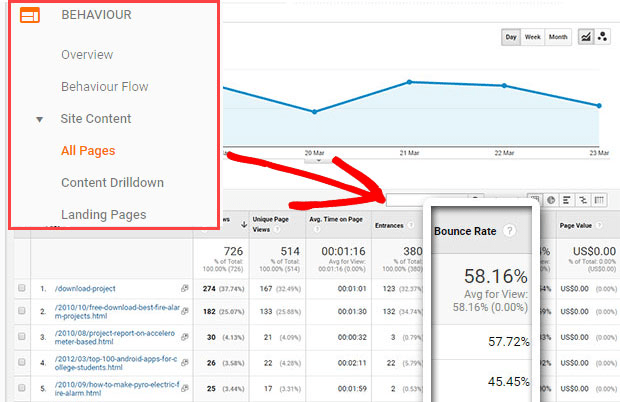 You can improve your bounce rate by enticing the potential customer to stick around for a special offer or promotion. If you show that you are willing to make it worth their while, they are more likely to become paying customers.

This is a great opportunity or you to try using opt-in popup plugins to keep customer's attention. Many people use plugins like OptinMonster to create attractive campaigns that draw users in by offering them something of value like an e-book, a free class, a checklist, or even just a simple promotion on their products.

Here is a great example of an optin that pops up as the user leaves HubStaff. When the customer gets close to leaving (and adding to the bounce rate) this opt-in pop up to encourage them to stick around for a free trial. This trick is three-fold. It lowers the bounce rate, gets the customer invested in your product, and gives them a taste of what's to come if they stick around after the trial.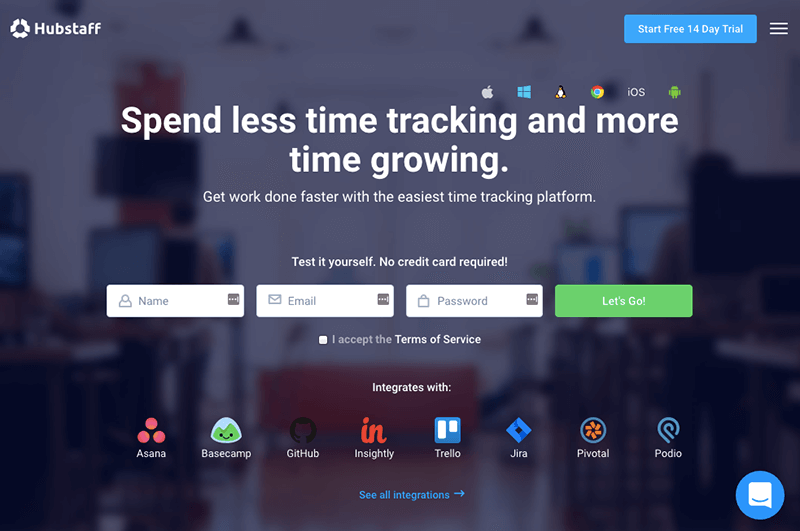 The end result was that HubStaff converted just over 7 percent of customers that would have left and never came back. This marketing tactic is a great way to bring in new customers and keep your pesky bounce rate at bay. If you have a membership site you could potentially retain more of your audience by giving them a trial or special offer to make it worth their while.
New Sessions // New Users
New Sessions are another Google Analytics metric you should keep your eye on if you want to increase conversions and net a wider audience for your membership site. New Sessions are the number of people who came to your website for the first time, browsed around, and then closed off their session.

If you want to keep these new people, you must take preventive steps to make sure that their experience is top-notch from their very first visit. You can accomplish this by publishing content that is valuable, making your site fast and easy to use, and by making sure there is a way for your new visitors to reach out to you via a contact page.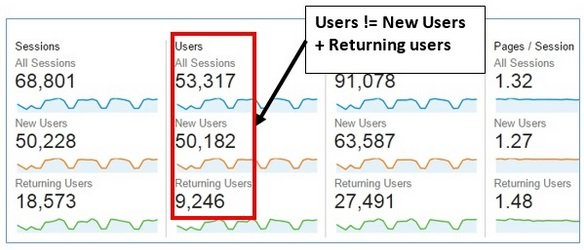 Typically, if you have a high number of new sessions that's a good thing. It means your SEO marketing is working, people are finding your page, and you're increasing the chance for conversion. You must take proactive steps to make sure that your customers have a great experience on your membership site so you can retain the highest number of potential customers.

Sources for Incoming Traffic
It's important that you know where your customers are coming from when they land on your website. When you look at your sources for incoming traffic on your website, you'll be able to see if people are coming through a direct search via your URL, whether people are finding you on the search engine, or if they are referred there from your social media account, guest posts, or through word of mouth via other customers.

Why is this important for membership sites? In most cases, membership sites foster a sense of community and they tend to interact with others who may be interested or are already on the website. You're going to want to make sure that customers are coming to your page from all three main sources of income, though you may want to prioritize certain sources if it will help your conversion rate.

Here we can see the referral traffic for this website.
You can increase your conversions via social media if you encourage new people who sign up to share their experience on your, or their, social media page. This will help drive traffic and can increase your incoming traffic from a source that may be lacking.

Lead Generation Costs
Finally, you should always keep an eye on your lead generation costs. In a nutshell, this analytic figure helps you identify how much it costs to convert a visitor who lands on your website. There is a whole host of marketing and financial figuring that goes into the determination and it can vary from company to company.

As a general rule, membership sites have slightly less lead generation costs because they are trying to convert customers to gain access to content that is already readily available. Once they sign up and get access to your content, they will get the same thing the rest of your new customers receive. They are paying for the experience and the value.

When you're looking at your lead generation costs you should consider whether or not you're breaking even, or have a tiny margin for profit. If so, it may be time to look at other ways to increase the value of your customers versus the cost to obtain them.

Conclusion
These 5 Google Analytic figures are designed to help you make the most of your page, especially if you have a membership-based site. Building a new audience that wants to stick around can be a challenge, but if you're willing to take the time and look at your data, you'll find that you can bring in a strong customer base with a thirst for knowledge.

As your website grows, you'll start to notice trends and patterns in your Google Analytics profile and that will help you make smart decisions about what you'd like to do for your customers versus what your customers want to gain from their membership. Change happens to all businesses, big and small, and membership sites are no different.