Earth Day is the largest civic event in the world and a big boost for environmental protection awareness. For 51 years, Earth Day has inspired us to protect and preserve our land, air, and waterways with greener living habits.
Businesses and large corporations have made major changes to their daily operations to include eco-friendly business practices and decrease their environmental impact.
What's great is, managing an online membership site is a sure way of knowing that your business is environmentally friendly.
Your advertising and billing practices are paperless. You sell digital products, which eliminates transportation and shipping material waste. And, if you're like most online business owners, you probably work from home, which also cuts down on your auto emissions contribution.
Small businesses like yours make a huge impact when it comes to reducing the negative impact we strain on our environment. But what if you could do even more?
Earth Day is the perfect opportunity to take a closer look at your daily business routine and recognize areas where you can make greener choices.
To help get you started, we're going to share 8 ways your small business can go green with fun, innovative ideas you can start doing today! Also, you'll discover that going green doesn't just help save the planet, but many greener practices will also save you money.
1. Work from Home
Mandated lockdowns and stay-at-home orders completely transformed the traditional work environment. At the start of the COVID-19 pandemic, nearly 50% of U.S. employees transitioned from their in-office jobs and were required to work from home instead.
As a result, we've recognized several benefits that come with working from home – many being environmental related.
Today, with more people working from home than ever before, environmental experts are seeing impressive decreases in power consumption, paper and plastic usage, and carbon emissions. Los Angeles, known to have heavily polluted air, recently had the cleanest air of any major city in the world.
For membership site owners who already work from home, here are some additional ideas on how you can be even more eco-conscious.
Eat an At-Home Diet
Home-cooked meals are a healthier choice physically, financially, and environmentally. Many studies show that home-prepared meals typically have less sodium, saturated fat, and calories compared to restaurant meals. Eating at home is also significantly cheaper than dining out.
As for the environmental benefits, cooking at home offers a more sustainable ingredient source, wastes less food, and uses less energy to prepare. Remember to also use reusable tableware and conserve water when washing the dishes.
Eliminate as Much Waste as Possible
We all know the phrase: Reduce, Reuse, and Recycle. Any workspace can profit from practicing the three R's for a more sustainable workflow and environmental stewardship.
Check out these easy, do it yourself home recycling projects for creative ideas to add reducing, reusing, and recycling to your home office.
2. Conduct an Energy Audit
While working from home, it's also a smart idea to perform your own energy audit.
Businesses rely on energy audits to get an idea about the cost and efficiency of energy use, then look for ways to minimize energy waste and make energy improvements. You can improve how you use energy in your home office by making a few simple changes.
Watch the Thermostat
A big privilege to working from home is having full control over the temperature settings. No more cold days in the office! But with this luxury, it's your responsibility to find a balance between comfort and efficiency.
According to the Department of Energy, 55% of household energy is used for heating and cooling. By making slight adjustments to your thermostat – a few degrees cooler in the winter and a few degrees warmer in the summer – your whole home can run more efficiently. You'll also notice a lower electricity bill at the end of the month. Bonus!
Throw on an extra sweatshirt to help get you through the colder months, and dress down to your favorite pair of shorts in the warmer months. As for those near-perfect days, open up the windows and let that clean, fresh air fill your home and office.
Make Use of Natural Light
Soaking up the sunshine isn't just a health benefit. When you make it an office necessity, you help reduce energy consumption and remove the need for artificial lighting completely.
Make use of free, natural sunlight to eliminate the need to turn on the lights – at least for certain parts of the day. Try to reposition your workspace to make the most use of sunlight throughout the day.
When natural light isn't available, the second greenest option would be to replace your incandescent light bulbs with energy-efficient LEDs or CFLs.
Power Off Electronics
Estimates show that home computing and networking equipment consume more than $1 billion worth of electricity in a single year. That's about the same as three large coal-fired power plants!
At the end of a hard day's work, make sure you give your computer the night off as well. This also goes for other office equipment you use on a daily basis, such as printers, scanners, tablets, and laptops.
3. Use Green Office Supplies
Idea Rebel, a Canadian digital agency, is a 100% paperless company and refuses to do business with potential partners that require hard copy signatures. Now that's impressive!
While Idea Rebel might have the ideal green work environment, going completely paperless can be extremely difficult for some. The good news is, you can purchase 100% recycled supplies such as paper, pens, journals, and printer ink at your local office supply store.
Other innovative office supplies that are environmentally friendly (not to mention affordable), include smart power strips, rechargeable batteries, solar-powered USB chargers, and even organic cleaning supplies.
4. Upgrade to Energy-Efficient Electronics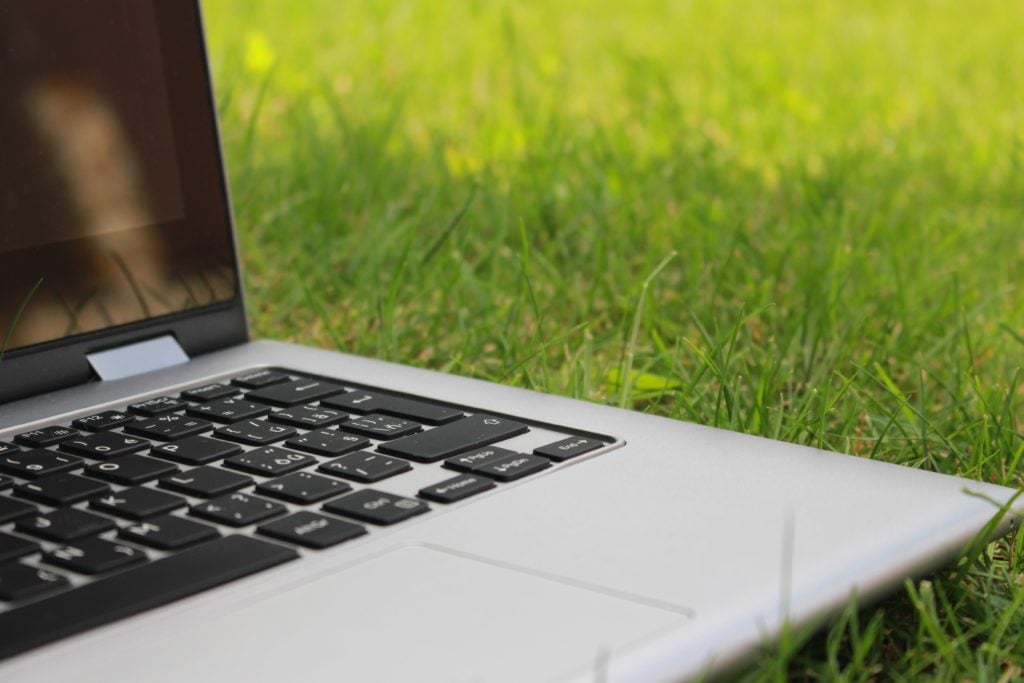 Managing an online business typically requires quite a bit of electronics. Sadly, no matter how well you take care of your equipment, nothing lasts forever.
Over the years, you'll start to notice how your computer's performance is steadily slowing down. That your laptop's keyboard is missing a few keys. Or how your printer is acting more like a paper shredder. Maybe you just want to upgrade to something new.
Buying new office technology can be an exciting time for your growing business – but it can also be expensive. Get your money's worth with energy-efficient electronics that are sure to pay off in longevity and energy savings.
Look for the iconic Energy Star logo, which shows that a product meets the strict energy-efficient requirements set by the Environmental Protection Agency (EPA). You'll use less energy and reduce greenhouse gas emissions that contribute to climate change – all without sacrificing performance.
Remember to always recycle your old electronics to help put an end to our country's e-waste problem.
5. Plant a Tree for Every Online Search with Ecosia
How often do you use a search engine like Google, Bing, or Yahoo? Multiple times a day, right? This Earth Day, we encourage you to test out a new search engine – one that's responsible for planting over 122 million trees.
Ecosia.org was founded to address worldwide deforestation and plant trees in the harshest environments on earth, like Burkina Faso, Africa.
Sign up for a free Ecosia account, and for every 45 searches, you'll help plant a tree where they are needed most across the globe.
6. Host a Team/Community Charity Event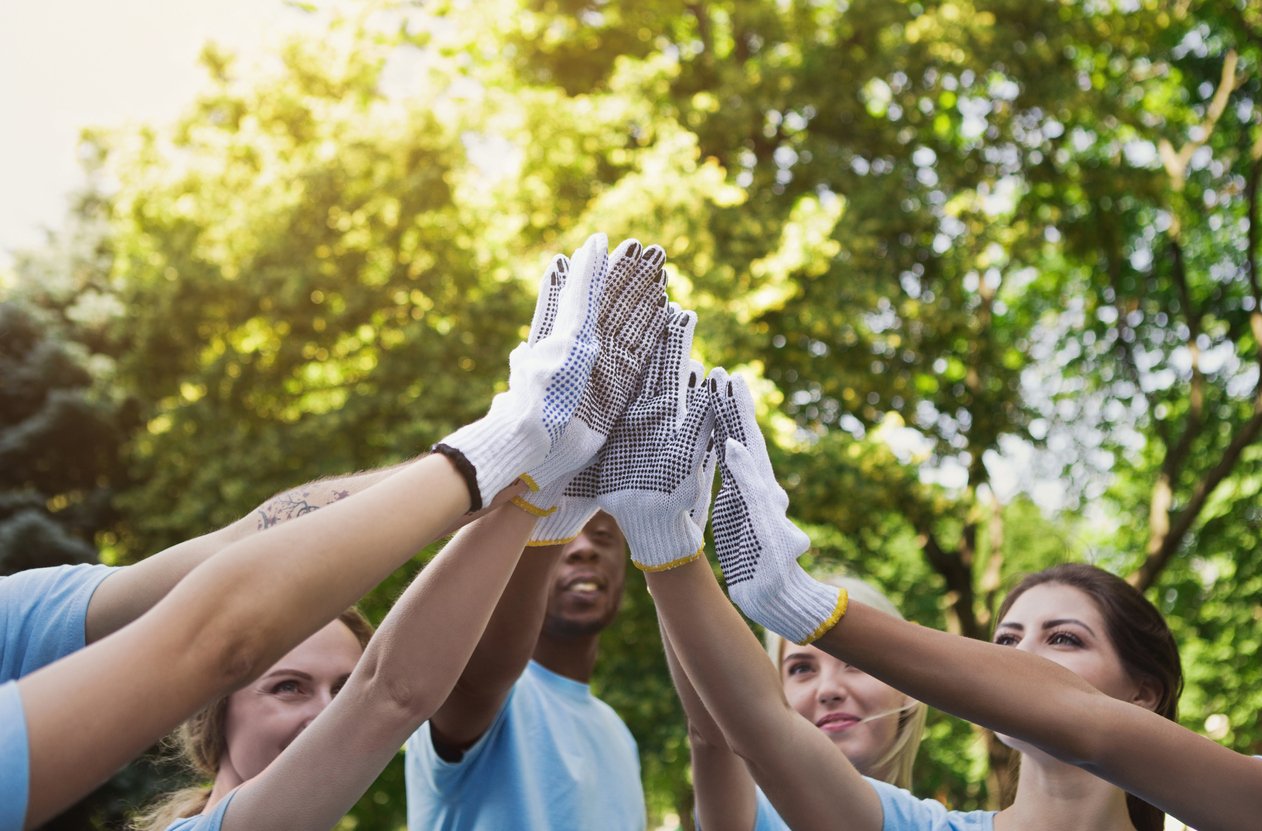 As the largest communal event in the world, Earth Day prompts thousands of community service projects. Gather your team of employees and volunteer for an Earth Day event near you. Be sure and check your local listings as well.
Don't see an Earth Day activity happening in your area? Then create your own!
A company-sponsored Earth Day charity event is an inexpensive way to better your community. Organize a massive clean-up movement for a local playground, park, beachfront, or along popular roadways. Plant a community garden. Build birdhouses. Set up a temporary recycling center. The ideas are endless!
Plus, while you and your team are seen engaging in positive community efforts, you'll also be building brand awareness.
Is your business a sole proprietorship? Change starts with one individual! You can still participate in the endless Earth Day activities happening across the country. Also, social distancing practices inspired several virtual Earth Day events worth checking out – like this one sponsored by the Earth Day Initiative.
7. Donate to an Eco-Friendly Organization
Expand your love for Earth Day and give to a large-scale Earth betterment project with a worthy donation.
Donations are a powerful way to support experts who do impactful work in environmental areas that you also have an interest in, such as:
The Conservation Fund. Protects over eight million acres of U.S. land through land acquisition, sustainable development, and emphasizing the integration of economic and environmental goals.
Oceana. Restores and protects the world's oceans on a global scale to tackle irresponsible fishery practices, reduce illegal and unregulated fishing, and prevent water pollution.
The World Wildlife Fund. Collaborates with people around the world to develop and deliver innovative solutions to protect communities, wildlife, and the places they live.
This Earth Day, MemberPress has partnered with One Tree Planted. For every membership sold from April 19 through April 26, we're donating to their mission to restore forests, create jobs, build communities, and protect habitat for biodiversity – all by planting trees!
8. Change Your Branding
Have you noticed our new look? That's right, MemberPress has gone green!
Temporarily adjust your brand logo for a fun way to celebrate the holiday and show your support for environmental awareness. According to Forbes, 88% of consumers are more loyal to a company that publicly supports environmental issues.
You can easily add earthy elements to your brand logo using free imaging software such as Canva. Try something simple like switching to a green color hue. For inspiration, you might want to check out the short video our amazing design team put together to represent our involvement with One Tree Planted.
A subtle change in your brand's appearance is sure to gain attention and symbolize your commitment to protecting Earth's natural resources.
What are your favorite Earth Day activities? Which of these green practices will you add to your small business operations? Let us know in the comments!
If you liked this article, be sure to follow us on Facebook, Twitter, Instagram, and LinkedIn! And don't forget to subscribe in the box below.