Even the best web hosts don't often offer 100 percent uptime guarantees. And there's always a chance you'll outgrow your current hosting plan.
These two issues can cause downtime and slow loading times. When this occurs, your membership site could suffer, both in terms of missed opportunities to sign up new members as well as existing members deciding not to renew their subscriptions.
So what can you do about it?
In this guide, we'll introduce some free and paid tools that can help you keep an eye on your website. Once you have a good insight into how your website is performing, you'll be able to make an informed decision about what steps to take, should an issue arise.
Let's begin.
Why Monitor the Performance of Your Membership Site?
With uptime guarantees of less than 100 percent the norm, it's likely that your membership website will go offline at some point, even if just for a few minutes. Furthermore, regardless of which web host you choose, there could come a time when your website and its audience outgrows your current hosting plan and things begin slowing down.
Any problems with the performance of your website — whether that's related to downtime or concerning loading times — could have serious repercussions for your business.
For starters, long loading times can give your visitors the impression that your membership site isn't a professional product. Secondly, slow websites can be hard to navigate and off putting to visitors, let alone to potential new members. Tests have shown that slow loading times can have a real negative impact on user satisfaction and website conversion rates – something you'll want to avoid if you hope to turn more of your visitors into members.
So instead of waiting for your visitors and members to get in touch to tell you about a problem, or even worse, waiting until your churn rates start creeping up or conversion rates begin to drop, why not take some proactive steps to monitor the performance of your membership site instead?
The Best Website Performance Monitoring Tools
Thanks to a few helpful tools, it's very easy to start monitoring the performance of your website. Armed with this information, as soon as something starts to go wrong, whether that's longer loading times or more downtime than your host guarantees, you can take action and get the problem solved.
Pingdom Site Speed and Uptime Monitoring
As mentioned, this guide will include some free tools for monitoring the performance and availability of your membership site. However, if you're prepared to pay for a top-quality service, then Pingdom is hard to beat.
Although Pingdom has a free service that will quickly tell you the loading time of your website on a one-off basis, once you've signed up with one of the premium plans, you will not only receive email and SMS alerts when your website goes offline but you can you also check how fast your website is loading in close to real time. Thanks to the site speed monitoring tool of Pingdom, your website will be checked at 30-minute intervals with the loading times recorded and nicely presented using easy-to-read graphs.
Depending on your plan, you might be able to enter multiple URLs to check, such as the homepage of your site and some of the internal pages. However, even the entry-level plan and its ability to check just one URL gives you a great indication of how well your site is performing in terms of loading times. Pingdom can also check transactional times on your website, such as on the signup and checkout pages to ensure there aren't any problems with these vital aspects of your membership site.
Another useful feature of Pingdom that can help make its results more relevant is the ability to choose from a selection of test locations. For example, if you know most of your audience are in Europe, then you can choose one of the testing locations nearby. This will give you a more accurate insight into how your visitors are experiencing the loading times of your site.
The Pingdom results are stored for reference. So if your visitors complain of slow loading times, you'll have the ability to go back and check the speed of your site. You can then use this information when communicating with your web host to report any issues with their service.
If you want to keep on top of the performance of your membership website and make an informed decision as to whether its time to upgrade your web host in order to speed up your site, Pingdom, and its tests come highly recommended.
Site Speed Testing with GTmetrix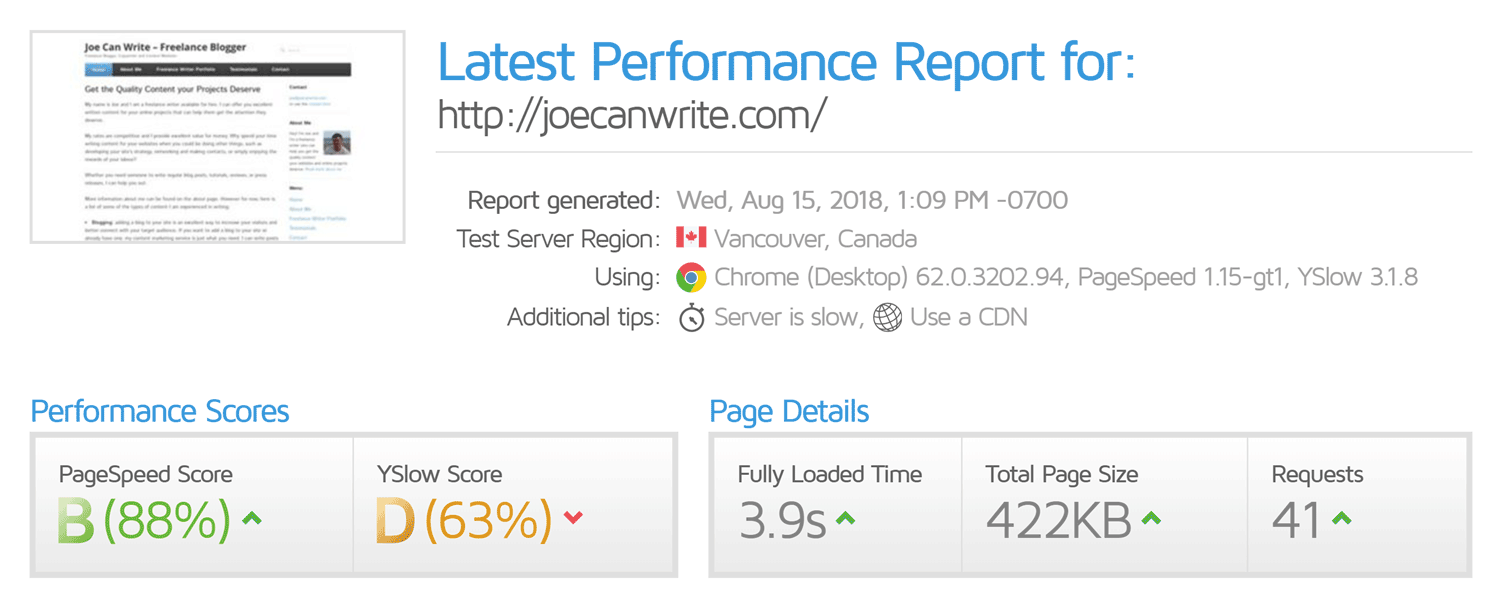 Like Pingdom, GTmetrix has free and paid services for testing the performance of websites. With the free service, you can simply enter the URL of the page on your website you'd like to test, before getting access to the results once the data has been collected a few minutes later.
Combining the free versions of GTmetrix and Pingdom should give you a good snapshot of how your site is performing at any given time. This can help you decide if it's time to upgrade your web host or take steps to optimize the loading times of your site.
If you do sign up with GTmetrix, and choose the free plan or one of the paid options, you can start tracking multiple URLs, unlock hourly checking of those URLs, and choose from more test locations around the world. The GTmetrix reports are well formatted and contain lots of useful information, making this another good premium tool for keeping an eye on the performance of your membership website.
Uptime Robot Downtime Monitoring and Alerts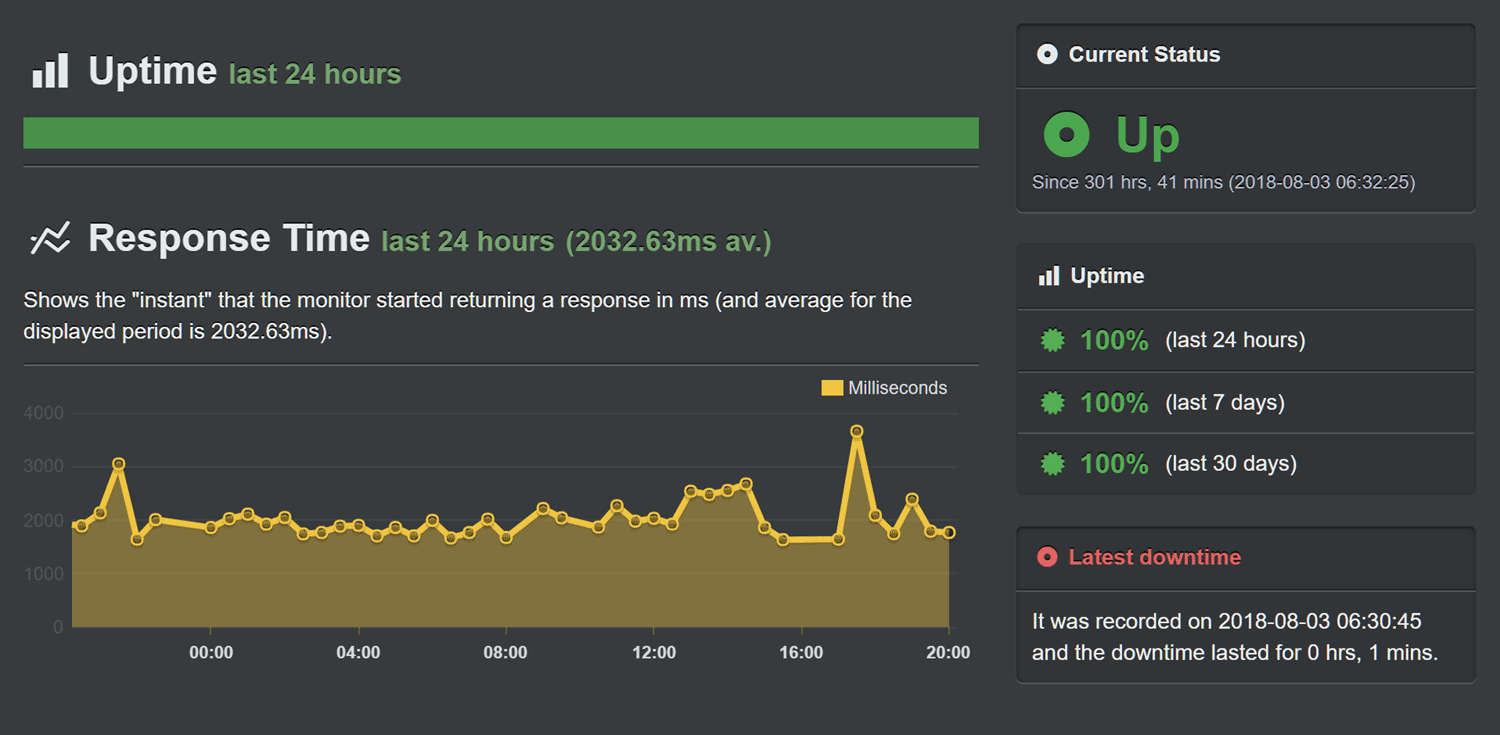 If your membership website generates revenue, then any downtime is likely to results in a loss in profit. Whether that's because potential members can't sign up, or existing members decide to cancel or not renew their subscriptions due to poor service.
Thankfully, signing up with one of the free or paid plans from Uptime Robot ensures you'll get almost instant notifications when your site goes offline. While the free plan checks your site every five minutes and only sends out email alerts, upgrading to the paid plan reduces the check intervals to one minute and gives you access to SMS message alerts.
Whichever plan you choose, once you receive a downtime alert from Uptime Robot, you can start working on getting your site back online as soon as possible, rather than waiting for angry emails from your members.
Load Impact Website Load Testing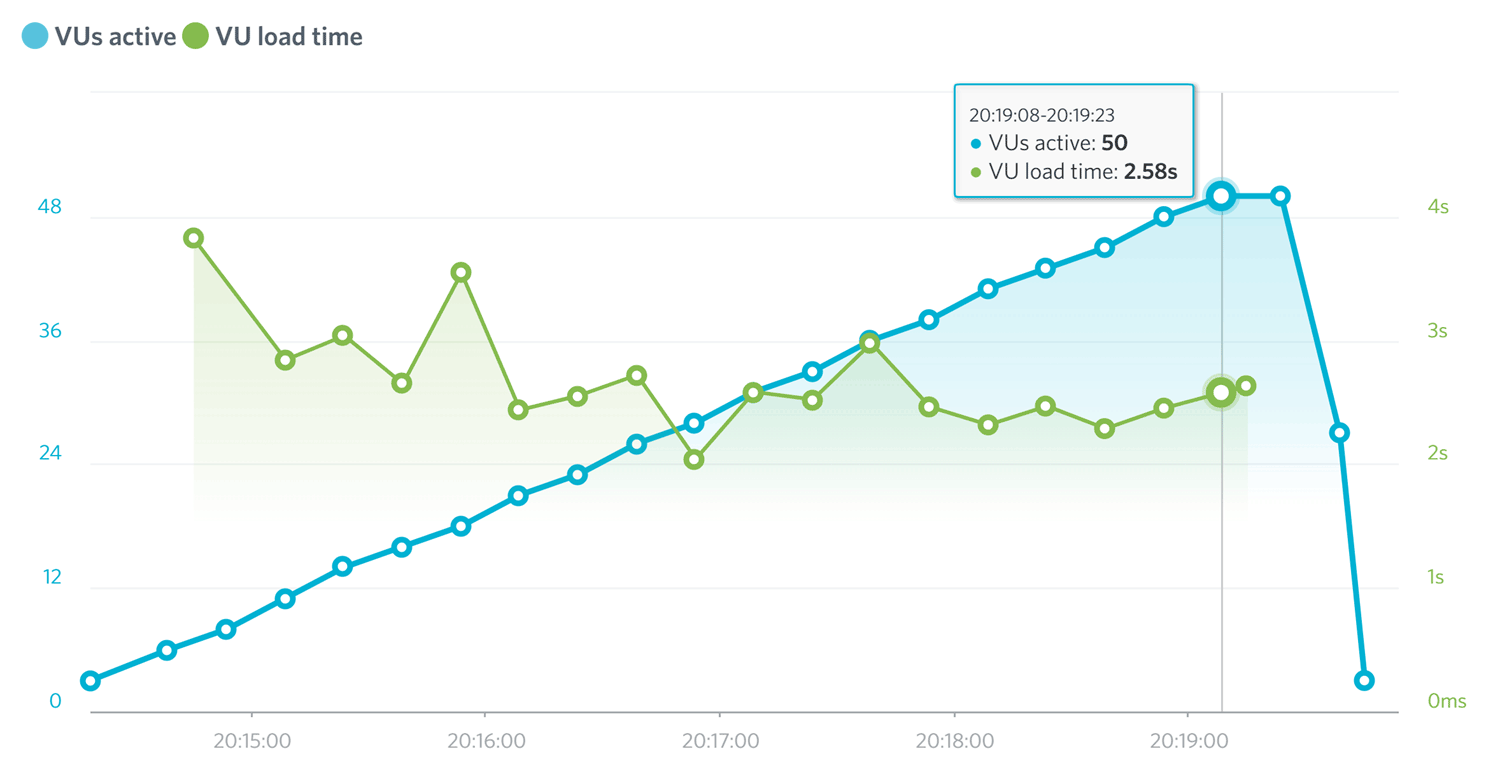 The above tools will test the load times of your website, but the Load Impact service will check how well your site performs when multiple users are accessing it at the same time.
Knowing this can be invaluable, especially if you want to run a webinar on your site or hold a live question and answer session. The free version of Load Impact will allow you to find out how well your website might fare when up to 50 virtual users are accessing it simultaneously.
To push the limits of your website further, you can pay to increase the number of virtual users that are accessing your website. However, if you're using low cost shared hosting, you might be surprised to learn what effect 50 simultaneous users have on your site. Either way, your membership numbers should give you a good idea of many virtual visitors to test your site with.
The results from Load Impact will tell you if you should start thinking about upgrading your web hosting, or if your current plan will suffice for now.
Final Thoughts
Hopefully, these free and paid performance monitoring and testing tools will give you a good insight into your membership website.
If you're unhappy with the results, you do have a few options.
The obvious one is to move to a higher performance hosting plan or change web hosts altogether. However, this can be expensive. Other options include installing some plugins that can improve the performance of your website, changing to a faster loading WordPress theme, optimizing your image content, and making sure your videos are hosted offsite.
How do you currently monitor your website and which of these tools will you use? Let us know in the comments below!