Thanks to WordPress, taking control of your online business is easier than ever. However, that doesn't mean things can't (and do) go wrong.
Whether it's a hack, an update gone haywire, or just some random series of unfortunate events, the unexpected is usually just around the corner. So you need to be prepared.
In this post, we'll cover the three main ways to backup your online business, give you a few helpful tips, and give you a heads up on the best solutions to get the job done.
Why your site backup is so important
Backing up is the best way to keep your website secure, to keep your data safe, and to protect your business. Following are just a handful of the scenarios that could doom your data and damage your online business:
You decide to make some much needed changes to your website, but those changes happen to mess things up on the front end.
A widespread hack wipes out your design or switches up your settings.
Your webhost decides to deplatform you (without notice) due to a misunderstanding.
You forget to pay your hosting bill and get cancelled.
Should you ever face any of these (or a thousand other) unfortunate events you'd be just fine – as long as you had a data backup.
With a backup in place, you'd just head over to your storage, grab your data, and restore your site as if nothing happened. Without a backup, your site could be irreparably damaged, and you could lose members, students, and customers.
When unfortunate things like this happen (and they do!) you must have a backup of your site.
Thankfully, creating a backup is easy, and there are lots of ways to do it! Following are the three simplest and most common methods.
1 – Use a WordPress backup plugin
Using a WordPress plugin is by far the easiest and most straightforward way to backup your site. And there are a bunch of them out there that can handle the job with just a few clicks.
All you have to do is download a plugin from the WordPress directory, set up a backup schedule, and you're all set. Easy as that! Any plugin worth its salt should back up your site for you automatically on a set schedule.
Following are seven WordPress backup plugins we highly recommend (in alphabetical order).
BackupBuddy
The BackupBuddy plugin offers a lot in one little package. In addition to database and file backup, you get scheduled, automatic backups, storage, and site restore services. Prices start at $52 per year for service on one site.
BlogVault
With BlogVault you get everything you'd expect from a solid backup solution, plus an impressive site restoration rate of 100%. This plugin also offers free staging. Prices start at $88.80 per year for protection of one site.
Duplicator Pro
In addition to the obvious, Duplicator Pro has an impressive list of handy features like a backup limiter that keeps your uploads from overwhelming your storage, drag-and-drop functionality, and email notifications. You can get this WordPress backup plugin for as little as $69 per year to cover up to three sites.
Jetpack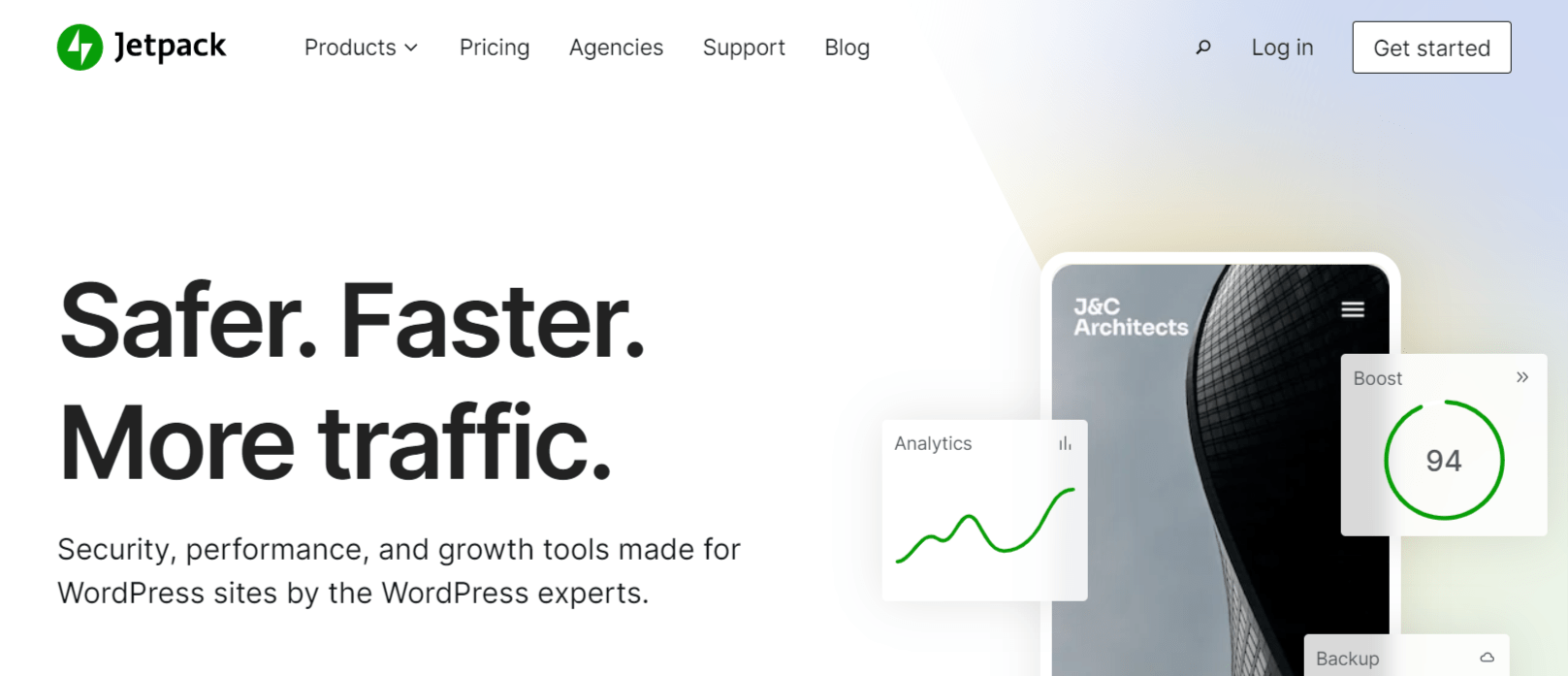 It's no surprise that more than five million WordPress websites rely on Jetpack to keep things up and running. After all, it's recommended by WordPress.com. The plugin offers all the backup bells and whistles plus malware scanning and spam protection. Jetpack's pricing starts at around $47 per year for 10 GB of backup storage.
UpdraftPlus
UpdraftPlus is one of the most trusted names in the WordPress backup world. In addition to scheduled backups and backup of non-WordPress files and database, this plugin offers a space-saving incremental feature that allows you to only save changes made to your site since the last backup. Pricing starts at around $42 per year for protection on up to two sites.
WP Staging
If decentralization is key to your business philosophy, WP Staging is an excellent choice for your backup needs. This plugin has everything you need – from scheduled backups to simple site migration services – and you keep all your data in your pocket. No cloud, no worries. Prices start at $98 per year to protect one site.
WP Time Capsule

Another incremental backup service, WP Time Capsule only saves the changes made to your site since the last backup. This time- and space-saving plugin also features real-time, automatic backups, so you can spend your time building your business instead of worrying about uptime.
2 – Backup through your web host
Many hosting companies offer site backup tools. To find out whether your host is one of them, just log into your hosting account control panel, or contact your hosting company's support team.
Three of our favorite web hosts for sure support WordPress site backups:
However, be sure you understand what happens to your data should you forget to pay your bill (it can happen to the best of us!).
3 – Do a remote FTP backup
Though it is a more complicated method, you can always perform a manual backup. For this you'll use the File Transfer Protocol (FTP), which is a fancy way to describe the transfer of data between computers.
To get started, you'll need to download a copy of two files from your website. For WordPress websites, these are the wp-content directory and wp-config.php files.
If your host offers phpMyAdmin, go to the Export tab and use the Quick Export method. Stick with SQL as the output format, and click on "Go". You can then upload that file to your preferred storage platform.
If you're in the market for a good VPN, we recommend Surfshark, which will run you about $13 per month.
Final Thoughts
When you run a membership, online course, or subscription-based website, your data is your business's lifesblood. One of the most effective things you can do to protect your business is backup your site.
These backups will keep your online business secure and humming along should the unexpected occur. It's always a good idea to explore your options, so consider these three solutions, and use whichever works best for you:
WordPress backup plugin
Web host backup
Manual backup
What's your favorite backup method? Do you have any other tips or tricks? We'd love if if you'd share your insights in the comments.
If you liked this post, be sure to sign up in the box up to the right!