Saving time, increasing sign-ups, and improving your member satisfaction levels are just some of the ways adding a FAQ or knowledgebase to your site helps your membership business.
But what are a FAQ and knowledgebase exactly, how can they help you, and how do you go about adding them to your website? We've got the answers for you in this guide to creating them for WordPress-powered membership sites.
Even if you're not using WordPress for your membership site, you can still learn about the benefits of adding a knowledgebase or FAQ to your website from this article. You'll just have to find another way to add this functionality to your site.
So why add a knowledgebase or FAQ to your membership website?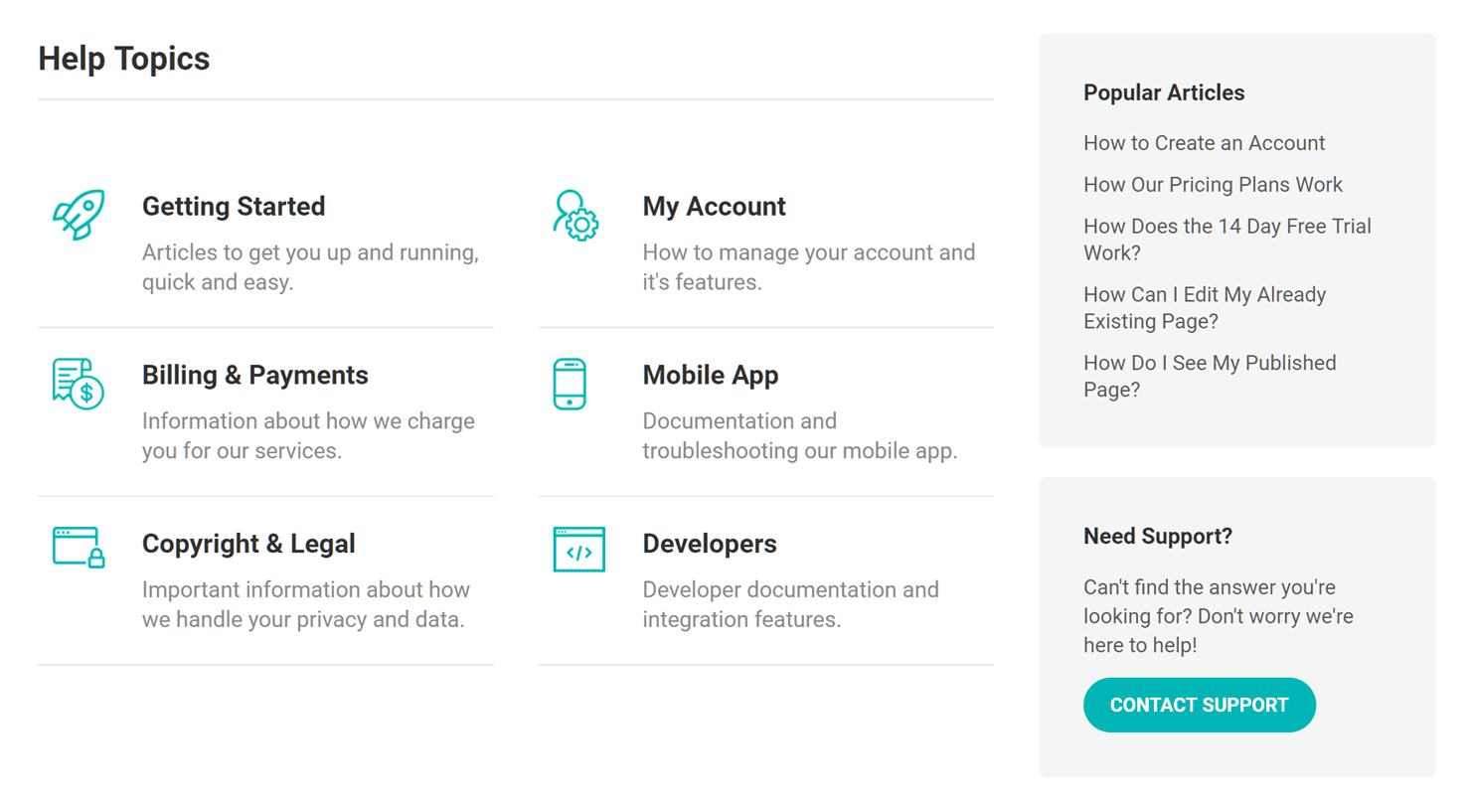 Save time
One of the key benefits to adding a knowledgebase or FAQ to your website is the time it will save you. Though it may take a bit of effort up front to create the content, remember that content creation is crucial to growing a membership you can outsource.
But once you've published answers to questions you receive on a regular basis, your audience will be able to more easily find the solutions themselves. If not, you can simply forward them a link to a relevant article when they contact you. This all saves you and your support team lots of time in dealing with inquiries from both existing members and new visitors.
Improve membership site conversions
You'll also find you improve membership site conversions when you provide easy-to-find answers to frequently asked questions and other helpful content Although some visitors may still contact you if they have a question about your membership site, there are those who will simply go elsewhere if they become frustrated. An informative knowledgebase or FAQ helps neutralize any concerns potential new members may have, making the decision to sign up that much easier.
Reduce subscription churn
Providing useful support content helps reduce your membership churn rate as well. If a member is having trouble accessing content, they're less likely to cancel their subscription if they can quickly find a solution to their problem.
If you're not sure what content to add to your FAQ or knowledgebase, check your inbox for queries you've received from members and potential sign-ups. Start small with your base by answering questions about things like pricing. Then, as each query comes in, add it to your knowledgebase or FAQ to begin building up a useful repository of helpful content.
The How-To
As you can see with the MemberPress FAQ, you don't need an advanced system to publish this type of content. Simply adding a new page to your WordPress website and writing out answers to the questions you're frequently asked is a great way to start.
However, if there's a lot of content you want to add to your knowledgebase, or you are looking for a more advanced system for managing your FAQ, the next section of this guide on how to create a knowledgebase or FAQ for your membership site looks at some off-the-shelf tools you can use.
Choose a Purpose Built Knowledgebase or FAQ WordPress Theme
If you've yet to launch your membership project, one option is to choose a WordPress theme built specifically for creating knowledgebase and online FAQ websites. Hero Themes's KnowAll is a good example.
The advantage to this approach is that the theme will feature a design that's well suited to publishing FAQ and knowledgebase content. Typically, the best WordPress knowledgebase and FAQ themes include all the features and functionality this type of site will need. They also integrate seamlessly with the MemberPress plugin.
But this option isn't a good match for every project. If your membership site is already live, switching themes might not be practical. Furthermore, if you simply want to add a knowledgebase or FAQ to your membership site rather than create a website whose sole focus is on publishing knowledge and FAQ-style content, this type of theme probably isn't the right choice for your project.
In short, if the majority of your membership content is published in a FAQ and knowledgebase format, using a purpose-built WordPress knowledgebase and FAQ theme is a good option. But if your membership content is more varied and includes things like educational content and long-form articles, or you've already chosen a theme, a WordPress knowledgebase or FAQ plugin is likely a better option.
Adding a Knowledgebase and FAQ to your WordPress Membership Site with a Plugin
Thankfully, there are some great free and commercial plugins available for adding FAQs and knowledgebases to your WordPress website. WP Knowledgebase is one popular free plugin that been used to add a knowledgebase to over 4,000 websites and has a reassuring average user rating of 4.4 out of 5.
Once you've installed and activated the WP Knowledgebase plugin, you can begin creating articles using the Knowledgebase custom post type. These articles can be organized using Knowledgebase's categories and tags to help your visitors find the content they're looking for.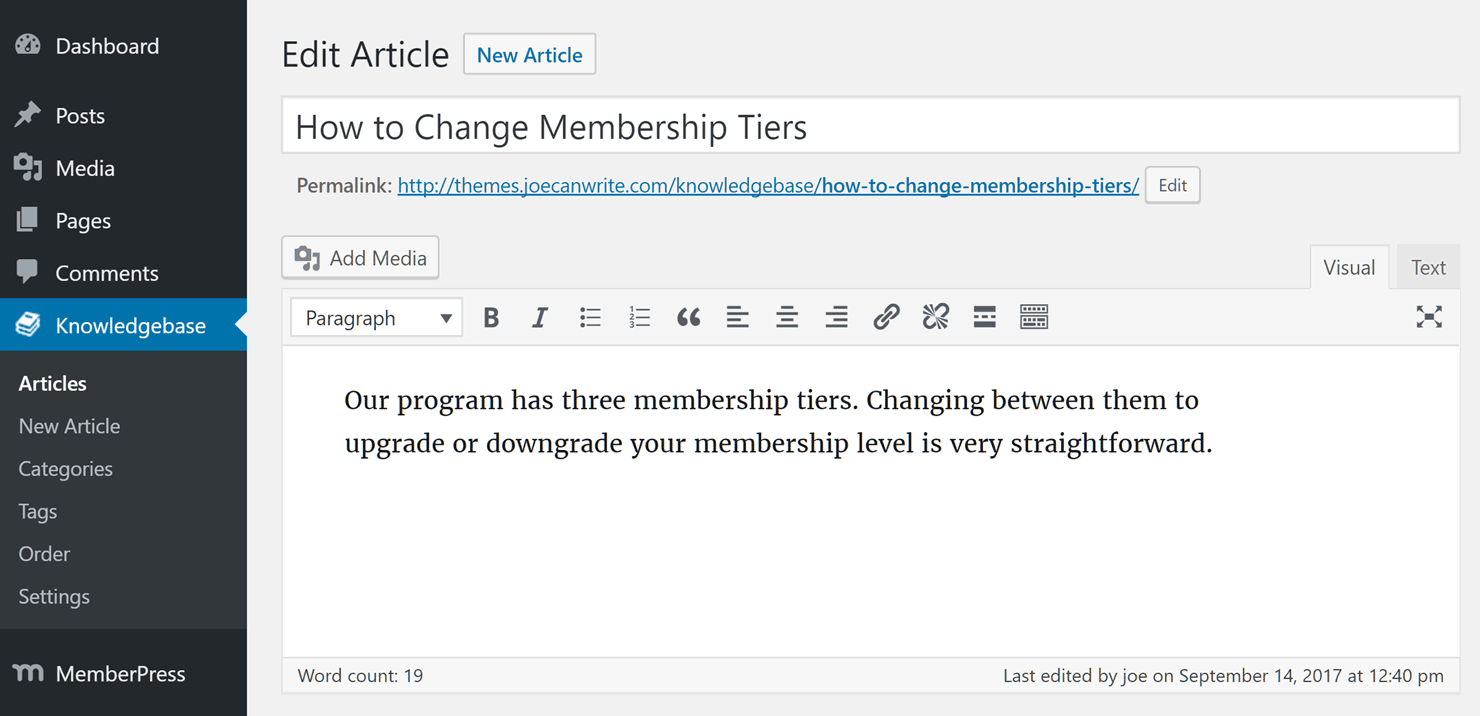 Once you've published an article, it's displayed on the knowledgebase page the plugin creates. The plugin even includes an optional search tool that gives visitors yet another way to find solutions to their problems.
You can use the WP Knowledgebase plugin widget to add links to your articles and to add categories. And you can also add tags to the sidebar, footers, and other widget-friendly areas of your WordPress website.
And by combining WP Knowledgebase with a plugin like MemberPress, you can easily restrict access to some or all of your knowledgebase content to just members.
As you can see, WP Knowledgebase offers a simple way to add and manage the support articles on your membership site. If you only want to add a basic FAQ page to your membership site, the free Ultimate FAQ plugin is another good option.
Final Thoughts
With all the benefits there are to adding an FAQ or knowledgebase section to your membership site, what's stopping you? In addition to increasing sign-ups, helping members to help themselves, and keeping your users happy, the extra content a knowledgebase or FAQ contains can form part of your membership site SEO strategy and drive even more traffic your way.
Thanks to the extensible nature of WordPress, adding this type of content to your site is relatively straightforward. Simply install a suitable theme or plugin and start publishing answers to those frequently asked questions and solutions to common issues your audience is experiencing.
Are you ready to create a knowledgebase or FAQ for your membership site? Let us know if you have any questions in the comments below.