In any business, whether online or offline, people are powerful marketing tools. For many folks, it's normal to feel hesitant to make a purchase—whether it be a product or a membership subscription—until they see that other real people have done so already. You may have heard this phenomenon referred to as "social proof."
That's why one of the best ways to encourage people to make a purchase is to give them a case of FOMO (Fear Of Missing Out) by showing them that others out there are eager to buy what you're selling.
In this post, we'll show you how to use the power of social proof through the creation of live sales notifications that will show your membership site visitors just how many people are actively making purchases on your site—and make those visitors want to jump on board.
Are you ready to take the leap into the world of online business? Create a membership site with MemberPress!
Is FOMO Really Effective For Online Sales?
In short, most definitely!
FOMO is a term that describes the anxiety a person experiences when they're afraid they may be missing out on something exciting or popular. It's a natural phenomenon we've all experienced, and it's extremely effective in the world of marketing.
The concept of FOMO is used in various contexts:
Influencer Marketing. If you follow an influencer or a prominent person and you notice that they're using a specific product, you're more likely to at least try that same product.
Online Sales. Have you ever noticed ads for sales that use terms such as "act fast" and "while supplies last"? Those ads are the result of marketers leveraging the power of FOMO.
Online Courses/Mastermind Groups. If you want to show how exclusive and special your online class or mastermind group is, you can limit seating or create a countdown to show others that the time for them to join this exclusive group is slipping away.
Here, we'll show you how to create FOMO effectively and boost conversions on your membership site using TrustPulse.
What's So Great About TrustPulse?
TrustPulse is one of the best tools online for leveraging social proof and increasing FOMO in your membership business' marketing efforts.
The tool allows you to show real-time live sales notifications and user activity notifications on your membership site. So that anytime someone purchases a membership, an online course, or merchandise on your website, a small notification will pop up on your site visitors' screens.
These notifications reduce cart abandonment and help to create a sense of urgency for your site visitors to make their purchases—altogether equaling a boost in sales for your online business.
TrustPulse is also easy to set up and implement on your WordPress website with a straightforward visual builder that is simple to use. Additionally, it allows you to easily customize the look of your notifications for consistency with your website's brand.
TrustPulse is easy to use on MemberPress. Try it now!
Getting Started with TrustPulse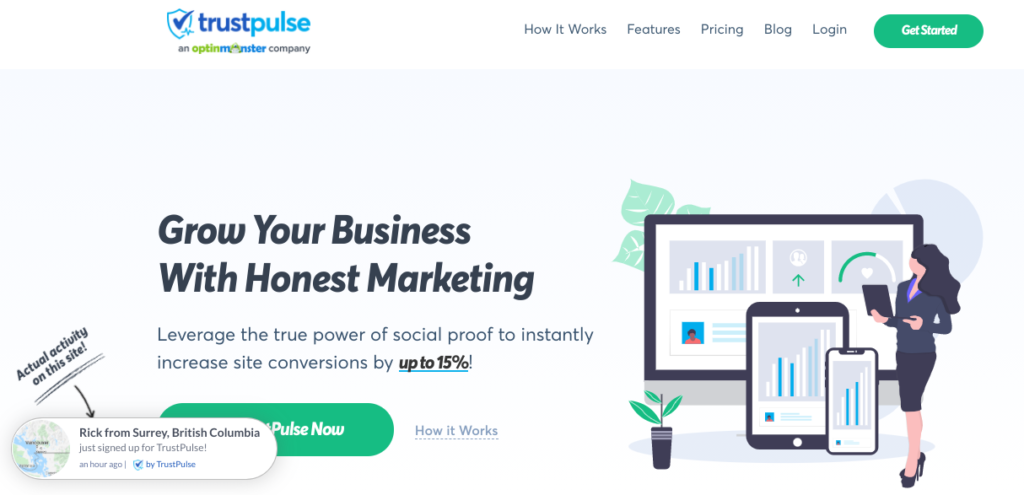 Step 1: Install TrustPulse & Create An Account
First, install and activate the TrustPulse plugin on your membership website.
On Your WordPress dashboard, click on the TrustPulse menu option and click on Get Started For Free. This will lead you to the TrustPulse website where you can sign up for your free account.
Step 2: Start Creating Your Campaign
Once your account is created, you'll be taken to your TrustPulse dashboard. Click Create Campaign to create your first campaign.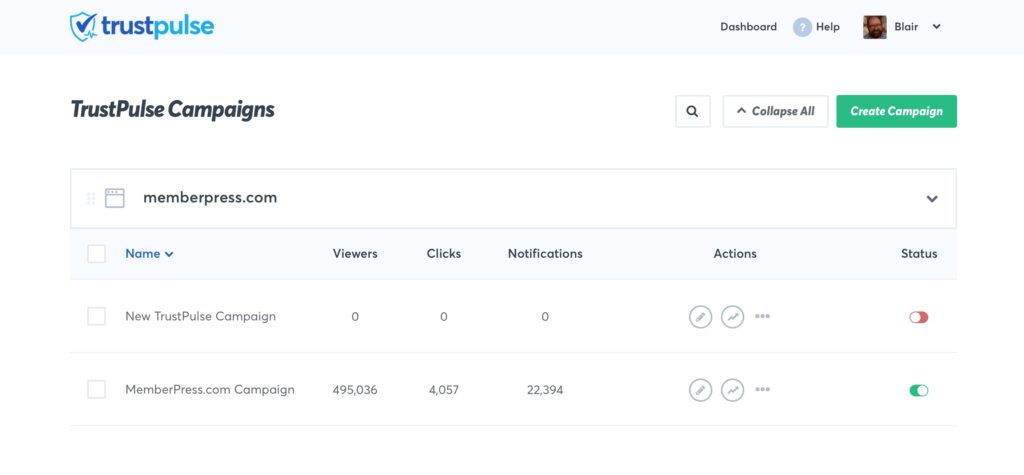 Here, you'll title your campaign, select your website, and choose a campaign type. After that, click on the Next Step button to choose language and appearance options for your campaign.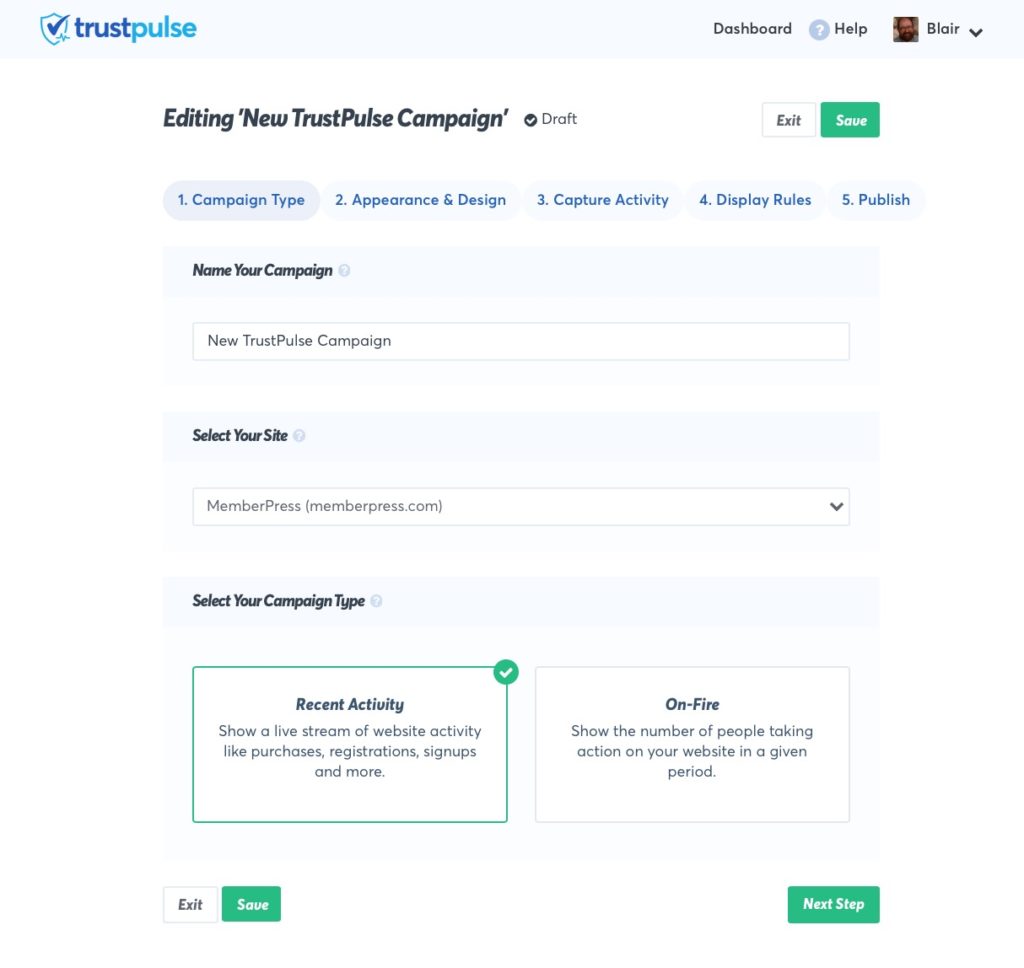 From here, you can configure how you want your live sale notification to look on your website. You can choose the language you want the notification to appear in, message text, links, animation, and more.
Now, you'll have to allow TrustPulse to capture the activity on your website so it can display the notifications.
There are two options available to capture site activity:
AutoMagic. This tool tracks and records user activity on your membership site automatically.
Zapier. This third-party tool allows you to capture visitor interactions from your website.
If you have a Zapier account already, it's a great tool to use and implement. However, if you don't have a Zapier account and are new to this process, we recommend that you use AutoMagic. For the sake of this example, we'll use AutoMagic.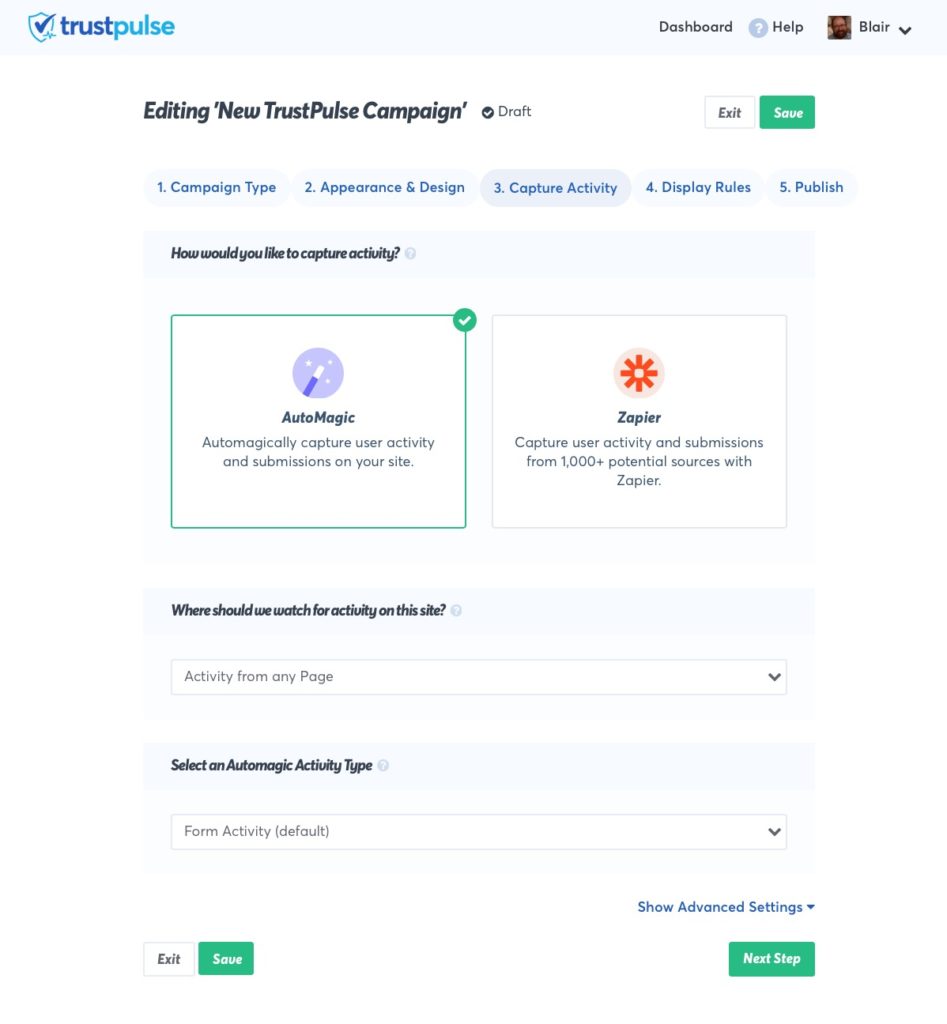 Next, you'll configure AutoMagic settings. The first section asks What website activity should we watch for?
In the drop-down, you can select specific places you want to track for website activity. This can be anything from a specific URL or set of URLs to all pages or pages containing specific text.
When you've completed everything, click on Next Step.
Now that you've configured your settings, you'll configure where and how your notifications will show up for your website visitors.
You can choose to display on all pages, select pages, or pages containing certain keywords.
In this section, you can also edit:
Delay. How long do you want the notification to wait before appearing to your site visitor?
Display Duration. How long do you want the notification to show?
Delay Between Notifications. How long should the time be between notifications?
Load Notifications on Mobile. Do you want these notifications shown on mobile as well?
Loop Notifications. If the visitor has already seen the notifications, do you want them to loop through again?
Default sections are already in place, but you can change these to whatever extent you'd like.
Once you've finished all of your configurations, you're ready to publish! Just click Launch Your TrustPulse Campaign, and your site will automatically take on these changes. You also have the option to add TrustPulse to your site manually by inserting the provided embed code.
Final Thoughts
If you aren't already using FOMO as a marketing tool in your business, you're the one missing out! Using a tool like TrustPulse will help you begin to implement this strategy quickly and easily, so you can stop leaving money on the table.
TrustPulse has a free plan you can download directly from your WordPress plugin directory. However, if you're seeking more advanced features and more sessions, paid plans begin at just $79 per year.
If you're looking for more ways to keep current and potential customers engaged, check out our posts on how to get return visitors to your site and why push notifications are a good idea for your membership site.
Create a successful online business with MemberPress now!
If you liked this post, then please follow us on Facebook for more great content. You can also find MemberPress on Twitter and Instagram.