When You Should Use the MemberPress and LearnDash Integration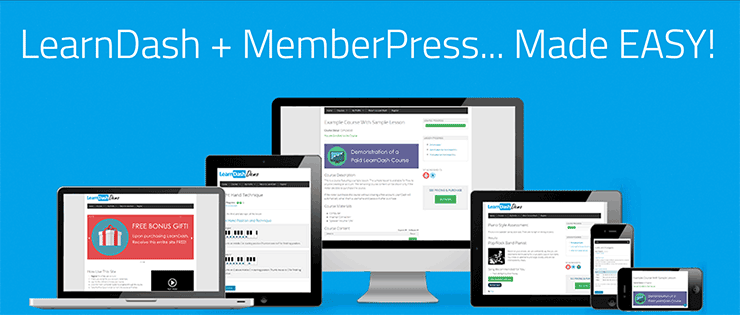 Why Use MemberPress and LearnDash Together?
MemberPress Courses is a learning management system (LMS) add-on that's built right in to MemberPress. And, 90% of the time, its features are the perfect fit for any online course our customers might want to build, sell, and manage.
Courses easily handles online learning-content delivery and course progression and, because it's part of MemberPress, advanced content protection.
However, if you're operating in a corporate environment, for example, and need advanced accountability features like SCORM or xAPI for your curriculum, using MemberPress and LearnDash together through our LearnDash integration will be your best bet.
LearnDash is one of the best LMS plugins for creating online courses with WordPress. With MemberPress handling user management and content access, and LearnDash helping you deliver multi-tier courses, offer assessments, test students, and award certificates, you'll have a robust platform in place.
You may already be using both plugins on your site. But even if you're not, you'll still want to read this article to learn about the integration and how it makes combining these two leading plugins much more straightforward.
By the end of this article you'll be more familiar with how MemberPress and LearnDash work together to improve your website. You may even pick up some ideas on how to help your audience by adding another plugin like MemberPress or LearnDash to your stack.
The LearnDash MemberPress Add-on
The LearnDash MemberPress add-on was launched by the LearnDash team in January 2017. It's free to download for LearnDash license holders and is just one among the growing number of the company's free and premium add-ons.
Despite there being some overlap in the features and functionality of MemberPress and LearnDash, such as both plugins being able to manage users and control access to your content, using these two tools together can greatly enhance your website. Let's find out how.
Offer Online Courses as Part of a Membership Level
MemberPress lets you create and sell multiple membership levels, or tiers, as well as online courses. As mentioned, LearnDash lets you create online courses with advanced accountability features such as xAPI and SCORM.
By using MemberPress for membership management and LearnDash for course management, you can create advanced courses that can be packaged as part of your membership levels.
For example, an entry-level bronze membership plan may include access to your introductory course. Upgrading to the higher, silver, membership level then unlocks access to your intermediate course, with the top-tier gold membership plan granting access to all courses.
Alternatively, you could offer multiple membership plans covering different topics, such as courses on photography, graphic design, and programming, instead of implementing a hierarchical system.
By using the MemberPress add-on for LearnDash, you can also associate the membership levels and courses of the two plugins to enable automatic enrollment on the linked courses when a user signs up.
This integration also goes both ways, with users being automatically unenrolled from a course when they cancel or change their membership status.
Running a successful membership site or LMS business that has the potential to generate passive income requires as much automation as possible— something this add-on integration is focused on helping you achieve.
Grow Your User Base with Free Trials
If you're already a MemberPress user, you're probably aware of your ability to offer free trials to prospective members. This could include a free membership tier that grants users basic access to your content, free access to your premium content for a set period, or a combination of the two.
By integrating MemberPress with your LearnDash-powered online course, you'll be able to offer sophisticated automated free trials.
As you can associate MemberPress membership levels and tiers with specific LearnDash courses on the same site, you'll have plenty of options for harnessing this proven lead-generation tactic and using free trials to grow your platform's user base.
Add the MemberPress coupons feature to the mix and you can be really creative when it comes to enticing new members to sign up or existing members to upgrade.
Wrap Up
In most cases, MemberPress Courses has what you need to build and sell your online curriculum. But if you need more advanced accountability features, a leading online course plugin like LearnDash is a great solution when combined with a powerful membership plugin like MemberPress.
Thanks to this add-on, it's easier than ever to take advantage of MemberPress features like multiple levels, free trials, and coupons and combine them with the powerful online-assessment and LMS-quiz features of LearnDash.
Ready to get started? Take the first step and get MemberPress today!
How do you think you could benefit from using both MemberPress and LearnDash on the same website? Please let us know in the comments below.
If you liked this article, be sure to follow us on Facebook, Twitter, Instagram, and LinkedIn! And don't forget to subscribe in the box below.
7 Comments
Justin

February 22, 2017

Hi Joe- Great article! I have been seeing more and more people using a combination of LearnDash & MemberPress and the end-results are very impressive. The suggestion you give about adding courses to different tiers of membership is golden. What a great incentive to get someone to opt into a higher membership tier. Here's another idea of how you can use these two platforms together: multi-tiered drip-feeding of content! Use LearnDash to drip-feed lessons according to one schedule, and then MemberPress to release new course access and resource pages on another schedule. This is great for preventing students from getting overwhelmed with all the materials - guiding them through a structured process where they unlock new perks over time (resulting in lower churn rate). Kindly, Justin

Andrew Murray

February 22, 2017

Looks great, guys

Derek Becton

February 22, 2017

I'm looking to create a youth skills training program and I want to use online coaching assignments and drills as an add-on, and hopefully create incentives for them to complete their assignments, etc. Which LMS would you recommend.

Avdi Grimm

February 23, 2017

Having experience with the WP Courseware/MemberPress integration, it's disappointing to see another LMS take the same direction. The beauty of the MemberPress model is in Rules. Rules make it incredibly efficient to manage many-to-many relationships between membership tiers and membership perks. Then adding a new resource OR adding a new membership tier is often as simple as adding or editing one rule. By contrast, the LearnDash integration adds a new tab to each membership tier. So what happens when I add a new course which should be accessible by all membership types? I have to click through every single membership and check a new box in each one. Do you have some guidance somewhere that explains the Rules model to potential integrators, and how to leverage it for maximum flexibility?
Paul C

February 23, 2017

Hi Avdi, the WP Courseware add-on for MemberPress is actually quite similar in its implementation of syncing courses to memberships: https://wordpress.org/plugins/memberpress-addon-for-wp-courseware/ You have a great point about the location of the settings being on each Membership though. Maybe this is something to bring up to LearnDash support about possibly moving the location of the synchronized settings to a central page where all courses/memberships are managed in one spot.
Maz
February 23, 2017
What if you want to charge user per course, can MemberPress do that?
Paul C

February 23, 2017

Yes, you can create a separate membership for each course.