If you have financial expertise, you might be eager to monetize that knowledge. One effective way to do this is by starting a membership site for investment advice. However, this may sound intimidating if you're not familiar with web design.
Fortunately, this process is less complicated than you may think. By using a powerful tool like MemberPress, you can easily create a membership site dedicated to smart investing, and start making more money.
In this article, we'll take a closer look at why you should start a membership site for your investment advice business. Then we'll show you how to create one in just three steps. Let's get started!
Why You Should Start a Membership Site for Investment Advice
Making sense of financial information can be a challenge for many people. In fact, 29% of workers aren't confident that they'll save enough money to get through retirement comfortably. That means there's a market to help individuals manage their finances more efficiently.
If you have the right knowledge, you also have the potential to lend a hand. Additionally, you might want to monetize this service to create a new revenue stream for your business.
By setting up a membership site to offer investment advice, you can foster a lasting relationship with your clients. You won't need to continually run one-on-one sessions or chase down new leads. Instead, you can guide users through their financial decisions for the duration of their memberships.
Furthermore, a membership site can help you offer different kinds of services. For example, young entrepreneurs might need more guidance than professionals who already have some experience with investment. A tier system enables you to cater to different audiences.
Finally, a membership site can also help you create a strong sense of community for your clients. The investment industry is constantly changing, which can make some people feel confused and uneasy. However, a membership site that provides up-to-date advice and professional support can make people feel more secure in their decisions.
MemberPress Website Example: Capital Market Laboratories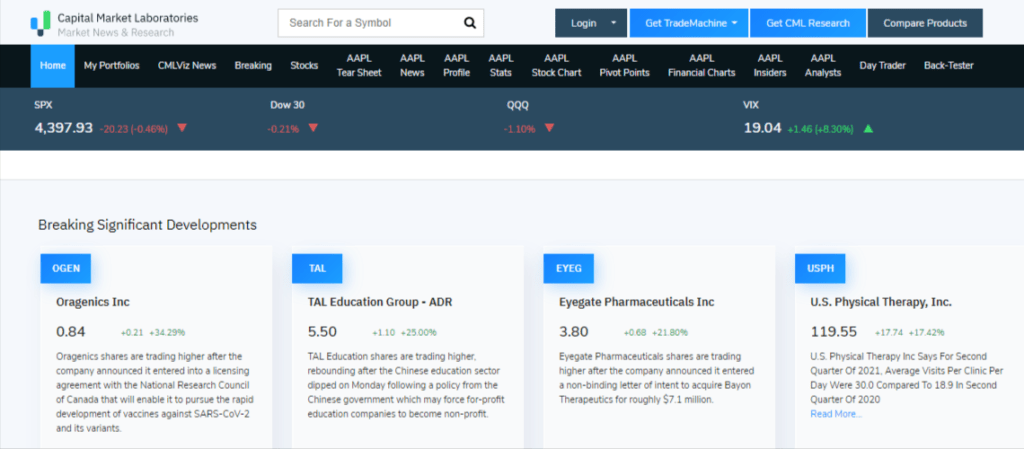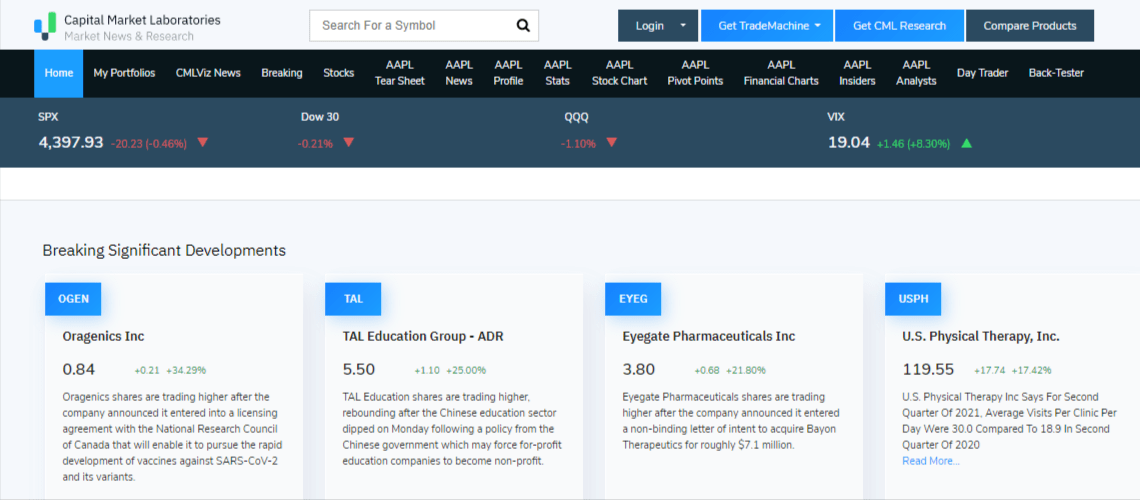 Capital Market Laboratories is an online financial advice resource providing comprehensive stock and investment news and tools to its members.
The company uses MemberPress to protect and sell its premium content. It also offers two award-winning digital investment software applications – Trade Machine PRO (TMP) and Stock TradeMachine (STM).
How to Start a Membership Site for Investment Advice (In 3 Steps)
Before we begin, make sure that you have a basic WordPress site up and running. Additionally, you might want to collect any resources that you'll want to include in your memberships, such as e-books and investment tools. This can help you get started with your site as quickly as possible.
At this point, it would also be a good idea to choose a theme for your WordPress site. There are tons of options out there designed specifically for your needs. Take a look at this article for some great ideas: 23 Best WordPress Themes for Financial Sites.
Step 1: Add MemberPress to Your WordPress Website
Fortunately, you don't have to be a tech wiz to build a membership site. Our MemberPress plugin can do a lot of the heavy lifting:
We'll provide the tools and structure you need, including different payment plans and renewal fees. MemberPress also comes with a built-in course creator, so you could even include online courses in your offerings easy as pie. That way, all you have to worry about is providing top-notch investment advice.
You can start by choosing a pricing plan. Once you've made your purchase, you'll be able to download the plugin file to your computer. Then go to your WordPress dashboard and navigate to Plugins > Add New > Upload Plugin.
Click on Choose File, upload the file you've just download, and then select Install Now:

After you've activated the plugin, go to MemberPress > Add Settings > License. Enter your license key (you can find this in your MemberPress account) and click on Activate License Key: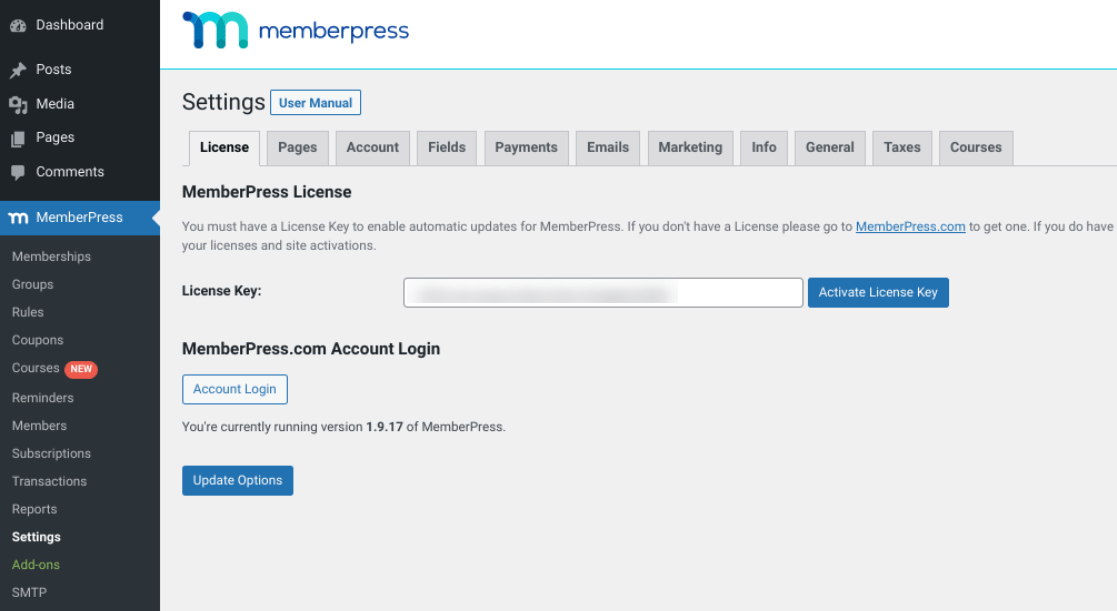 At this stage, you might want to start generating buzz for your new website. Spreading the word pre-launch may seem counterintuitive, but it can get people excited for your upcoming services.
You might also want to consider setting up a wait list for interested customers. You can build this list by promoting your new membership service on social media. With a small amount of preparation, you can start making money as soon as your membership site goes live.
Step 2: Set Up Different Tiers
One of the biggest advantages of having a membership site is that you can offer a variety of services. Members in different tiers will have access to unique content. Thus your membership plans can cater to different levels of financial literacy.
To set up a new tier, navigate to MemberPress > Memberships > Add New. Then add a title and description for your membership. This information will be visible to your site visitors, so you might want to explain the benefits of your service in detail: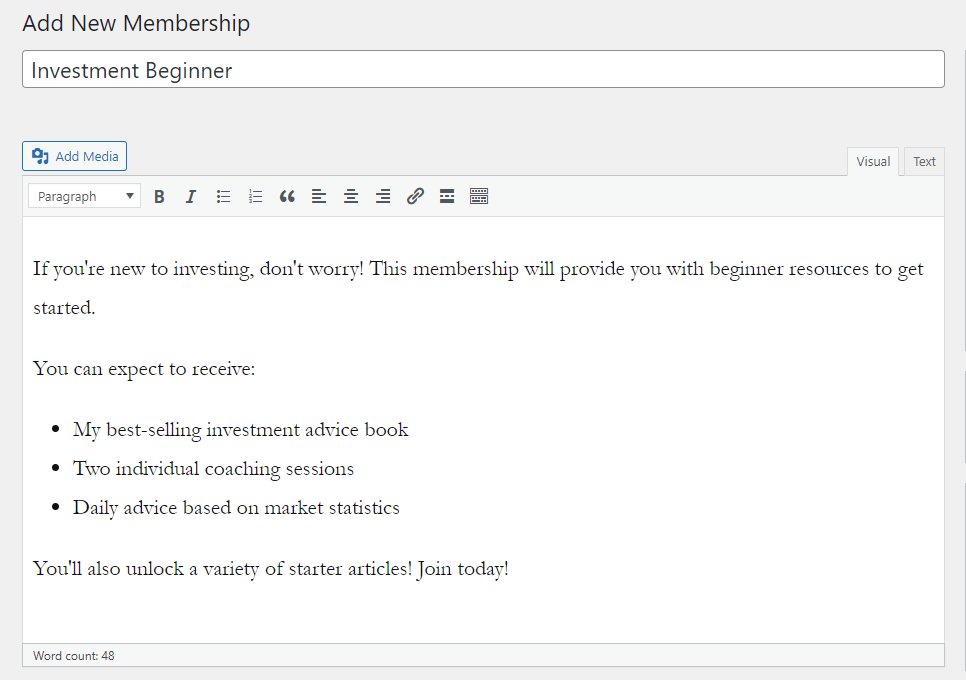 You might also want to highlight what sets your service apart from the competition. For example, if you specialize in long-term investments, this may be the right place to remind users of your expertise.
Next, we'll move on to pricing. If you navigate to the box labeled Membership Terms, you'll see the option to set your price for a recurring or one-time payment:
A one-time payment might be ideal if you're providing written resources. That way, users only need to pay a single price for a set amount of material. However, recurring memberships can be better if you're offering up-to-date investment advice.
Next, scroll down to the Membership Options section:
The main Registration tab has some options for customizing the tier. You might also want to restrict access through the Permissions tab, or create a simple graphic advertisement under Price Box. Furthermore, you can access link options under Advanced. Save your work, and then repeat this step for each membership tier you'd like to create.
As mentioned, with the help of our course builder, you could consider setting up scenario-based learning courses for those with little financial knowledge. That way, you can help clients put your investment advice into action.
Step 3: Add Advanced Features to Enhance Your Professionalism
Investment advice can have a powerful impact on people's lives. Therefore, it's important to project a professional image. You can do this by adding some advanced features to your membership site.
For example, you might want to consider setting up a paywall. This can give non-members a glimpse of your service before they purchase a plan.
You can also improve your professionalism with the built-in reminder function. To add this feature, go to MemberPress > Reminders > Add New: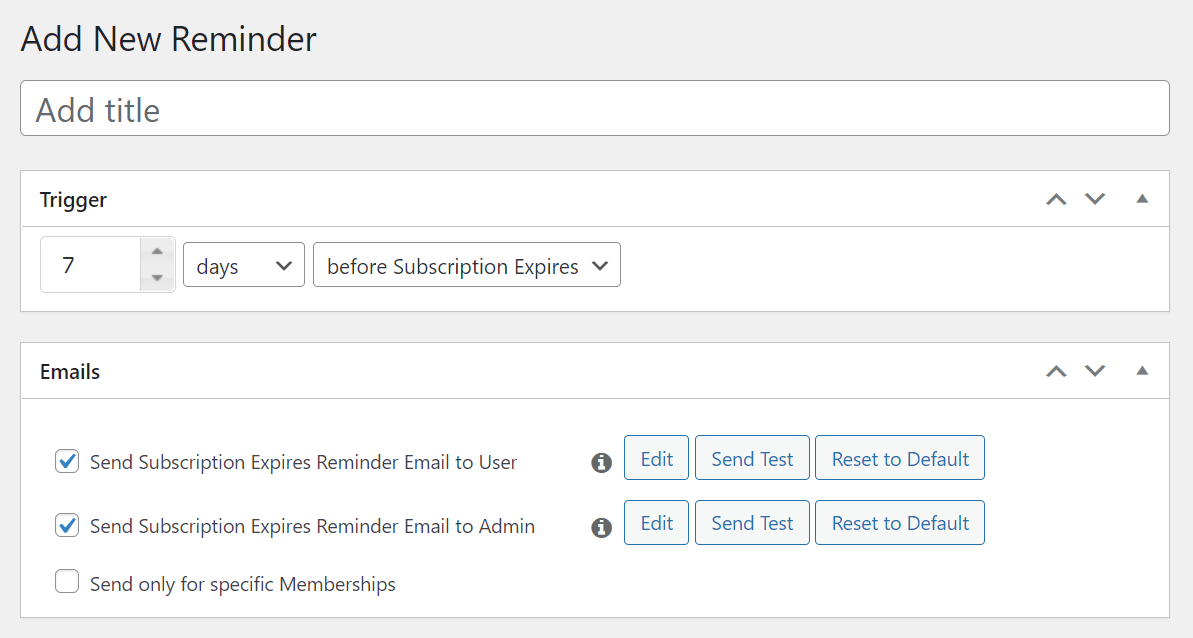 For example, you might want to warn users before their subscriptions auto-renew. This can demonstrate your transparency when it comes to billing.
You might also want to use this feature to send emails to users who abandon their carts during the sign-up period. You can send automatic reminders to encourage users to return to your site and complete their purchases.
Finally, you'll probably be advertising your site once it's complete. If that's the case, we highly recommend that you commit to seamless branding. This simple strategy can demonstrate that you take your investment advice seriously, so it has the potential to boost your conversions.
Add an Affiliate Program
In terms of getting your name out there, setting up an affiliate program is an excellent move. When you run your own affiliate/referral program, you basically have a non-salaried team of salespeople out selling your services for you. They only get paid if they make a sale. There are a few good affiliate program plugins out there, but the MemberPress team created one that works seamlessly with MemberPress. It's called Easy Affiliate, and you can get more info about it here.
Add Online Courses to Your Website
With MemberPress, you get access to our built-in course builder, MemberPress Courses. That means you can create online classes to complement your investment advice services that include multiple lessons and any materials you want to share. The Courses add-on gives you full flexibility to create lessons and restrict them only to paid members.
To use the Courses add-on, you'll need to activate it separately. In your WordPress dashboard, navigate to MemberPress > Courses and click on the Install & Activate MemberPress Courses Add-on button: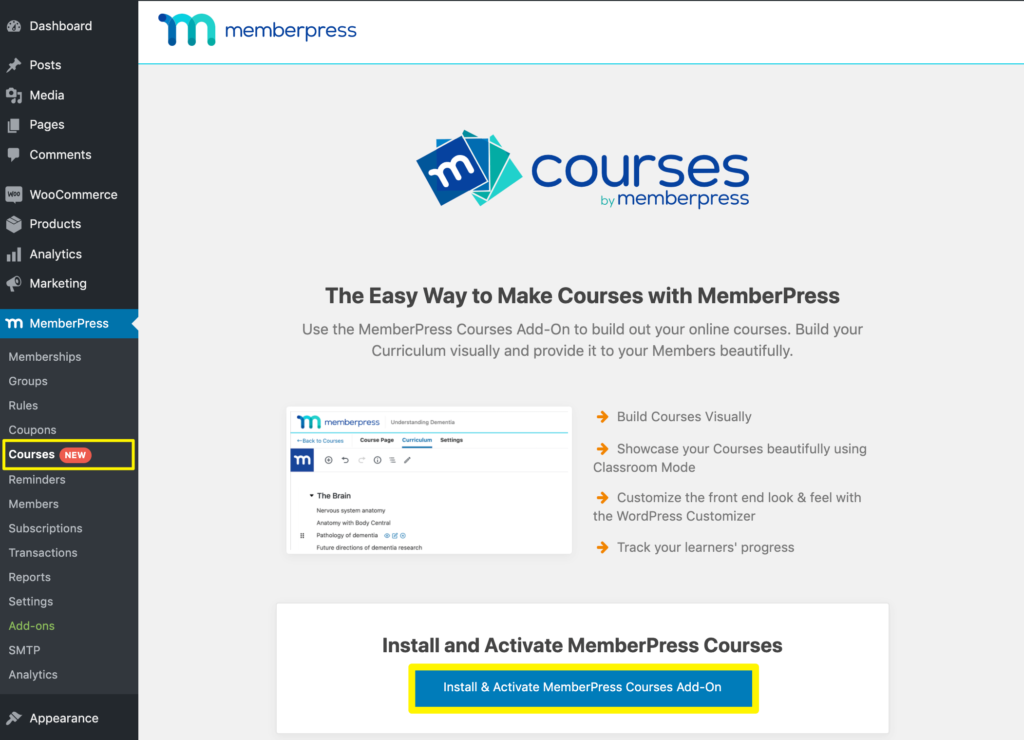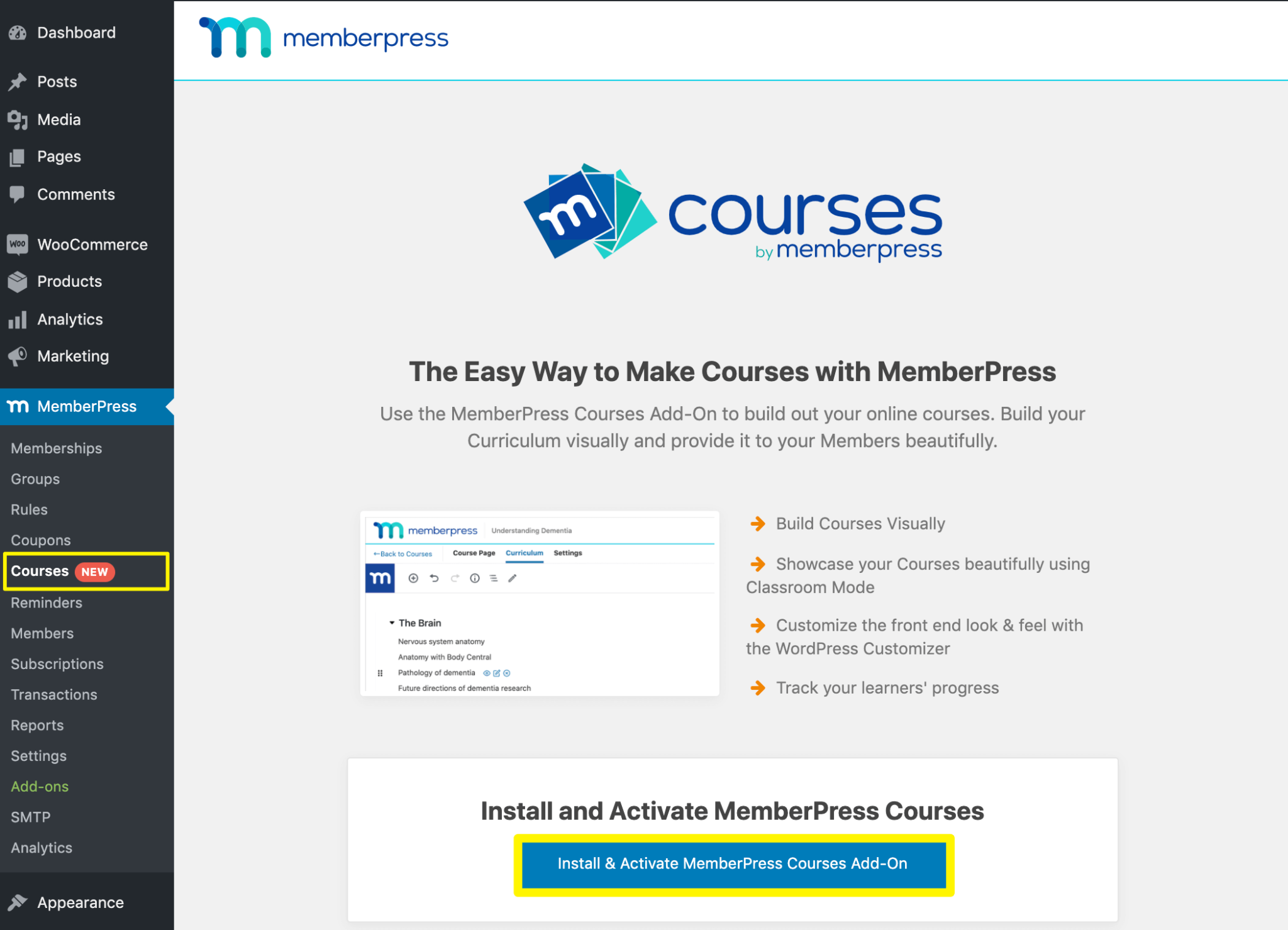 You can then go over our full guide on how to create your course curriculum and publish your first lessons.
Conclusion
If you have valuable investment advice to provide, you can monetize this knowledge in order to increase your income. A membership site can be the perfect way to make that happen. With the help of MemberPress, you can start helping people and earning more money.
In this article, we covered three steps to creating a membership site for investment advice:
Purchase, install, and activate the MemberPress plugin.
Add different tiers of investment advice for users.
Include additional features to boost your site's professional image.
Do you have any questions about starting a financial membership site? Let us know in the comments section below!
If you liked this article, be sure to follow us on Facebook, Twitter, Instagram, and LinkedIn! And don't forget to subscribe in the box below.