You've probably heard the term "membership site", and you might be wondering what the heck one is. For starters, a membership site is one of the best ways to form an online business. So if you're also wondering how to run a successful online business, you've come to the right place. Lucky for you, we've got Membership Sites 101 right here.
Membership Site: Defined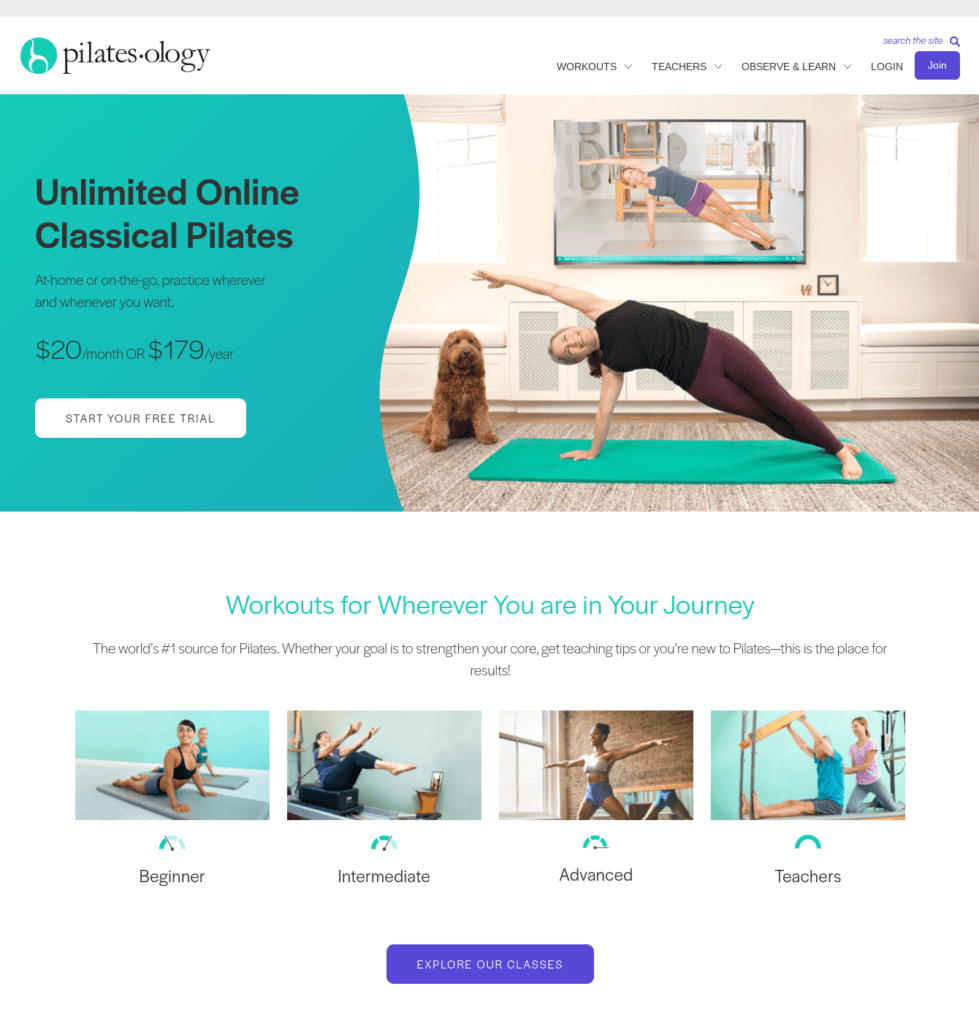 Like Pilatesology above, a website that offers users access to protected content when they sign up is considered a membership site. Protected content on a membership site can be available for free or for a fee. It can also include the whole site or just a few "gated" parts of the site.
A "gate" is simply a barrier you build into your website using a plugin like MemberPress. Once you've got that barrier in place, members can log in and access exclusive content, special offers, and even be part of a community of other members. They can also interact directly with you.
A good example of a membership site would be an online clothing store that offers a VIP community. Any visitor could shop for clothing on the website without an account, but if a visitor signs up for the community, they would get special perks and content like exclusive sale alerts, discounts, and a regular newsletter. Since the online store offers a VIP community with special content that requires sign up, we'd call it a membership site.
In general, if a user is required to sign up to access any of a website's content, that makes it a membership site.
When we talk about content, we can mean all kinds of things:
Subscriptions
Digital products
Physical products
Podcasts
Blog posts
Ebooks
White papers
Images
Audio content
Videos
Online courses (like Pilatesology)
Coaching sessions
Online communities, clubs, and forums (like our clothing store example)
Virtual conferences
…and the list could go on!
Also, many membership sites combine several different types of protected content. For example, a photography website might sell digital image downloads, host an online photography forum, and offer photography courses – all from one central place.
Pretty simple, right? We think it is, and MemberPress can help you build your own when you're ready. For now, we'll go over the foundational aspects of a membership site and give you a general idea of how you go about convincing customers to pay for your content.
QUICK TIP! Watch our comprehensive video, "Membership Sites 101", below.
Membership Site Examples
For starters, take a look at some MemberPress customers running successful online course membership sites:
Callie Willows and her partner, Mike Morrison, started Membership Academy, a successful business that offers training, coaching, and courses for those who want to build their own successful membership sites (and they use MemberPress to run it!).
Jack Coble and Alisa Wyatt run Pilatesology, a membership site that teaches the art of Pilates to everyone from beginners to pros.
Kara Bullock operates an online art school that offers a large variety of courses for anyone interested in embarking on a creative journey.
If you're at the place where you're looking for your own membership site ideas, here are a couple of posts you should definitely check out:
Building a Membership Base
The first step toward building a membership site is establishing a membership base. You do that by first finding a niche in your industry. That is, identify a specific area where you can offer something specialized enough that customers will be willing to pay for your content and services.
Consider the photographer example above: What does this photographer offer that no one else can? An e-course on shooting your own portraits? A webinar on starting your own photography business? A membership of fellow photographers who look to this photographer for expertise in landscape photography and want to learn from him or her?
Once you've found your niche, a surefire way to start building a membership base is to offer free content on your site…
The Power of Free Content
Why start with free content? Well, for one, it'll help you build a solid customer and membership base like nothing else.
That's because those who experience your content firsthand will be more open to paying for premium content in the future. Once you've built up a base, it'll be easier to sell memberships to those who already want to learn from you.
Additionally, if you mix content – free and paid – you can draw new members with your free content. The more members you draw, the greater your chance of securing buyers for your paid products.
As always, consider your audience. A struggling student might not be able to afford your content now, but once they graduate and get a high-paying job, they'll remember how your content helped them, and they might be willing to become a member once they can pay the dues.
The same can be said for entrepreneurs just starting out and building their businesses (perhaps just like you!).
The Importance of Expertise
Regardless, make sure you present yourself as a trusted, credible source with plenty of information. Your content should be of value to your customers and illustrate your knowledge.
Members will quickly leave your site if they discover they're paying for content that's repeated, recycled, or easily accessed by a simple web search.
You'll be juggling a lot of things as you launch your site, but be sure of these three things:
Demonstrate that you're an expert in the field.
Show that you're passionate about what you're doing.
Convince the world that you want to share what you know.
Kinds of Content
For detailed information, check out our blog on what kinds of content to post. Also take a look at our post, 7 Tips for Standout Content, to get you started. In the meantime, know that membership sites typically feature the following types of content:
Ebooks
E-courses
Webinars
Podcasts
Virtual conferences
Evaluations
Wrap-up
You should now have a basic understanding of where to start when you're thinking about running a membership site. For a few ideas, check out our post, 5 MemberPress Examples to Inspire You Right Now. If you're ready to get started, check out the MemberPress plans page to see which plan might work best for you. And see how you can set up your own MemberPress membership site in five minutes here.
Is there anything else you'd like to know about starting a membership site? Let us know in the comments section below.
If you liked this article, be sure to follow us on Facebook, Twitter, Instagram, and LinkedIn! And don't forget to subscribe in the box below.