Plugins are definitely one of the best things about WordPress blogging software. In just a few clicks, you can add new features that allow you to sell products, redesign your website, keep your content safe and secure, and much more.
But with so many plugins to choose from, which ones should you install? Get stuck into our guide to recommended WordPress plugins for membership sites, and you'll come away filled with new ideas to boost traffic and engagement.
Let's roll!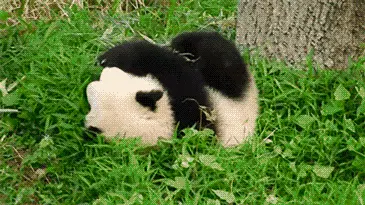 About our Recommended WordPress Plugins for Membership Sites
Nearly all of the recommended plugins on our list are free. Most of them are just as important for regular WordPress websites as they are for membership sites.
So whether you're looking for tips to supercharge your membership site, or you're just planning to spruce up your personal blog, you're bound to find something for you.
Website Backup Plugin
If you only install one new plugin after reading this guide, it should unquestionably be a WordPress backup plugin.
These plugins create a backup copy of your website, which allows you to restore lost data in just a few clicks.
If you're not sure whether you need one, just ask yourself how you'd feel if your website was erased tomorrow and gone for good.
Unless your web host provides you with a robust WordPress backup solution, be sure to install one right away.
For its ease of use, features, and reliability, UpdraftPlus is our recommended website backup plugin.
WordPress Security Plugin
Once you've got your backups sorted, it's time to focus on securing your site.
This is especially important if you're running a membership site and have a user base you need to keep happy and their data secure.
While a good backup solution will help you recover from a website hack or similar issue, a good WordPress security plugin reduces the chances of something going wrong in the first place.
Thanks to its powerful set of features, Sucuri Security is our recommended WordPress security plugin.
Website Caching Plugin
Website caching may sound complicated, and in a way it is. However, it's surprisingly easy to take advantage of this method of improving the speed of your membership website.
Using a good caching plugin will make your website run faster. And fast websites have been shown to increase conversion rates. That means more paid-up customers!
Which makes sense. After all, fast-loading websites are more enjoyable to use and instill more trust in your brand and the quality of your content.
Due to its reputation, ease of use, and wealth of functionality, WP Super Cache is our recommended free caching plugin.
Image Optimization Plugin
Optimizing your website images is another way to speed up your membership site.
The right plugin can take this task off your hands while delivering great results in terms of reducing file size and increasing page speed.
The best plugins in this category automatically optimize existing images on your site as well as any new files you upload.
WP Optimize is our recommended plugin for taking care of image optimization on your WordPress website in just a few clicks.
Contact Form Plugin
Entice more visitors to join your membership program, make it easy for them to get in touch with you, and ask you questions with a contact form plugin.
Installing a contact form plugin is the easiest way to receive messages from visitors without publishing your email address.
If the prospect of an overflowing inbox fills you with dread, adding an FAQ to your website helps your visitors help themselves. You can also implement a help-desk system to make communicating with visitors and members more efficient.
But for the task of adding a contact form to your website, Formidable Forms is the way to go. It's both easy to use and feature-rich.
Lead Generation Plugin
Contact forms are good for visitors who know they want to get in touch, but other visitors may need a little nudge.
That's where lead generation plugins come into play. Promoting specific actions on your website, such as joining your email list, using a discount coupon, or signing up for a trial.
Lead-generation or pop-up plugins help prevent users from leaving your website empty-handed.
OptinMonster is perhaps the best premium lead-generation tool, but for free plugins in this category, SumoMe is a good alternative.
Broken Link Checker
Along with slow loading times, broken links are a surefire way to annoy both visitors and members.
Thankfully, there are free plugins out there that scan your website for any links no longer pointing where they should. This includes pages on your site, pages on other websites, and any files or other resources you may be linked to.
Our recommended plugin from this category not only notifies you when broken links are found but also gives you a quick and easy way to fix the link without having to visit the pages the link is published on.
For its helpful features and proactive scanning, Broken Link Checker is our go-to plugin for this task.
Website Audience Analytics Plugin
We've written about the benefits of using Google Analytics with your membership site before.
But if you're still not using this free service to find out more about your visitors and what they're up to on your website, now is the time.
And better yet, you can install our recommended Google Analytics WordPress plugin to access your data right from your WordPress dashboard.
When it comes to website analytics plugins, MonsterInsights is our recommended option due to its Google Analytics WordPress dashboard integration.
Search Engine Optimization (SEO) Plugin
Optimizing your membership website and its content for search engines is essential if you want more people to find your site.
While there are many great SEO strategies for membership sites to help you grow your audience, the first step is to install a high-quality WordPress SEO plugin.
Our go-to premium SEO WordPress plugin is All in One SEO (AIOSEO). But if you're on a budget, Yoast SEO offers plenty of features in its free version.
Drag-and-Drop Page Builder Plugin

Not every website needs a drag-and-drop page-builder plugin, but these handy tools can certainly help improve your membership site and its content.
Even a free option opens up more opportunities to get creative in WordPress. Custom design pages, add widgets to your content, work with different layouts, and more!
If you want to upgrade your WordPress content-editing capabilities, you have two amazing options to choose from.
Beaver Builder is our long-standing recommended page builder plugin, popular with developers for its fluid interface. It's a solid choice!
With the MemberPress Beaver Builder add-on you can apply MemberPress Rules to any module, row, or column on your Beaver Builder page.
Simply click the settings icon (the one that looks like a lil' spanner) and click on the MemberPress tab in the window that opens up. Then select the rule you want to apply from the dropdown menu.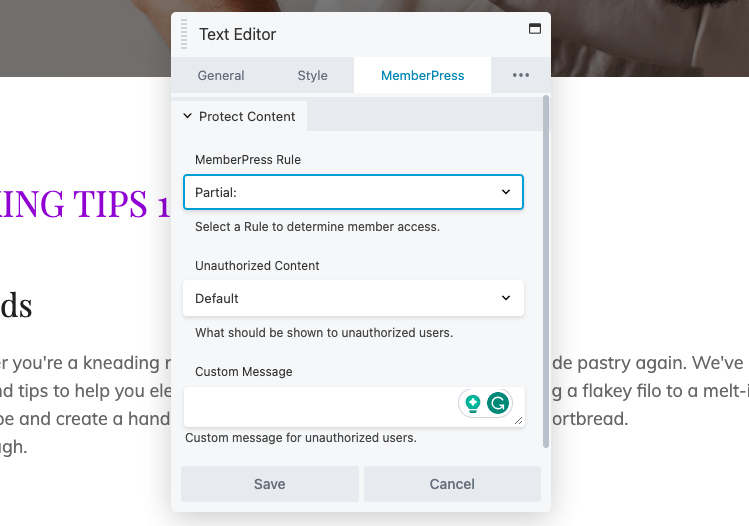 Elementor is another great page builder for MemberPress users. With the MemberPress Elementor Flexbox integration, you can similarly add access rules to any container on your site!
The paywalling possibilities are near-infinite.
Final Thoughts
This collection of our ten recommended plugins for WordPress membership sites should help you improve your website while keeping costs low.
Which of our recommended WordPress membership site plugins will you install? Please let us know in the comments below.