If you want to start up a membership site, you first have to decide what platform you'll use to create it. The two simplest methods are to use either a website builder or a Content Management System (CMS) like WordPress. However, it can be difficult to choose between the two.
On the surface, a website builder may seem very similar to WordPress, but there's actually a world of difference. A website builder is a pared-down tool, where you can add text, images, and other content into a pre-designed template. With WordPress you can do a lot more, such as extending your site's functionality with themes and plugins.
In this article, we'll explain the major pros and cons of choosing WordPress as compared to a website builder. Let's get moving!
How Is WordPress Different from a Website Builder?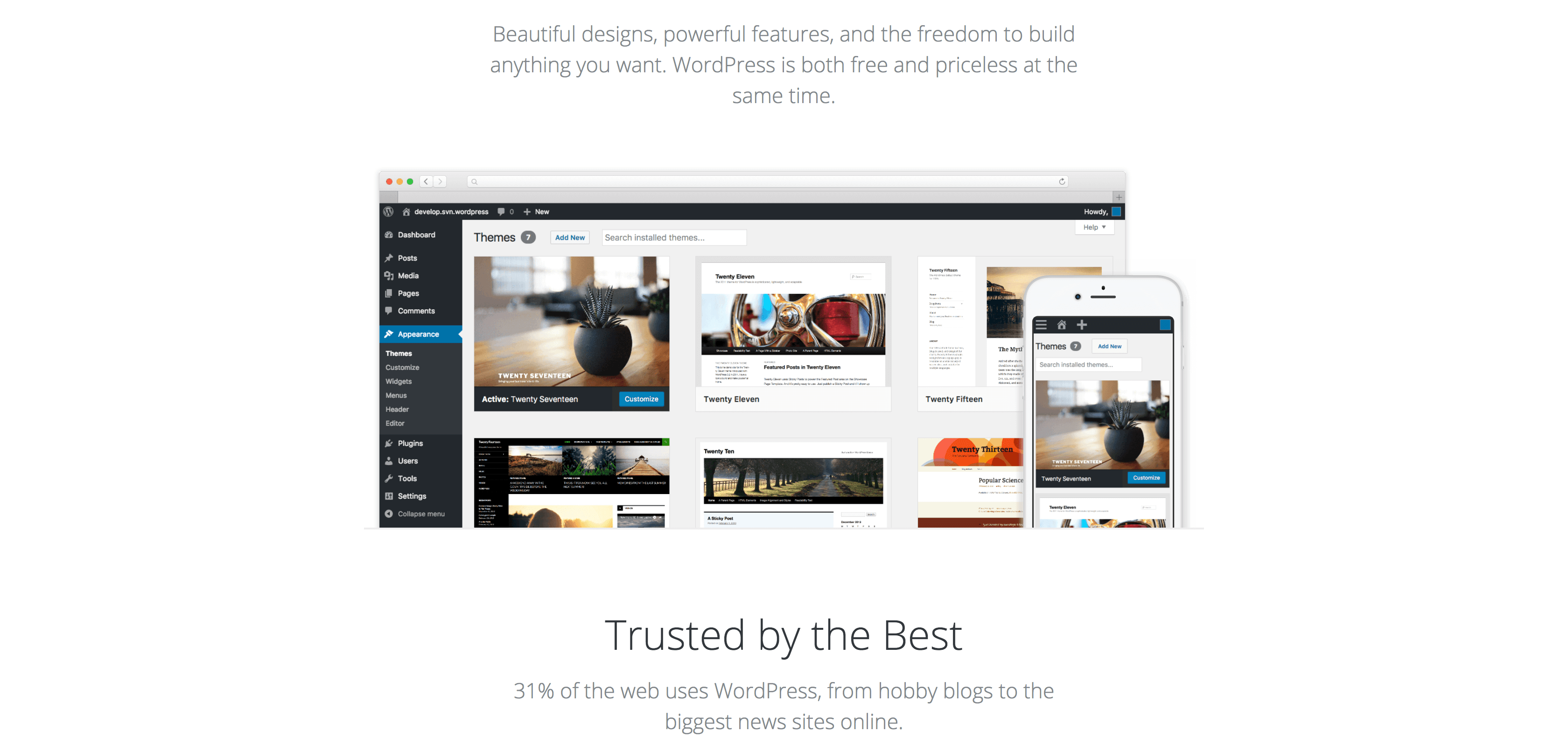 As the name suggests, a website builder is a simple tool for creating your own site. Some examples include Squarespace, Weebly, and Wix. On the other hand, WordPress is a Content Management System (CMS), which is a solution for managing various types of website content (text, images, video, and so on).
Although there are many different CMS platforms, we're focusing on WordPress in this article because of its ease of use, its popularity, and the many features available. It's important to note that WordPress.org is a CMS, but the company also offers a website builder called WordPress.com.
There are some similarities between WordPress and a website builder. Both offer interfaces that help you create sites without needing to know any code. This is called What You See Is What You Get (WYSIWYG) editing. However, you can do a lot more to customize your site in WordPress than you can in a website builder.
One of the main differences between WordPress and a website builder is how hosting works. With a website builder, you are usually stuck using that company's hosting plan. WordPress is self-hosted, on the other hand, which means you have more flexibility over where your site 'lives'.
The Pros and Cons of Choosing WordPress vs a Website Builder
When deciding whether to use WordPress or a website builder for your project, you'll first need to understand the advantages and drawbacks of each. Website builders, for example, are incredibly simple to use, which can make them a reasonable place to start if you've never touched a website before: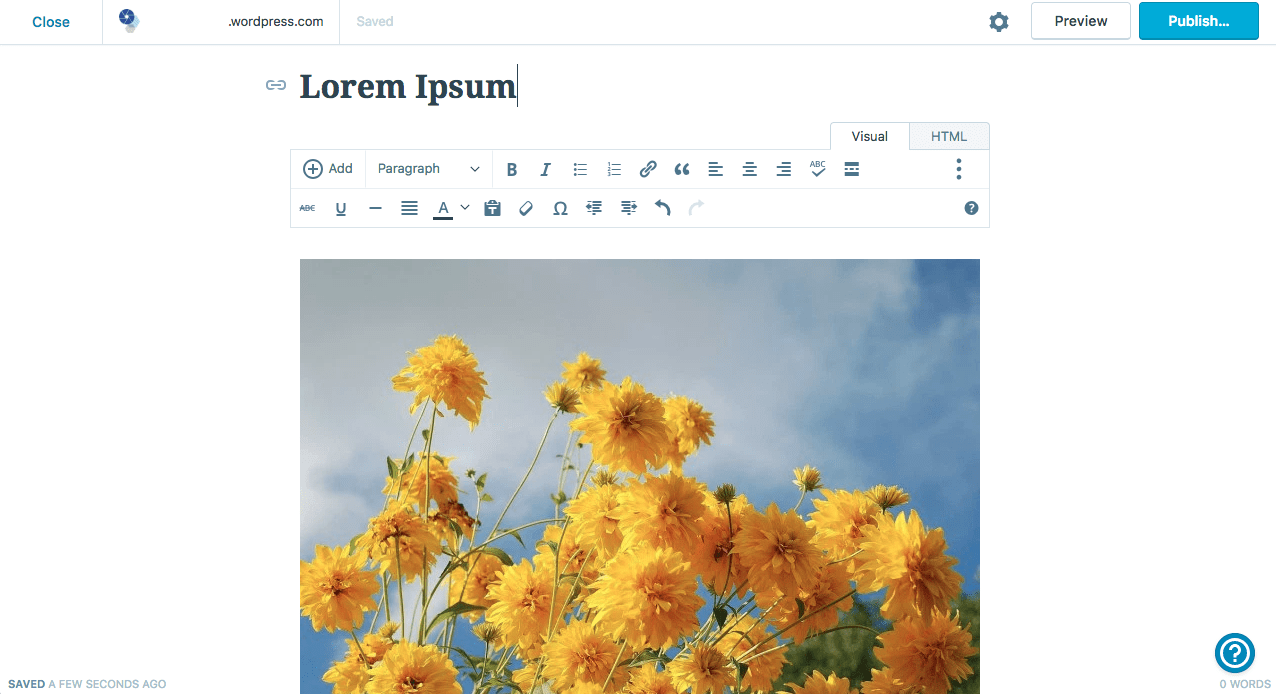 Another benefit of website builders is that many are free, which means that you can easily start up a blog or website with no commitment. As we mentioned earlier, however, you'll likely end up tied to one hosting provider – which means you get little control over your site's performance and security.
Website builders also lack flexibility. If you want a specific look for your website, you're out of luck unless you can find a theme that perfectly matches what you want. Plus, most website builders don't even offer plugins. Plugins are code extensions that add functionality to your site.
Without them, website builders are best for creating very basic sites like blogs or portfolios. This means you may not be able to use a website builder to create a membership site the same way you could in WordPress.
WordPress is a deceptively simple CMS. On the surface, it can be almost as easy to use as a website builder:

At the same time, it lets you leverage complex tools to build membership or affiliate websites, among many other options. You can also use whatever host you like, which lets you shop around for the best plan.
WordPress is far more flexible than a website builder. For example, they both use themes, which are small pieces of software that determine a website's appearance. However, in WordPress, it's possible to do advanced theme editing and restructure your pages, giving your site a unique look.  
A website builder may offer themes, but only enable you to change colors and images. You'll also get access to a lot less theme options overall.
WordPress also lets you use plugins, which as we explained earlier can drastically expand your site's functionality. WordPress offers thousands of plugins, including an easy tool you can use to build a membership site. MemberPress' visual interface enables you to define complex user access levels, without knowing any code.
Of course, there are a few downsides to WordPress. Although it's very easy to learn, for absolute beginners it is slightly more difficult to use than a website builder. It's also not a completely free option, since you'll have to pay for a domain name and web hosting to get your site online. Fortunately, in most cases those start-up costs end up being very low.
How to Decide Whether to Use a Website Builder or WordPress for Your Membership Site
So, what platform should you build your membership site with? There are some clear advantages to choosing WordPress, since you'll get:
Access to easy-to-use membership site tools: For example, you can use the MemberPress plugin to define complex user access levels and manage payments.
The chance to create a unique look: Since WordPress offers more themes and lets you customize them fully, you can visually set your site apart from the pack.
Flexible hosting options: You can find a hosting plan that offers exactly what you want at a reasonable price, instead of being tied to one provider.
Overall, we'd recommend WordPress for most users. It requires a bit more learning than a website builder does, and comes with some small start-up costs, but all-in-all it's a far more powerful and convenient option.
If you're not ready to go straight to WordPress, however, or if you want to start your site completely for free, you could initially build your site using WordPress.com. Then, when you feel more comfortable with the platform, you can transfer your site to WordPress.org easily.
Just keep in mind that you will need the self-hosted version of WordPress if you want to use MemberPress (or any plugin) to add functionality to your site.
Conclusion
Before you can build your membership website, you'll need to decide whether to use a website builder or a CMS such as WordPress. Website builders offer the ultimate in simplicity and ease of use, while a CMS will give you many more options when it comes to the way your site looks and performs.
For most people, we recommend using WordPress due to its increased flexibility, functionality, and freedom as compared to a website builder. Even though WordPress is slightly more difficult to get started with, it's still very intuitive and beginner-friendly.
Plus, creating a membership site will be a breeze, since you can simply download and install a simple membership tool.
Do you have any questions about WordPress or website builders in general? Let us know in the comments section below!
If you liked this article, be sure to follow us on Facebook, Twitter, Instagram, and LinkedIn! And don't forget to subscribe in the box below.