The Best WordPress Themes with Membership Site Templates
If you're using WordPress to create a membership site, part of that process is deciding on a theme. But with so many options out there, which one should you choose?
Hopefully, this guide to the best WordPress themes for membership sites steers you in the right direction. Although any high-quality theme should work with your chosen membership plugin, selecting a WordPress theme that's been created specifically for this type of project has many advantages.
For starters, the best themes in this category will have prebuilt templates for all the pages your membership site needs, including the homepage, membership-plans page, and membership-content pages.
In most cases, you also get access to lots of great features in more general themes, which ensures you don't miss out on anything by narrowing your attention to membership-focused WordPress themes.
Ready-to-go WordPress Themes for Creating Membership Sites
The good news is that in selecting the right theme for your project, you'll find that the items in this collection all work with MemberPress or any other high-quality membership plugin you may be using.
Not only that, but they're easy to use and include premium content as well as some of the latest tools for personalizing your WordPress membership site.
So let's get started.
MemberPress Courses
All of the themes we discuss below include LMS options that can be added to MemberPress. So we thought that, before we get started, we'd let you know about the MemberPress Courses Add-on, which is built right in to MemberPress and requires no separate download. Once you're signed up for MemberPress and choose your theme, all you need to do is activate MemberPress Courses, then get busy creating your curriculum.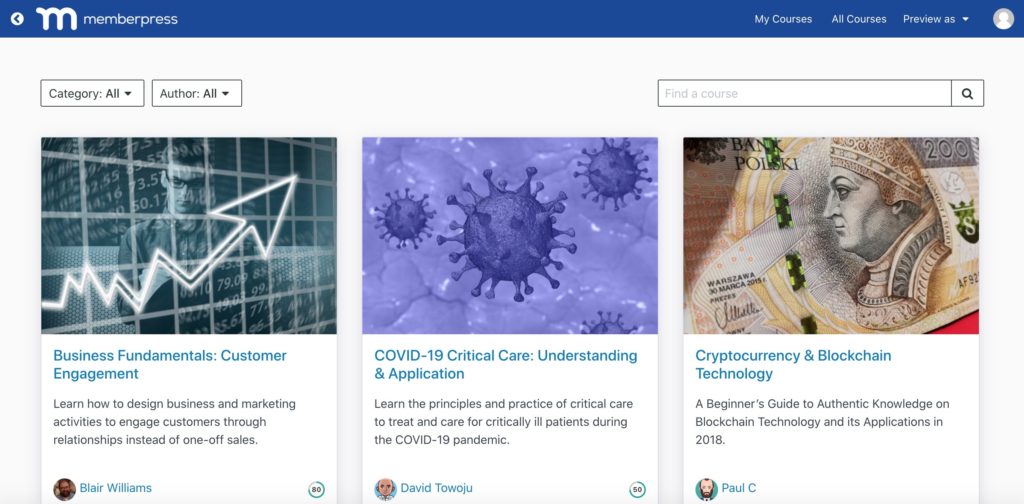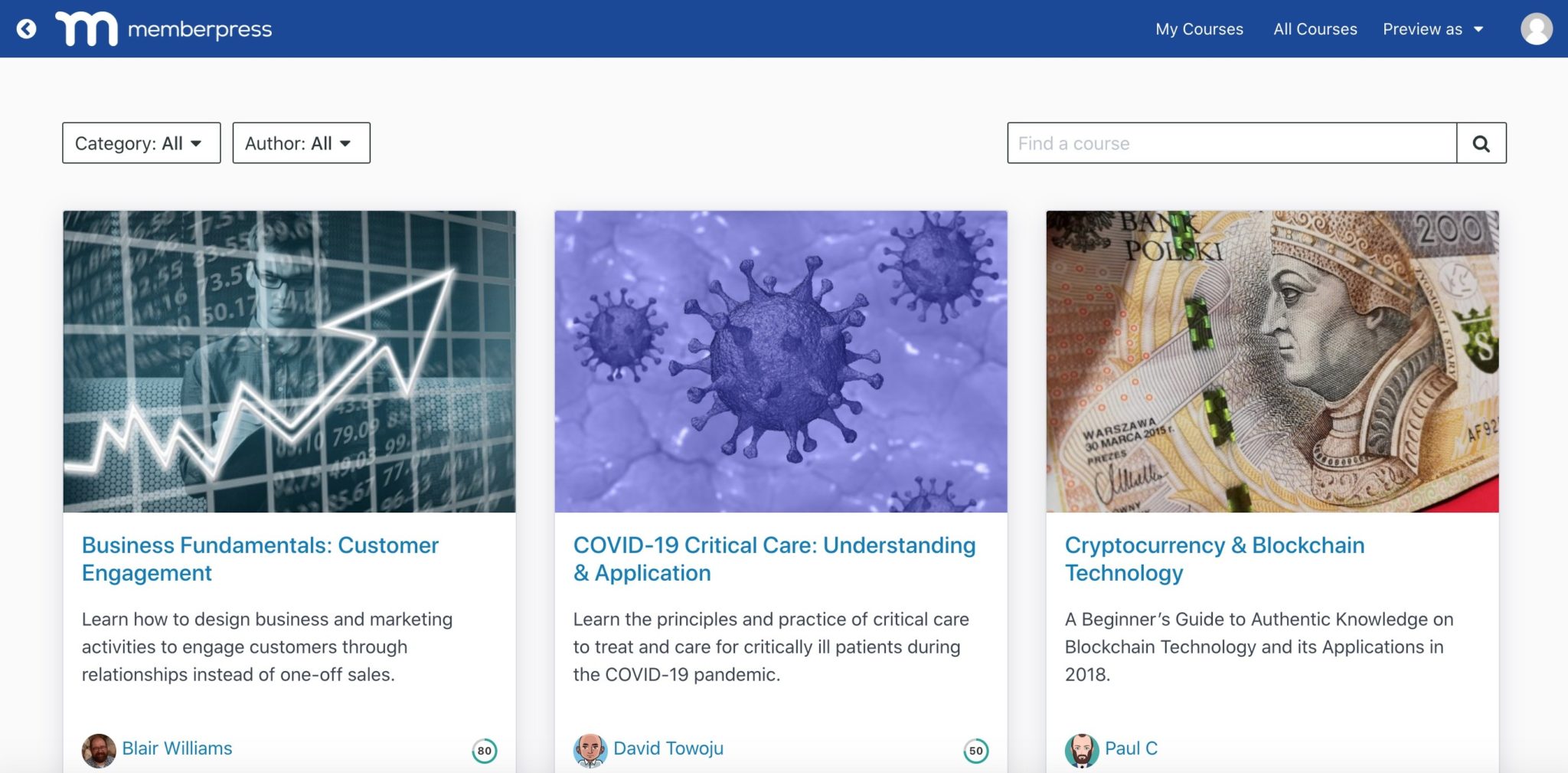 With its drag-and-drop interface, the add-on's 100% visual builder makes creating and selling courses super simple.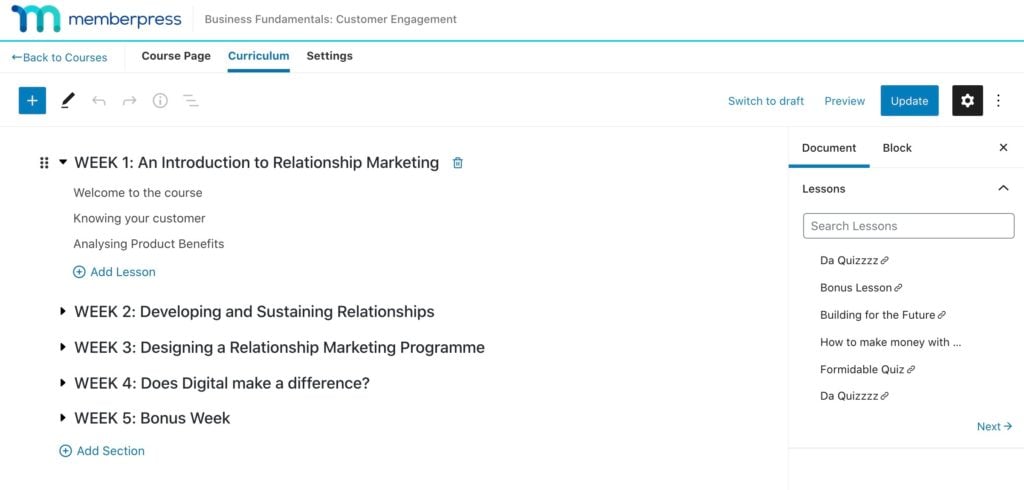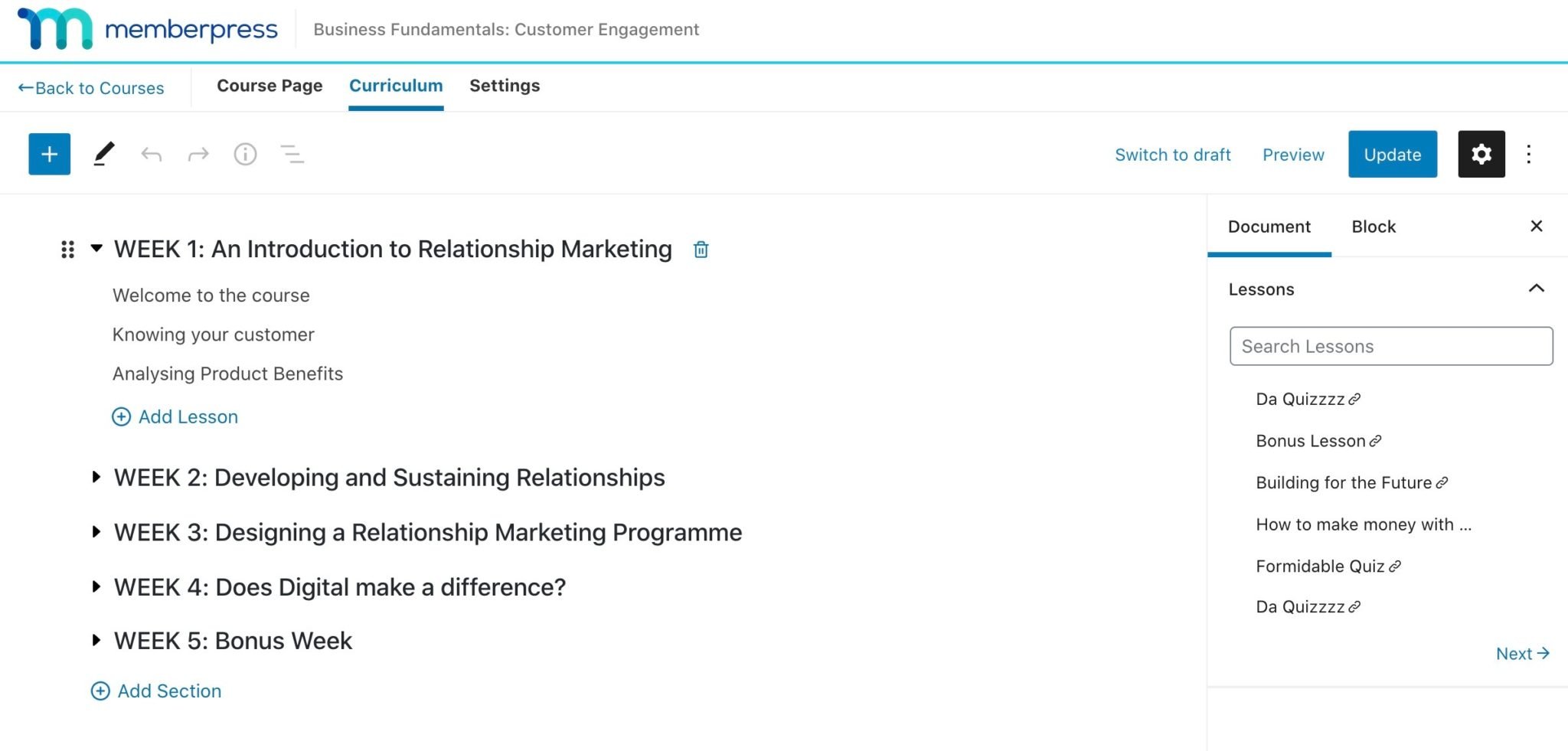 Building out your curriculum requires no complex coding and there's even a built-in progress tracking feature. The best part is that you can protect your course content using MemberPress' powerful access rules, and you have everything you need to create your online course website in one place – no additional plugins required.
Divi from Elegant Themes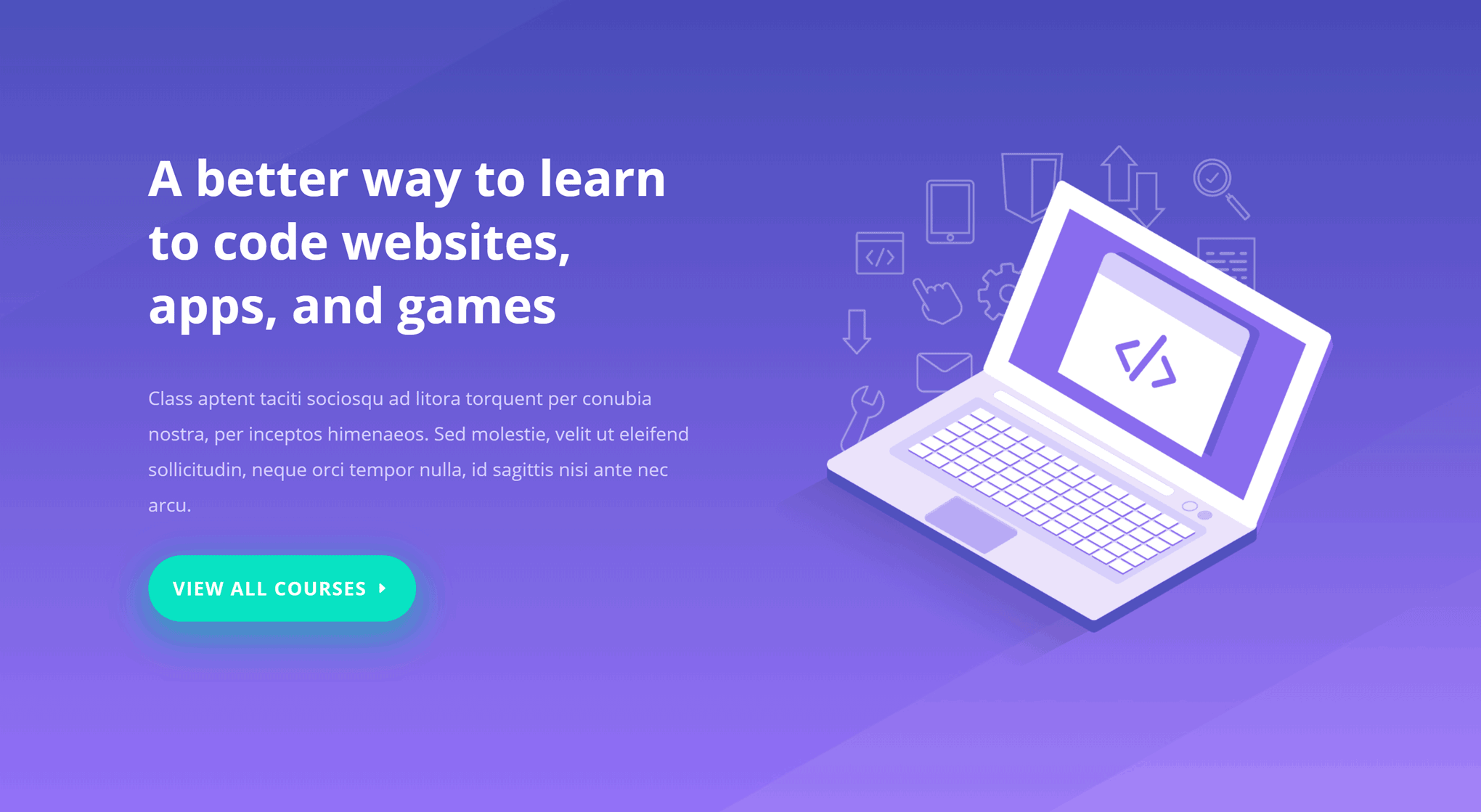 Divi is a true multipurpose theme that allows you to create any type of website with WordPress. In addition to its integrated visual page-builder tool and other customization options, Divi's growing library of pre-built website templates puts website creation right at your fingertips.
Among those templates is the Learning Management System (LMS) layout pack, which you can import to your WordPress website in just a few clicks. Although designed for an LMS, this pack is great for creating almost any type of membership site, especially if you offer online courses as part of your program.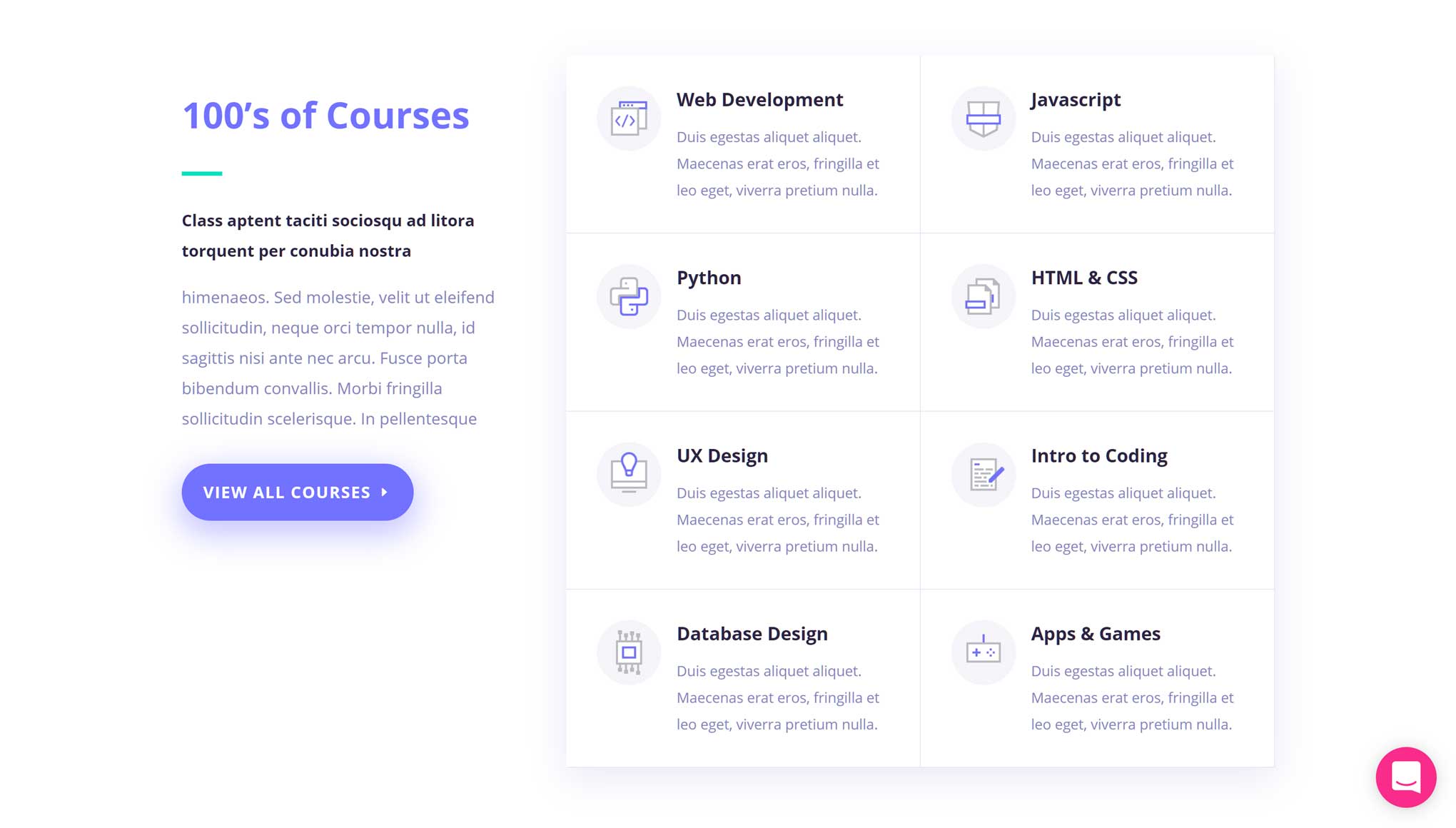 The pack not only looks highly professional but includes two different homepage layouts, templates for your course pages, a pricing-comparison page, and layouts for all the other content your membership site is likely to need. You can preview the LMS layout pack on the Elegant Themes website and see for yourself what your membership site could look like with Divi. As everything is fully customizable, you can either use these layouts as they are or fire up Divi Builder to start personalizing them.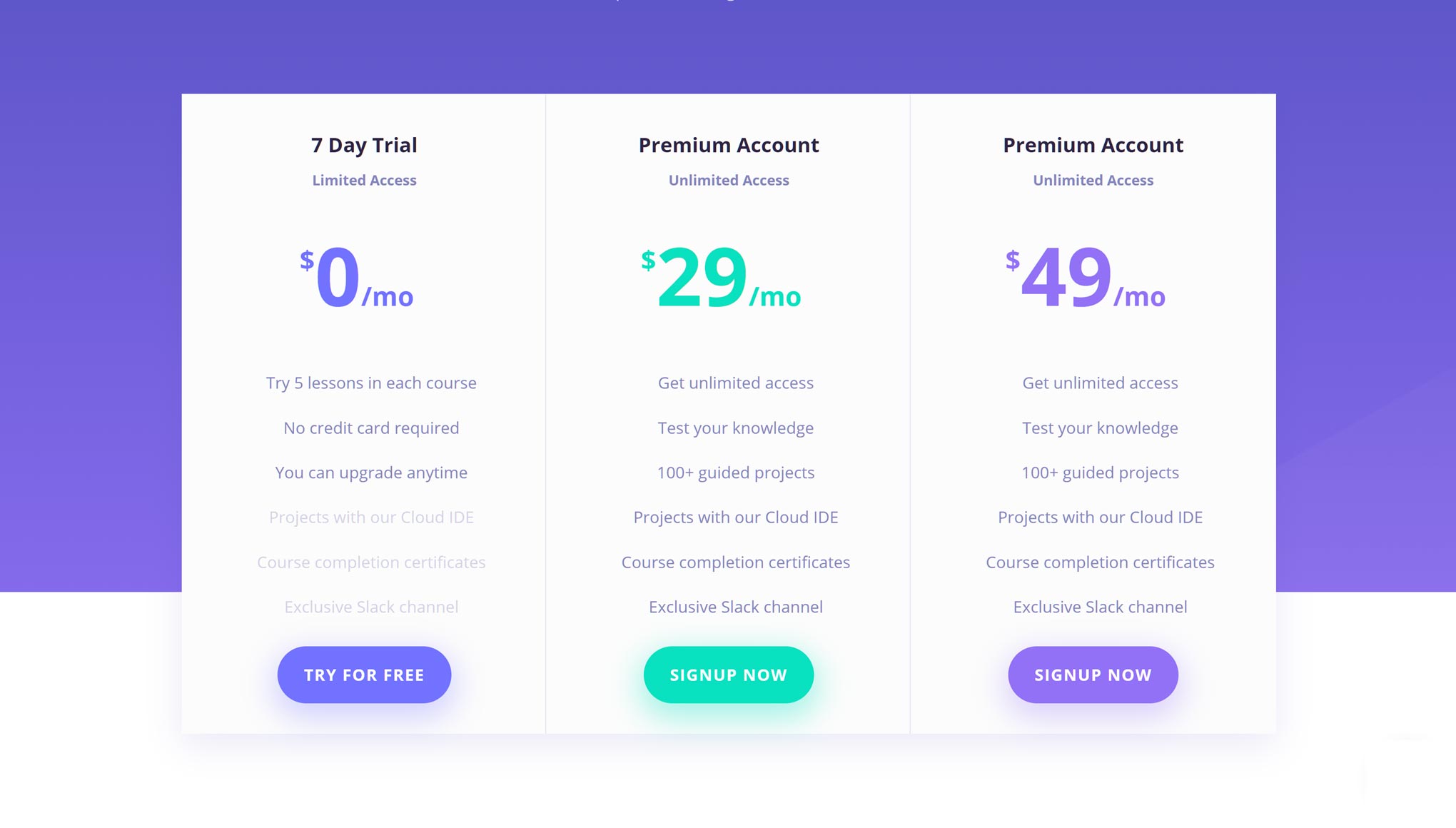 Another reason to use Divi for your site is the tutorial on the Elegant Themes blog that walks you through the process of creating a membership site powered by the MemberPress plugin. If you're new to creating membership sites with WordPress and you'd like a little extra help, this tutorial will bring you up to speed.
Divi is currently available from Elegant Themes for $69.
Academy Pro from StudioPress
StudioPress is one of the most well-known and well-regarded WordPress-theme companies out there. When it comes to creating membership sites, the Academy Pro theme is probably your best option. While the default homepage layout of this theme has lots of components to help you promote your membership program to new website visitors, the inner page templates for presenting your content are just as impressive.
If your membership content is lesson based, the templates in the Academy Pro theme package should be a good match for your project. However, due to the flexible nature of this theme, you can easily adjust the test and other properties to better suit your requirements.
Other page templates in the Academy Pro package include a landing-page design for promoting your membership program and a pricing-table page that makes it easy for potential members to compare the different plans available. Although the MemberPress plugin does have its own built-in pricing-table generator, it's good to have multiple options when building your website.
Academy Pro is currently available from StudioPress for $129.95.
Kallyas by Hogash Studio
Kallyas can be used to create almost any type of website with WordPress, including membership sites. In fact, if you choose this theme for your project, you'll be able to import the prebuilt membership-site demo into your WordPress Dashboard in just a few clicks.
With Kallyas, you're not limited to just pre-built content, though. As this theme includes a powerful drag-and-drop page-builder tool, you get full creative control over the appearance of your membership site. So whether you want to use the library of page templates as they come or alter them through the visual editor, that's totally up to you.
Speaking of page templates, Kallyas is well stocked with options. Membership-site owners in particular will appreciate the testimonials templates that make it easy to publish reviews from happy members, the pricing-table option for clearly comparing your different offers, and the blog templates for promoting your membership site through content marketing.
Kallyas is currently available from ThemeForest for $41.
WordPress LMS Course Builder from ThimPress
The WordPress LMS Course Builder is designed to help you launch a professional membership site on any topic. With pre-built demos covering a range of styles, it's possible to quickly get your WordPress membership site up and running without spending much time on web design.
However, if you do want to take a more hands-on approach to creating your membership site, the WordPress LMS Course Builder theme isn't lacking in options. Among the features, you'll find a drag-and-drop page-builder tool along with a powerful theme-options control panel. Thanks to this, there shouldn't be any aspect of your membership site you can't customize through a visual interface.
Whether your membership site includes online courses or other types of protected content, the WordPress LMS Course Builder theme is neutral enough to provide a suitable foundation. For those who do want to add their personality to their website, with this theme, that's possible too.
WordPress LMS Course Builder is currently available from ThemeForest for $64
Teach Me from YOG-Themes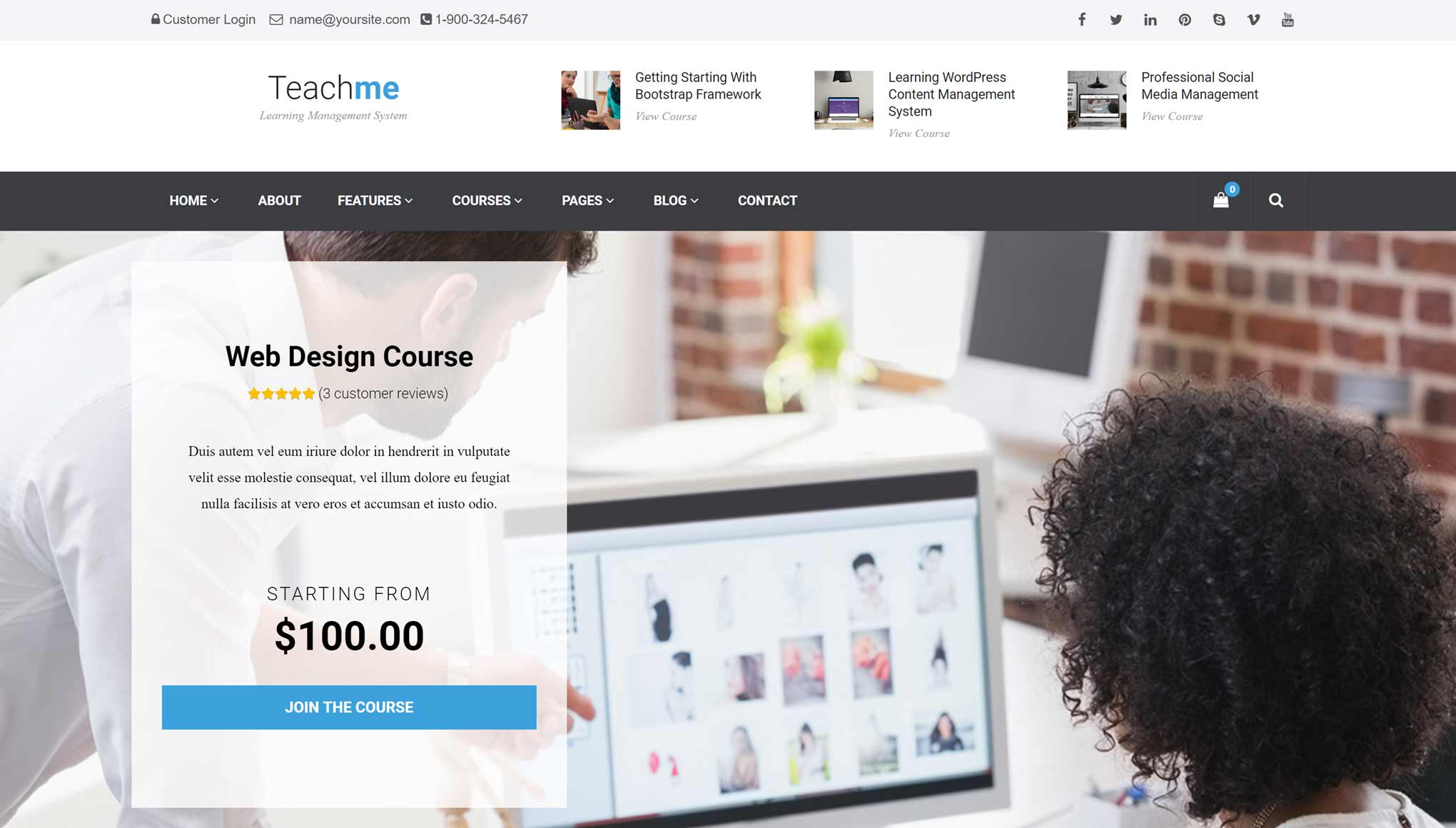 Teach Me is another good option for anyone delivering online courses and learning content through their membership site. Ideal for publishing both free and paid online content, Teach Me handles all the design aspects of setting up your membership site, leaving you to focus on providing your members what they need.
Whether it's just you creating content for your membership site or whether you're working as part of a team, Teach Me has all the templates you'll need to launch your website and start promoting your content. This includes not only templates for listing your courses and their content but also for sharing the profiles of your instructors and publishing the latest news on your blog.
Other useful features in the Teach Me package include a drag-and-drop page-builder tool, a slider-creation tool, and ecommerce support for selling products online. You also get access to a selection of elements you can insert into your content to increase its visual appeal, such as carousels, columns and grids, and buttons.
Teach Me is currently available from ThemeForest for $29
Final Thoughts
It can be tough to find an impressive free WordPress theme built especially for creating membership websites. However, with prices starting at $29, investing in a premium membership-focused theme is pretty budget friendly.
If you do decide to purchase one of these premium WordPress themes for your membership site, you'll not only get access to a professional set of templates and a useful feature list but also a support team you can turn to if you run into any difficulties.
Of course, all good WordPress themes should work with MemberPress and other leading membership-site plugins. However, if you'd appreciate a collection of relevant content and features, choosing a theme designed for membership sites has many benefits.
Which theme would you choose for your membership site? Let us know in the comments below.
If you liked this article, be sure to follow us on Facebook, Twitter, Instagram, and LinkedIn! And don't forget to subscribe in the box below.
1 Comment
Katrina R Garcia

December 28, 2018

Joe, thanks for the helpful info. We personally use Divi as we find it the most flexible theme out there. Plus, they have put into place several simple code options when it comes to many of the faucettes of the MemberPress interface. Nice to know we have choices.