Remote and digital teamwork has become all the rage, especially in the era of COVID-19. From emails to virtual meetings and project management, the internet and new tools have given business owners the ability to create solid teams in a way they've never been able to before.
But, with all the tools to choose from, which are the best for small businesses who have transitioned online? In this post, we'll share with you several online collaboration and productivity apps that are sure to keep your remote team going strong!
Ready to start your own online business? Create the business of your dreams with MemberPress!
Project Management Tools
Asana
Asana is a powerful project management platform that contains a full suite of tools primed to help small businesses boost their productivity. With Asana, teams can organize, track, and manage the progress of their projects. This tool also comes with a calendar feature, to-do lists, reminders, and automatic notifications for everyone on your team.
Asana has a free plan that allows you to collaborate with up to 15 team members. Paid plans start at $10.99 per month.
Trello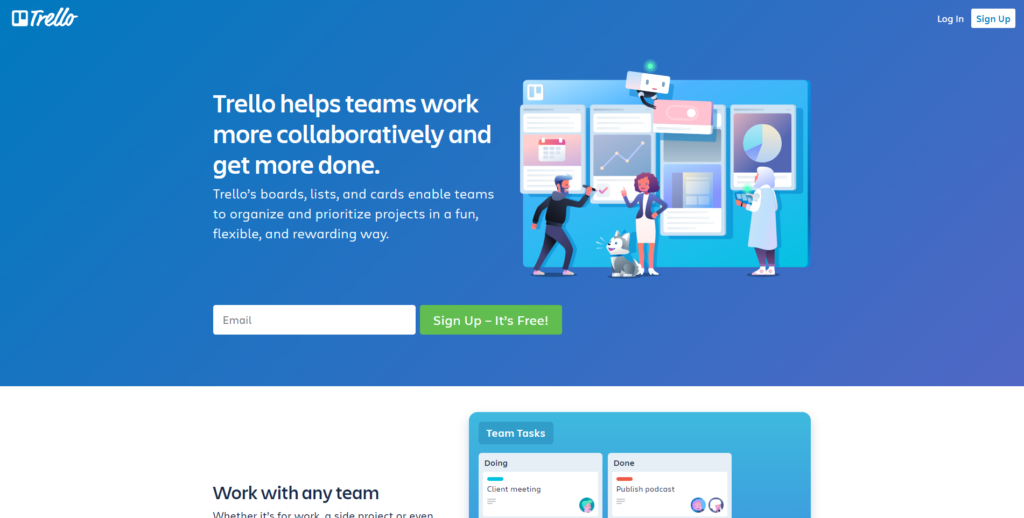 Trello is one of the most well-known project management tools online. The platform allows business owners to create lists, boards, or calendars to share with team members and track assignments and project progress. Asana can integrate with all of your favorite tools, such as Google Drive, Slack, Evernote, and more.
Trello has a free option that allows 10 team boards, and a Gold plan that offers businesses things like more power-ups and advanced automation for $5 per month. For even more features, entrepreneurs can get unlimited team boards, power-ups, and much more starting at $9.99 per month with Trello Business Class.
ClickUp
Founded in 2016, ClickUp is one of the younger project management tools on the scene. The platform offers all the bells and whistles you need for project management, including calendars, scheduling tools, an inbox, docs, and more. ClickUp aims to be a one-stop-shop and integrates with most tools and apps you might use in your business.
ClickUp has a Free Forever plan that allows unlimited tasks and users. However, if you need more advanced features, plans start at $5 per month when you pay annually.
File-Sharing/Storage Tools
Dropbox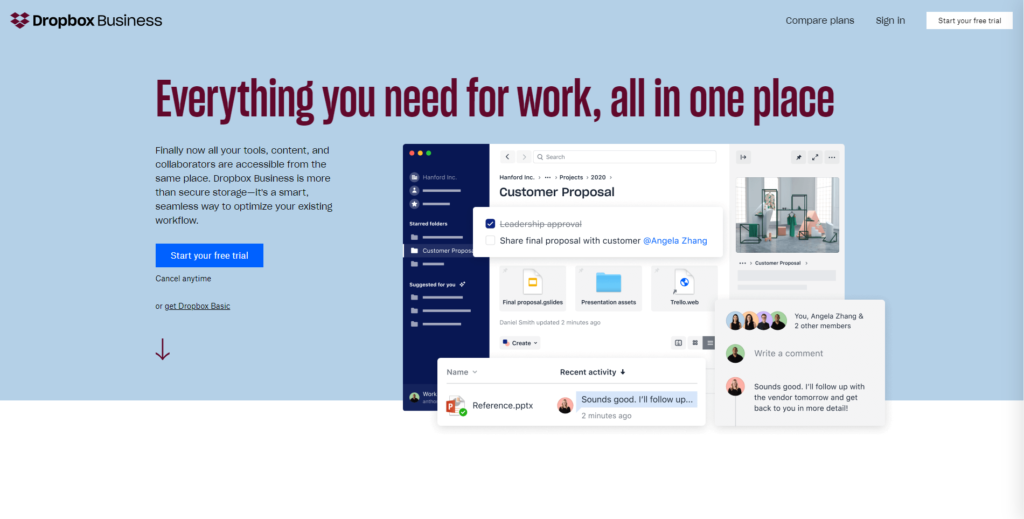 Dropbox is one of the most popular and well-known file sharing and storage tools out there. Using this tool, teams can quickly and efficiently write and share documents and share images or entire files with team members. This is especially useful if you need to share documents with large file sizes or share confidential information.
Dropbox has a free plan if you'd like to try it on for size. However, if you're ready to dive in and use this tool to its full extent, paid plans start at $9.99 per month if paid annually.
Google Drive
If you're a current Gmail account holder, then chances are you're already familiar with Google Drive. With this tool, you can compose documents, create spreadsheets, share forms, and more, all from within your account. And you can share these documents and forms with just a few clicks of a button.
Google Drive also allows you to keep your files confidential by enabling only people with a link to see your content. You can even invite team members to edit, view, and comment on your documents, making the editing and collaboration process seamless.
All Gmail account users have access to a limited version of Google Drive, but paid plans that include more storage and features start at $1.99 per month.
Microsoft OneDrive
Microsoft OneDrive is another file-sharing/storage tool that has been around for a while and is now affiliated with Windows 10. With OneDrive you can store and share copies of your documents and sync those files across devices.
If you're a current Microsoft user, you have access to a free OneDrive account with 5GB of storage. All Microsoft 365 plans also include some form of OneDrive access. If you're interested in upgrading, plans start at $1.99 per month.
Online Communication Tools
Slack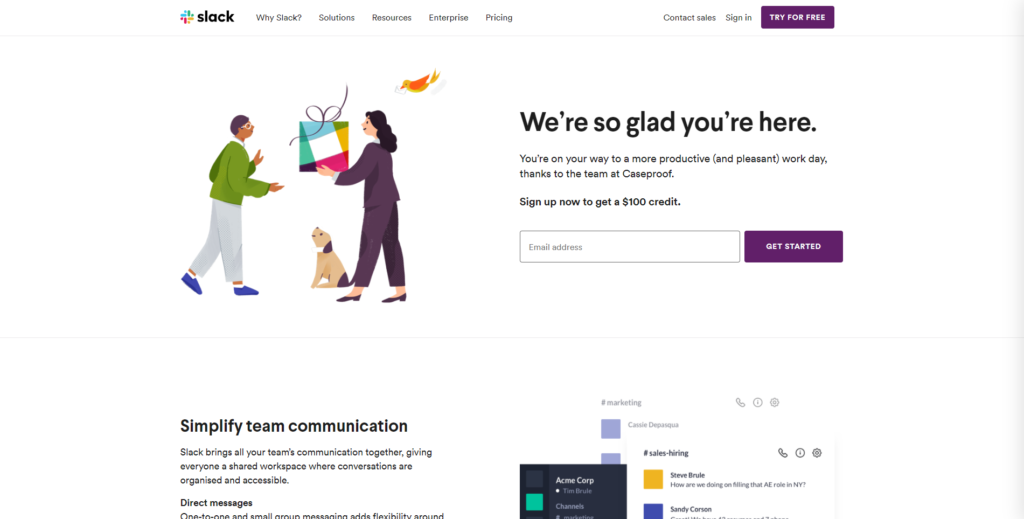 Slack is a communication and collaboration tool that allows teams to send messages privately and publicly within a group. The tool offers customizable channels labeled for specific topics to keep conversations organized and includes a video and voice calling feature. Slack also integrates with many apps, like Google Docs, Dropbox, and more.
Slack has a free plan if you're interested in getting your feet wet. If you find that you enjoy this tool (and you probably will), paid plans start at $6.67 per month when paid annually.
Flock
Flock is another great collaboration and communication tool where remote team members can talk with one another, set up events, share files, host virtual meetings, and more — all in one place. Like Slack, Flock integrates with tools like Google Drive, Asana, and MailChimp to help your business stay productive as conveniently as possible.
Are you interested in trying out Flock? You can test it out for free, while paid plans start at $4.50 per month.
Discord
Discord is an all-in-one chat tool that is excellent for large teams and organizations. Like Slack, Discord offers both private and public chat, as well as channels reserved for specific topics. The tool also provides the ability to share documents between team members, plus unlimited voice, video, and text.
If you'd like to try out Discord for yourself, you'll be happy to know this tool is totally free to use!
Pumble
Pumble is a free team chat app that enables teams to stay well-connected through key collaboration and communication features. The paltform is suitable for teams of all sizes and types. It offers unlimited users, unlimited chat history, user and workspace administration tools, 24/7 web support, customizable notifications for web and mobile apps, simple solutions for managing workspace members, easy file, link, and image sharing, and other awesome features.
Also, did we mention that Pumble is 100% free?
Online Meeting Tools
Zoom
If you're new to online meetings, Zoom is one of the first brands you'll hear about. Zoom can be used to host private meetings or live stream to the public. You can share your screen to share meeting notes, share a presentation, and even utilize Zoom's private chat feature or use breakout rooms for private conversations. The tool also allows you to record meetings.
Zoom has a generous free plan, allowing you to host up to 100 participants for up to 40 minutes. If you'd like to extend your meeting time, paid plans start at $149.90 a year under the annual plan.
Microsoft Teams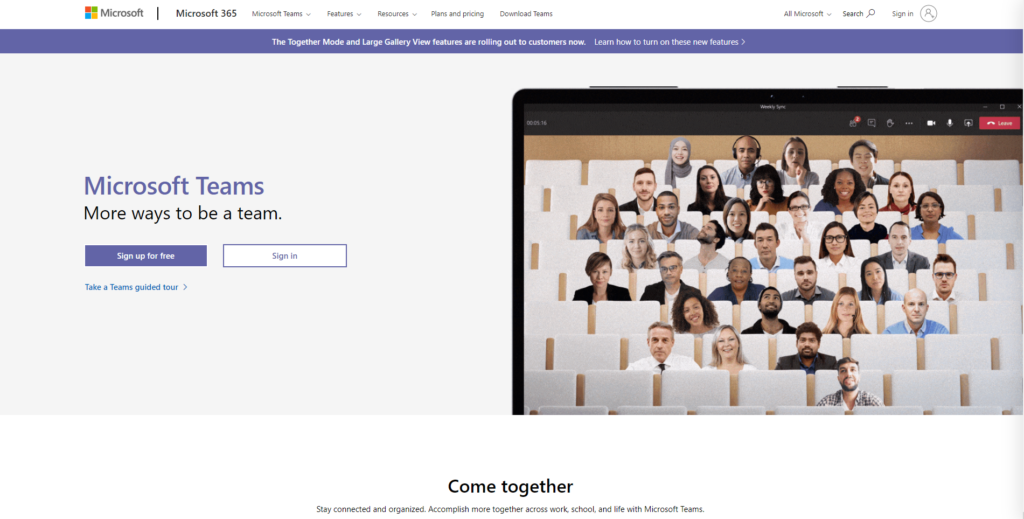 Microsoft Teams, formerly known as Skype for Business, is one of the original players in the video conferencing game. This tool lets users communicate with team members via video, voice, messages, and screen sharing. This is a perfect solution if you need to share quick updates with your team, want to share and get approval on a project, or just need to hop on a quick chat with a team member.
Microsoft Teams has a free plan that allows online calls, screen sharing, file attachments, and more. Paid plans start at $5 per month per user.
GoToMeeting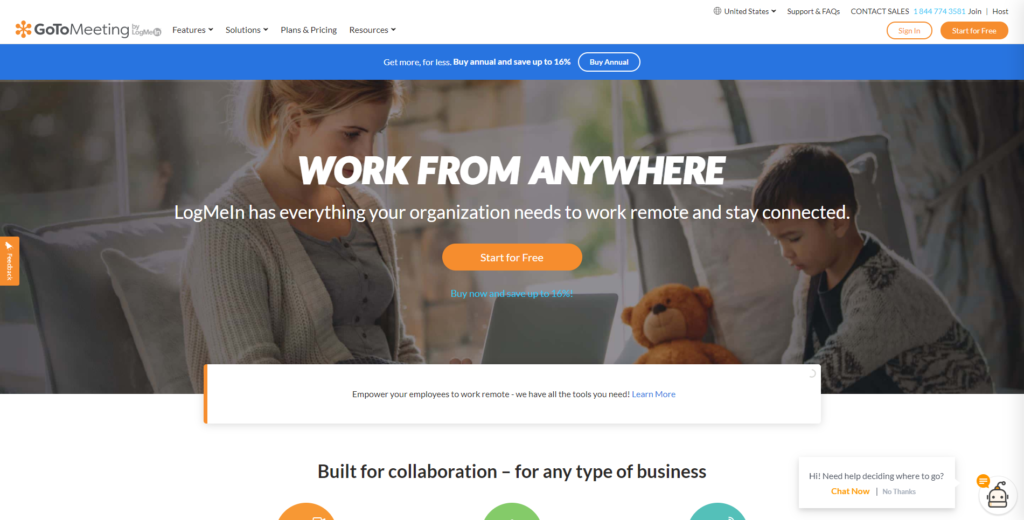 GoToMeeting is another online meeting tool that has been around for a long time but is, unfortunately, often overlooked. GoToMeeting allows conference calls, video calls, meeting recording, transcriptions, and more. This tool also features messaging, group chat, and several integrations.
GoToMeeting has a free option for users who just want to test the waters. However, paid plans start at $12 per year per user with annual billing.
Become an entrepreneur by starting your own business – get started with Memberpress!
Final Thoughts
The scope of business is changing, and many people are embracing the idea of moving their teams to the digital space. Without the proper tools in place, your small business could get left behind. Be sure to check out the tools we mentioned above to help your remote team reach success!
Did your favorite tool not make the list? Tell us about it in the comments!
If you liked this post, then please follow us on Facebook for more great content. You can also find Memberpress on Twitter and Instagram.