If you run a membership site, chances are you've gotten requests for PDF invoices at some point in time. You probably also know what a pain the process can be.
You'll be happy to know the MemberPress PDF Invoices add-on allows your customers to download a PDF Invoice of every transaction recorded on your site – themselves!
The last decade has introduced many new regulations for online businesses. You might be familiar with (or inconvenienced by) a few.
GDPR (General Data Protection Regulation), for instance, changed the way many online businesses communicate with their customers.
These regulations caused a wild scramble over everything from email list permissions to cookies. We all remember the mountain of compliance emails that filled our inboxes in preparation!
As we continue to navigate the relatively new world of membership sites, two things will be essential:
Keeping track of your records
Offering your customers easier ways to do the same
With that in mind, PDF Invoices for MemberPress makes life a whole lot easier.
How Do PDF Invoices Benefit Your Business?
They make compliance easier
As regulations adapt and cover more ground, your business (and those of your customers) could be liable to certain corporate, local, and international laws.
Being able to provide PDF invoices can protect you from non-compliance with these types of laws.
They keep your branding consistent
PDF invoices can also create a seamless branded experience, and that's a huge boon. After all, consistency is king when it comes to brand recognition.
Plus, the more accessible and customized you make the buying experience, the more likely customers are to return and buy again.
Nothing makes a business stand out like a professional presentation and ease-of-use, especially when so many of us rely on gaining trust as quickly as possible. MemberPress PDF Invoices is another tool in your arsenal for achieving just that.
They save you time (and money)
PDFs can be complicated to create from scratch if you have no design or technical experience.
With our templates, you don't need to worry about the technical stuff – just fill in the blanks. It's just another way we can show you we're dedicated to making your job easier and giving you more time to focus on growth.
Our PDF Invoices add-on simplifies the process for your customers, eliminating the need to craft and upload invoices in a separate program.
Two Attractive Designs to Choose From
With our Modern template, you can show off a clean, functional design with all the information your customers need available at a glance.
The Simple template gives you a more streamlined, quick approach to invoicing.
Simple-to-Use Dashboard
Your customers can keep everything neat with their payments page. All invoices are stored and available there for download.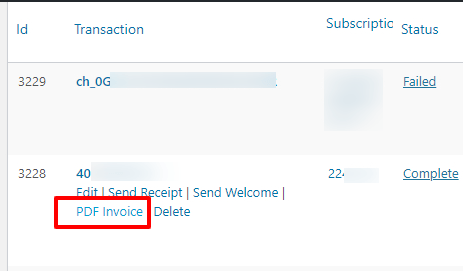 The PDF invoices add-on gives you many easy-to-manage options:
Pick between Modern and Simple templates
Upload your logo and customize colors to match your branding
Add footnotes
Break down purchases and services rendered
It's the little things that count! MemberPress is always focused on creating a professional experience that will make your job easier.
We hope you enjoy this feature and the way it helps you keep your membership site compliant and your members happy.
Learn how to install and use the PDF invoices add-on here.
Have any questions about PDF invoices? Want to suggest more features that would make MemberPress even easier to use? Comment below!
If you liked this article, be sure to subscribe to the MemberPress blog!