Starting a business can be an empowering experience. It can help you make money doing what you love, and share your passion with the world. However, if you're a person with a disability, this endeavor may seem a bit challenging at times.
Fortunately, there are several flexible options that can help you earn a decent income. By reviewing a few unique business ideas for people with disabilities, you may be able to find the perfect match.
In this article, we'll look at some effective online tools for launching your company. Then we'll provide three business ideas for people with disabilities to help inspire your own journey. Let's get started!
A Few Essential Startup Tools
The creator economy is fueling an entrepreneurial movement like nothing we've ever seen.
Today, creators of all kinds can turn a killer profit off their ideas, thanks to this software-driven sea of opportunity. And creators with disabilities are no exception.
But businesses are complex undertakings. That means you're probably going to need a variety of tools to help you succeed. One of the key areas to focus on is your online presence.
#1 – Website
Starting a website is an essential step to setting up a business. Your site establishes your brand on the internet. It also gives your audience an easy way to find you and get in touch.
It's important that you build the right site for your business' needs and goals. For example, creating a membership site can be an easy way to make money off of almost any type of content or product. Our plugin, MemberPress, helps you set one up in just a few steps.
A membership site is any site that includes gated content – that is, content that a user has to sign up for to access. It can be all kinds of things…
Subscriptions
Digital products
Physical products
Podcasts
Blog posts
Ebooks
White papers
Images
Audio content
Videos
Online courses
Coaching sessions
Online communities, clubs, and forums
Virtual conferences
…you name it!
#2 – Social Media
Finally, you should also consider setting up a few social media profiles. Doing so can help you put your brand in front of a larger audience.
For example, you can set up an Instagram account to post beautiful photos of your products. If you run a blog, you might want to create a Facebook page where you can promote important links and update your followers with the latest news.
Just don't spread yourself too thin. Once you decide on your business type, do some research to find out which social platforms are best for your target market. Then pick the top two, and focus on those as you get things rolled out.
About Your Expertise…
If you have a disability, you probably don't want to be defined by it. Yeah, it's definitely a part of who you are, but it isn't the whole of your existence. Makes total sense. But that said, don't underestimate the power of the niche expertise your disability affords you.
Any wise businessperson will be eager to leverage whatever resources they have, and your expertise as an individual with a unique lifestyle gives you a massive niche advantage. Keep that in mind as you're figuring out the direction you want your business to take.
3 Business Ideas for People with Disabilities
Are you ready to start your own business? Here are a few ideas to consider when you're at the drawing board.
1. Become a Content Creator
Being a content creator comes with many benefits. For starters, you can create content in just about any area and find an effective way to earn money from that content. Steven Spohn is a great example of this business idea: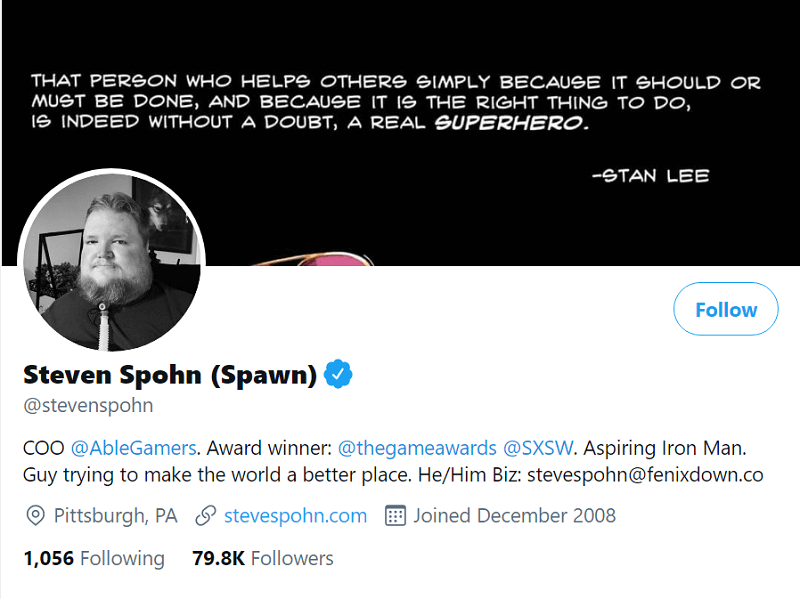 In addition to creating content related to video games, Spohn is also the COO of AbleGamers. He uses his skills to connect with other disabled individuals through his Twitter account.
If you'd like to do something similar, you can start by thinking about your interests. Then you can choose the medium you'd like to work with. For example, if you're a person who uses mobility aids and loves to cook, you might consider making videos from your accessible kitchen.
You might also be an expert in a certain profession. If this is the case, you can offer online courses to share your knowledge with others. Courses can be delivered at your own pace and on your own terms. Moreover, course material only needs to be created once. That means courses can be a quick way to boost your passive income without putting in a lot of work.
2. Start a Niche Review Site
In any competitive market, there are countless products available to consumers. For this reason, some people may have a hard time making purchasing decisions. Therefore, setting up a product review site can be a smart business idea.
If you're looking for a particular niche, you could review products related to your disability. For example, you might review transcription services if you're hard of hearing. Sites such as Vantage Mobility dedicate entire articles to this topic: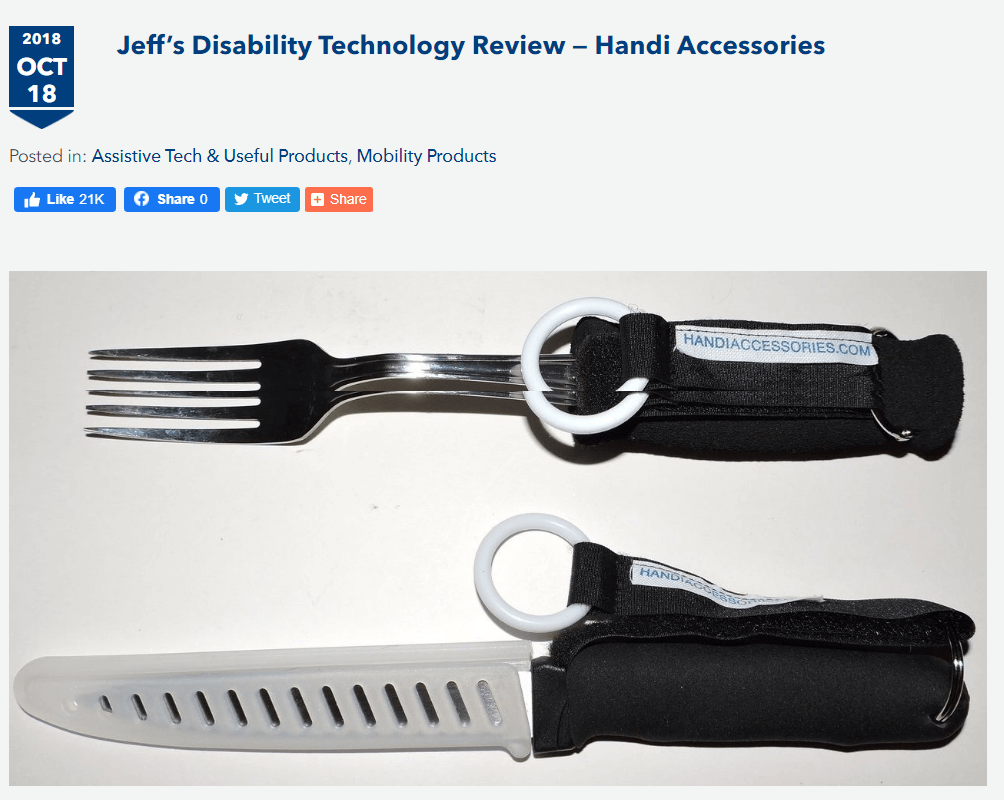 If you decide to go that route, you can draw on your real-life experiences. By doing this, you're helping other users with similar disabilities make wise purchasing decisions, while also capitalizing on your niche expertise.
Running your own website and schedule might give you the flexibility you need to work comfortably. Whatever theme you decide on, we encourage you to start with a clear niche. Specializing in a particular product or industry can help you attract loyal customers with specific questions.
Additionally, you can encourage user-generated content such as guest posts and contests, which can help you reach a wider audience.
Affiliate Marketing
We also recommend that you incorporate affiliate marketing into your content. This can be a simple yet effective way to monetize your reviews and earn commissions from purchases made through your site. Check out How Affiliate Marketing Works to get started.
Additionally, once you're more established, you might consider starting your own affiliate program. In that scenario, you bring on affiliates to promote your products rather than the other way around. It's one of the most effective and affordable marketing strategies out there.
3. Act as an Accessibility Consultant
If you have a disability, you're likely aware of the impact that non-accessible resources can have on people. Whether it's a difficult-to-read website or a building without a ramp, lack of forethought can exclude countless individuals from accessing services or products.
Companies are always looking for ways to reach new people and grow their customer base. You can play a role in that by becoming an accessibility consultant.
Your expertise is extremely valuable to online businesses. As you may already know, websites are meant to follow the Web Content Accessibility Guidelines (WCAG). Nevertheless, some elements can get overlooked during the site-building process. This can be especially true for large or complex pages. Therefore, you can familiarize yourself with these standards, and analyze company websites to make sure they're up to standard.
Some companies may be unaware of minor errors on their sites unless they're highlighted by users. For example, it's common practice to add alt text to images. However, a website might forget to follow the same guidelines with media sourced from a third party.
Additionally, audio clips might come with unusable auto-translations. As an accessibility consultant, you can find these issues before they affect others.
Accessibility can also be a cultural issue. Some companies might want to learn new ways to be more inclusive toward their employees:
Accessibility consultants can earn a great living making life easier for other people. You might particularly enjoy this career if you have a desire to give back to society or help your local community.
Since many consultants use a retainer-based approach, the MemberPress platform is perfect for creating and managing a consultancy.
When you work under a retainer, your clients pay you a fee that covers access to your services for a set amount of time. In MemberPress, you can create "memberships" that operate as tiered plans based on a variety of scenarios. For example, you might offer…
Period-based plans of one, two, and three months with a recurring payment structure
Hours-based plans of 20, 40, and 50 hours with a one-time payment structure
You'd want to add a plugin like Simply Schedule Appointments to your site, which would give your members (clients) access to appointment scheduling.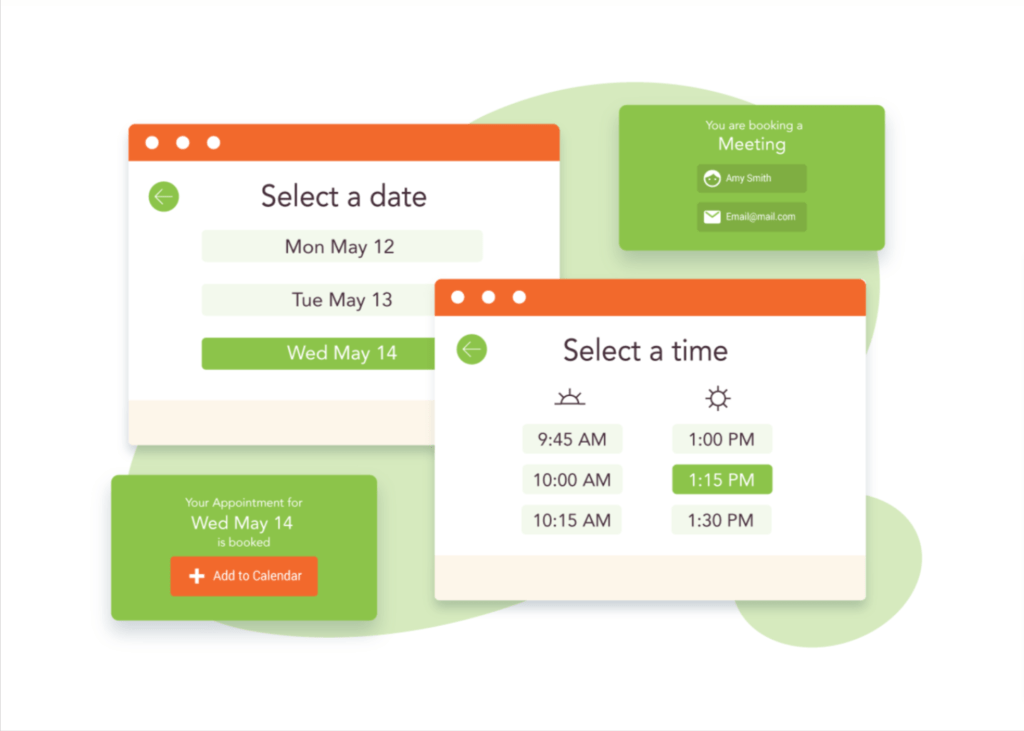 Your consultancy site could also feature a blog, podcasts, courses, and just about any other content you'd like to make available. With MemberPress, you could even make some content (like your blog) publicly available and other content (like courses, ebooks, or podcasts) only available to clients based on their membership level.
Conclusion
Starting your own business can be an exciting project. However, for people with disabilities, this can also present a few challenges. By understanding your options, you can set up a company that fits your needs and interests.
In this article, we covered three business ideas that may suit people with disabilities:
Become a content creator and sell courses using a tool like MemberPress.
Review products alongside affiliate marketing.
Act as an accessibility consultant for other organizations also using a tool like MemberPress.
Do you have any questions about these business ideas? Let us know in the comments section below!
If you liked this article, be sure to follow us on Facebook, Twitter, Instagram, and LinkedIn! And don't forget to subscribe in the box below.