There are several ways to monetize your website, but selling membership subscriptions is particularly effective. Build a membership website with WordPress, and you'll have a reliable, recurring revenue stream. However, there are several key steps you'll need to take to make your new online business a success.
Fortunately, the right WordPress membership plugin can make a huge difference. This vital tool should enable you to set up tiered plans, restrict content, and create an effective pricing strategy to sell your memberships with ease.
In this article, we'll look at what membership sites are, and why you might want to create one. We'll then show you how to transform any WordPress website into a membership site in four easy steps. Let's get started!
An Introduction to Membership Sites (And Why You May Want to Create One)
A membership site is a gated website that features exclusive content. Memberships can be free, paid, or operate on a tiered system where each level unlocks specific features.
A paid or tiered membership website can be a smart way to monetize your content. It can also provide an additional revenue stream for sites that are already generating income, such as e-commerce stores. Diversifying can protect your business against market fluctuations or changes in consumer trends.
However, memberships don't always have to be about money. Some of the biggest names in the industry offer free memberships, including Facebook and Twitter.
These memberships are typically designed to gather user information. This data can be used in a variety of ways, but often forms part of a marketing or advertising strategy. The more you know about someone, the easier it is to promote products and services to them.
Memberships also encourage visitors to return to your website by promoting more meaningful user activity. The act of creating a profile, engaging with other people in the comments sections, and receiving friend requests all drive visitors to keep coming back for more.
How to Build an Online Membership Site Using WordPress (In 4 Easy Steps)
Now that we've covered the benefits of running a membership site, let's look at how you can create one. For the purposes of this post, we're going to assume that you already have a hosting plan and domain name, and that you've installed WordPress.
Once you've completed all of those tasks, you can start in on the steps below to transform your WordPress site into a fully-functioning membership platform.
1. Set Up a Membership Plugin
There are plenty of WordPress membership plugins available, but for this tutorial, we'll be using MemberPress. Our plugin makes it easy to create a membership site by automatically generating all the relevant pages, including login and account pages.
As with most membership plugins, you can use MemberPress to restrict access to specific content and features. However, it also supports more advanced techniques such as content dripping and affiliate marketing. It integrates with popular payment gateways such as PayPal and Stripe out-of-the-box, too.
If you need tech support with MemberPress, the experts over at WP Tech Support are well-versed in all things MemberPress and WordPress. Give them a shout 24/7 for and and all troubleshooting.
Once you've activated MemberPress, you can configure the plugin to your liking by navigating to MemberPress > Settings. If you're planning to monetize your membership site, we'd recommend setting up at least one payment gateway in the Payments tab: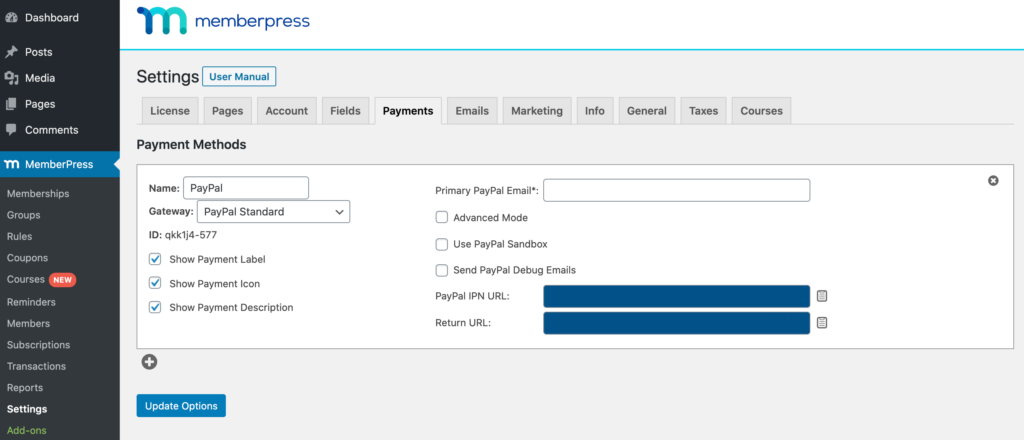 Here, you can add payment gateways by clicking on the plus (+) icon and following the on-screen instructions.
2. Configure Your Membership Levels
The next step is creating memberships that visitors will want to purchase. There are many different ways you can go about this, which we've covered in other posts on this site.
Once you have an idea for your first membership, head to MemberPress > Membership > Add New to add it to your website. Here you can give it a name and set its price.
At this point, you can also decide whether this membership will require a one-time payment or have an expiration date at which point it will need to be renewed. Recurring memberships mean ongoing revenue, but lifetime memberships can seem like an attractive deal to bargain-hungry visitors:

A custom welcome email can help you make a positive first impression on new members. You can use MemberPress' built-in email template and editor to craft the perfect introductory message: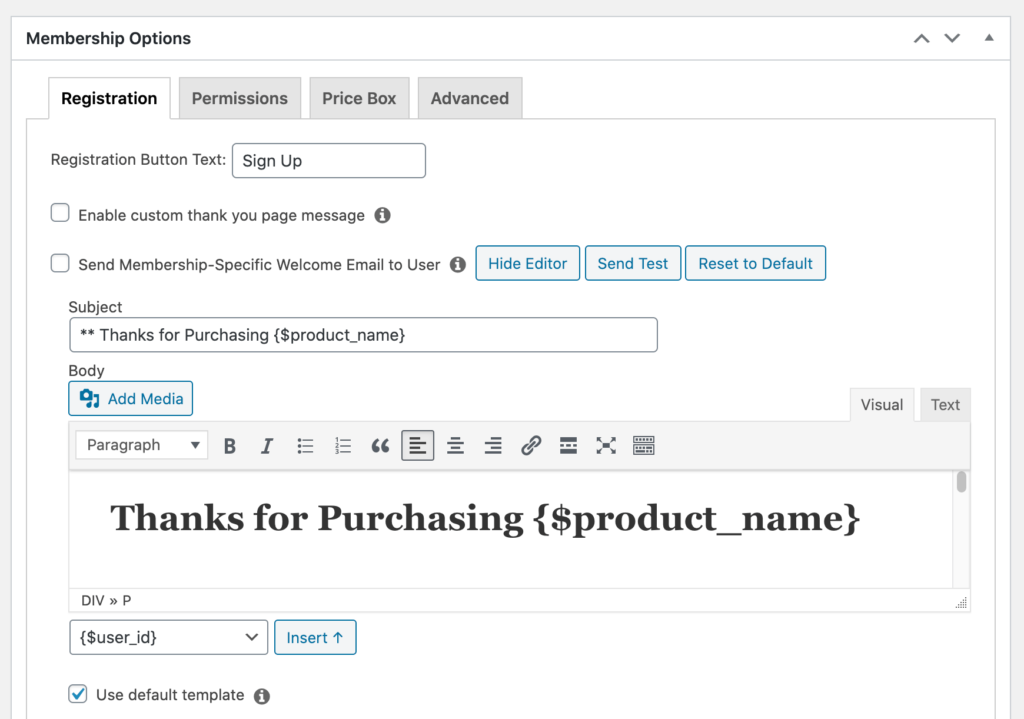 Once you're happy with the information you've entered, it's time to publish your membership. Every time you publish a new one, MemberPress will automatically create a registration page where visitors can purchase that specific subscription: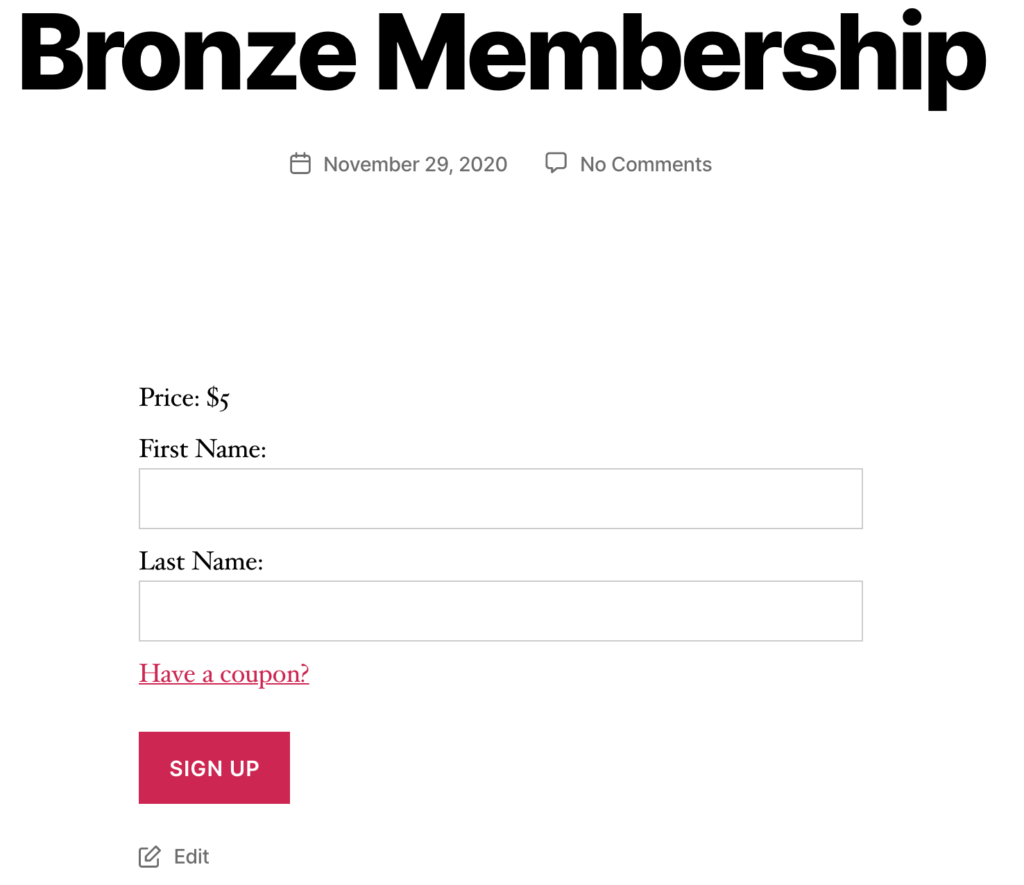 Many membership sites offer multiple levels, such as in a Bronze, Silver, and Gold subscription model. To create multiple membership levels, simply repeat the steps in this section.
3. Provide Members-Only Content
The key to transforming visitors into paying members is to offer them something of value. This often involves creating compelling, members-only content. It may take the form of blog posts, exclusive products, online courses, and more.
You can restrict access to your website's premium content using MemberPress' rules and access conditions. For example, you might restrict access to a specific tag, category, or even individual pages and posts.
To start, navigate to MemberPress > Rules > Add New. Here, you'll find a range of dropdown menus you can use to create your rules: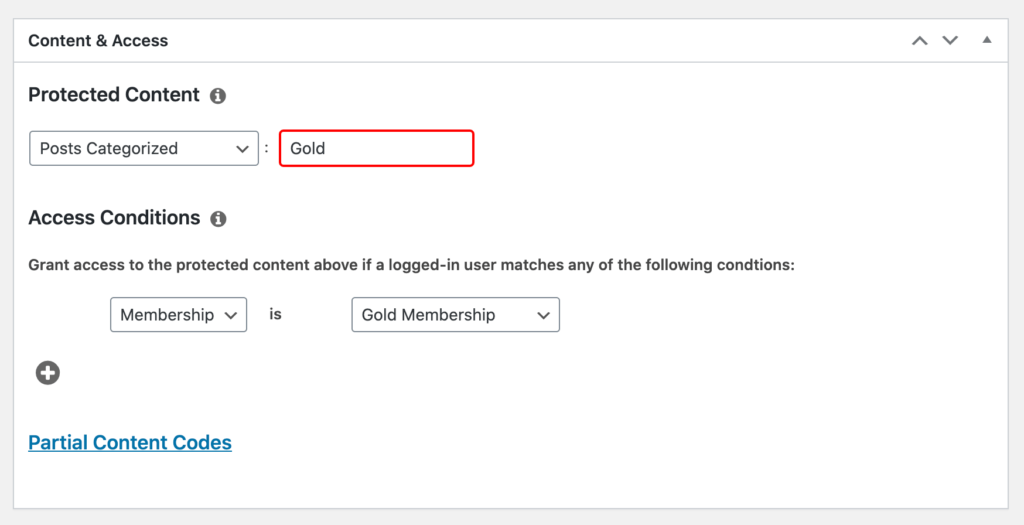 In Access Conditions, open the first dropdown and select Membership. You can then assign a membership level to this rule. Only people with the assigned membership will be able to access the content this rule applies to: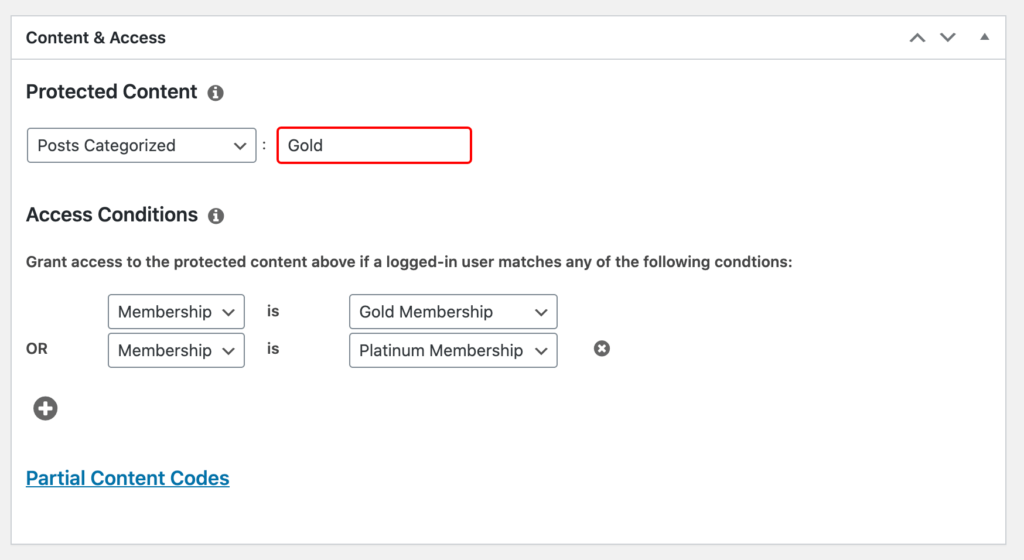 You can add multiple membership levels to your rule by clicking the plus (+) button. When you're happy with your rule, click on Save Rule.
4. Create a Pricing Page
A pricing page can help visitors compare your membership plans and select the one that's right for them. It can also encourage visitors to upgrade to a more expensive option by highlighting its additional features and benefits.
To create a pricing page, navigate to MemberPress > Groups > Add New. Give your group a descriptive name, then scroll to the Group Options section: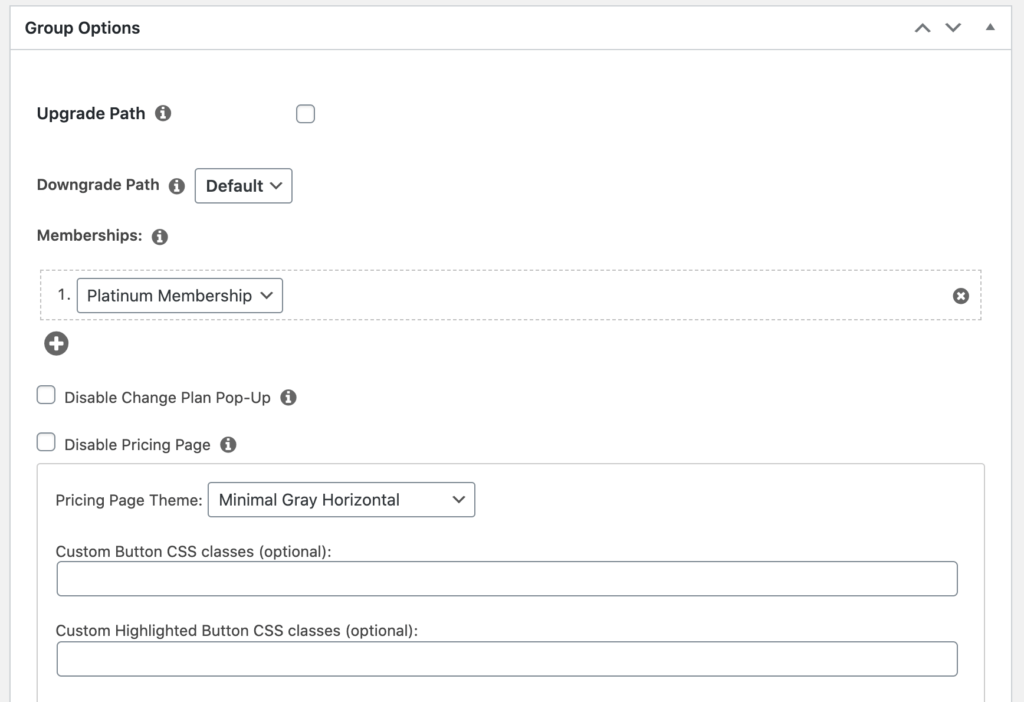 You can then click on the plus (+) icon to add each of your memberships to this page. You can change the order these plans appear in by dragging and dropping them into place: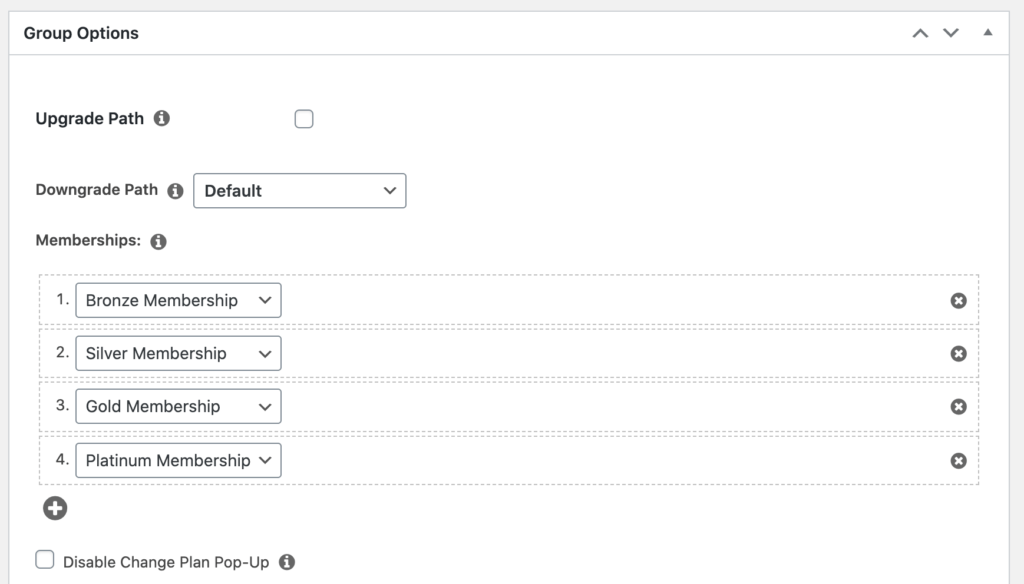 Next, choose a theme using the Pricing Page Theme dropdown. Once you're happy with the results, you can publish the page:

Since it's such an important part of your website, we recommend adding your pricing page to your site's recurring elements such as your main navigation menu, footer, or sidebar. This ensures that potential members are only ever a few clicks away from purchasing a subscription.
Conclusion
There are several ways to generate money from a WordPress website. However, offering membership subscriptions is particularly popular, as it enables you to earn recurring revenue and offers a lot of flexibility in terms of niche and format.
If you do decide to turn your WordPress website into a money-making membership site, you just need to complete the following steps:
Set up a membership plugin.
Configure your membership levels.
Provide members-only content.
Create a pricing page.
Do you have any questions about building an online membership website? Leave them for us in the comments section below!
Don't have MemberPress yet? Get started here!
If you liked this article, be sure to follow us on Facebook, Twitter, Instagram, and LinkedIn! And don't forget to subscribe in the box below.