If you're considering launching a subscription box business, you're heading in a profitable direction.
The global subscription box market is growing like crazy. And it doesn't seem to be slowing down, either. According to IMARC Group, this market is expected to hit $65 billion by 2027.
In this article, we'll show you how to use the MemberPress monetization plugin to set up a WordPress website with all the functions you need to start a subscription box business.
But first we'll go over some of the different types of subscription boxes out there today. And we'll give you a few examples to inspire your creativity.
Let's get to it!
Types of Subscription Boxes
Subscription boxes come in all kinds of shapes, sizes, and themes. But there are really only two main types when it comes down to logistics. These types are…
1. Replenishment Subscription Boxes
Replenishment subscription boxes are just what they say: replenishment. They keep you stocked up on the things you use most.
Typically, replenishment subscriptions include things like household essentials, staple clothing such as socks and underwear, and other commodity products.
2. Curation Subscription Boxes
Curated subscription boxes contain a set of products that have been curated, or hand-selected, based on customer data.
These sites often collect user preferences through things like quizzes and questionnaires. They also rely on existing sales data.
Popular Subscription Boxes on the Market Today
We can't say it enough: This industry is booming. And as is the case with any booming market, creativity in the subscription box space has kicked into high gear.
Today the variety out there is incredible. And the list of players is growing fast. A few of the most popular subscription boxes you might want to check out for inspiration include…
Those are some of the really big players. But check out these wonderfully weird niche subscription boxes…
CatLadyBox
CatLadyBox features all the treats, twine, and catnip a cat lady could want, on regular delivery. Who could ask for more?
Autograph of the Month Club
Why wait in line at Comic-Con? Just subscribe to the Autograph of the Month Club, and you'll get autographs of relatively famous people every single month. All genuine.
Cryptid Crate

Cryptid Crate is a like a conspiracy theorist's dream come true, every month. Each box contains cryptozoology and paranormal themed swag like wall art, books, collectibles, t-shirts, and other cool, creepy stuff.
Skulls Unlimited BoneBox
For the osteologically inclined, there's Skulls Unlimited BoneBox. Each box includes a mystery skull, animal "item" (not sure about that one), a collectible animal-themed trading card, and special discounts.
Tools You'll Need to Create a Subscription Box Website
When creating your subscription box business website, WordPress is the obvious choice.
Not only is it possible to add all of the necessary features for a subscription box business to your website, but it can also be relatively inexpensive to launch your site.
If you've yet to start your business, WordPress is the ideal platform for testing your idea to see if it's viable.
If you decide that WordPress is the right platform for you, there are three main components required to build a subscription box website, so let's look at each of them now to help you get started.
Web Hosting and Domain Name
While WordPress is free to use, you will need to pay for web hosting and a domain name to get your website online.
Thankfully, there are some great value web hosts out there. Many of them will provide you with a domain name as part of your subscription.
You might want to start off with an entry-level hosting plan that only costs a few dollars per month.
As your business gains popularity and your website receives more visitors, you'll need to upgrade your hosting plan to maintain fast loading times.
However, if you're just starting out, an entry-level shared hosting plan is fine. It should allow you to test your business idea without too great a financial investment.
A WordPress Theme
For your subscription box business to be successful, you'll need to turn as many of your website visitors into subscribers as possible. To do that, you'll need a website with a conversion-focused design.
One option is to hire someone to build a custom website to promote your business online. However, this approach can be expensive and time-consuming.
Instead, you can launch a professional-looking and effective website with a low-priced off-the-shelf set of templates.
We recommend the Divi WordPress theme. It's super easy to use and gives you access to a huge library of easily editable templates.
You can use these templates for all kinds of projects, including landing page creation.
Also, Divi comes with a split-testing tool that can help you optimize your website for higher conversion rates.
If you're on a tight budget, a free alternative to Divi is the freemium Elementor plugin and its free WordPress theme.
A Suitable Subscription Box WordPress Plugin
Out of the box, WordPress doesn't have the necessary features to enable you to create a subscription business website. It definitely won't allow you to create a website that'll enable recurring payments.
However, by installing a good WordPress monetization plugin, you can quickly add subscription-box functions to your WordPress website.
While there are a few tools that can help you with this, MemberPress is the world's #1 WordPress monetization and membership plugin. It has everything you need to launch and run a subscription box business with WordPress.
All with no coding required.
MemberPress isn't free. But if you want the ability to manage your subscribers and automatically collect recurring payments online, this plugin is a must-have.
Creating a Subscription Box Business with WordPress & MemberPress
Now that you know what tools you need to build your website, let's take a look at creating a subscription box business with WordPress and MemberPress.
Set up the Payment Options
With MemberPress installed on your WordPress website, the first step in creating your subscription box plan is configuring the payment options for your website.
As MemberPress supports a number of payment gateways, you have a good range of options here.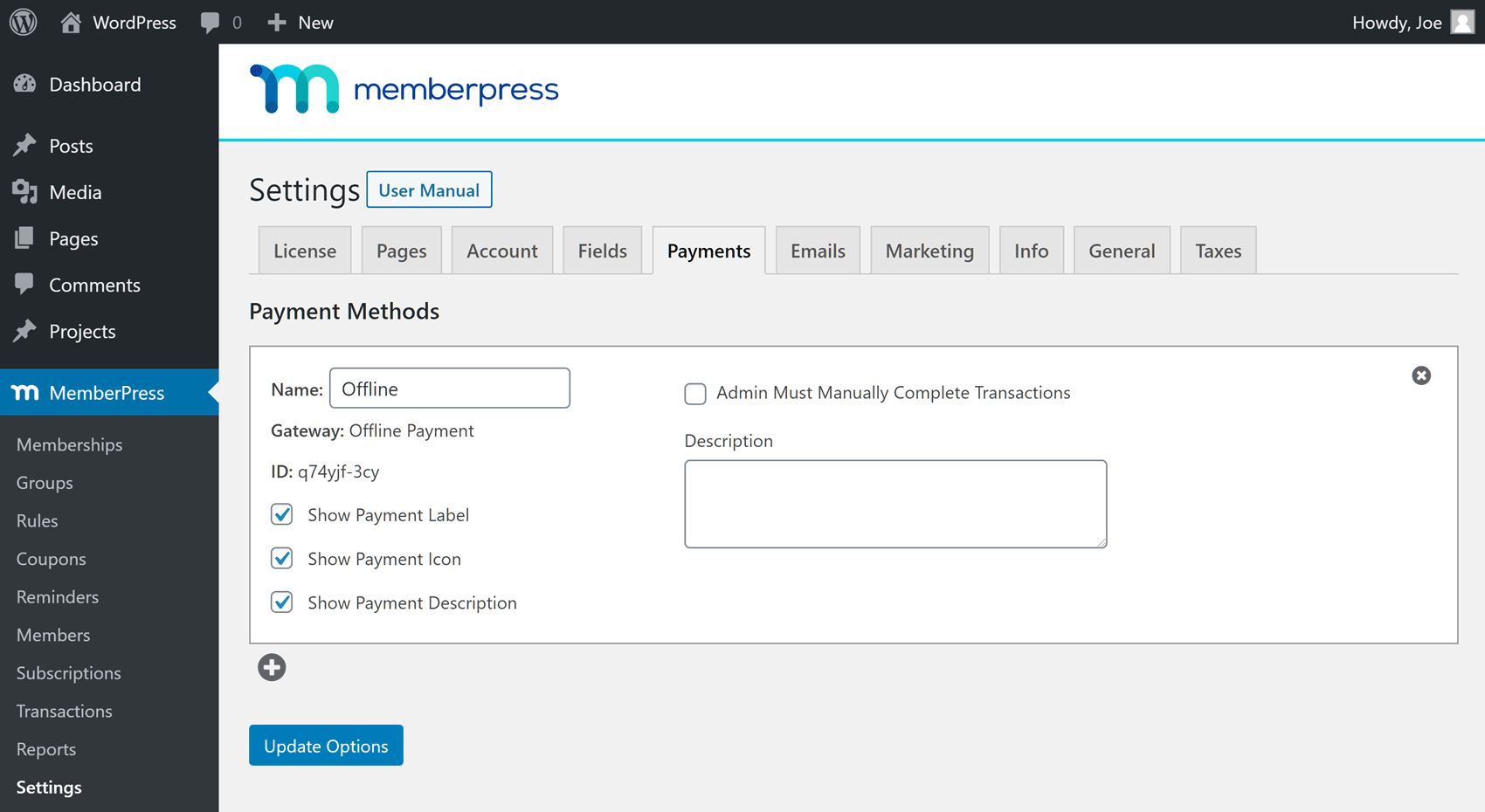 Create a Subscription Membership Plan
Once you've set up a payment option, you'll need to create at least one membership. In MemberPress, memberships are the subscription plans that your customers can sign up for.
If you want to offer multiple subscription box plans, you'll need to create a membership for each one.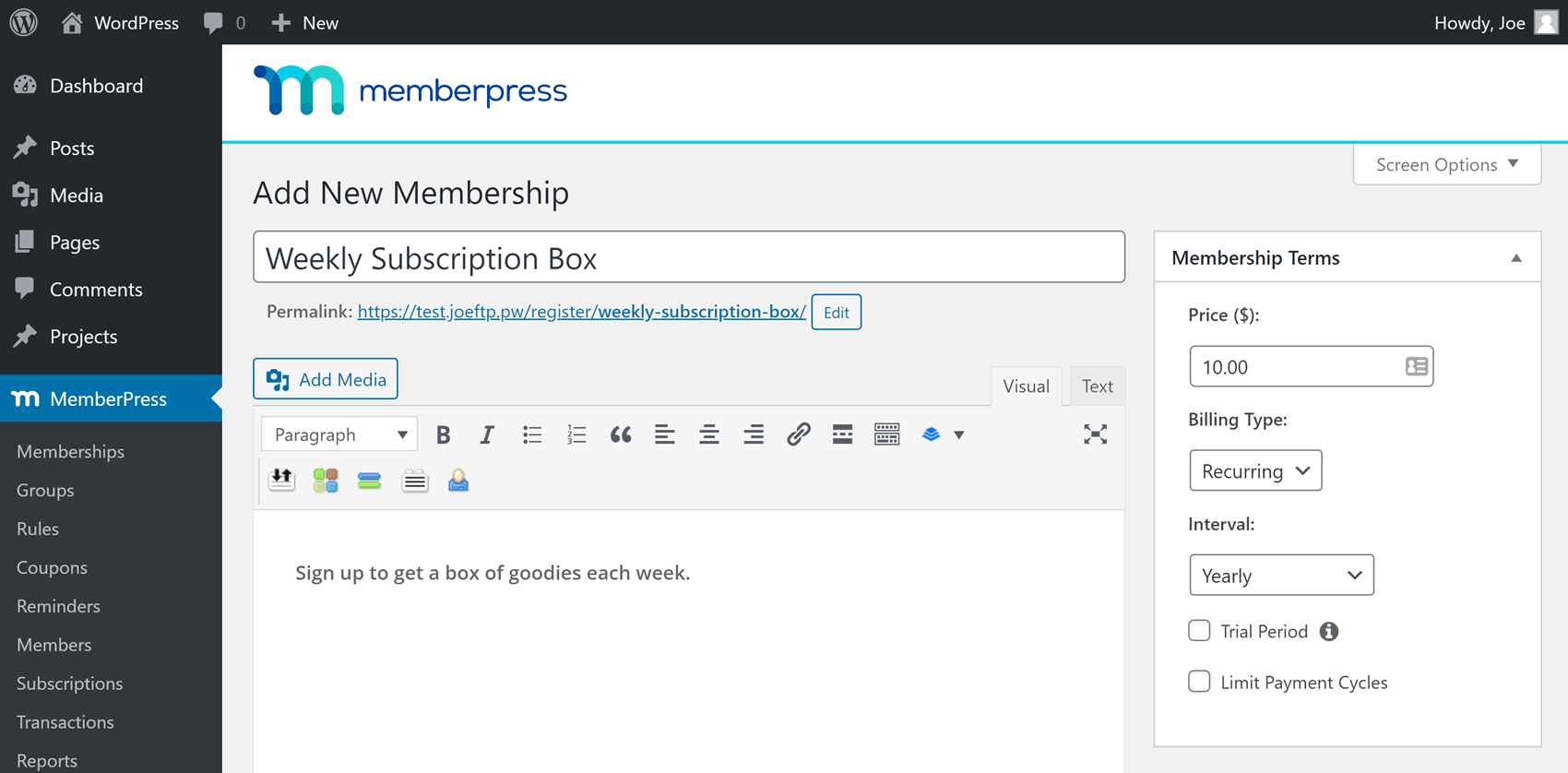 While entering the name and the description for the membership, you can also choose whether the billing type will be recurring or a one-time payment.
As we're creating a membership for a subscription box business, choose the recurring option from the billing type drop-down menu on the Membership Terms panel.
The interval drop-down menu lets you define how often the subscription recurs while the cost of the subscription can be entered in the price field.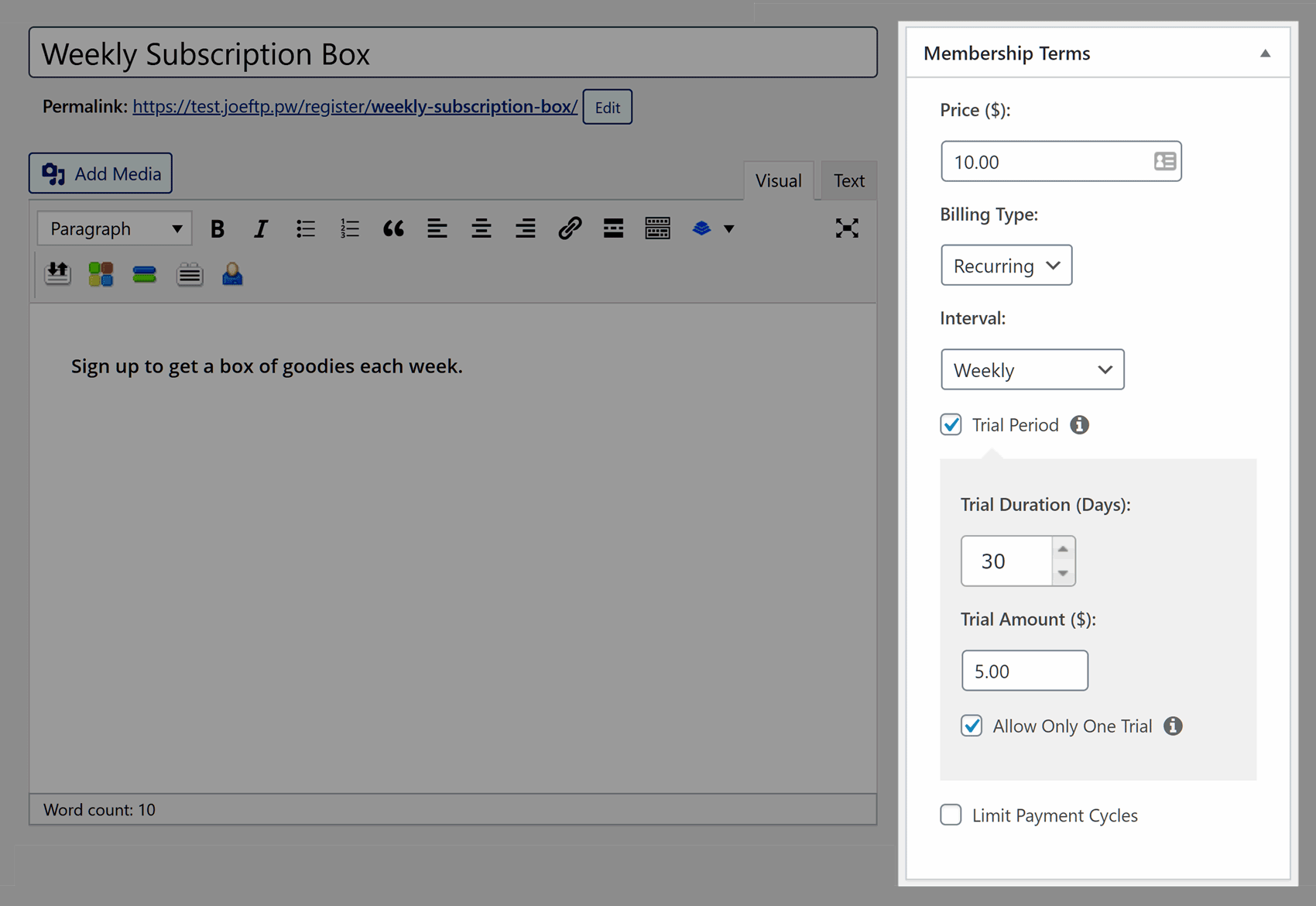 Create a Trial Subscription Option
You can also create a trial period for a membership, such as allowing new subscribers to sign up at a reduced price for a set amount of time.
Customize Your Subscription Plans
On the Membership Options panel on the Add New Membership page, you can customize the plan further by setting up custom welcome emails, defining who can join this subscription, and entering the details that will be displayed in the price box for your plans.
Create a Membership Group
If you do create more than one plan for your subscription box business, you can use the MemberPress Groups feature to connect those plans together.
Doing this gives you the ability to generate a pricing table or price box that displays the grouped subscription options side by side.
This makes it easy for your visitors to compare the subscription options and find the one that's best for them.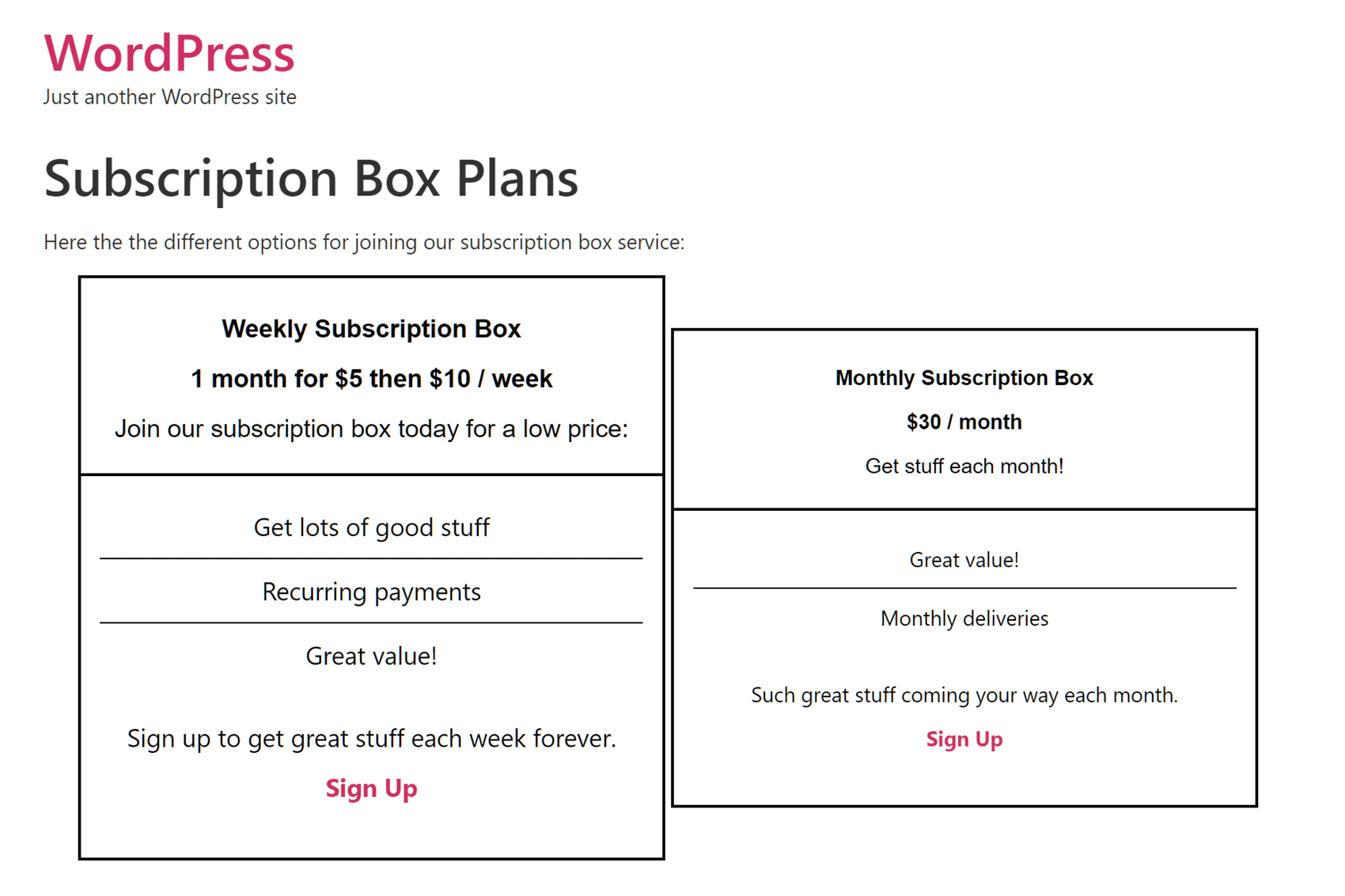 MemberPress has a good selection of color schemes you can apply to the pricing tables to get them looking how you want.
Alternatively, you might have more options, depending on your WordPress theme. Many themes have pre-built pricing table templates or page builder tools that makes it easy to create your own price comparison tables.
Publish the Signup Forms
To simplify the process of displaying the signup forms on your site, the Group Options panel also includes the Group Price Boxes shortcodes.
Copying and pasting these shortcodes into a post or page on your website allows you to display the signup options to your visitors.

Once the signup forms have been published, your visitors will be able to join your subscription box service.
Manage the Subscriptions
Once people start signing up, you can manage the subscribers from the Subscriptions section of the MemberPress plugin in your WordPress dashboard.
Final Thoughts
Hopefully, you now have all the basics to get started and create your subscription box business in MemberPress.
Of course, you'll need to create the content your subscribers will be getting access to. It could be digital content accessible through your website or physical products you'll be shipping out.
Regardless, MemberPress has everything you need to help you create a website for your subscription box business.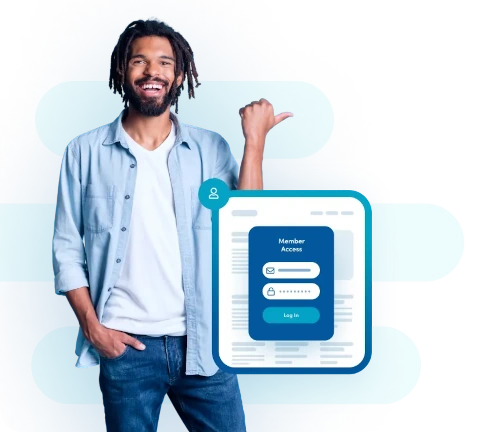 Get MemberPress Today!
Start getting paid for the content you create.
Get MemberPress Now
See All Features
If you'd like to know more about this topic, our guide on charging recurring monthly subscription fees for your membership site has additional information.
If you liked this article, be sure to subscribe to the MemberPress blog!