One way to turn more of your website visitors into paying members is to try experimenting with your site and its content. Maybe visitors will respond better to a different tone of voice on your sales page, or perhaps your button text and calls-to-action aren't enticing enough.
No matter how effective your website is at generating new members, there's always room for improvement. In this article, we introduce you to a few of the powerful tools you can use to optimize your membership website and improve your conversion rates. By using these split testing tools to build the most effective website possible, you increase your membership site's chances of success.
But before we get to the tools, let's quickly cover what split testing is, so we're all on the same page.
What is Split Testing?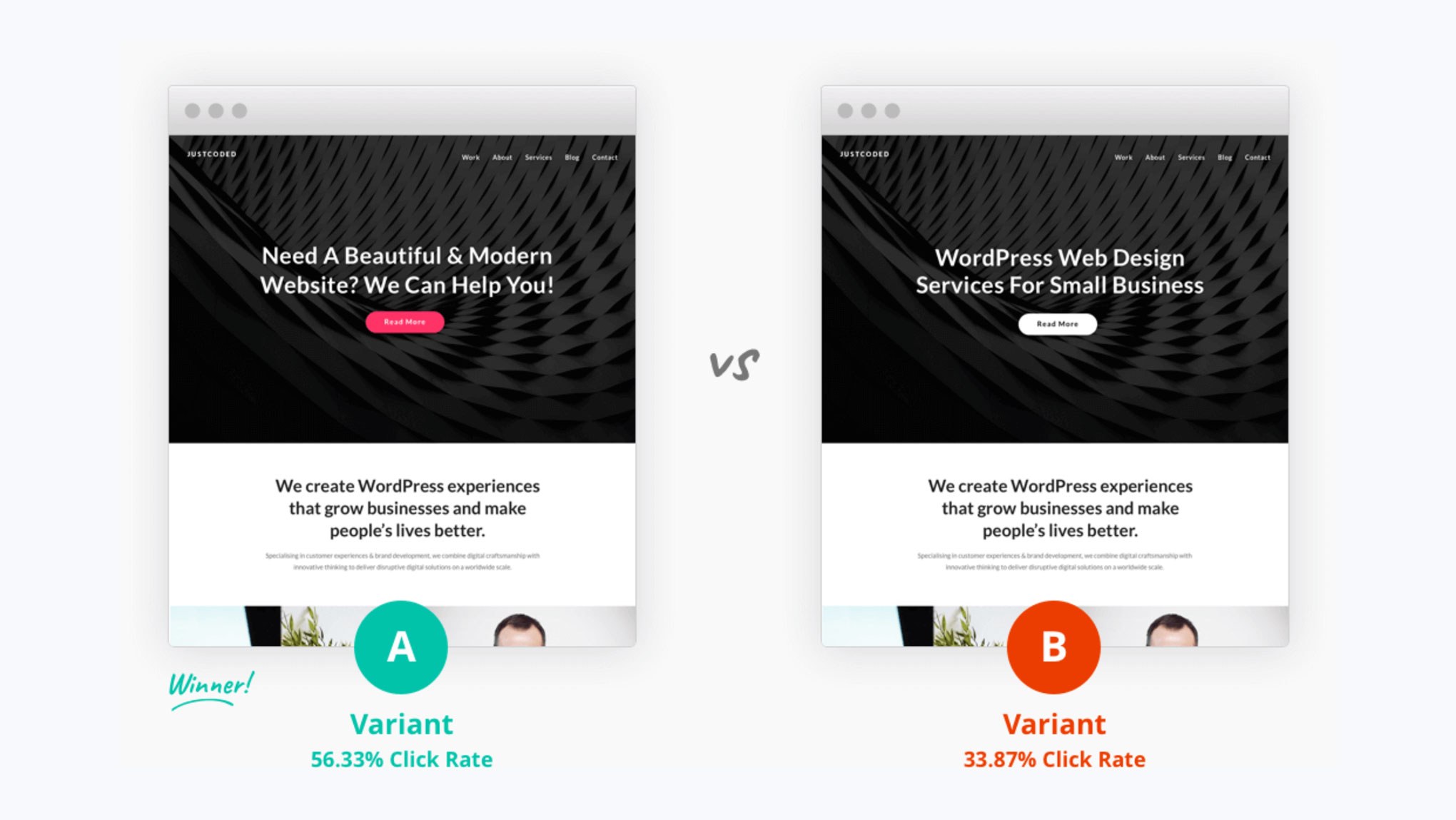 Split testing, aka A/B testing, allows you to display two or more versions of your website to visitors to find out which variation delivers the best results.
One example is creating two versions of a Call-to-Action button. One version may have a green button while the other is red. Each version is displayed 50 percent of the time for a set interval, and the number of times the button is clicked is tracked.
Over time, you'll know which button was clicked most, making that the best choice for your website. If the green button delivered the most clicks, you could stop there and permanently change the color to green. Or you could alternatively create another split test comparing green and yellow to further optimize your button.
Although it depends on which split testing tool you choose, you can use this type of test to optimize almost every aspect of your website, including website copy, page layout, color scheme, and overall site design. There's no limit to what you can test in your quest for the highest conversion rates. You can even experiment with different pricing options on your sign-up pages to see what works best with your audience and membership site.
Why Bother Split Testing Your Membership Site?
A quick Google search reveals some conversion rate optimization best practices, including which colors or button texts deliver the highest conversion rates. However, as every website and its audience is different, sometimes the best advice or conventional wisdom doesn't always work.
That's why it's always a good idea to run your own experiments to optimize your membership website and gather your own data. Thankfully, with the tools we're about to cover in this guide to optimizing your membership site, A/B testing has never been easier.
WordPress Membership Website A/B Testing Tools
So now that you know what split testing is and why you should be doing it, let's look at some of the best free and paid tools for WordPress users who want to optimize their website and its content for better goal conversion rates.
Google Analytics Content Experiments
Google offers some powerful free tools to help you improve your website, including the Content Experiments feature of Google Analytics. Although maybe not as intuitive or immediately usable as some of the paid options in this guide, this service lets you perform multiple split tests on your website.
However, because this tool works on all types of websites, it also lacks some of the WordPress-friendliness of other tools built specifically for the world's leading content management system and website builder. There are some free plugins available, though, to help you integrate Google Analytics Content Experiments with your WordPress website.
If you don't have a budget to spend on a purpose-built WordPress A/B testing tool, and you don't mind rolling your sleeves up and learning a new system, Google Analytics Content Experiments could be for you.
Find out more about Google Analytics Content Experiments
Nelio AB Testing
Although this is a paid WordPress split testing tool, there is a free trial you can use to see if this plugin can help you optimize your membership site.
If you do decide to go with Nelio AB Testing, you'll be able to set up multiple split testing experiments from inside your WordPress dashboard without having to learn another system or interface in order to start improving the conversion rates of your membership site.
One of the main reasons to consider Nelio AB Testing is its ability to test almost everything on your WordPress website. Posts and page content can be tested, including titles, featured images, excerpts, and more. You can also test the performance of your widgets and menus to find out which variations deliver the best results. If you're thinking of changing your WordPress theme or customizing the appearance of your current choice, this WordPress split testing plugin can help you make the right decision based on how visitors respond.
Find out more about Nelio AB Testing
Thrive Optimize
Thrive Optimize is a premium WordPress plugin available on its own or as part of the Thrive Themes membership package, so if you're also in the market for a new theme for your membership site, this is a good value.
Designed to keep things as simple as possible, Thrive Optimize is a good option for anyone who likes the sound of split testing but isn't sure they have the time or ability to get the most out of it. Instead of giving you lots of ways of testing, Thrive Optimize simply lets you create a variation of one of your pages, which you then modify using the visual interface, before choosing a conversion goal and starting the test.
The goals you can optimize your site for are slightly limited too, at least compared to the most feature-rich tools in this category. But again, this helps keeps things simple, making split testing more accessible. Although creating tests is very straightforward with Thrive Optimize, there's some powerful code running in the background. For example, this plugin has the ability to automatically declare a winner and stop showing the poorly performing page variation as soon as enough data is collected.
If you're looking for an easy-to-use split testing tool with a set-and-forget approach to running experiments, consider Thrive Optimize.
Find out more about Thrive Optimize
Divi Leads
Divi is a hugely popular WordPress theme from Elegant Themes. Designed for creating almost any type of website, including membership sites, Divi is well worth considering if you're starting a new website or thinking of changing themes.
And if you do decide Divi is the best theme for your membership site, in addition to all the prebuilt website designs and its drag-and-drop page builder, you also get access to a powerful split testing tool.
Unlike Thrive Optimize, Divi Leads gives you more control over what you can test on your website. The tradeoff is that this extra freedom makes it slightly more complicated to get started. As you can test almost anything and run multiple experiments on your site at once, you should definitely be able to find a way to improve your membership site conversion rates with this tool, providing you're prepared to put in a bit of work to come to grips with it.
Find out more about Divi Leads
Final Thoughts
Thanks to these free and paid tools, optimizing your membership site with split testing has never been easier.
Some tools, like Thrive Optimize, make increasing your membership-site sign-up rates more straightforward. But regardless of how much time or money you want to invest in optimizing your website, there's sure to be a tool to help you start using split testing to find out which button text, page layout, colors, or even WordPress theme best resonates with your audience.
Instead of relying on guesswork or outdated or irrelevant advice, why not find out exactly what works with your website and audience by embracing split testing?
Which tool will you use to optimize your membership site? Please let us know in the comments below.