Choosing the right domain name for your online business' website is extremely important. Your domain name is what customers will use to find your online home and interact with your business. Choosing the wrong domain name can not only hurt your rankings, but it can turn off your customers and be difficult to correct later on.
In this post, we'll share a few tips you can use to figure out the perfect domain name for your business. We'll also go over how to register your domain and give you the rundown on a few good registrars to use.
Ready to start a thriving, successful membership business? Get started with MemberPress now!
What Is A Domain Name?
A domain name is the web address you type into the browser to visit a specific website. For example, if you wanted to learn more about MemberPress, you'd type www.memberpress.com in your browser to visit our website.
Note that your domain is different from your web hosting. Your web hosting is where all of your website's files are stored so your website is visible and accessible to the public.
To learn more about website hosting and how to make the best decision for your business, check out our posts on how to choose the best website hosting and the different types of web hosting available for you to choose from.
What's The Difference Between a Domain and Hosting?
Although your website's domain and hosting are closely connected, they are two totally different things. You need both a domain and a hosting account to create and build your WordPress website.
As we mentioned earlier in this post, your domain name is the web address you type in your computer browser to get to a website. However, the hosting is where all of the files for your website live, including WordPress, WordPress plugins, and more.
How to Choose the Best Domain Name
Choosing a domain name may seem daunting at first, but keep the following tips in mind when brainstorming, and you'll be on your way to finding the perfect name in no time.
Match Your Business Name
To ensure that your business and brand name stay strong and memorable, try to pick a domain name that matches your business name. For example, although MemberPress is a membership site WordPress plugin, it wouldn't be beneficial for our domain name to be wordpressmembershipplugin.com.
Why not? There are many membership site WordPress plugins out there, so a name like that wouldn't make us unique or keep our brand name top of mind. It also isn't the name we go by.
Using memberpress.com makes it easier for people to remember us and keeps our branding consistent. It also isn't difficult to spell, a point we'll discuss later in this post.
Note: If you haven't already done so, be sure to pick a strong name for your business. Not quite sure what you should name it? Click here to read our post on picking the best name for your small business.
Timing Is Important
Domain names are bought and sold every day in every part of the world. If you see a domain name you'd like to own, don't waste any time. Go ahead and claim it! Once that domain is taken, you won't be able to use it on your site unless you purchase it from the new owner. And chances are the new owner will set a price much higher than the original price.
Keep It Short And Sweet
You want your domain name to be memorable. That means the last thing you want to do is purchase a domain name that's extremely long and hard to remember. If your domain name is long, your customers are more likely to type in your URL incorrectly, which could lead to frustration and may even keep users from finding your site.
Make It Easy To Pronounce And Spell
We've already discussed making sure your domain name is short and sweet, but it's also important to make your domain easy to pronounce and spell.
When you're networking in person or online, you want to be able to tell someone your domain name quickly and easily. If there's a complicated word or phrase in the name, there's a good chance people will find it hard to spell. As with long domain names, those that are tough to spell make errors more likely.
Avoid Using Punctuation
We touched on making sure your domain name is easy to remember and spell, but it's also important to avoid using any sort of punctuation.
People tend to view domains with punctuation, such as hyphens, as less professional and trustworthy. Not only that, but adding punctuation increases the chances your users will mistype your address when searching for your website.
Claim A Dot Com (.com) If Possible
There are many different domain extensions out there, like .org, .net, .edu, and much more. Although it may seem clever to claim a unique domain extension, keep in mind that internet users are most familiar with (and used to using) the .com domain extension.
If you choose a .org or .net, for example, it's likely that some users will still search for your site using the .com extension. In these cases, your site won't come up and could be deemed untrustworthy by consumers. Whenever possible, stick with a .com.
Should you Claim All of Your Domain Name Extensions?
When you're in the process of purchasing your domain name, your domain registrar may ask if you'd like to claim additional domain extensions (e.g., if you claimed the .com domain, they may ask if you'd also like to claim .org, .net, and so on).
Claiming all of your domain's extensions can be a good idea for the sake of brand protection. If you purchase all the domain extensions for your chosen domain, no one else will be able to use your domain as their own.
However, purchasing multiple domain extensions can be expensive. So, if your small business budget is low, then we would recommend that you focus on claiming at least the .com extension of your domain, because it's the strongest and the most common.
Purchasing Your Domain Name
There are many domain registrars around the web that'll let you easily and quickly purchase a domain name. However, one size doesn't necessarily fit all. Following are a few qualities to look for in your domain registrar.
Transfer Policy
An important thing to look for in a potential domain registrar is their transfer policy. In the event that you're unhappy and decide to leave your domain registrar, how complicated will it be to move your domain from one registrar to another?
Most registrars make the process of transferring easy; however, there are some companies out there who may put up a fight or even try to charge you a fee to transfer. Also, keep in mind that it may not be easy to purchase a domain from one registrar and immediately transfer to another. Many registrars require you to stay registered with them for a certain period of time before you move on.
Pricing
Make sure the price you pay to claim and maintain your domain is reasonable. Some domain registrars offer lower, discounted introductory pricing for their domains, then charge a higher rate upon renewal. So know that the initial price you pay for a domain may not be what you pay to renew. Read the fine print.
Typically, domains are renewed for a minimum of one year. However, many companies will allow you to register for multiple years at a time.
Customer Service
There may come a time when you need help connecting your domain to WordPress, creating a branded email, or working with your domain in some other way. That's why it's important that the company you register your domain name with has stellar customer support.
Look for companies with support in multiple formats, like phone, email, and live chat. The companies who offer multiple means of communication are usually the companies who have happier, more successful customers.
Additional Services
Many domain registrars offer more than domain registration. Some include email services, hosting packages, website builders, SSL certificates, and more. You're usually not required to purchase these services upon registering your domain, but they're a nice option to have should you need them at some point.
Note: If you're in need of a business email address for your website, be sure to check out our post on how you can easily and quickly create a business email address for your online business.
Where To Purchase Your Domain Name
In order to properly purchase a domain name, you need to go to a domain registrar to make a purchase. A domain registrar has access to a database called a registry where all domain name records and information are stored.
Domain registrars have been authorized by ICANN to make changes to your domain name's information within the database on your behalf when you make a purchase.
With that being said, following are a few trustworthy companies you can pick from to register your online business domain.
Domain.com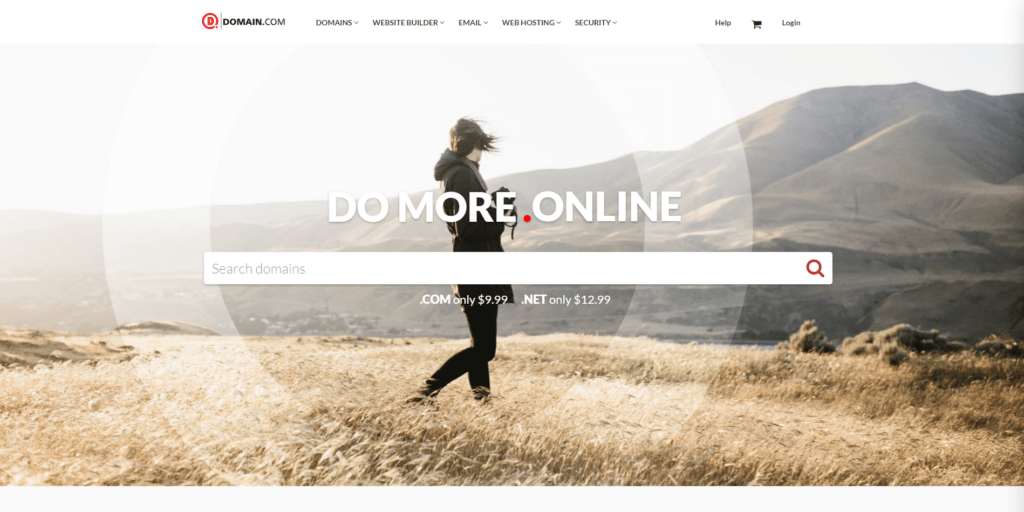 Domain.com is one of the most popular domain registrars around. The site allows you to quickly perform a search for the domain you're interested in, then purchase that domain with ease.
With Domain.com you can take advantage of all kinds of features, including DNS management, email account services, privacy protection, WHOIS Lookup, and much more.
This domain registrar also offers web hosting and security services for website owners. If you're looking for a hosting service for your WordPress website or are interested in security features for your site and domain, you can take advantage of Sitelock security services through this registrar, as well.
Namecheap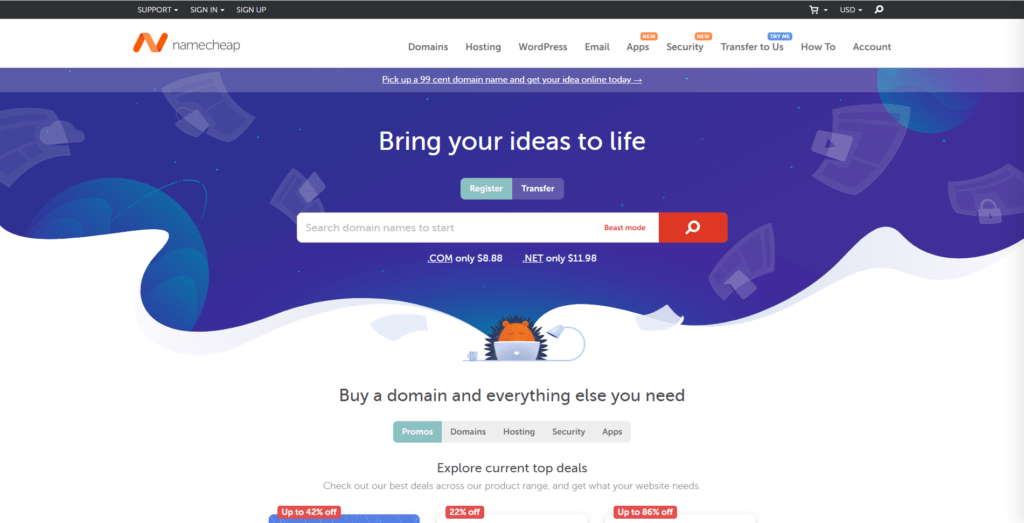 Namecheap is another great domain registrar with a powerful domain search tool to help you find the perfect domain name that fits your business' needs.
This registrar also offers additional domain services like SSL certificates, WHOIS lookup, free domain privacy, and premium DNS.
In addition to that, Namecheap offers email services to create a branded email address, website hosting, a logo maker, ID validation, and more.
GoDaddy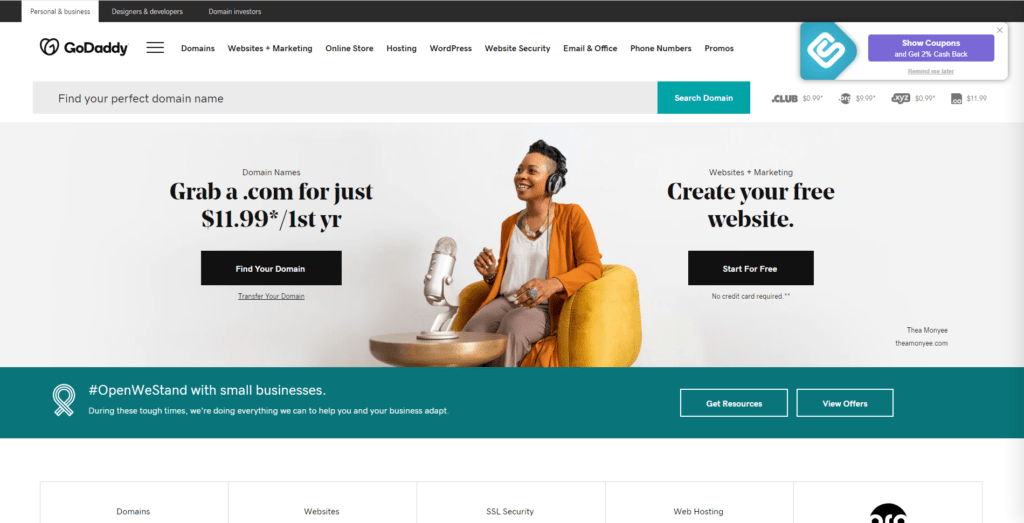 As one of the oldest and biggest around, GoDaddy is a household name when it comes to domain registrars. With over 19 million customers, the company prides itself on being "a trusted growth partner to millions of everyday entrepreneurs."
GoDaddy offers many different services to customers outside of domain registration. They also feature a website builder, WordPress hosting services, email hosting, marketing services, phone numbers for small businesses, and much more.
For small businesses interested in offering domain, website, and security services to clients, GoDaddy also has a reseller program that starts at $8.99 per month.
HostGator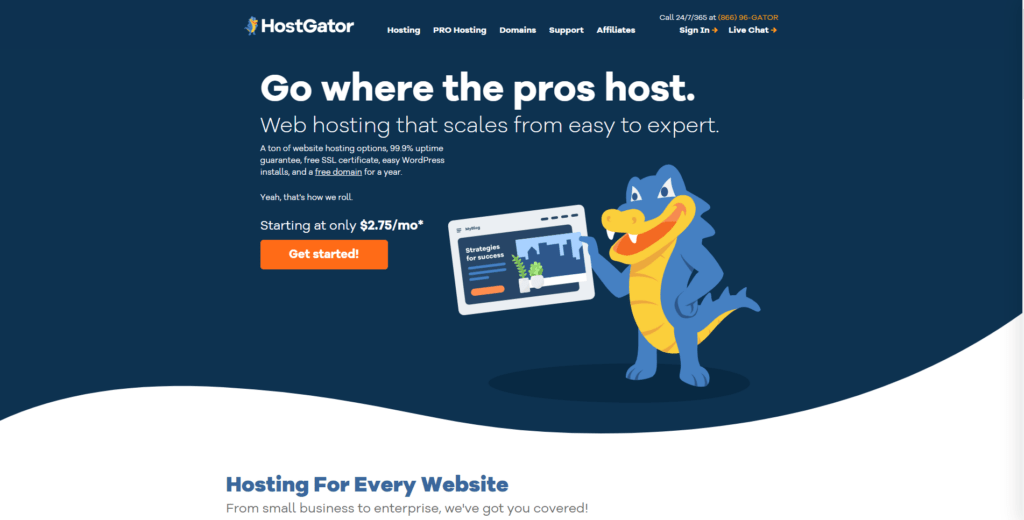 HostGator is another popular domain registrar on the market. It aims to be a one-stop-shop for domain and website hosting needs and advertises a 99.9% uptime guarantee, free SSL certificates, easy WordPress installs, and a free domain for the first year.
Navigating through HostGator's interface is easy. However, if you ever get stuck, the company has 24/7 customer support available via phone and live chat to help you solve any issues.
Just like GoDaddy, HostGator has a reseller program including domain names and hosting packages.
DreamHost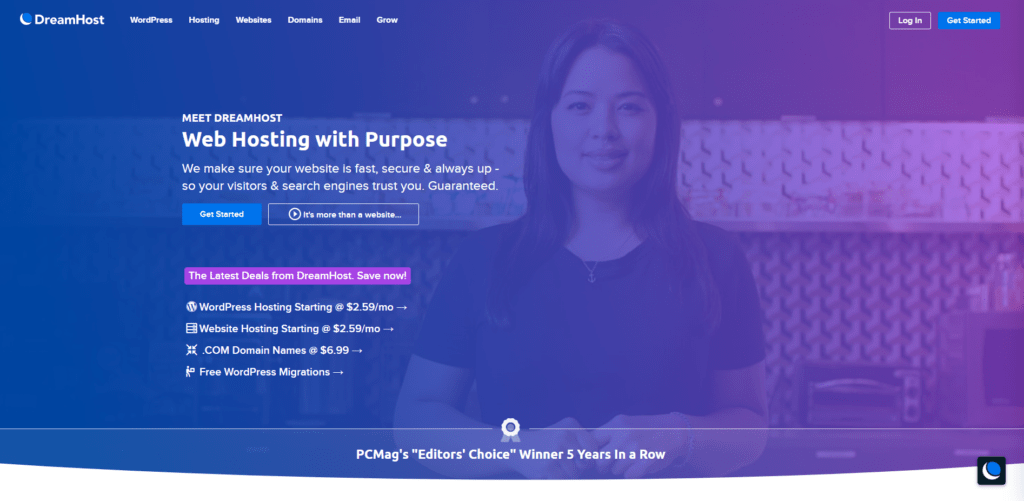 In addition to domain registration, DreamHost offers many additional services and features to customers. The registrar also guarantees that their customers' websites are "fast, secure, and always up."
DreamHost offers email hosting services, free WHOIS domain privacy, free and unlimited subdomains with any type of hosting package, domain forwarding, and more.
As one of the more comprehensive services, they also feature a website builder, WordPress hosting, WooCommerce hosting, website design services, and more.
Bluehost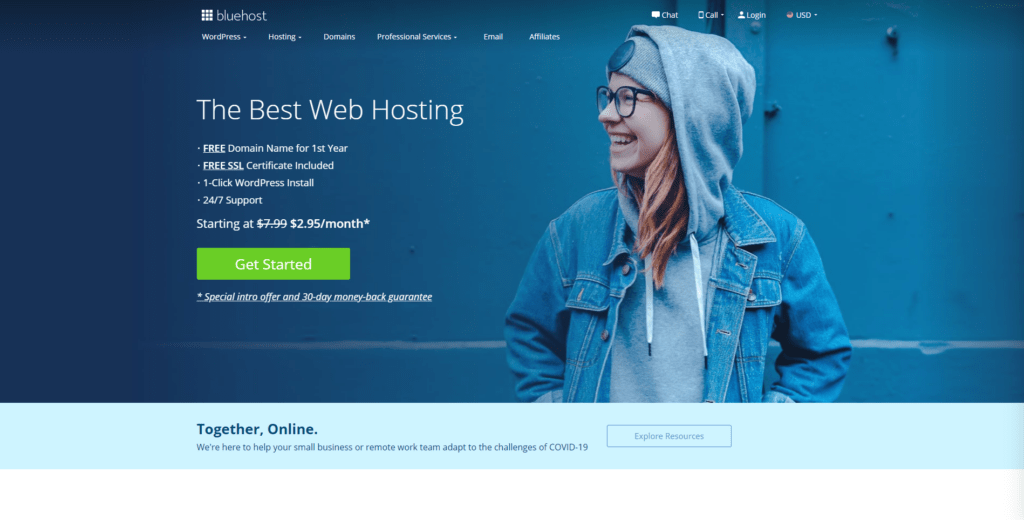 Bluehost is an official WordPress hosting partner that offers both WordPress hosting and domain services to their customers. They also boast that they "design and build their servers to run WordPress like a dream."
In addition to hosting and domain services, Bluehost features website design and maintenance, SEO services, marketing services and more to customers. Bluehost also offers reseller hosting services to interested online businesses.
With Bluehost, all new customers get a free domain name and SSL Certificate for a year with any hosting package. They also have 24/7 support that is available via phone call and live chat.
Start the online business you've been dreamimg of with MemberPress. Get started today!
The Takeaway
We hope this post has helped you learn the basics of domain names, how they work, and how to choose the right one for your business.
You may also want to read through a few of our posts about how you can change your WordPress website's domain name without damaging SEO, how to add an SSL Certificate to your website, and more tools you need in your arsenal to build a stable and successful website.
How did you pick your domain name? Which domain registrar are you currently using? Let us know in the comments below!
If you liked this post, then please follow us on Facebook for more great content. You can also find Memberpress on Twitter and Instagram.