When using Google, you may have noticed that the search engine will sometimes display one specific result in a box at the top of the first page. This is the Google 'answer box', and it offers a significant opportunity to your website.

Being featured in a Google answer box is a great way to get searchers' attention, and drive traffic directly to your site (instead of to your competitors). This can result in higher conversion rates, and make you more discoverable to potential readers or customers.
In this post, we'll talk you through some techniques that can increase the chance your content will end up in these answer boxes. Let's get started!
An Introduction to Google Answer Boxes
There's a good chance you've seen your share of Google answer boxes already. They look something like this: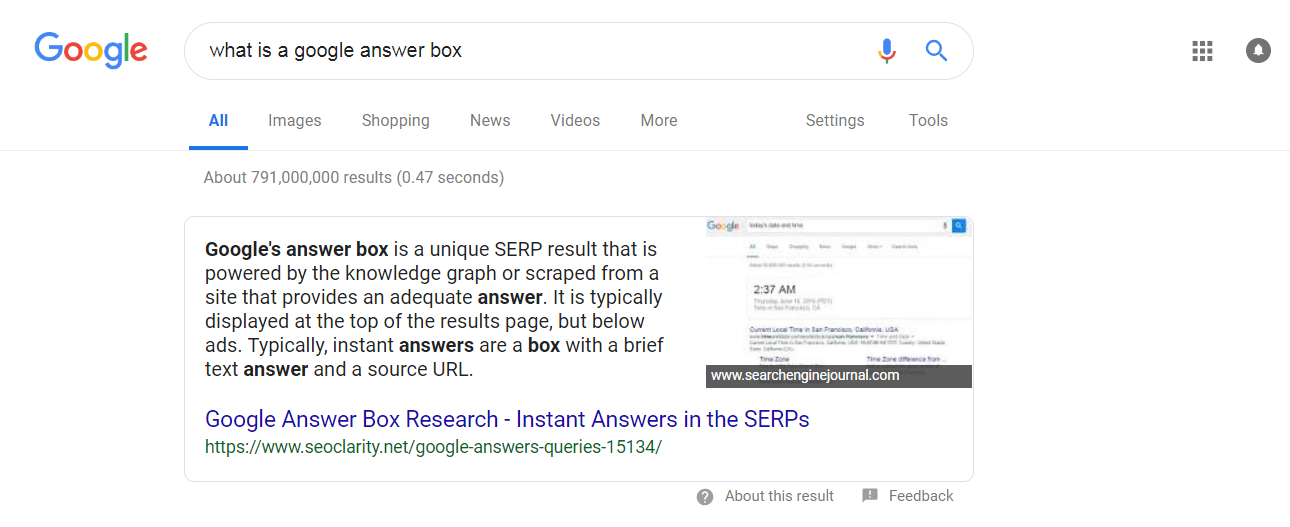 This box (also sometimes called a 'featured snippet') is designed to offer the searcher an immediate response to their question. The answer is usually taken from a highly-ranked site within the Search Engine Results Pages (SERPs) for their query. In fact, 69% of featured snippets contain content that is excerpted from websites.

Google answer box content comes in many forms, but most commonly appears as paragraphs, lists, and tables. This range in format means there's a number of different ways you can get your content noticed, something we'll discuss in more detail later on.

This position in the SERPs can also be referred to as 'Position #0', since it's the highest-ranking position and is placed above both the first result and paid advertisements. As you can probably imagine, getting your content featured in this spot offers a number of benefits:
Increased traffic and conversions. Being top of the SERPs is sure to bring a higher volume of traffic to your site. One study from SEMrush 

even demonstrated a 500% increase in traffic for a website that gained a spot in a Google answer box. Featuring in Position #0 also

builds your credibility

as a resource worth checking out.

Lower Pay Per Click  (PPC) costs. 

Marketing professionals and bloggers alike often use 

PPC advertising

, in an attempt to rank higher within SERPs. Targeting a spot in answer boxes instead can save you money over the long term.

Advantages over your competition. 

Being featured on Google results makes it easier to overtake your competition when it comes to attracting your target audience. You don't have to be ranked in the first position within the regular 

organic results

in order to be featured in an answer box, so searchers may visit your website rather than a higher-ranking site.



The advantages that result from a Google answer box feature are impressive. As you might expect, however, making that happen is no easy feat. Fortunately, there are several steps you can take to increase your chances.
How to Get Your Content to Appear in Google Answer Boxes (4 Key Tips)
While a spot in a Google answer box can never be guaranteed, there are ways you can adjust your website's content to boost the likelihood that it will be placed at Position #0. Let's walk through four of the most effective techniques.
1. Target Relevant Keywords
Most answer boxes are triggered by long-tail-keywords. This means that lengthier search queries are more likely to display an answer box in their results. When researching relevant keywords, therefore, you'll want to focus on those that are 3 to 6 words long (i.e., "how to start a blog" rather than "blog guide").

In addition, you can incorporate keywords into your content that already have answer boxes in the results. This ensures that you're focusing on questions Google thinks can be answered simply. Check out the information the answer box currently contains, and then adjust your own content to better answer the question.

Finally, you can also look to the 'related searches' and 'people also ask' sections of the SERPs for any relevant search. Creating posts that include those related keywords is an excellent way to show Google that your content is related to the original query.
2. Create Content Using a Question-and-Answer Format

Since the purpose of Google answer boxes is to provide quick responses for common questions, it makes sense for you to create this type of content deliberately. Questions actually make up 41% of answer box content. In other words, you'll want to make sure at least some of the content you produce clearly presents a question, and then a straightforward answer.

As strange as it may feel initially, try to get into the habit of answering a page or post's primary question within the first sentence of the content. This boosts your chances of having the initial few sentences or paragraphs turn up in a relevant answer box. You can also include more than one question per post. If you do that, using keywords within frequent headers helps Google make sense of your sub-topic content.

Most importantly, you'll want to include answers within your content that are brief and to the point. This helps it more closely match the layout of an answer box. After the initial answer, however, the rest of your content can still be as long and detailed as you like.
3. Include Lists, Graphs, and Tables

As mentioned earlier, the content displayed in Google answer boxes can take many forms. Answers provided in a list format are incredibly popular with users, however, as this enables them to quickly jump to the information they need. 
Consider the popularity of 'listicle' sites like Buzzfeed. People want fast responses, in an easy-to-read layout. Google recognizes this desire, and will often feature sites that include answers formatted into lists, graphs, and tables. Including these elements within your your content can increase its chances of getting noticed.

If you have a WordPress site, you can create tables and graphs easily by using dedicated plugins. Tools like TablePress and Easy Table enable you to quickly build user-friendly content. Just remember to include your keywords as well!
4. Maintain Search Engine Optimization (SEO) Best Practices
When trying to reach Position #0, make sure that you don't lose sight of your usual Search Engine Optimization (SEO) goals. The Google algorithm needs to be able to find and understand your pages as easily as your visitors do.

You'll want to ensure that any content you'd like to feature in a Google answer box is created with SEO in mind. This means including your keywords in titles, descriptions, and content, properly using categories and tags, making a habit of internal linking, and so on.

There are a number of different plugins that can assist with your WordPress site's optimization for Google, such as Yoast SEO and The SEO Framework. These powerful tools help you seek out relevant keywords, and analyze your content for possible improvements.
Conclusion
Hitting Position #0 on Google is no easy feat. However, doing so can result in a significant increase to traffic and conversion rates, so it's worth the effort. Although it's never guaranteed that your content will make it into a Google answer box, there are plenty of ways that you can increase your chances.

Let's recap the four best strategies you can pursue:
Include

relevant long-tail keywords

within your content.

Create content with a

question-and-answer format

.

Include

lists, graphs, and tables

.

Keep on top of your overall

SEO strategy.
Do you have any further questions about Google answer boxes? Let us know in the comments section below!