Looking to improve your WordPress membership website? If so, there are plenty of plugins that can add new features to your site. In fact, we've covered some of the best plugins for enhancing membership sites in a previous article.
However, there's another suite of tools you can use to upgrade your membership site in just a few clicks, and mostly for free. In this article, we'll look at the Jetpack plugin for WordPress and which of its modules you should consider activating on your membership website.
Best Jetpack Modules for Membership Sites
Jetpack is a WordPress plugin from Automattic, a corporation with deep ties to WordPress, not least of which is the fact that both WordPress and Automattic share the same founder.
However, unlike many other WordPress plugins, Jetpack is actually a collection of tools or modules that can be enabled as needed.
Because the number of Jetpack modules—and what this plugin can do—has increased considerably over the years, it's often hard to know exactly how Jetpack can improve your website and which modules and features you should use.
After activating the Jetpack plugin on your WordPress website and then connecting your site with a free WordPress.com account, you can simply let the plugin decide which modules or features to activate.
However, you'll get a better understanding of what Jetpack has to offer membership-site owners if you take a more hands-on approach.
So, which modules should you use? That's what we're covering today. Our goal with this article is to help you figure out which Jetpack modules are right for your site, which you can ignore for now, and which you may want to pay to access.
Enhance Membership-Site Performance Using Jetpack
We've covered why improving the speed of your membership site is so important in a previous article. But if you're still looking for ways to reduce loading time, there are a few Jetpack modules that can help.
By enabling Jetpack's image content delivery network (CDN) feature, you let powerful WordPress.com servers take over the job of hosting your website images.
And with lazy loading activated in addition, those images won't start downloading until needed. Two great (and free) ways to improve the performance of your WordPress website.
Furthermore, if you're creating videos for your membership site, you can upgrade to Jetpack's premium video hosting service.
Doing so will take the burden of storing and streaming these large files off your web host, letting it focus its efforts on delivering the rest of your site.
Use Jetpack to Improve Membership-Site Security
Keeping your website secure is always important, but it's even more critical if you're running a site that stores user details and handles financial transactions.
Thankfully, WordPress and MemberPress are very secure out of the box. However, Jetpack has a few handy features that can help make your membership website even more robust.
You can enable brute-force protection that blocks suspicious-looking activity on the login page of your site just by flipping a few switches on the Jetpack dashboard of your WordPress website. You also have the option of enabling downtime monitoring so that you'll receive an alert if the worst happens and your site goes offline for some reason.
Help Promote Your Membership Site on Social Media
Of course, one of the most effective ways to market your membership site and increase visitor numbers is via social media. Once again, Jetpack has a few features to augment this aspect of running your membership site.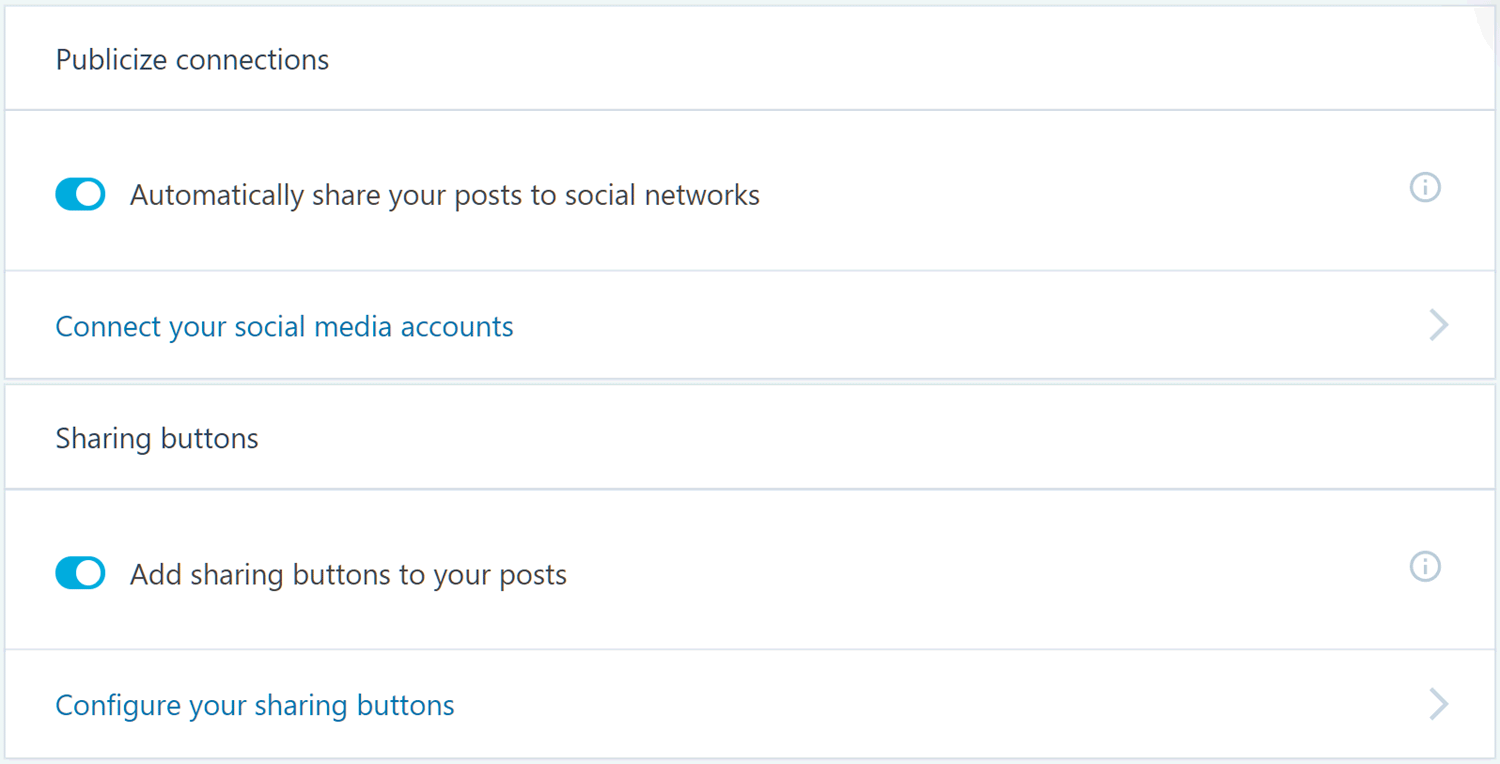 By letting this plugin take care of sharing your content on the social networks of your choice automatically, you take one more task off your hands.
And the social sharing buttons are pretty handy when it comes to encouraging visitors to promote your content to their followers on sites like Facebook and Twitter.
Add Social Proof with Jetpack Testimonials
Want to make your membership site appear more trustworthy? Publishing testimonials is a proven way to increase conversions.
While you could simply add customer and client testimonials to your posts and pages, Jetpack's testimonial feature gives you an easy way to manage and publish feedback from happy members.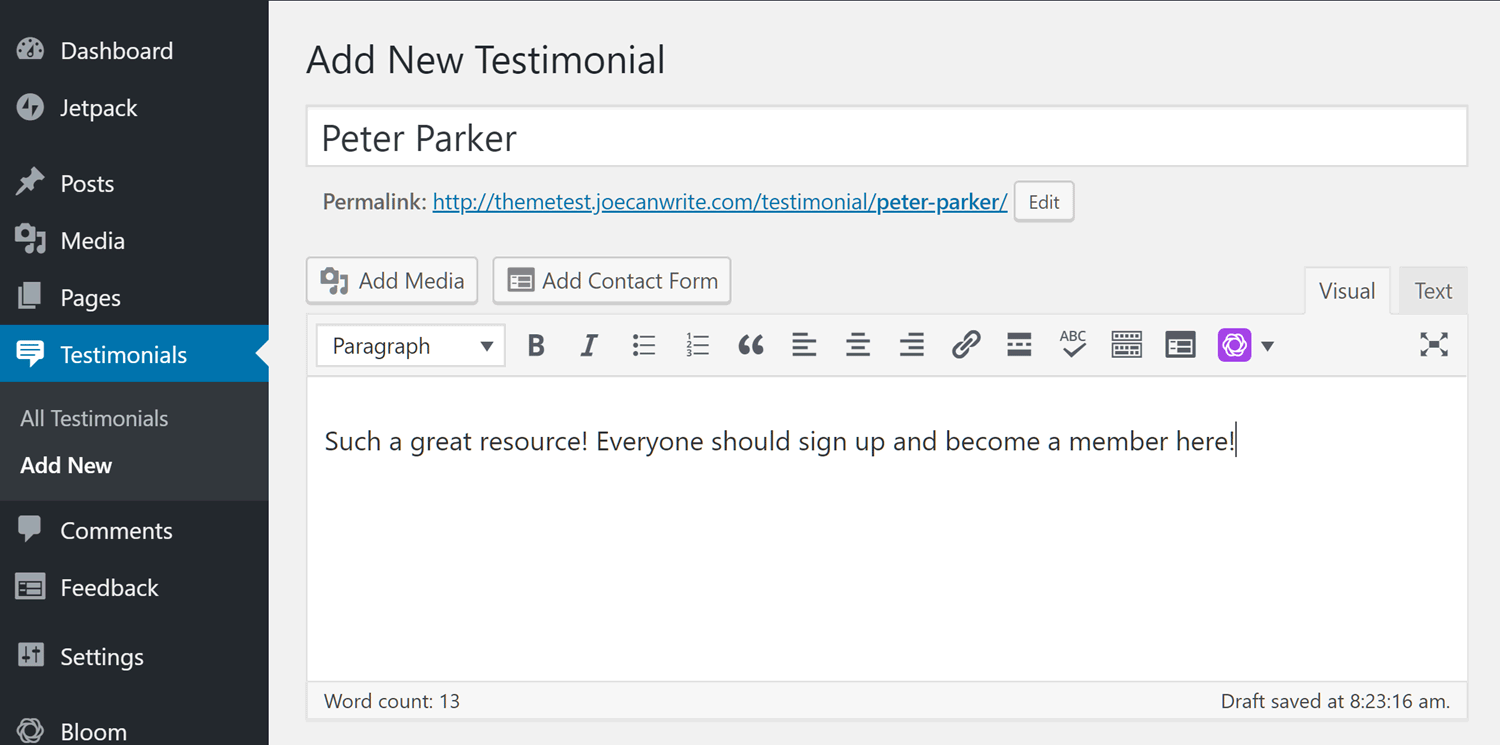 Once you've activated the testimonials feature, a new post type is created on your site. From here you can enter the member's name and feedback as well as upload a photo.
This content can then be viewed as an individual testimonial—like a regular post or page—or inserted into your existing content using the testimonial shortcode.

The presentation styles of these testimonials vary depending on which WordPress theme you're using and its level of support for the Jetpack custom post types.
But even at its most basic level, this feature gives you a quick and easy means to manage and display those all-important testimonials on your membership site—a surefire way to add credibility.
Jetpack's testimonials feature can also add a portfolio custom post type to your website, providing another way to share your results with your audience.
Final Thoughts
As you can see, Jetpack can help improve your WordPress membership site in a number of ways. And we've just scratched the surface of what this free plugin can do for you. So be sure to check out the feature list if you'd like to know more.
For even greater website enhancements, consider upgrading to one of Jetpack's premium plans, and unlock other essential features like automated spam filtering, real-time backups, and better security protection.
If the above features are missing from your site, these Jetpack modules are a great way to improve your membership site for free.
Which Jetpack features will you use on your membership site? Please let us know in the comments below.