How do your members view their payment histories or current subscriptions?
How do they edit their account information, change passwords, update their credit cards, or cancel their subscriptions?
If your answer is, "They email us and we manually update their information," then you're definitely using the wrong WordPress membership plugin for your membership site. Because all of this functionality should be available to the user so you don't have to deal with it.
Unlike many other membership plugins, we have the MemberPress Member Dashboard, a full-featured, self-service account maintenance page for each of your members.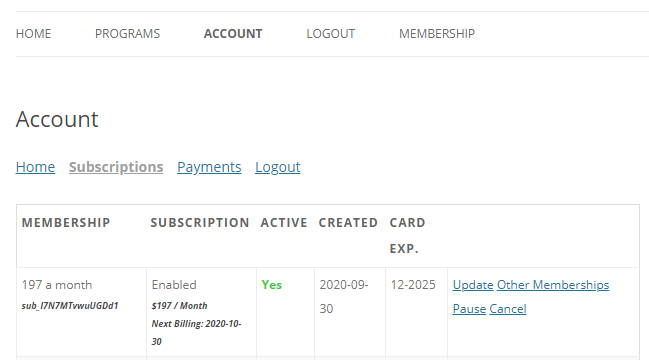 Keep your users on the front end
Most other WordPress membership plugins (if they even have a self-service account management feature) will force members to manage their information by logging in to the back end of WordPress.
Having your users in the back end of WordPress is problematic for several reasons. One of the most important is that it's difficult to modify the look and feel of the WordPress admin for brand consistency.
So MemberPress has taken a different approach than many other WordPress membership plugins — our membership self-service account page is on the front end. In fact, all the pages (Account, Login, Thank You, Unauthorized Pages, etc.) that MemberPress creates are on the front end.
This means that these pages use your theme and your graphics — the pages look like the rest of your site. In fact, MemberPress goes above and beyond other plugins by actually allowing you to optionally block your logged-in members from accessing the WordPress back end.
Automated, self-service processes
It's critical that your membership site has a self-service account page and automated processes that members use to self-manage their accounts.
These automated processes are rarely talked about by other WordPress membership plugins for one simple reason: many other WordPress membership plugins don't have them. But these types of automated user interactions can make or break your membership site.
For example, with MemberPress Reminders, you can set up email reminders to go out:
Before and after a subscription expires
Before and after a subscription renews
Before and after a credit card expires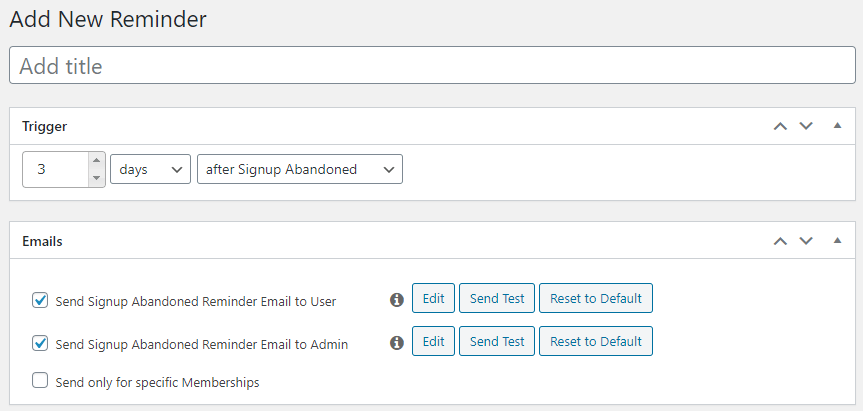 And the user who receives one of these automated emails has a place a place where they can take care of the problem right from your website.
Some other automated MemberPress membership processes include membership upgrades (including prorations), downgrades, cancellations, and lost passwords — all processes that are critical to your site's success.
Wrap up
When it comes to automated processes, the MemberPress Member Dashboard puts MemberPress leagues ahead of most other WordPress membership plugins. And we're always busy developing more amazing features to help you take your membership automation to new levels. So stay tuned, and check out how you can get started with MemberPress today!
If you liked this article, be sure to follow us on Facebook, Twitter, Instagram, and LinkedIn! And don't forget to subscribe in the box below.