Lesson Quizzes attract more students and keep them coming back
Hot off the presses! We just launched the all-new MemberPress Courses Quizzes feature. It's up, running, and ready to kick your courses into high gear.
This new feature makes it fast and easy to create lesson quizzes that…
Enhance learning
Motivate students
Increase curiosity
Decrease dropouts
Help you sell more online courses!
The coolest thing? Quizzes is built right in to MemberPress Courses. There's nothing to download or activate. Just login and get busy making your lessons better.
Attract More Students
It's simple: When it comes to online courses, only one factor counts in the measure of success – learning. If your students are learning, your course is a success.
And successful courses sell.
The Quizzes feature makes your courses more attractive because assessments are proven to improve student learning. Study after study confirms that quizzes…
Motivate and inspire students to engage with course material
Increase information retention
Keep students coming back
Increase online course completion rates
When you add a lesson quiz, you instantly make your online course more interesting and more effective.
How Quizzes Work
As with every MemberPress feature, we made quizzes easy to make and manage. The function is now included in the Courses Add-on, so creating a quiz is as easy as working with WordPress Posts or Pages.
Quizzes Settings
Access the Quizzes settings right from the Courses Settings tab. From there you can do things like…
Choose whether a quiz is required to progress through a course
Opt to show correct answers once a quiz is complete
Choose whether to provide automatic feedback for wrong answers
Creating a Quiz
When you go to build a new course or edit an existing one in the Curriculum Builder, you'll see the Add Quiz option front and center.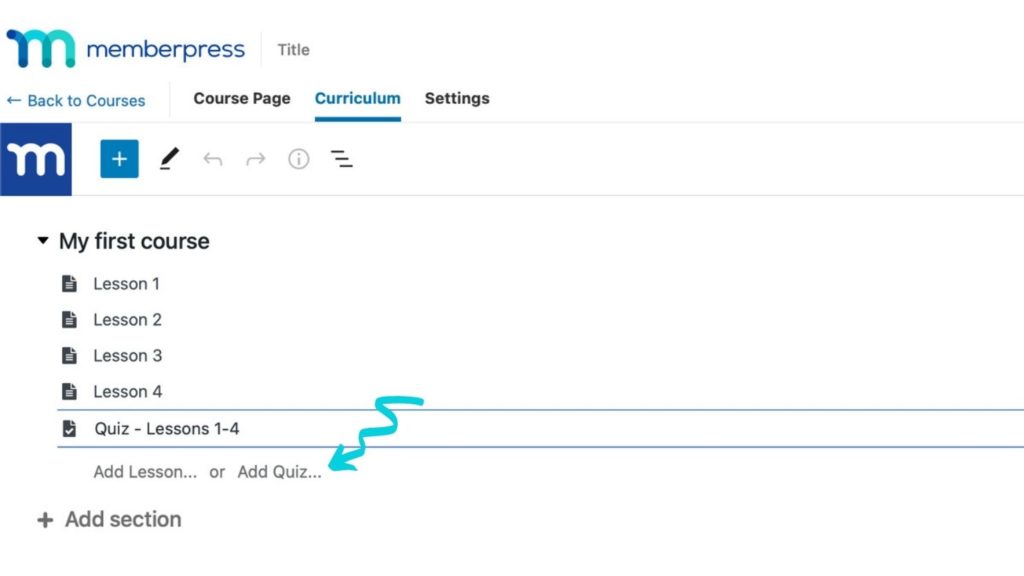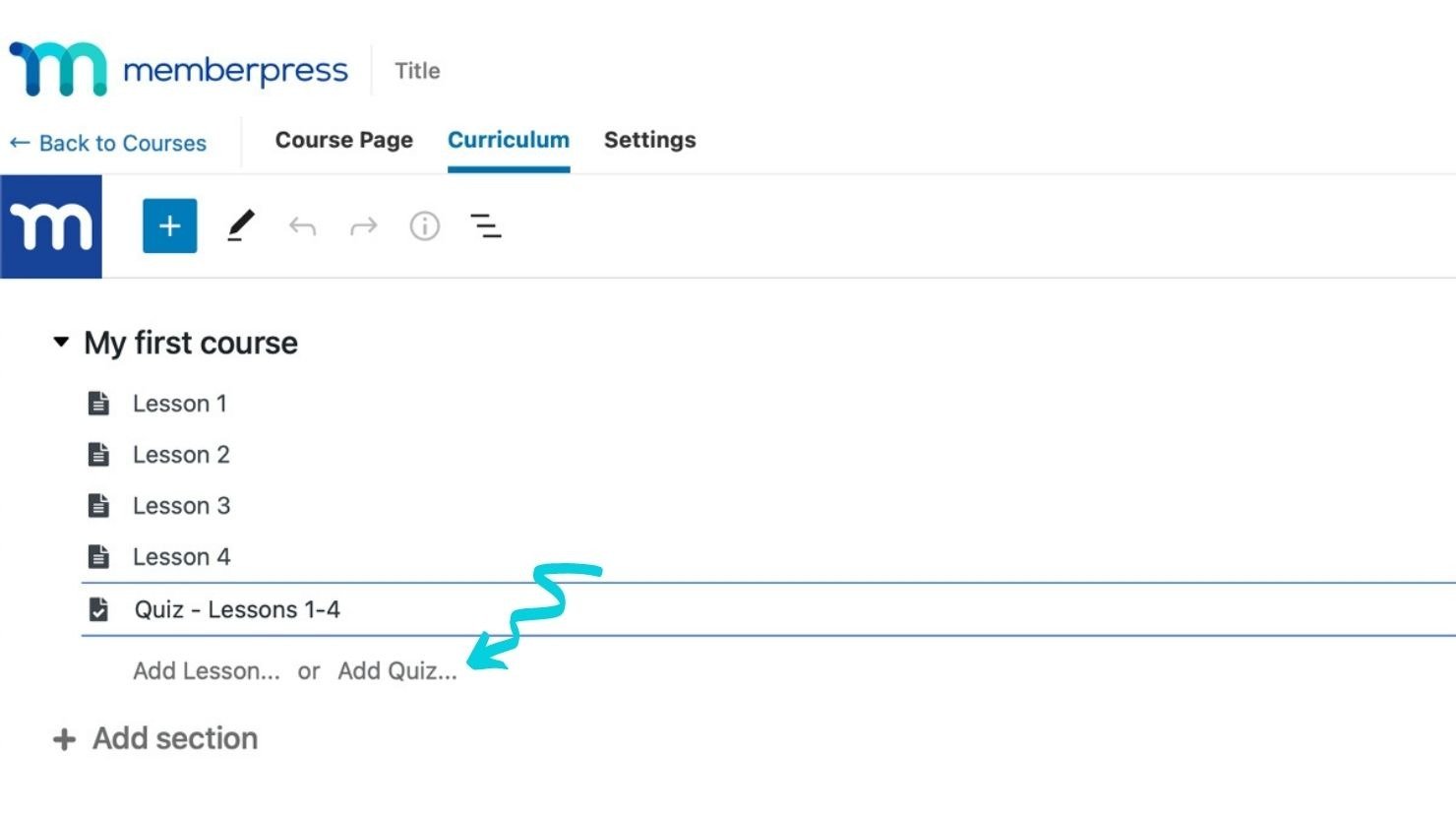 Click it to access the Quizzes Editor. There you can add any combination of blocks to build out your quiz. Blocks include:
Multiple choice (one answer among several is correct)
Multiple answer (student can choose multiple answers)
True/False
Short answer
Essay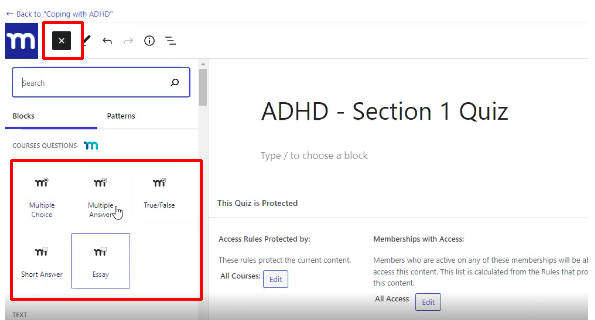 From the editor, you can add a setting requiring students to answers all or some of the questions to complete and submit a quiz. You can also add feedback notes that your student will see if they select a wrong answer.
Quizzes are completely customizable, so you can make sure they reflect your branding and style. However, if you're short on time, you're still in luck. Quizzes are simple and beautiful right out of the box.
Start Adding Quizzes Right Now
If you've already got MemberPress Courses, you can start adding quizzes to your lessons right away. Like we said, there's no separate download or activation. Quizzes are built right in!
Check out the comprehensive Quizzes Video tutorial up at the top of this post, or take a look at Quizzes in the MemberPress Knowledge Base to get started.
We can't wait to see what you do!
Are you excited to add quizzes to your online courses? Tell us about your ideas in the comments!
If you liked this article, be sure to subscribe in the box up to your right!