We're so excited to introduce the new and improved MemberPress.com! After months of hard work and development, we've delivered you a more intuitive design consistent with the innovative spirit of the MemberPress plugin.
Like any New Year's resolution, there are lots of goals behind this redesign. We aim to:
Deliver a clear message of what MemberPress is and how our plugin can help entrepreneurs pursue their dreams of owning an online business.
Provide valuable resources and insights on how to run a successful online business.
Improve the overall user experience for a faster, easier-to-use product.
Support the unique needs of every online business owner.
Here at MemberPress, our customers are our first priority – always. The new site is just one of the many ways we're showing you our commitment to being your #1 online business tool.
Without further ado, let's take a quick look at what you can expect to see on the new MemberPress.com!
⬇️ Watch our new site launch video ⬇️
Feature Showcases
MemberPress has all the features you'd expect from the world's most powerful membership site and LMS WordPress plugin. Every built-in tool, add-on, and integration is uniquely designed to help you get the most out of your online business.
From a ridiculously easy setup to powerful paywalling, full-blown subscription management, and more – MemberPress has it all!
To get a better picture of how our top features can benefit your business, we've given each one its own dedicated page on our site. We've also added quick tutorial videos so you can see each feature in action.
Thousands of Powerful Integrations
MemberPress is an all-inclusive WordPress plugin that offers everything you need to make your website a full member management system.
When you're ready to take things up a notch, we've made it easy to connect with third-party services and software, each listed on our integrations page.
Several of our integration partners include payment gateways, email marketing services, affiliate software, podcasting applications, and so much more.
We've also partnered up with Zapier to help you sort through and connect with over 4,000 more plugin applications: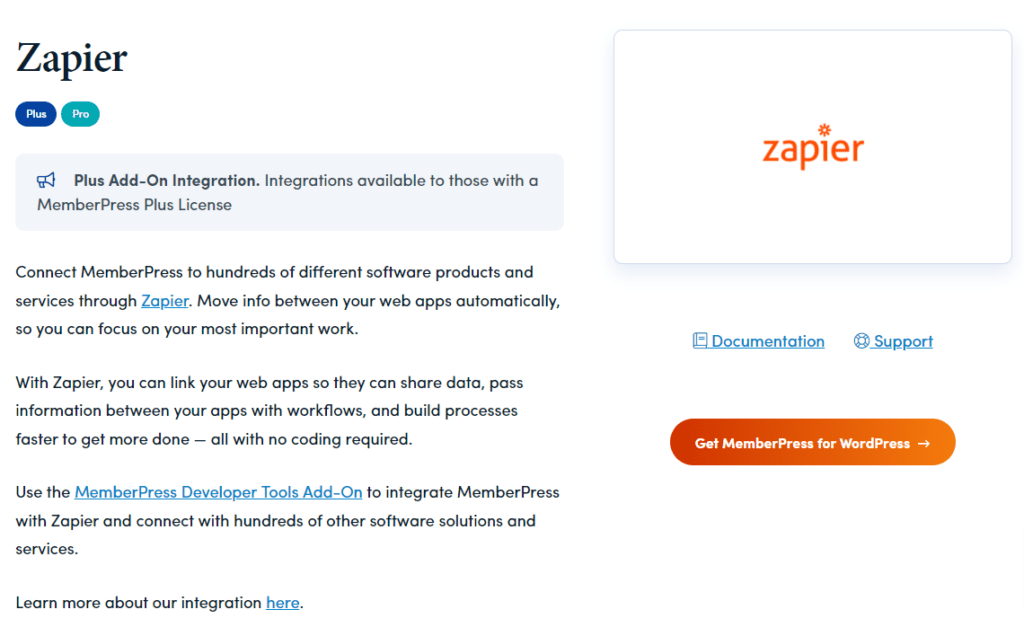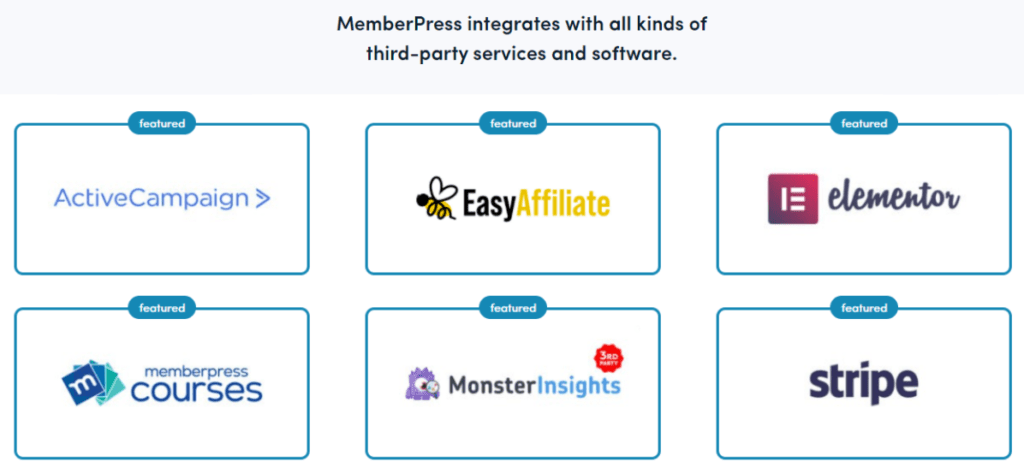 As you can see, we work with some of the biggest names in the WordPress world, constantly finding new ways to make running your online business easier and more efficient.
Meet Our Vetted Partners
Speaking of teaming up, our customizations partners are top-notch businesses that offer tailored services for your MemberPress site. Get expert help from the pros when it comes to crucial things like branding, marketing, and advanced MemberPress site customizations.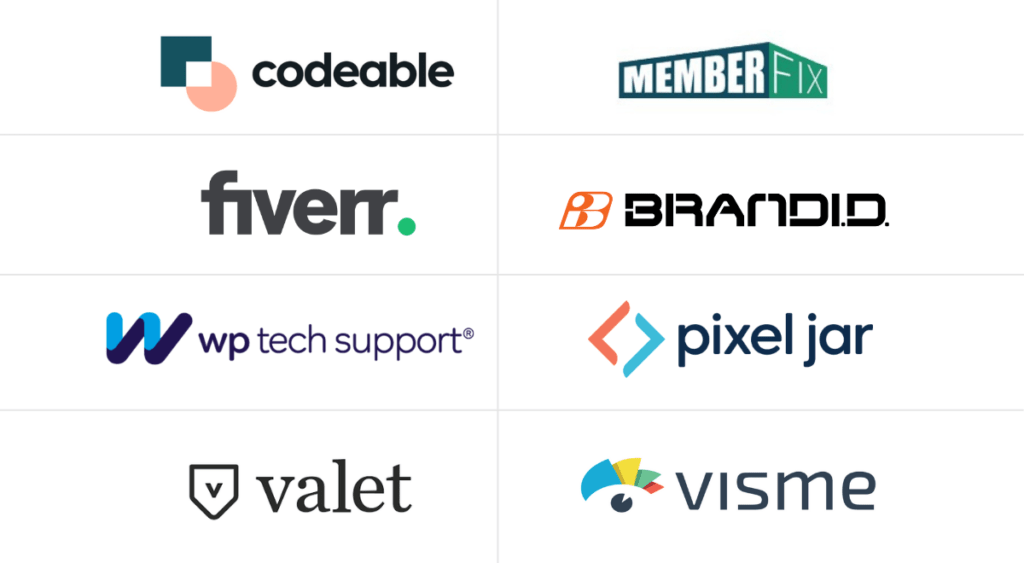 When you need to bring in an extra set of hands, whether through an agency or freelancer, you'll find the experienced help you're looking for through our vetted partners.
Fast and Secure Sign-Up Page
When you're ready to start your own MemberPress site or online courses business, we don't want you to waste any time getting started.
That's why we've made it quick and easy to set up a new account with a MemberPress Basic, Plus, or Pro plan.
Simply choose your plan option, fill in your account information, and pay securely with one of the most trusted online payment gateways there is: Stripe.
Already a MemberPress user? We've added a few new things to your Account page as well!
The Learn Tab
You'll definitely want to check out the Learn tab, now included on your account page. In there, you'll find FREE online courses we've put together to help you better your business.
Help Center
We designed MemberPress with a super simple setup process. As a matter of fact, you can have MemberPress up and running in five minutes or less. But that isn't to say you might not need some help along the way.
Our stellar support team is always here and ready to answer any questions you may have about using the plugin.
If you're an existing customer, the quickest way to get assistance is to submit a Support ticket. We'll help identify what the issue may be, then walk you through resolving the problem step by step. That way you can get back to the more important things on your to-do list.
We're also happy to go over any general questions you may have before you buy.
Everything You Need to Know Blog
MemberPress is here to help in more ways than one – because running an online business is tough work.
While our support team guides you through any technical issues you may be facing, our content team is always busy creating innovative and up-to-date resources full of tips and tricks to help make your business a success.
The MemberPress blog is jam-packed with articles and videos created specifically for online entrepreneurs. We cover the latest tips and advice in the worlds of WordPress, ecommerce, online learning, and more. Whether you're just starting out or you have several years under your belt, you're sure to learn something new and game-changing.
Testimonials
We all know the importance of social proof. In today's world, word of mouth is golden. People want to know what other people are saying about a product before they commit. So we included a full, regularly updated testimonial page in the new design.
The love for MemberPress doesn't stop there! Our awesome users have taken the time to write about us on G2's software review site. MemberPress was awarded with over 20 recognitions in 2021 alone: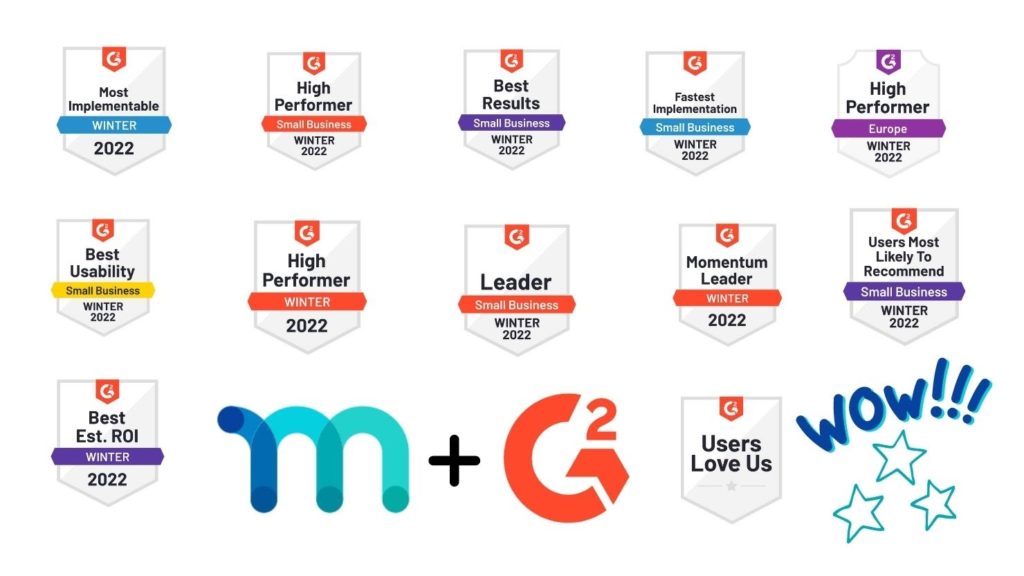 If you're still on the fence about getting started with MemberPress, don't just take our word on how great our product is, read about it from users just like you!
Explore the New MemberPress.com
Now that you know the major updates on our site, go in and take a closer look for yourself!
If you like what you see, be sure and share us on your favorite social media platforms.
We want to give one more shout-out to all our amazing MemberPress team members on a job well done! And we couldn't have done it without our loyal MemberPress customers. Thank you!
Don't be a stranger! Check-in from time to time, because MemberPress.com will only grow from here. And be sure to subscribe to the MemberPress blog in the box up to the right.