In today's article, we're going to look at three WordPress plugins that I think you'll love.
No matter what type of website you are managing, there are countless ways it can be enhanced, simply by installing the right plugin. However, with over 41,000 free extensions available in the WordPress Plugin Directory alone, even knowing where to start can be a difficult task.
So, to make your life easier, I've handpicked three plugins that will instantly upgrade your website. Whether you want to grow your email mailing list, generate more leads, make your content creation and social media marketing workflow more efficient, or simply ensure your website is always backed up and ready to be restored at the touch of a button, these three plugins are for you.
OptinMonster: Grow Your Email List and Increase Conversions
OptinMonster is a popular and powerful plugin that has been created to help you grow your list of email subscribers. By using a selection of different high-converting email opt-in forms, you can give your readers plenty of opportunities to join your list.
This lead generation tool has been consistently updated since its release and now gives you access to seven different forms types. This includes a lightbox pop-up form, in-content forms, floating bars, and slide-in forms. There's now also a full-screen gateway form that makes it very difficult for your visitors to say no to handing over their email address.
One particularly useful feature of OptinMonster for membership site owners is its Canvas pop-up. This pop-up gives you a blank space to display a message of your choice, which, for example, could include the benefits of joining your membership package.
With OptinMonster, each form can be highly customized. This covers not only the appearance but also when and where they are displayed. By using the exit-intent feature, you can set your forms to only display when your visitors are about to leave your site. This gives you one last chance to reach out to potential subscribers, clients, or members, and present them with an offer they can't refuse before they leave your site for good.
OptinMonster is undoubtedly a plugin you will love using on your WordPress website. From its great selection of attractive form designs, through to its powerful split testing and optimization tools you will have no trouble generating more leads with this plugin.
Find out more about OptinMonster now.
CoSchedule: Simplify Your Content and Marketing Schedule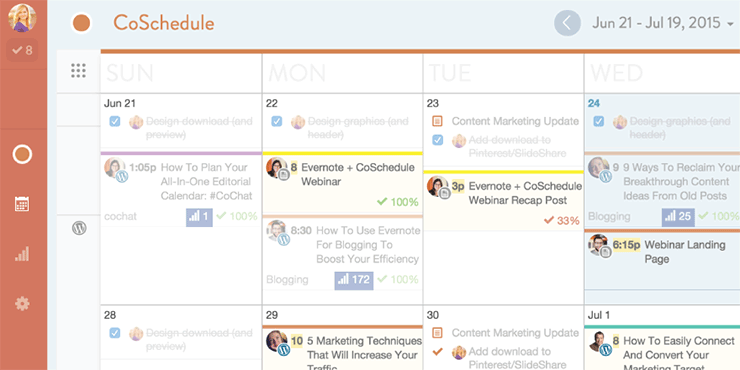 It's hard to describe this content scheduling and social media marketing tool in just one sentence but suffice to say, that if you try CoSchedule, it will quickly become an indispensable part of your content creation and social marketing workflow.
CoSchedule is the tool that keeps this blog ticking over. Its features ensure that there's a steady stream of content ready to go live, all of which has been created by a team of writers based around the globe.
Whether you are working solo or as part of a team, CoSchedule lets you plan and schedule the creation and marketing of all of your content in one place. The interface couldn't be easier to use. Thanks to the drag and drop calendar, you can manage your workflow like never before. This covers who is supposed to be doing what and when, which tasks have been completed, and which are running behind schedule.
CoSchedule also helps your team members communicate more efficiently. The editorial commenting system takes you and your team away from email and keeps all correspondence in one easy to manage location.
If you are looking for a central dashboard to manage content scheduling, team communication, and social media marketing, then CoSchedule is a tool that brings everything together in one place. This service integrates with a number of software apps, including WordPress, Evernote, Chrome, and Google Docs.
If you're finding it hard to keep track of what's due when and who should be doing what, then CoSchedule will make the lives of you and your team members a lot easier.
Find out more about CoSchedule today.
VaultPress: Sleep Soundly with Automated Backups and Restores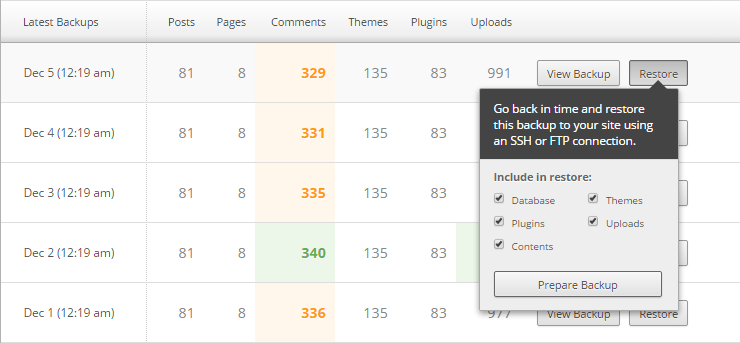 I'll spare you the lecture on why you should be backing up your site as we all know it's something we should be doing. However, if you are yet to start, or if you're looking for a better way to backup your WordPress website, then VaultPress comes highly recommended.
After trying out various free and premium backup tools for WordPress, this has become my backup solution of choice. With an entry-level plan starting at just $5 a month and one of the easiest methods of restoring a backup after a mishap, VaultPress is hard to beat.
By upgrading to the higher priced plans, you can add further protection to your site. With security scanning, spam protection, automated restores, real-time backups, a full archive of every backup on offer, VaultPress will meet the needs of any site, no matter its size or importance.
Find out more about VaultPress today.
Final Thoughts
So there you have it, three plugins for WordPress that I'm sure you will love. There are so many plugins available for WordPress it's hard to pick just three. However, whatever the purpose of your website or business, you will benefit from being able to generate more leads, manage your content and marketing duties more effectively, and remain backed up at all times.
What do you think of these three plugins? Which ones do you plan to use on your site? What are your favorite WordPress plugins? Please share your thoughts in the comments below.