If you own an online membership business, you know the struggle of getting your brand in front of potential customers and partners. The enormous amount of noise in today's digital landscape makes this task increasingly difficult.
Attending a WordPress conference could be one solution. These events range from formal to informal, and in-person to online, so there's something for everyone. They're ideal for both learning new techniques relevant to your industry and networking to increase your business' reach.
In this article, we'll explore how a WordPress conference can benefit your membership business. Then we'll look at five of the best events around for online entrepreneurs. Let's jump in!
How a WordPress Conference Can Benefit Your Membership Business
WordPress conferences aren't just fun – they can also be enormously beneficial to both your membership site and you as a business owner. First, you can learn a ton at professional events. Even if the topic is more technical than what you normally deal with on a day-to-day basis, having more knowledge about your website's infrastructure never hurts.
However, there are other reasons to attend that have nothing to do with the content of the presentations. One of the biggest is networking.
WordPress conferences are packed with professionals from all sectors of the industry, and you never know who you'll meet. It could be your next client or a future business partner!
Conferences can also be fantastic for building brand awareness and promoting your business, especially if you sponsor or speak at the event. Having your business' name called out in front of a crowd of industry professionals can go a long way to help you gain mindshare and recognition.
The 5 Best WordPress Conferences for Membership Business Owners
Now that you know why attending a conference is a fantastic idea, it's time to look at some of the best ones for membership business owners. Each of the five events below has something powerful to offer, whether it's knowledge, networking, or both.
Post Status Publish is an excellent WordPress-oriented conference that takes place during the summer. Although many WordPress conferences can be a bit technical, this one tends to take a broader approach.
Anyone who uses the platform can benefit. Topics run the gamut from business management to product development.
Post Status Publish is an online conference, which is perfect in today's climate. Additionally, this format comes with an added benefit – members can watch the stream again at any time. It includes over a dozen presentations and a live chat, so there's plenty to take advantage of here.
Price: $79 per year for Post Status membership, which also comes with other benefits.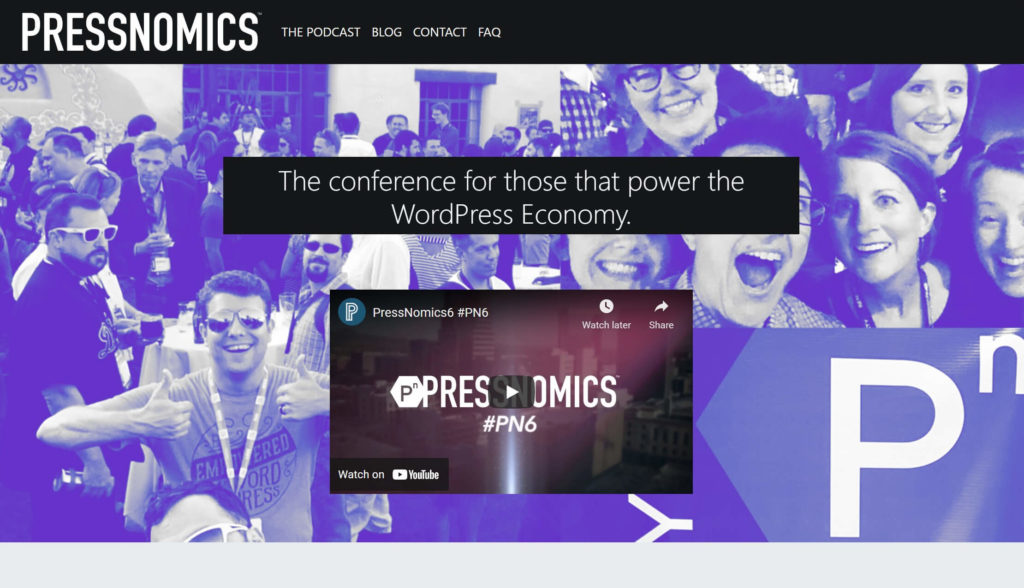 PressNomics bills itself as "The conference for those that power the WordPress Economy." This event is geared specifically toward entrepreneurs in the WordPress community.
It's a three-day event – two days of sessions and talks, and a third day of activities designed to connect WordPress business owners with one another.
The topics discussed are all business-oriented, making this conference is one of the best around for membership site owners. With an entire day devoted to networking, this event is ideal for entrepreneurs looking to expand their contacts. Finally, PressNomics helps fund a large assortment of charities, so your money ends up in good hands.
Price: Starts at $425.
WordCamp is an excellent option for owners looking to make contacts in the wider WordPress community and learn more about the technology that powers their business. Rather than a single conference, this is a network of locally-organized events.
This means the topics and content can vary from place to place, although sessions always have a focus on using WordPress more effectively. However, it also means that there are a lot of WordCamps you can attend throughout the year. In fact, there have been over one thousand events to date, held all over the world.
Most WordCamps are online at this time, given the global circumstances. You can view the full schedule on the WordCamp site.
Price: Varies.
The huge Atarim Web Agency Summit, formerly known as the WP FeedBack Summit, offers something for nearly everyone in the WordPress world. Featuring five days of presentations and interviews with WordPress professionals, there's a ton of information and knowledge to be gained from this event.
Topics include search engine optimization (SEO), copywriting, content creation, accessibility, remote team management, and much more.
The Access Pass gives you the opportunity to learn about all of these subjects, as well as several training materials in a variety of niches. The price is also fairly affordable considering the amount of content included.
Price: $497 per year.
Web Unleashed is targeted at web developers, but attracts a large crowd of designers, managers, and business owners, as well. This is a two-day conference with multiple tracks, so you can always find something appropriate to your brand and skill level.
Why would a business owner want to attend a development conference? Two reasons. First, to learn more about the technologies powering your business, and secondly, to meet skilled web professionals who could become valuable team members.
Remember, sometimes conferences are about more than just learning. They're excellent networking opportunities, too.
Price: Starts at $399.
Conclusion
A WordPress conference is an amazing way to meet new people, network with potential business partners, and increase brand awareness for your company. They're also great places to learn powerful tips, tricks, and hacks to make your membership site more profitable.
Try one of these five excellent conferences to take your business to the next level:
Do you have any questions about WordPress conferences? Let us know in the comments section below!
If you liked this article, be sure to follow us on Facebook, Twitter, Instagram, and LinkedIn! And don't forget to subscribe in the box below.