These days, it seems that everyone is obsessing over their SEO ranking, and it's no mystery why! The higher your SEO ranking, the higher you show up in the SERPs (search engine results.
The higher up you show in the SERPs, the more page views you get. Ipso facto – SEO matters.
Almost 4.5 billion people use Google for web searches on a daily basis. That's an insanely high number of people looking for things to do, things to know, things to buy, and places to go.
When a user enters a search term, "spiders" use that query to crawl through the billions of web pages on the internet to show a list of the top hits.
DEFINITION: A search spider, also called a "web crawler", is a bot that searches through the content on websites, then stores and indexes the information it finds.
In this post we'll go over a few of the key areas you should focus on to increase the chances that these spiders find and index your site.
1. Website architecture + layout
If the spider can't get around your site easily, it can't quickly analyze your content and find your relevant keywords.
Think of it this way: Imagine you'd paid thousands of dollars for a high profile ad in a top-notch newspaper. But you gave the advertising rep the wrong address and phone number, and you didn't make sure to add a sign to your storefront before the ad went live.
You'd have spent a ton of money to advertise a place that no one could find!
In the online world, your web site's…
Title
Site map, and
Page headers
are like your business's contact info. They're the first thing a spider looks for to figure out if one of your web pages is a good hit.
If you've placed your keywords strategically in these three places, you've passed the first test and successfully avoided the discard pile!
If one of your pages makes that first cut, the spider then moves on to scan any bolded text or links, as well as your listed address and company name. So keep these three areas in mind when building your site and posting content. Play along with the spider's predetermined route, and place big neon signs along the way.
2. Metadata
First of all, your site should have a blog, because publishing fresh content regularly is the #1 best way to maintain your SEO ranking.
That said, your blog's metadata is critical when it comes to SEO, because it's the next stop in the spider's journey through your site.
Blog Post Metadata is info about a blog post that's not actually part of the post itself (e.g., meta keywords, the author's name, post categories and tags, and post date).
Most content management systems (CRMs), like WordPress, include areas on the backend where you can add metadata like meta keywords, tags, and descriptions. However, we highly recommend using an SEO plugin like All In One SEO (AIOSEO). These types of plugins make working with metadata fast and easy.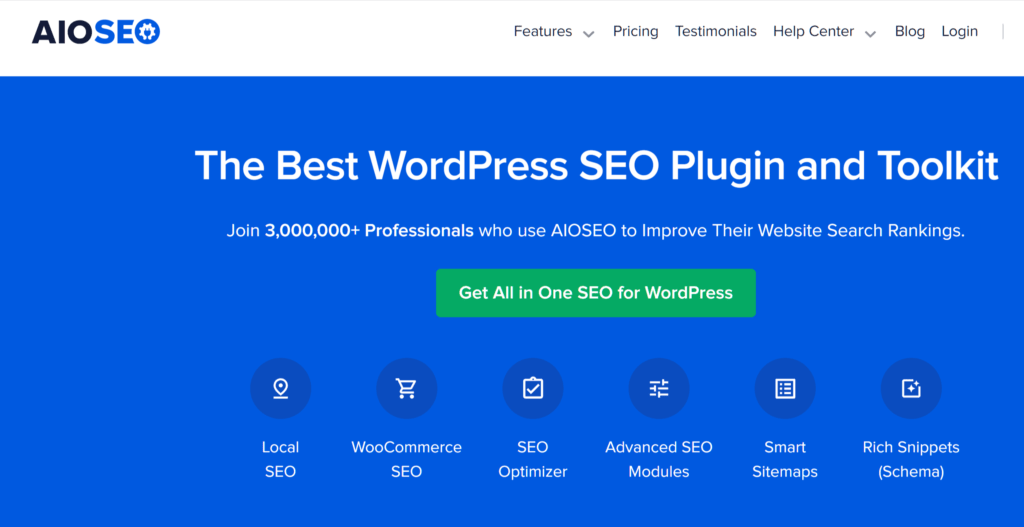 You might want to check out our list of top SEO plugins here.
3. Keywords in Content
As we said earlier, making sure you post fresh, relevant content on a regular basis is the best way to maintain a high SEO ranking.
In that content, make sure you use plenty of relevant keywords. But never force it. Overloading your content with keywords in an effort to trick the bots into indexing your page won't work. It's a black hat SEO technique referred to as keyword stuffing, and it's the fastest and easiest way to hurt your SEO.
To produce effective content, always focus on quality first. Produce your content for the purpose of helping your visitors get the information they need. Check out our post How to Use Google E.A.T. to Improve Your SEO, for some in-depth info on creating good content.
Choosing the right keywords
But back to keywords. A good keyword has the following traits:
Low competition
High search volume
High visitor value
Ranking on the weaker side
So what does that mean? Basically, you want to choose keywords that are commonly used, but not dominated by someone else in your industry who's got a lot bigger advertising budget than you do.
For example, say your MemberPress site is a paid members-only community for marathon runners, and you're an affiliate partner with several running shoe brands.
You're writing a blog post about running shoes, and you want to include your affiliate link for some Nike trail running shoes. You'll want to steer clear of keywords like "running shoes", because you know darn well Nike pretty much owns that one.
Instead, you might attach your link to a long-tail keyword like "trail running shoes for wet weather".
To get started on the right foot, we recommend you run a keyword audit on your site. And we happen to have a post that'll show you how. Check it out here.
The Takeaway
Knowing how to improve your SEO ranking is a big deal for online businesses. And the key to high SEO rankings is to think like a bot.
But that can be tough. For example, manually finding the right long-tail keywords is extremely complex. And structuring your metadata correctly isn't always straightforward.
Fortunately, there are all kinds of awesome SEO tools (like SEMrush) you can use to find and analyze keyword strength. And platforms like AIOSEO make dealing with metadata a breeze!
The most important thing is to keep on keeping on. Learn all you can about SEO and site ranking. And put into practice what you learn.
Do you have any SEO tips or tricks you'd like to share? Let us know in the comments!
If you liked this post, be sure to subscribe in the box up to your right!