Live support is more critical to the success of membership sites now more than ever. Customers expect their questions and concerns to be addressed immediately, and any delay on your business' part can result in the loss of a customer for your membership business.
Using live chat software helps you instantly answer member questions quickly and keep your customers happy. Live chat software can also help you attract new customers for your membership site. In this post, we'll list some of the best live chat software out there, both free and paid, for your membership site.
Why Does Your Membership Site Need Live Chat Support?
Live chat support can have a HUGE impact on your membership site's sales. It gives customers a convenient and quick way to get answers without leaving your website or having to sit on hold via phone.
Live chat support can also be another effective marketing tool. A positive experience with your membership site's support can encourage visitors to your membership site to start or continue the subscription process and even encourage others to tell their friends about your membership business.
As you can see, having live chat support on your membership site has many great benefits, but only if you are using the proper software. A less-than-stellar live chat support experience can have adverse effects and make or break your membership business.
Below are a few live chat support software options that you can confidently use to grow your membership business.

LiveChat is a great option for live chat support software. This plugin is extremely easy to set up and add to your membership site, and it comes with the ability to customize the look and feel of your software to better coordinate with your brand.
Another cool thing about LiveChat is the convenience it brings. The software has live chat support apps that allow you or your agents to keep up with chats even on the go.
LiveChat also allows agents to add survey forms before and after chat sessions and works extremely fast, which further improves the user experience on your membership site.
LiveChat integrates with other services that you may be using in your membership site, such as Google Analytics, WordPress, MailChimp, and more of your favorite business services.
The platform has four different pricing plans for users to choose from, depending on their needs and the size of their business. Their starter plan is a great start for membership site owners who want to get their feet wet in live chat support and starts at $16 per month, when billed annually.
Unfortunately, LiveChat doesn't have a free plan, but they do offer a free, 14-day trial period.
Crisp is a freemium live chat software tool that offers a lot of great features for a decent price.
Crisp, like LiveChat, also allows you to customize the interface to match your membership site, create customized messaging with GIFS and videos, create chatbots, and even connect to social media.
Another really cool feature from Crisp is LiveTranslate, which allows you to translate real-time conversations! No longer does language have to be a barrier when providing support!
Crisp also integrates with your favorite apps and even has a video and audio chat option in the software so you can further connect with your customers.
And if that weren't enough, Crisp makes itself even more unique with their MagicBrowse feature, which lets users give you access to their computer screens.
Crisp has three price plans, but they do have a free option that offers the basic chat features to get you started.
Intercom is another flexible live chat support tool that helps you with the entire selling process, from start to finish. It can be used as a support assistant, lead generation tool, marketing automation too, and user-engagement software.
If you're looking for a simple live chat software for your membership site, then Intercom may not be one for you to look into. If you are interested in a more robust software with all of the amazing features listed above, then Intercom will be perfect for you!
Intercom is not difficult to use and integrates with all of your favorite analytic, email marketing, and CRM software.
Intercom does not have a free plan, but their Essential Plans starts at $39 per month. They also have a premium plan where pricing is based upon your usage.
Zendesk Chat is another really cool live chat software that you can add to your membership site with ease.
This tool offers pre-chat and offline forms, file sending, AI-powered chat bots for those times when agents aren't available, and much more.
Zendesk Chat also integrates with all of your favorite software and Zendesk itself, which is great if you are already a user.
Another great thing about Zendesk Chat is that they offer a free account for 1 concurrent chat session. If you'd like to upgrade, their paid plans begin at $14 per agent, per month.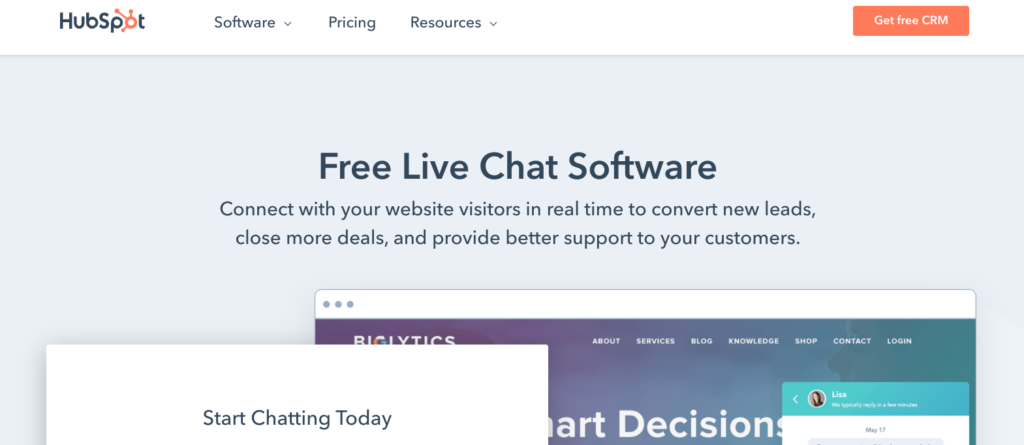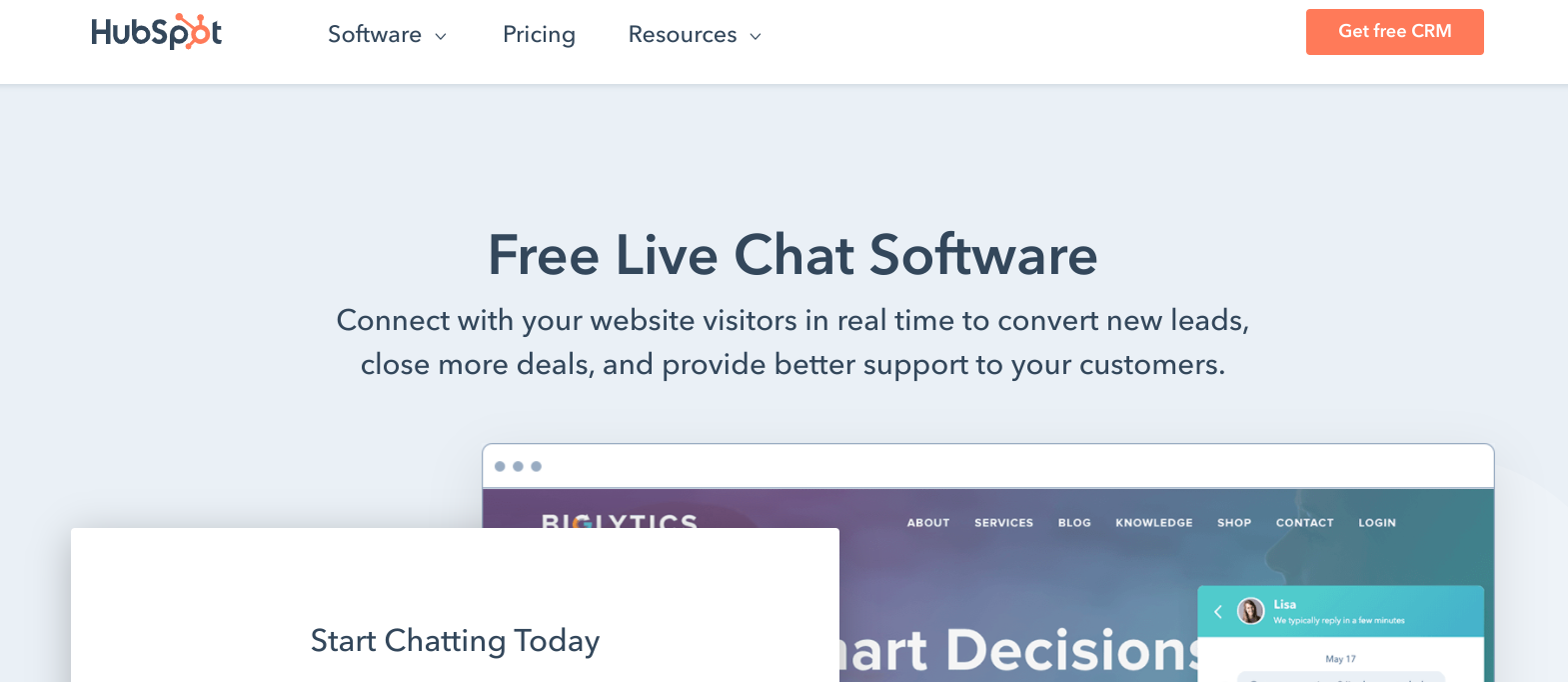 Hubspot Live Chat is another great option for membership site owners that would like to jump into the live chat support game while still keeping things simple.
This platform gives you all of the basic tools you need to have a great live chat support system for your membership site. And, best of all, it's FREE.
Hubspot Live Chat allows you to connect with your visitors in real time and use chatbots to automate your live chat conversations. This tool also contains a collaborative inbox, meaning that everyone on your team can work together on incoming messages. Transcripts are also generated and stored in Hubspot CRM, which is also free.
Final Thoughts
Live chat support is extremely important to the success of your business, and it's just as important that you have the right software to lead your membership site to success. Depending on your needs and your membership business' budget, you can't go wrong with any of the five options presented above.
Have you tested out any of the live chat software tools mentioned above? What was your experience like? Know of another software you love not mentioned in our post? Let's talk about it in the comments below!
If you liked this post, then please follow us on Facebook for more great content. You can also find us on Twitter and Instagram.