Your website is a conversion tool. However, if you don't use one specific kind of marketing in your visitor interactions, you could be missing out on potential sales.
The technique is called FOMO marketing, and it could produce some unprecedented results for you. Fortunately, there are many excellent plugins that can help you incorporate this technique into your WordPress site.
In this post, we'll discuss what FOMO marketing is and why you may want to use it to your advantage. Then, we'll review five different plugins you can use to integrate this strategy into your WordPress site. Let's get started!
What FOMO Marketing Is (And Why It's Important)
FOMO stands for "Fear Of Missing Out". For instance, when someone registers for an event because all of their friends are going, they're being driven by FOMO. You can use this phenomenon to market your online business.
Social proof is a powerful FOMO trigger. Seeing others enjoy themselves while missing out on the opportunity to do the same thing can trigger anxiety, which may lead to action. Those things could be entering a competition, becoming a member of a community, or making a purchase from a particular vendor.
There are several effective ways you can use FOMO marketing to boost your conversions. For instance, you can display notifications about recent purchases other visitors have made on your website. This may prompt users to go ahead and buy something from your store. You could also offer limited-time deals that are hard to resist.
If you want users to join your membership site, you can show the number of people who have subscribed to your service. You could also display customer testimonials to encourage them to sign up.
The 5 Best FOMO Marketing Tools for WordPress
Now that you understand how FOMO marketing works, let's look at the five powerful plugins you can use to implement this strategy on your website.
TrustPulse displays non-intrusive, real-time popups to your site visitors. For example, if someone makes a purchase, signs up for a newsletter, or leaves a comment, this plugin will deliver an instant notification about that conversion to the rest of your visitors.
Other key features include:
Customizable notification appearance to match your branding
Flexible display rules to help you target the right visitors at the right time
"On Fire" notifications that aggregate the number of visitors who have taken recent action
Analytics to measure goals and help you reach targets
Pricing: Plans start at $5 per month and go up to $39 per month.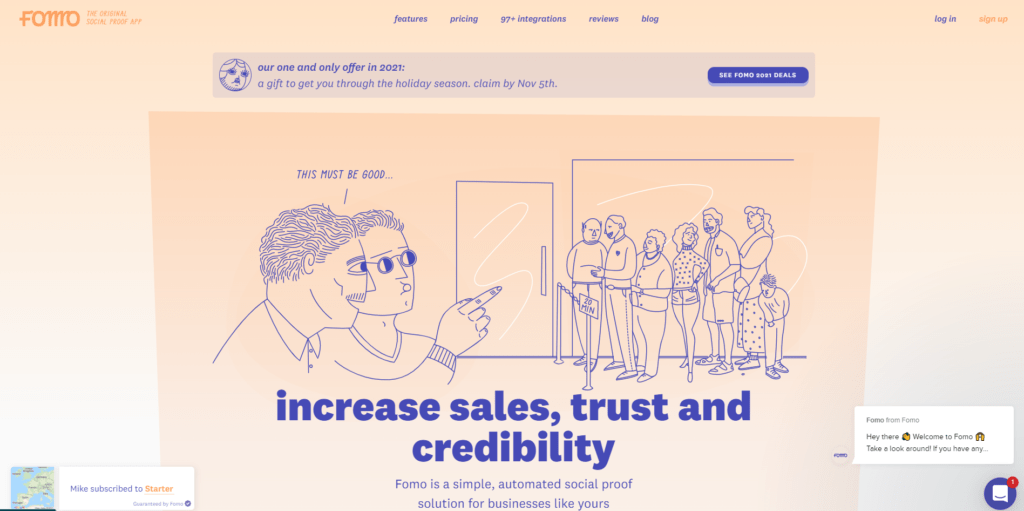 Fomo is another notification plugin for WordPress. Its main draw is the control it gives you over every aspect of your messages.
Fomo's key features include:
Highly customizable notification structure that allows you to change the text of your messages in any possible way
Customizable filters that enable you to add fallbacks, automation, and even text styling to your messages
Intelligent insights from Fomo's billions of data points to help you optimize conversions
Automatic translation to the visitor's locale in 29 languages
Moreover, you can easily integrate Fomo with MemberPress so that you can display a notification when you have a new member signup. The process takes only a few minutes.
Pricing: Fomo has four different plans available, starting at $19 per month for up to 25,000 monthly notifications. For high-traffic sites that need up to 3 million monthly notifications, the high-end plan is $199 per month.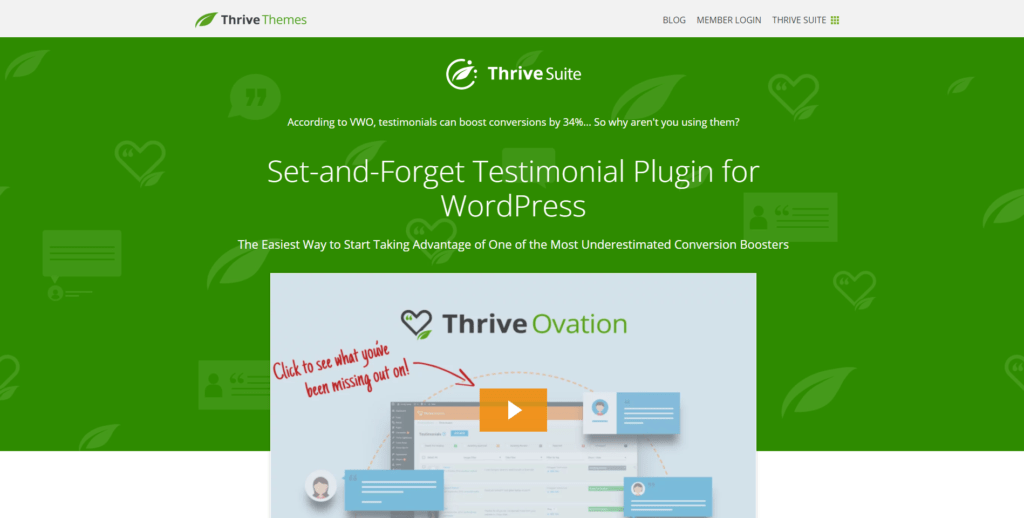 Thrive Ovation is an all-in-one plugin that helps you collect, display, and manage customer testimonials on your website. This is a very important system to have in place. After all, testimonials can increase your conversion rate by 34%. People tend to trust their peers more than they do the person who's trying to sell them something.
Thrive Ovation's key features include:
Automated gathering of testimonials, freeing you from having to follow up with each customer
Testimonial management that saves you considerable time
Conversion of social media comments into testimonials for your site
Tagging functionality, which lets you add specific tags to every testimonial so that each one appears in the right places
Pricing: Thrive Ovation is part of Thrive Suite. You can get it for $90 (billed every three months), or for $228 for a whole year.
Similar to TrustPulse and Fomo, NotificationX focuses on real-time popup notifications. Depending on how much you use this functionality, this plugin could be a very affordable alternative, as it only requires a one-time payment.
Key features include:
Unlimited popup notifications for purchases, blog engagement, download counts, and email subscriptions
Notification bar to display special deals or announcements, accompanied by a call to action (CTA)
Simple integration with over a dozen services, such as Google Analytics, WPForms, and ConvertKit.
OptinMonster is an all-in-one solution for gaining and converting more leads. The plugin displays popups, bars, and gamified wheels. It also helps you target visitors by geographical location and other criteria.
While it's not specifically a FOMO-based tool, OptinMonster enables you to apply this marketing technique in effective ways. For example, you can use its exit-intent detection to trigger a popup offer that's too good to pass up. Alternatively, you could use floating bars or boxes to display limited-time deals in a prominent place.
Other key features include:
Lightbox popups that can capture visitors' emails and other valuable information
Conversion analytics to help you understand your audience and adjust your tactics accordingly
Easy A/B testing
Customizable traffic redirection
Pricing: OptinMonster has four plans, ranging from $9 to $49 per month, billed annually.
Conclusion
You don't have to miss out on customers with FOMO marketing. This strategy helps you target the innate human aversion to missing out on an opportunity that others find valuable.
In this post, we looked at five of the best FOMO marketing tools for WordPress:
Do you have any questions about using FOMO marketing on your website? Let us know in the comments section below!
If you liked this article, be sure to follow us on Facebook, Twitter, Instagram, Pinterest, and LinkedIn! And don't forget to subscribe in the box.