Something we all have in common is the desire to connect with others. Think back to your high school or college experience. What stands out to you? Is it your stacks of expensive textbooks and numerous classes or the amazing and fun times with friends?
If you're feeling a rush of nostalgia, that's totally normal. Your friends from school were there during good times. And they were there for you during the bad times. Truthfully, these were people who "really got you."
In-person and virtual events can offer a similar experience where people are able to connect with others who are like-minded. And when it comes to membership site events, the ties can be even stronger. After all, your members all share a common purpose. Bringing them together through events can create the ties that keep them coming back, reducing site churn.
If you want to know how to run member pricing and get more event registrations, keep reading.
In this post, we'll talk about using two solutions together to make it easy for your members to register for events from your WordPress website.
The Challenge with Offering Member Pricing for Events
If your next event were to have a single event registration option, you could set up an event page with an event registration plugin for WordPress. That's a good start for simple events.
But what if your requirements were more complex? What if you wanted to…
Offer members early access to register for upcoming events?
Or offer an event registration option for members and a different type for guests of members or visitors?
The event structure that worked for basic events would no longer meet your needs. So, you could try workarounds. Here are a couple of ideas:
Offer members early access to register for events. → Schedule an event to go live on a specific date and time. Give each member a heads up, so they know when registrations will open. Or offer an event registration option for members and a different type for guests of members or visitors.
Offer one event registration option for members and a different one for visitors → Create a separate event for members and another one for visitors.
These workarounds could help. However, they have a hidden cost. They'll take up time in your already busy day.
Remember that events are a way to bring people together.
Jonathan Haidt, a psychologist and professor at New York University, touches on how activities like events help us become more connected: "Most activities that cost more than a hundred dollars are things we do with other people, but expensive material possessions are often purchased in part to impress other people," he said. "Activities connect us to others; objects often separate us."
Next, we'll walk you through how to use Event Espresso and MemberPress for member event registrations.
An Easier Way to Offer Registrations for Events
MemberPress is a flexible and easy-to-use membership plugin for WordPress. And Event Espresso can help you sell event registrations from your site.
Imagine being able to:
Allow members to register for courses for free.
Create pricing for members and non-members for an upcoming conference.
Set members-only pricing for certain events.
Limit tickets for classes to members or charge a higher price for non-members to attend.
Automate event registrations for regular member and non-member breakfast meetings.
Also, MemberPress and Event Espresso together will help you solve the following problems no matter the type of event.
How to Make Registering for Member Events Easier
To make it easier for your members to register for events, you can get started with member pricing in three steps.
Step 1: Install and activate the core Event Espresso plugin from the Everything support license
Event Espresso is a WordPress event registration plugin, and the Everything support license includes the plugins required to offer member pricing for events on your WordPress site. After joining Event Espresso, simply install and activate the core Event Espresso plugin.
You'll want to check out the quick start guide for Event Espresso, which breaks down the set-up process into a series of recommended steps and short video tutorials.
Part 2: Install the WP User Integration add-on for Event Espresso
The Everything license for Event Espresso includes the WP User Integration add-on. It grants members access to specific event registration options through the use of "capabilities". A capability is like a ticket to board a plane at the gate. There will be multiple passengers, but only your unique ticket will get you aboard the plane.
Download the WP User Integration from your downloads area in the lower right corner of your account page on EventEspresso.com. Your web browser will likely save the ZIP file (eea-wp-user-integration.zip) in a downloads folder on your computer or your desktop.
Next, go to your Plugins screen in your WordPress dashboard. Click on the Add New button. Then click on Choose File, select the eea-wp-user-integration.zip file, and begin the upload.
Click Activate Plugin once it's done uploading.
Part 3: Set up your first event with member pricing
From your WordPress dashboard (WP-admin), go to Event Espresso > Events. Click on the Add New button.
You'll now be viewing the event editor, which you can use to set up your next member event.
Enter a title and description for your event. Then scroll down to the Event Tickets & Datetimes meta box. Click on the Event Start field and enter a date and time. Then do the same for the Event End field.
Use the Ticket field to enter a name for the member registration option. Then click on the Sales Start field to choose a date and time you want this option to be available. Next, click on the Sell Until field, and set an end date and time. Last, set a price and quantity.

You're now ready to restrict the member pricing option with a capability. Click on the gear icon to show the Advanced Settings. Scroll down to the Ticket Capability Requirement field and enter "read", like the example below.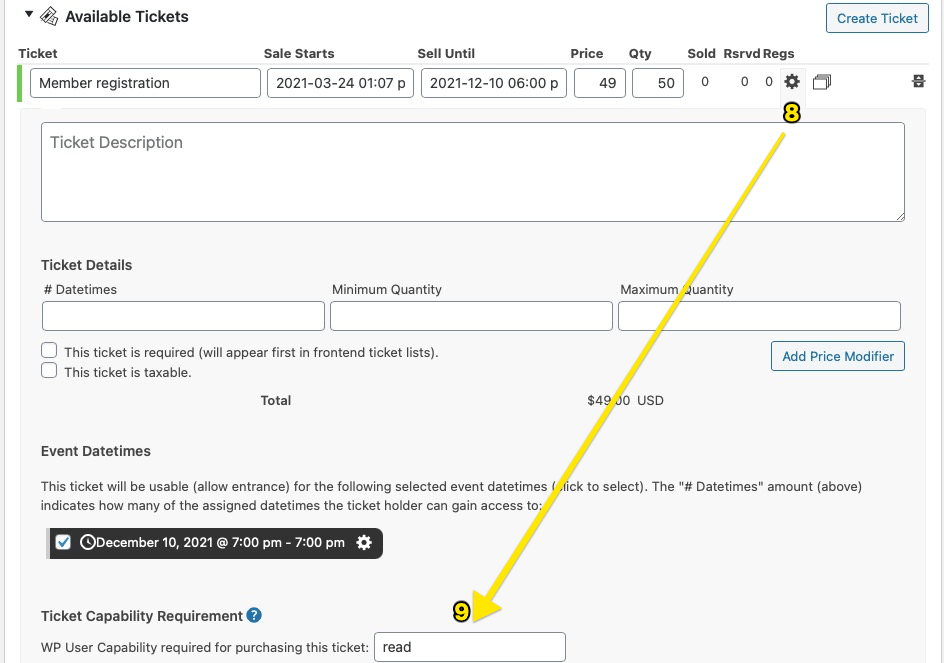 Next, scroll to the Venue details meta box and select the event location using the dropdown box. Scroll up toward the top of the event editor and click on Save draft in the top right meta box. After the page refreshes, click on the Permalink to preview your member event and make sure it's ready to go.
Finally, go back to your browser tab for your WordPress dashboard. Click on the Publish button in the Update Event meta box in the top right corner of your screen.
Previews of the member registration option on your event page
Following is what a visitor or person who isn't logged into your website:

And this is what a member will see when they are logged into your website: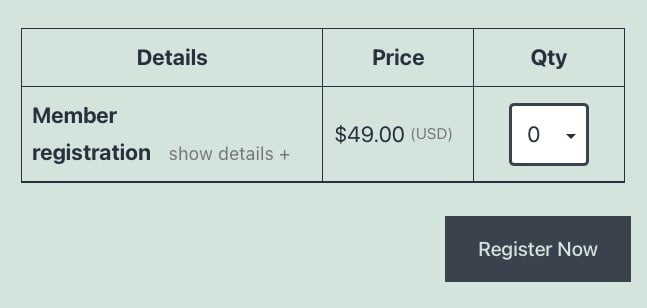 Next, we'll explore more ways you can use MemberPress and Event Espresso together.
The Versatility of MemberPress and Event Espresso
Being able to offer member pricing easily is just the beginning of what you can do with MemberPress and Event Espresso. Does the following question sound familiar to you?
"Is there any way to use my member account so I can register for events without filling in the personal info again and again?"
After a member's first event registration, Event Espresso will automatically prefill basic contact information in an event registration form. Plus, it can also store and prefill custom registration details, such as a member ID.
Or, have you struggled with preventing non-members from registering for member events?
In the past, you might have password-protected an event page and then contacted each of your members to share the password. When you combine MemberPress and Event Espresso, you no longer have to use that workaround. The process we shared earlier will prevent visitors who aren't logged in from registering for an event.
However, what if you occasionally need to offer member pricing and offer registration for member guests? You can do that by creating a separate registration option. All you do is use the Create Ticket button to set up another event registration option.

Plus, here are a few more scenarios where using MemberPress and Event Espresso together can help you:
✓ Offer registrations for an event where members can bring one guest for free.
✓ Offer members early-bird access to register for an event. Then allow visitors to sign up later on.
✓ Offer members free or discounted event registrations while having non-members pay a different cost.
Takeaway
By combining MemberPress and EventEspresso, you can make registering for your member events easier to do. And easier registrations means you'll:
Save time by avoiding workarounds
Get more event registrations
Strengthen your member base and reduce membership churn
Do you have questions about running events on your membership site? Let us know in the comments section!
If you liked this article, be sure to follow us on Facebook, Twitter, Instagram, and LinkedIn! And don't forget to subscribe in the box below.