Free membership sites can grow fast – often much quicker than premium websites. However, a free membership model can also be a double-edged sword. How do you make money from free users and keep your business afloat?
Since your free membership site can't rely on subscription fees, you'll need to be creative with your monetization strategies. Fortunately, you can use methods such as affiliate marketing and ecommerce sales to increase your revenue.
In this article, we'll explore 4 of the most popular strategies you can use to make money from free membership sites. We'll discuss the characteristics of each and show you how to use each method on your website. Let's get started!
Why You Should Consider Creating a Free Membership Site
Ideally, a free membership site offers access to a large user base. Compared to a paid site, a free website can attract significantly more traffic.
If your members don't have to pay for your products and services, they may be more likely to use them and recommend them to others. Therefore, a free membership model can increase your brand exposure.
Moreover, with a free membership site, you can create online communities to support your brand. By enabling your users to interact freely, you can foster positive associations with your business and incentivize your members to keep coming back:
Furthermore, a membership site can build traffic that will attract advertisers. You can even mine the website for information about your customer base. You can then use the data to adjust your marketing strategies to better reach your target audience.
Overall, a free membership site is free to access – but it's not necessarily completely free. There are ways to monetize your website without charging direct fees to your members.
4 Strategies to Make Money From a Free Membership Site
Just because you don't charge membership fees doesn't mean you can't generate an income from your members-only website. Let's take a closer look at 4 strategies you can use to monetize your page!
1. Promote Products With Affiliate Links
You can promote products on your website and earn a tidy sum for every customer you refer. This practice is called affiliate marketing. You're the affiliate – and you're marketing another company's products and services. In turn, you make commissions on all sales made through your promotional links.
Frequently, affiliate marketing involves creating product reviews and product round-ups. In a product round-up, you discuss popular items and then link to them with affiliate URLs. This type of content tends to score high for search engine optimization (SEO) purposes because it contains multiple keywords and links, bringing in traffic and revenue: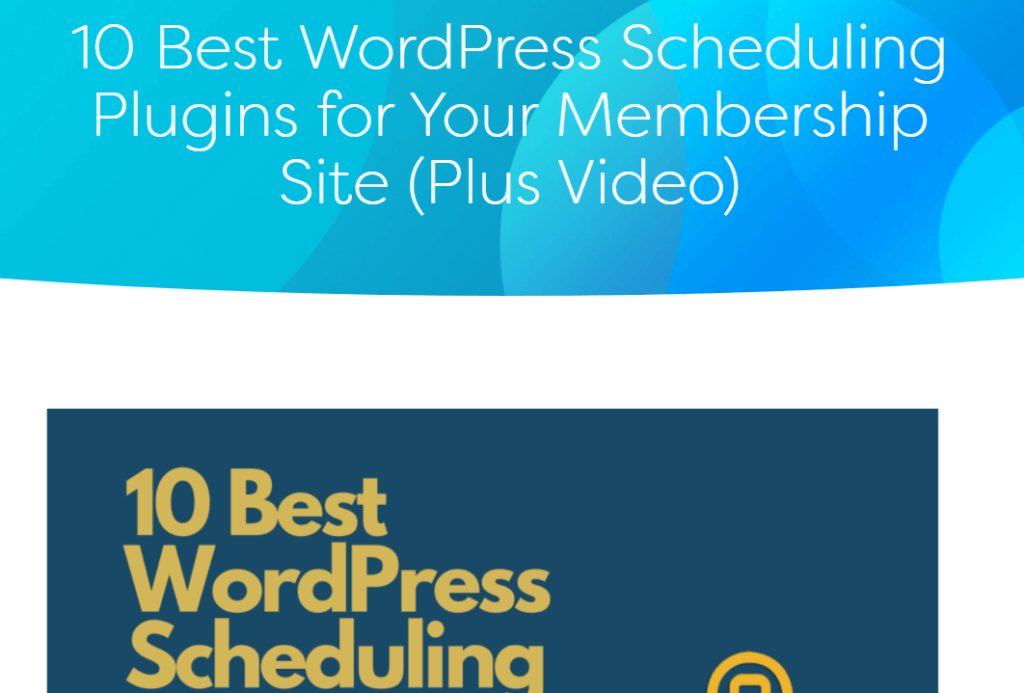 Affiliate income will vary depending on the products or the services. You might promote a hosting service and make $1 for every enrollment – or you might advertise an expensive marketing software that delivers $20 for every purchase.
You can use affiliate solutions such as Pretty Links to cloak your affiliate URLs and track your performance. However, don't forget to disclose that you're using affiliate links to your readers:

Furthermore, you should take care to only promote products and services relevant to your readers. If you include irrelevant affiliate URLs, your members may find you insincere and turn away from your membership platform.
2. Sell Products in an Ecommerce Store
You can always sell your own products by setting up an ecommerce store. For example, if you run a cooking and recipe membership site, you could write and advertise your cookbooks in your online shop.
You can offer multiple item types to your members, including:
Bulk products: You can purchase items in large quantities with discounted prices and then sell them individually.
Custom products: You customize or create a product yourself, manufacturing it and selling it.
Print-on-demand: You design a product, but you never touch it. When a member buys the item, a third-party service manufactures it and sends it to the consumer.
Custom merchandise is best-suited to a membership site that has a strong culture, identity, and brand. Furthermore, you can use your platform to perform market research, polling members on the products that they find most interesting.
Moreover, plug-ins such as WooCommerce make it easy to create a members-only store. Once you install the add-on, it will walk you through the entire process of starting your store, adding products, and collecting payments:
Remember that you'll need to offer value to your members. By creating unique products or stocking niche items, you can maximize your sales and generate healthy revenue from your ecommerce store.
3. Sign Up for Paid Advertising
When you enable paid advertising, you sell ad space on your site to a third-party platform. The external company then finds advertisers interested in promoting on your website.
For example, Google Adsense is one of the biggest paid advertising channels. Many websites today use it for basic revenue generation by displaying product advertisements: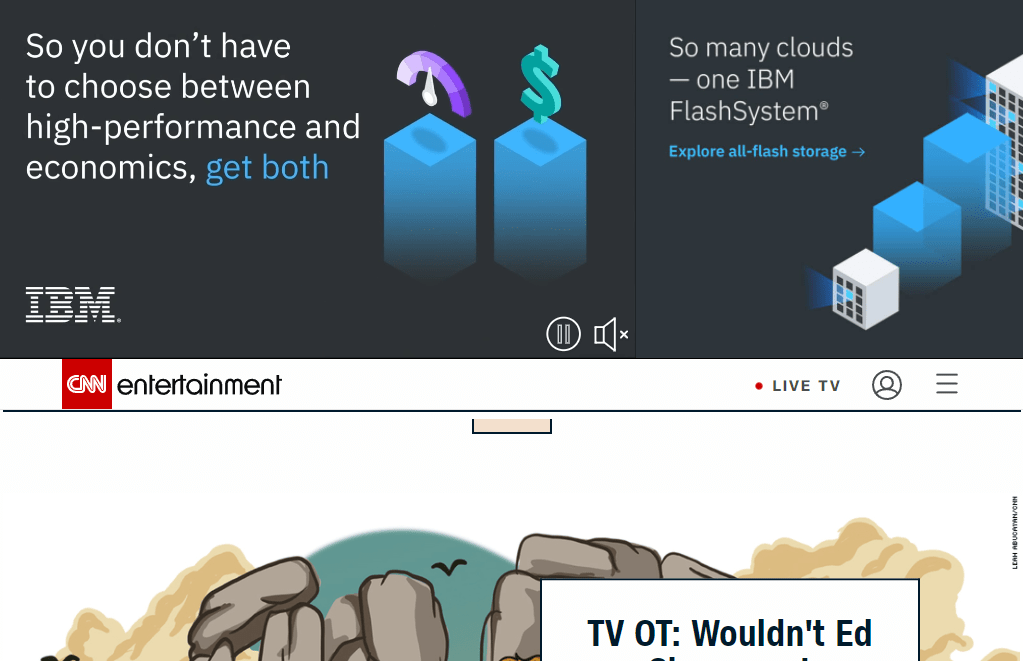 Whenever a user views or clicks on a Google ad, you will make a small amount of money. Although the payoff per advertisement is minimal, it's still a consistent income. You also have the option of showing ads until someone pays to hide them, such as through premium features.
According to Alpha Investors, it takes about 150,000 visitors a month to make $100 a day with AdSense. If your site gets substantial traffic, the money can add up. However, even if your website is relatively small, ad revenue can still help pay for your hosting.
Once you sign up for Google AdSense, you can choose whether you want Display ads, In-feed ads, or In-article ads: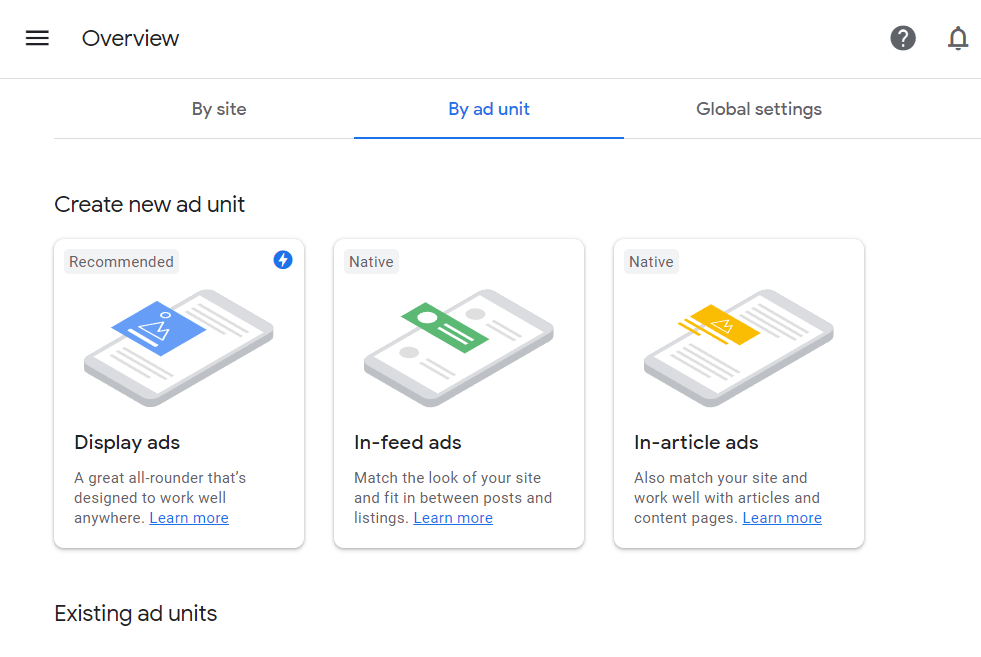 However, you might want to be careful about displaying too many advertisements. If your membership site looks stuffed with promotional banners, it could be off-putting for your members.
4. Sell Premium Features on Your Free Membership Site
Membership sites can sell premium features, such as additional features. This model can be successful because users can opt in to new functionalities and pay if they already see value in your website.
For example, the popular fitness app Fitbit provides both free memberships and premium subscriptions. Its paid plans include additional features, such as nutrition resources and advanced data collection: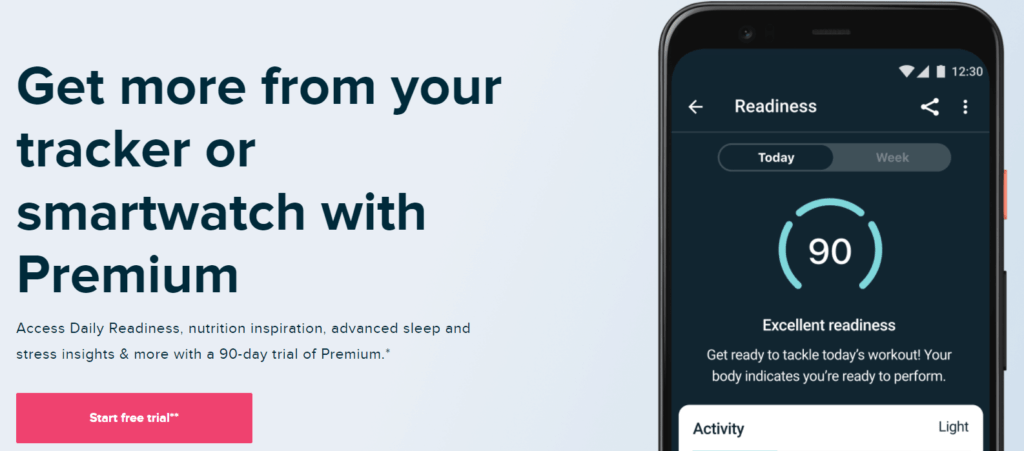 You have many possibilities to offer premium features. For instance, you might sell access to paid forums, online courses, and one-on-one sessions with industry professionals. You might even offer free trials to some of these features to incentivize members to start paying for them.
Before selling courses and add-ons, you might like to do market research on what your current members would be willing to purchase. For example, you might use surveys with your users to see which features are missing from your free content. Then, you can develop and advertise your premium add-ons.
Conclusion
Having a free membership site is a great way to drive traffic and growth. Furthermore, it provides multiple opportunities to monetize your members and upgrade them to premium accounts.
In this article, we covered 4 essential strategies for monetizing a free membership site:
Promote products with affiliate links.
Sell products in an ecommerce store.
Sign up to display paid advertising.
Sell premium features.
Do you have any questions about monetizing a free membership site? Let us know in the comments section below!
If you liked this article, be sure to follow us on Facebook, Twitter, Instagram, Pinterest, and LinkedIn! And don't forget to subscribe in the box.