Updated 9/13/2022
Link by Stripe is here, and it's built right in to your existing MemberPress Stripe Elements integration – no additional charges or fees.
If you're a MemberPress creator, and you're working with any of the currencies below, you've now got access to Link:
USD, GBP, EUR, BGN, HRK, CZK, DKK, GIP, HUF, NOK, PLN, RON, SEK, and CHF.
Link by Stripe is awesome for lots of reasons. Here's one of the most compelling:
Link users make a purchase 4 times more often than non-Link users.
In this post we'll go over that and even more exciting stats. We'll also talk about what Link by Stripe is. We'll show you how it works, and we'll help you get started with Link on your MemberPress site.
Let's get to it!
What is Link by Stripe?
Link is a payment feature available through the MemberPress Stripe Elements integration.
It gives your members and customers a fast, easy, and secure way to make 1-click payments on tens of thousands of sites.
Whether it's on your site or another Link-enabled site, the first time a user checks out through Link, the system saves and encrypts their info for future 1-click payments.
Link is a certified PCI Service Provider Level 1, so your customers' saved data is incredibly secure.
How Does Link Work?
Link allows your customers and members to use secure 1-click payments across the internet. To get set up, they just complete an easy, one-time checkout process.
Here's a breakdown of how this simple process works…
Step 1: Customer checks out and saves payment info
Your customer lands on a Link-supported site (yours or otherwise). When they checkout, they save their payment details and shipping address.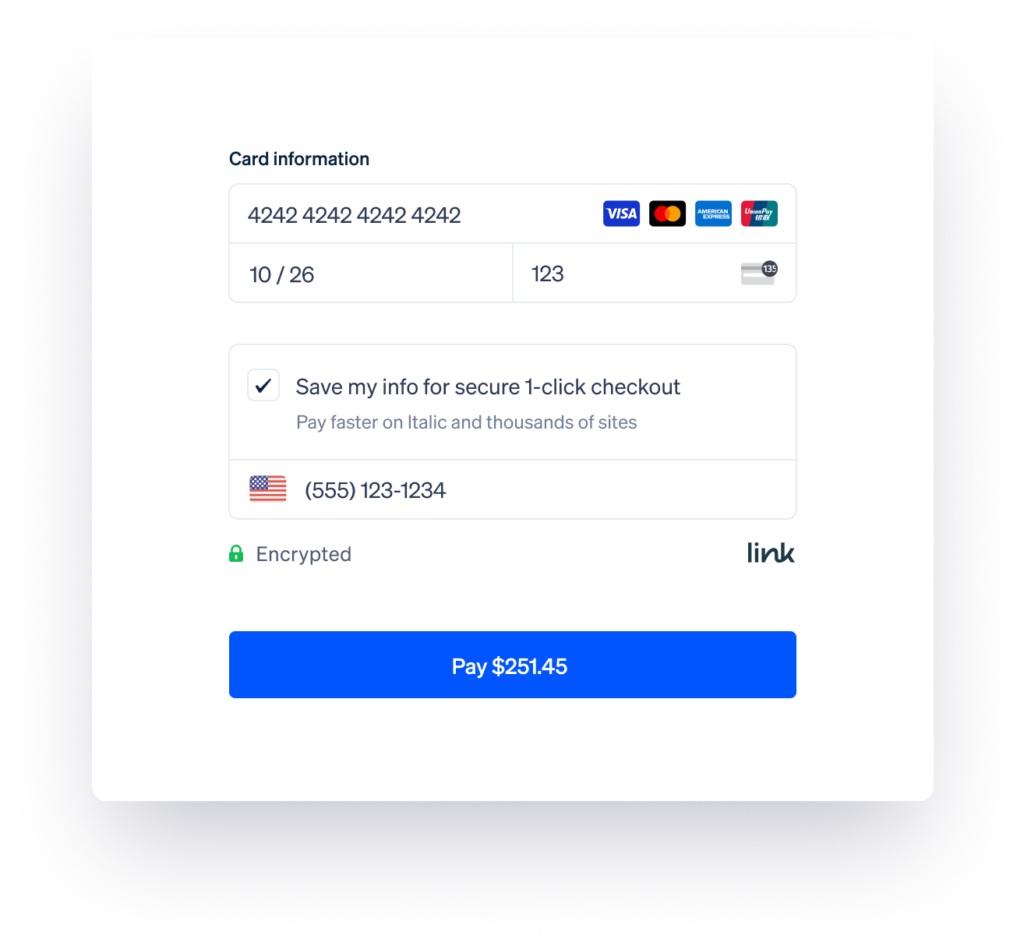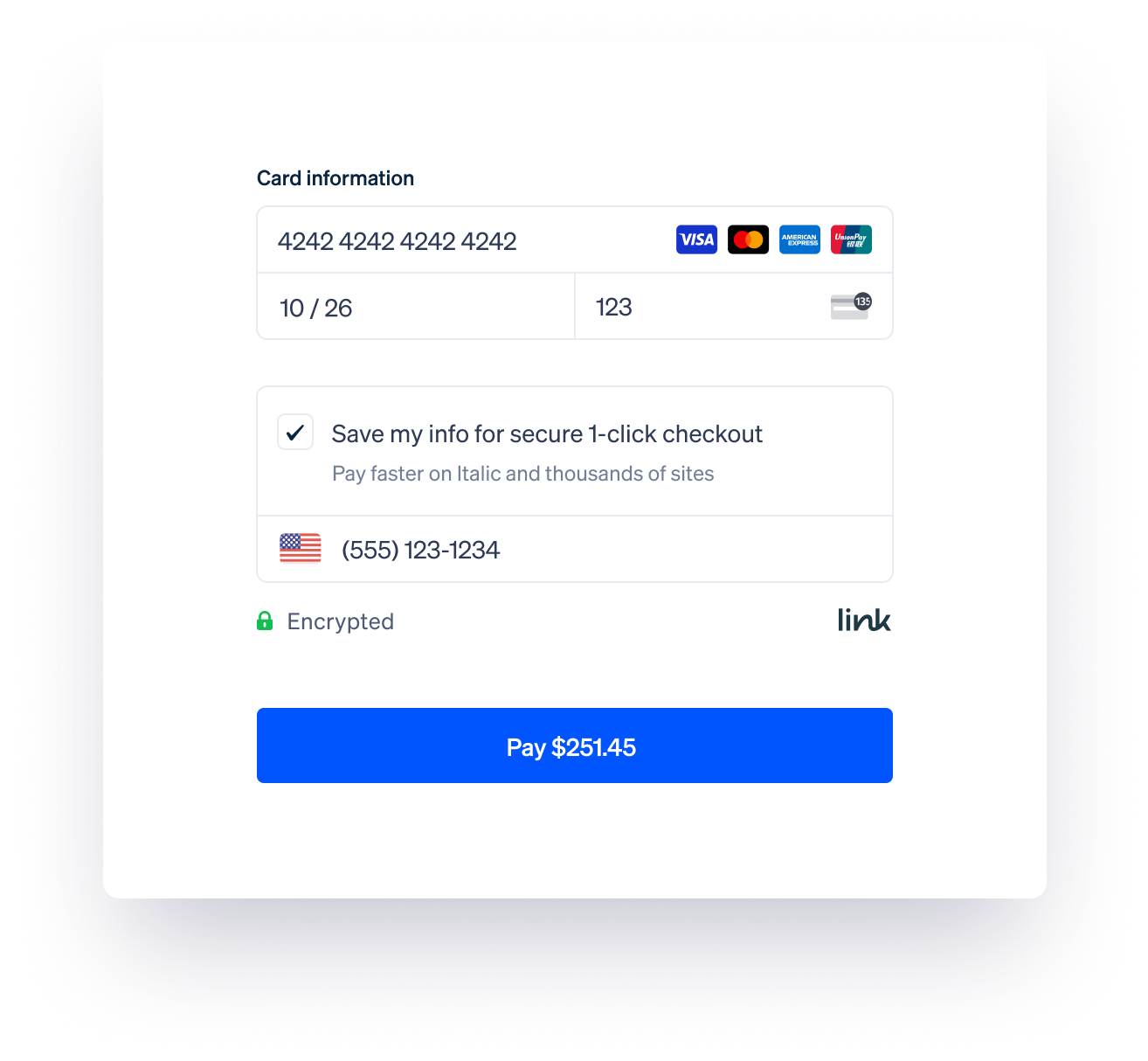 Step 2: One-click payments are enabled
For any future purchases, Link autofills that customer's saved payment info so they can check out with one click.
Step 3: Customer completes mobile verification going forward
Now your customer is all set. When they use Link on a new site or device, they'll get a one-time code. This code will verify their identity and keep their info secure.
How Does Link Benefit Your Business?
Research proves that cart abandonment is a big, expensive problem.
For example, a study by the Baymard Institute showed that almost 70% of customers abandon their carts. The main cause of cart abandonment is friction in the buyer's journey.
This same study showed that close to 1 in 5 shoppers abandoned their carts due to a checkout process they described as "too long and complicated".
Not only that, Baymard found that improving the checkout "flow and design" could save the industry $260 billion in lost orders.
The only way to recover those sales is to create a fast and friction-free buyer's journey.
With its 6-second checkout process, that's exactly what Link by Stripe does.
Better checkout flow and design
Link makes the buyer's journey as much as 9 times faster. And customers really appreciate it.
Studies show that the Link user experience is way better. So much better, in fact, that Link users make a purchase 4 times more often than non-Link users.
So far, businesses using Link have seen an increase in conversions of over 7%. It's an incredible, code-free way for small online businesses to build a full payment page and share the link with customers.
Ready to get it set up? It's easy!
How to Enable Link by Stripe on Your MemberPress Site
If you're a MemberPress creator, and you've got the Stripe integration, it's fast and easy to set up Link. Just follow these steps.
Getting set up
First, go to your Stripe Dashboard > Settings > Payment Methods. Choose the MemberPress.com platform from the dropdown.
Then scroll down to find the Link payment method, and click the Turn on button.
Next enable Link in your MemberPress settings by going to the MemberPress > Settings > Payments tab.
Find your Stripe gateway settings (see image below), and make sure Stripe Elements is selected.
Then scroll down, check the box next to Enable Link (recommended), and save your MemberPress Settings.
You should be all set! Next time a customer checks out, they can choose to pay with Link.
Wrap Up
Revenue lost to cart abandonment is a big problem. And friction in the buyer's journey is one of the greatest causes of it.
Link by Stripe is a super simple way to reduce that friction and increase sales on your MemberPress site.
Just enable Link in your Stripe dashboard. Then make sure it's enabled in your MemberPress Settings. These two little steps can send you on your way to lots of increased revenue.
Check out our MemberPress Knowledge Base and the Link by Stripe FAQs to learn more and get started.
---
NOTE: Depending on your currency, you may need to apply for early access before you can begin using Link by Stripe. Find out below.
---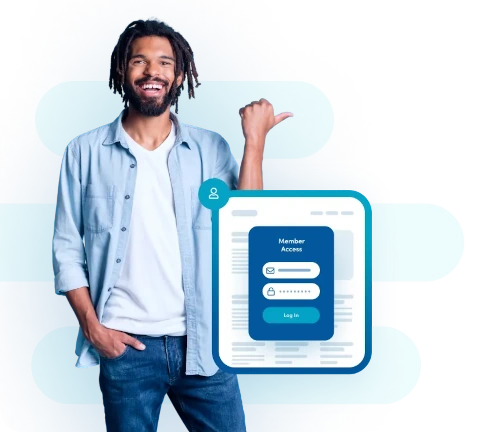 Get MemberPress Today!
Start getting paid for the content you create.
Get MemberPress Now
See All Features
Have you added Link by Stripe to your site, yet? We'd love to know how it's going. Tell us in the comments.
If you liked this post, make sure you subscribe to the MemberPress blog!