If you create digital content, you might be wondering how you can sell your work online. It can be challenging to monetize your material if you don't know where to start.
With MemberPress and WordPress, you have all the tools you need to make money from your digital assets.
You can set up an online store where customers can download and purchase your creations. Plus, the process is relatively easy.
So let's take a look at how it's done!
The Tools You'll Need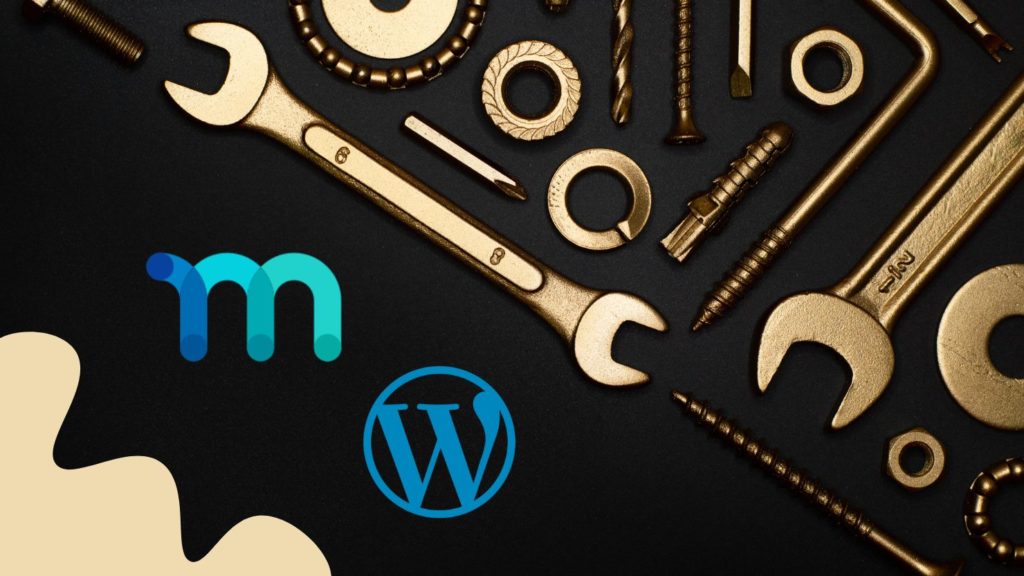 If you're an artist or content creator, you can create a website that will house your digital assets.
These can be anything from art, music, games, photos, templates, ebooks, and even sheet music: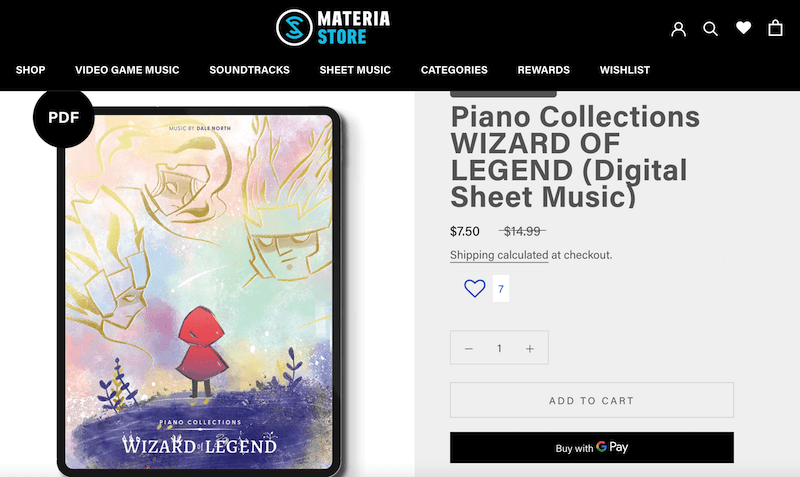 To monetize this content, you'll need two important tools:
WordPress. This is a user-friendly content management system (CMS) that gives you with everything you need to create a high-quality website. The CMS is free – you'll just need to pay for a domain name and web hosting.
MemberPress: Our plugin enables you to make money from digital assets by creating memberships and subscriptions. Users are required to pay a fee to get access to your content.
With these two tools, you'll have all you need to get started!
How to Make Money from Digital Assets (In 5 Steps)
Now, let's take a look at how to set up a WordPress site and make money from your digital content.
Step 1: Get WordPress and Install MemberPress
First, you'll need to find a hosting provider for your WordPress website. There are several options to choose from.
For example, Bluehost offers beginner-friendly hosting plans that come with a free domain name for the first year and automatic WordPress installs: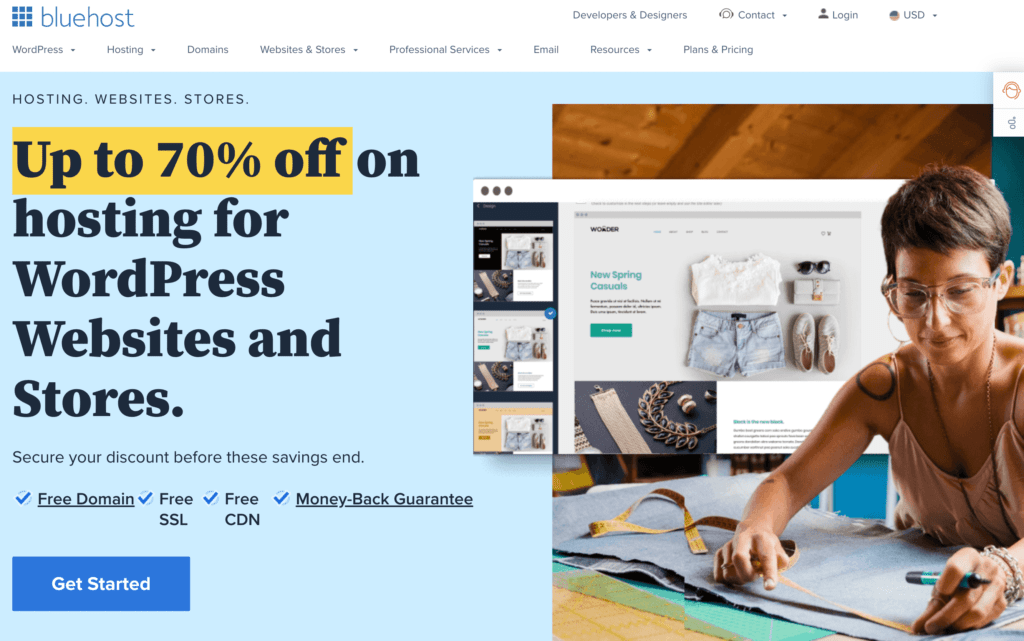 This enables you to get your WordPress site up and running straight away. Once you have your website, you'll be ready to build the rest of your business.
---
Next, you'll need to download and install MemberPress: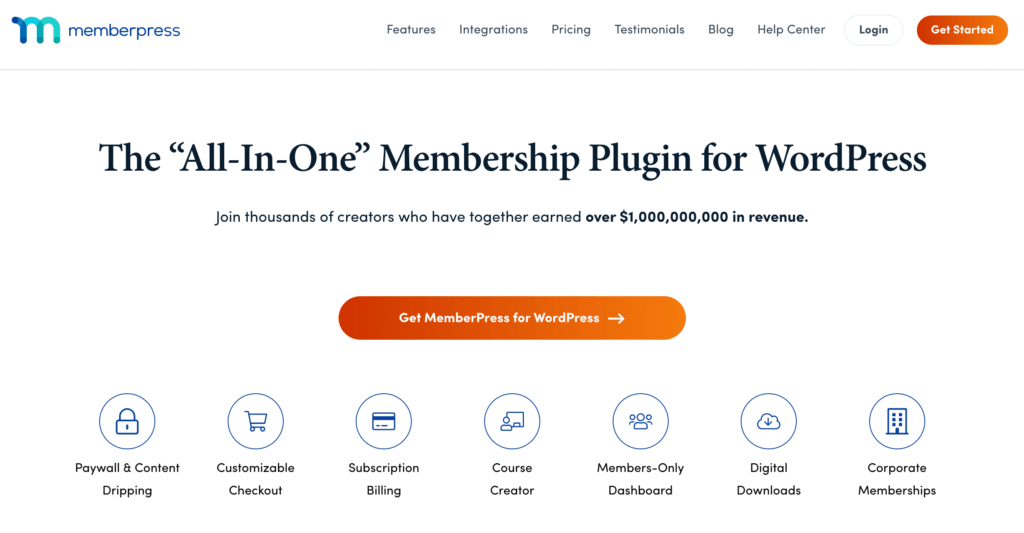 This tool enables you to monetize your site with memberships. That way, people can sign up and access your digital assets.
Step 2: Add Your Digital Assets
Once you have MemberPress plugged into your WordPress site, you can start adding your digital assets. These need to be in a downloadable format such as a PDF, JPEG, or video file.
To get rolling, create a new post or page in your WordPress dashboard:
Then, you can add a title and description for your product: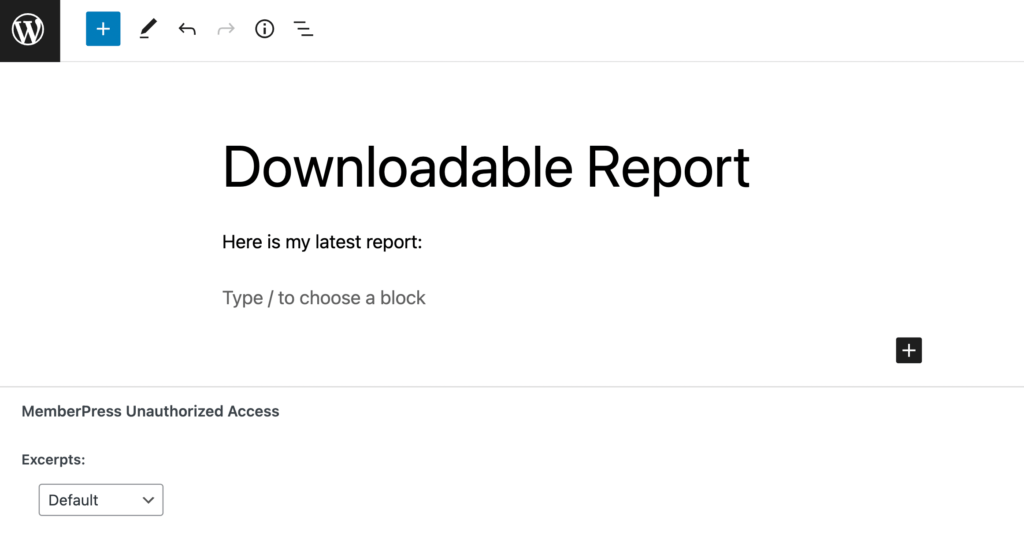 Next, you'll add your digital file. If it's a PDF, you can insert a File block into your page: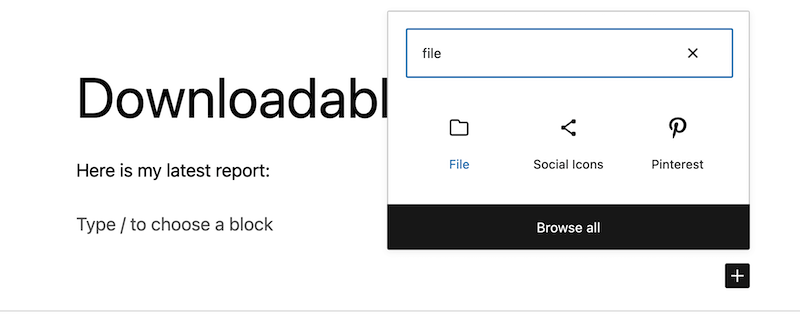 Then, go ahead and upload your file: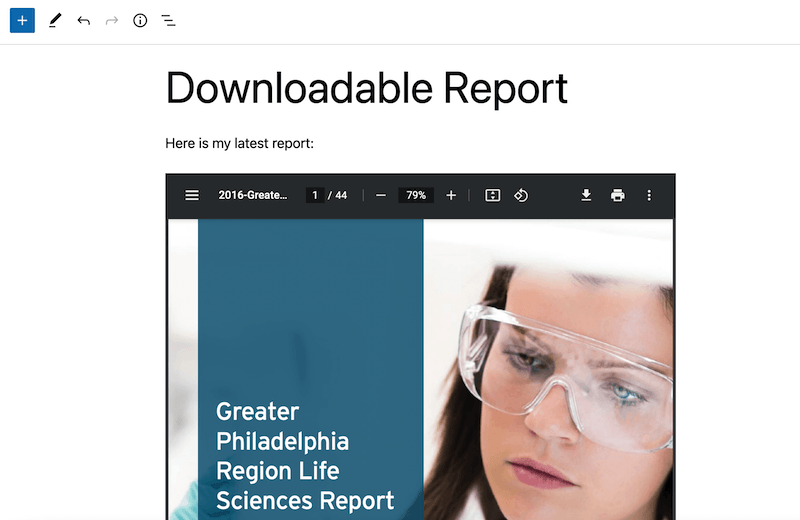 You'll also want to add a category to your page. This'll make it easier to select your members-only content when setting up your membership (which we'll cover in the next steps).
In your post settings, click on Add New Category and enter a name: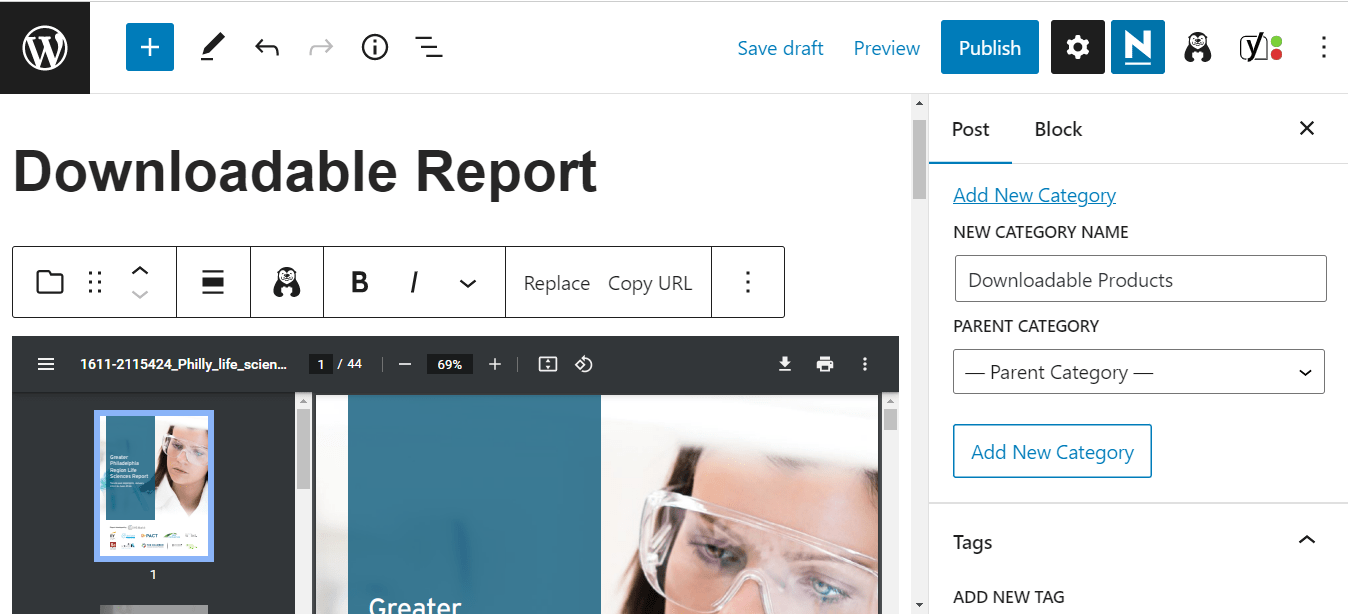 You can also add a new tag under the Tags tab. Remember to publish your changes when you're ready.
Step 3: Create a Membership
Next, you'll need to create a membership that users can sign up for. In your WordPress dashboard, go to MemberPress > Memberships and click on Add New:

First, you'll want to add a title and description for your membership: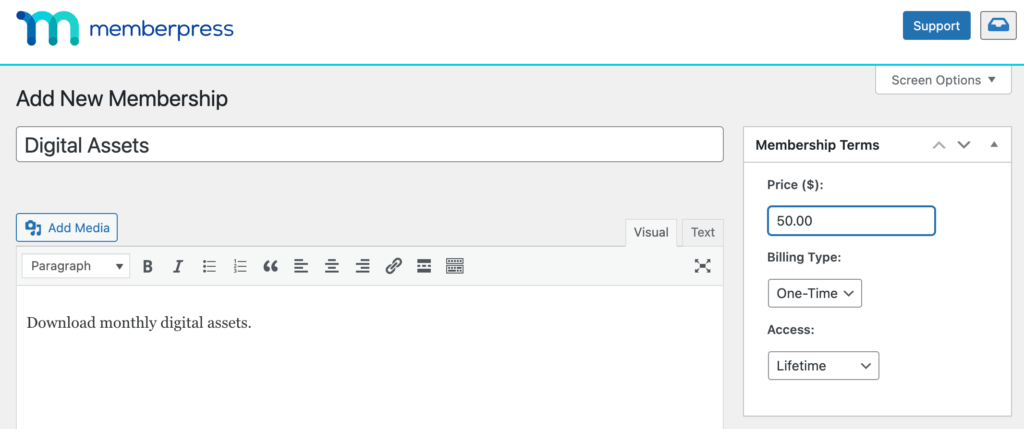 Under the Membership Terms box, you can set the price and configure the billing type and access.
You also have the option to offer a trial period. Once you're done, you can publish your membership.
For more information on how to create a membership site, you can watch our video:
Note that MemberPress lets you create multiple memberships for the same site.
Step 4: Set Up Rules to Determine Access
To protect your digital files from non-members, you'll need to set up rules for your membership. To do so, navigate to MemberPress > Rules > Add New:
Then, go to Content & Access and click on the dropdown menu. Here, you can select the All Content Tagged or All Content Categorized option:
Next, type in the tag or category that you assigned to your digital asset: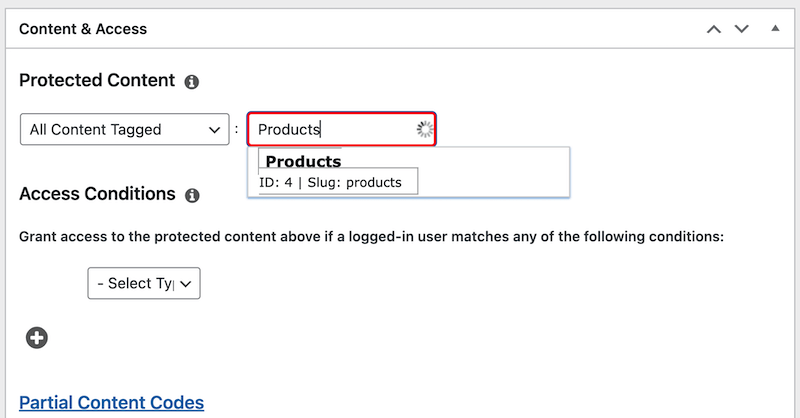 Next, choose the Membership option under Access Conditions: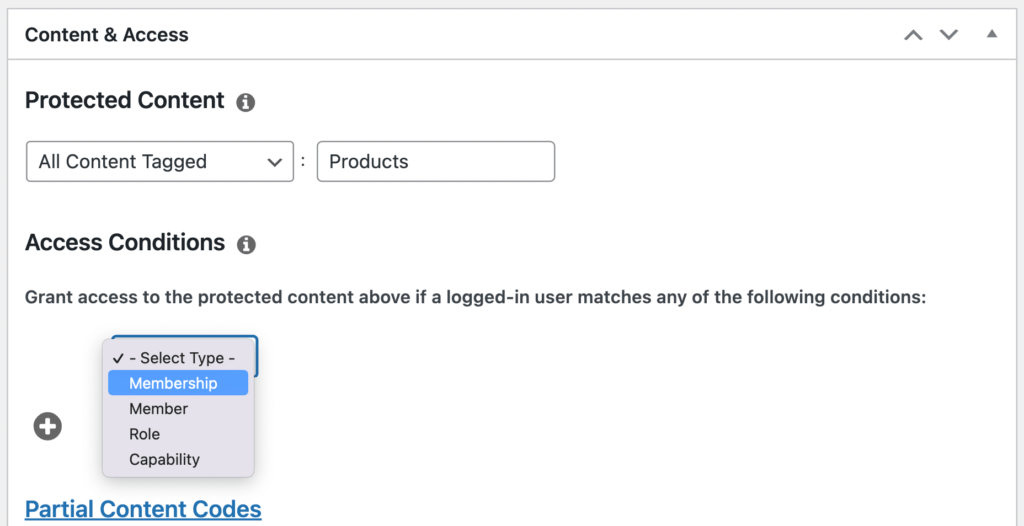 Then, select your membership from the dropdown menu: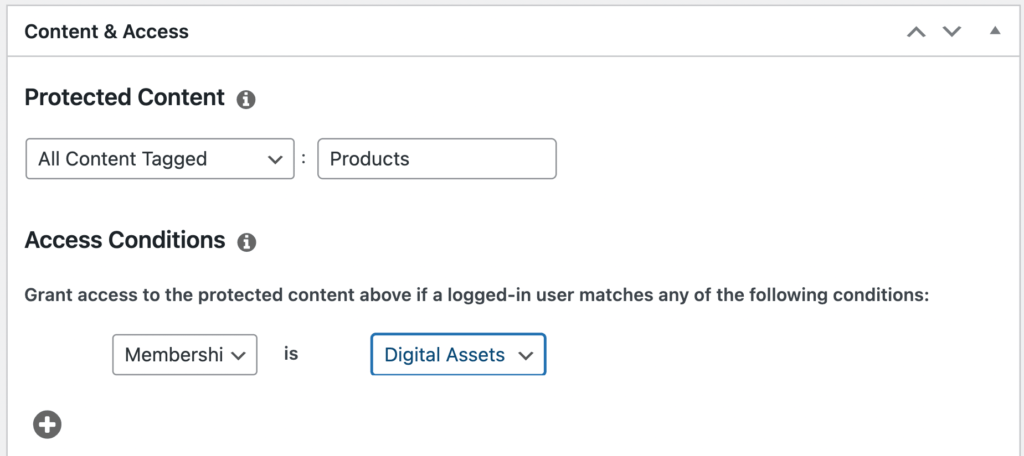 Once you're done, click on Save Rule at the top of the page: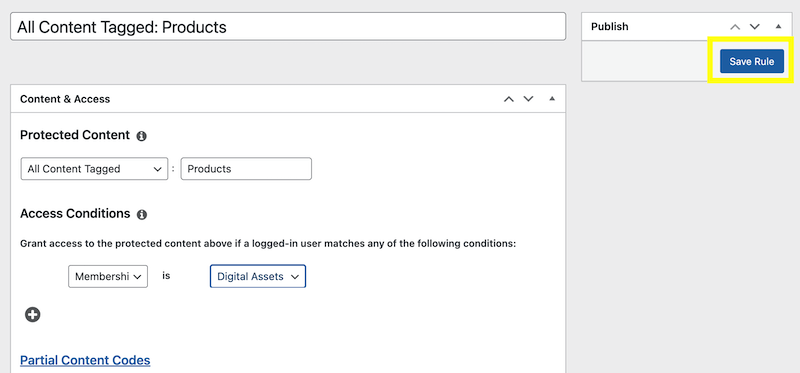 You can watch our video to learn more about configuring rules in MemberPress:
The great thing about MemberPress Rules is, it has the power to monetize ANYTHING on your site – not just courses.
So you can protect any and all content on your WordPress website…
Blog posts
Videos
Memberships
Discussion forums
Podcasts
Coaching sessions
And so much more!
---
For complete instructions on how to create an online course with MemberPress Courses, watch the video tutorial below!
---
Step 5: Configure Your Login and Registration Pages
Next, it's time to set up your login and registration pages. This will make it so members can sign up and access your content.
First navigate to MemberPress > Settings > Pages:
Then, locate MemberPress Login Page and select Edit:
Our video will give you further details on how to customize your login page:
Next, navigate to the Fields tab. Here, you can create custom fields for your signup form: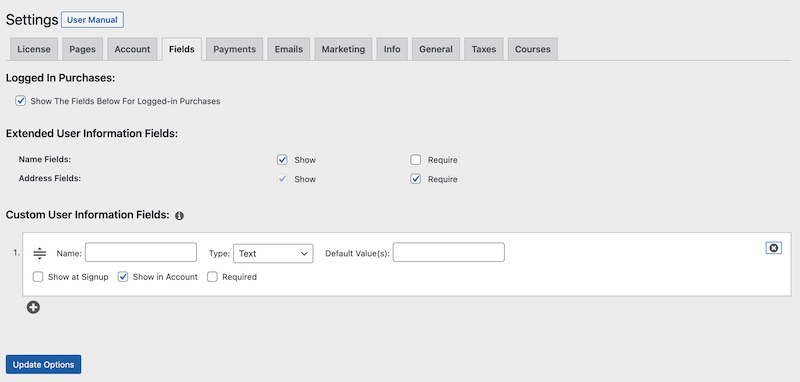 This tutorial will show you how to further configure your registration page:
Now, your members can create an account and log in to access your digital assets.
Examples of Websites Using MemberPress to Sell Digital Downloads
There are plenty of membership sites using MemberPress to monetize their digital assets. Here are a few examples.
Krisp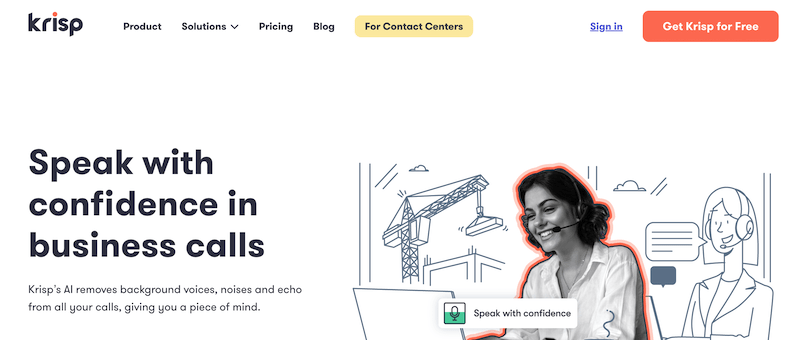 Krisp uses AI technology to remove background voices, echoes, and noises from calls. It offers a free plan and three paid memberships that allow customers to access this software product.
Each membership is designed for a particular user, including professionals and large business owners.
Worship Drum Samples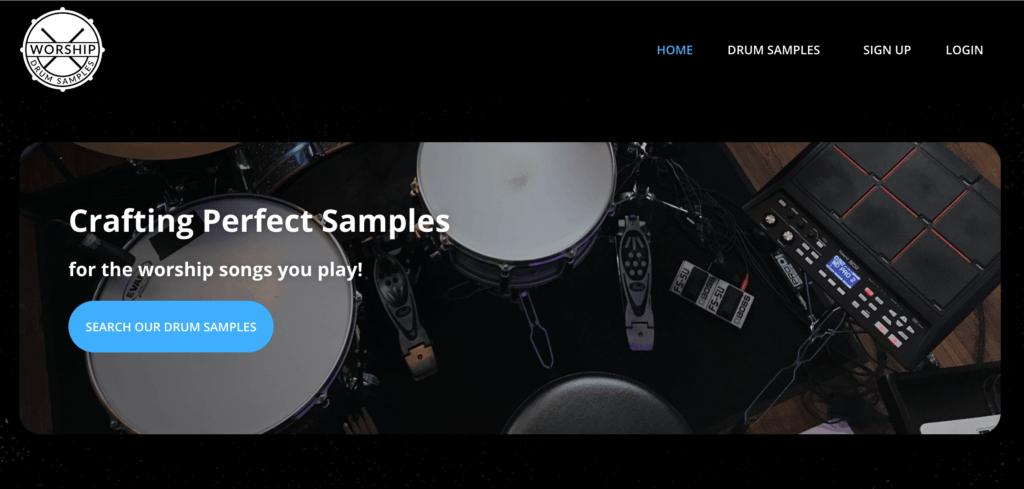 Worship Drum Samples offers high-quality drum samples designed for worship songs.
It releases new samples every month, so members get access to new content on a regular basis.
Conclusion
If you create digital content, you can turn your passion into profit.
With MemberPress and WordPress you can create a website where users sign up for memberships and access your digital assets.
To recap, here's how to make money from digital assets in 5 steps:
Install WordPress and MemberPress.
Add your digital assets to your website.
Create a new membership.
Set up rules to determine who can access your content.
Configure your login and registration pages.
Do you have any questions about making money from digital products? Let us know in the comments section below!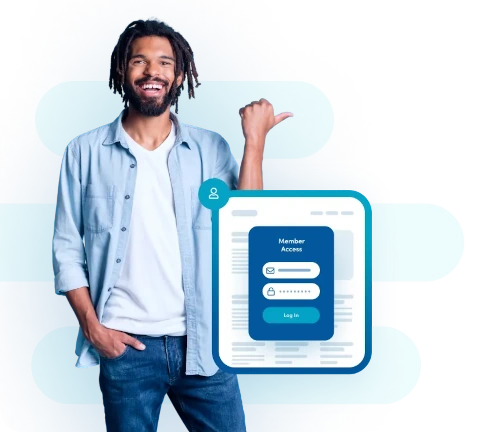 Get MemberPress Today!
Start getting paid for your digital assets.
Get MemberPress Now
See All Features
If you liked this post, make sure you subscribe to the MemberPress blog!