Most websites are built using a type of software called a content management system (CMS). To launch your online business, you need a reliable platform that provides you with the tools necessary to achieve your goals. However, what is the best CMS to build a membership website, specifically?
Creating a subscription site from scratch can be difficult, especially if you have no coding knowledge. For this reason, some users turn to fully hosted solutions that offer membership functionality out of the box. However, this means you're stuck with a pre-defined structure, which is why WordPress is our recommended solution.
This article will discuss why WordPress, combined with our MemberPress plugin, is the best CMS to build a membership site. Let's go!
Why WordPress Is the Best CMS to Build Your Membership Site (5 Key Reasons)
WordPress began as a blogging platform, but it quickly evolved into a robust CMS that can adapt to many use cases. With the right tools, you can turn it into a membership site, launch an online store, create a digital portfolio, and much more. Below are five of its key advantages.
1. WordPress Is More Flexible Than a Proprietary Platform
A proprietary platform is usually limited in its structure. This means you can't do much to extend its functionality, and modifying the code is often forbidden.
WordPress, on the other hand, is an open-source CMS. Anyone can access its code and customize it however they wish, so the sky is the limit in terms of what you can achieve if you're an experienced web developer.
For less tech-savvy users, there's an abundance of themes that are suited to all kinds of websites. You can find a suitable design for any type of website and easily customize it to suit your branding.
You can also use plugins to add various features, such as a contact form or a members-only area. Between these extensions and custom code, WordPress is one of the most flexible website-building tools on the internet.
2. It's Easy to Pick Up
Compared to other open-source CMSs such as Drupal or Joomla, WordPress is user-friendly and easy to pick up even for beginners. Many web hosts provide a one-click WordPress installation feature so that you can log in to your dashboard almost immediately.
Plus, your admin area is easy to navigate. It includes a built-in updates management system that helps you keep all your tools current and secure.
Although you can modify your site's code, you don't have to come near it if you don't want to. In fact, most themes and plugins are built with beginners in mind and are easy to set up.
The Block Editor also enables you to create your pages and posts using pre-built elements. You can even use page building plugins such as Elementor to create more complex designs.
3. Your Membership Site Will Be Secure
WordPress is considered one of the safest platforms to build your website on. Because it's so popular, there's a whole industry dedicated to keeping it secure.
The software itself is also continually updated to patch potential security vulnerabilities. Many web hosts will even automatically install the latest version of WordPress if you sign up for a specific plan.
Besides that, there are various security plugins, such as Wordfence or Sucuri. These can help protect your site against common threats.
However, note that you still need to follow best practices to keep your website secure. For instance, you should choose a safe username and password, manage access roles, and regularly update your WordPress installation, plugins, and themes.
4. You Can Access Membership-Specific Tools and Features
WordPress has a vibrant community of contributing developers, which means there is an abundance of plugins to help you transform your site into almost anything you want. For instance, you can use our MemberPress plugin to create a members-only area, drip exclusive content, and more.
MemberPress also gives you features that every membership site needs, such as:
Member registration: With MemberPress, new members can easily subscribe to your website and log in to access your content.
User access control: Our plugin enables you to create several membership tiers and manage the visibility of various types of content.
Payment processing: MemberPress helps you create dynamic pricing pages and integrate your chosen payment gateway(s) with a few clicks.
Finally, our plugin gives you the necessary tools to turn your website into a full-fledged learning management system (LMS). This way, you can create online courses and easily manage your content from the back end.
5. It Has Relatively Low Start-Up and Maintenance Costs
Last but not least, WordPress is the perfect platform for budget-conscious users. All you need to launch a simple site is a web host and a domain. With beginner-friendly hosting companies such as Bluehost, you can start from as little as $2.95 per month. Many packages even come with a free domain for the first year, which is excellent value for the money.
Depending on your goals, you might need to shell out for more advanced hosting options, premium themes, or plugins. However, these costs rarely exceed the amount you would pay for equivalent features on other platforms, which also may not provide the ease of use or near limitless potential of WordPress.
Using MemberPress to Build Your Membership Site
MemberPress is one of the easiest ways to build a membership website: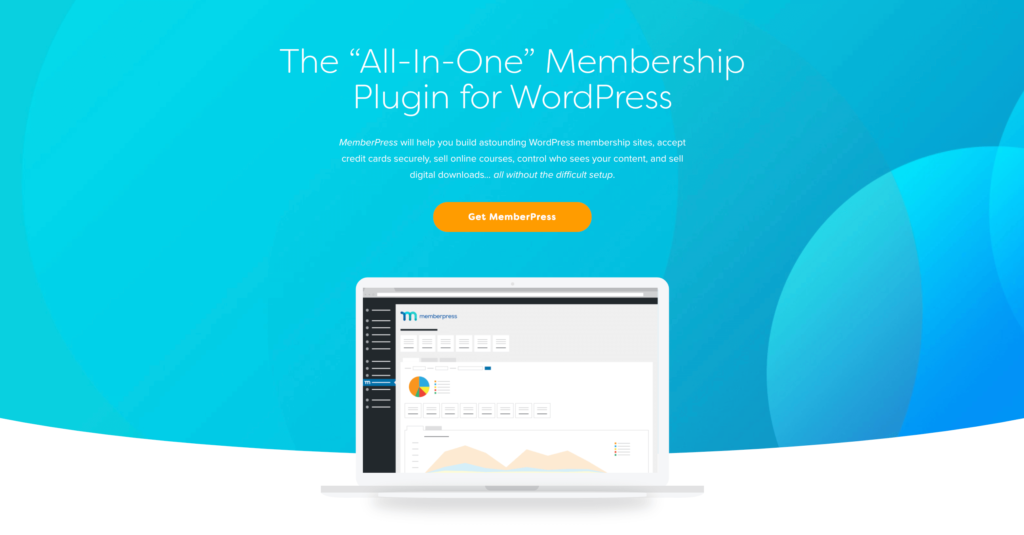 In fact, the setup process is so simple that you can configure the plugin and start charging members for access to your content in about five minutes.
All you need to do to launch your subscription site is:
Purchase, install, and activate MemberPress
Configure your payment method
Create a new membership and apply access rules to it
Set up a registration page
MemberPress enables you to fully control your content visibility, build and sell courses, and offer flexible coupons. You can also create a subscriber community with a password-protected forum, entice your audience with expiring content, and access comprehensive reports.
Plus, MemberPress takes away the headache of setting up complex billing systems, as the whole process is automated. Furthermore, it works well with several other useful tools and seamlessly integrates with Zapier.
Conclusion
Without a doubt, choosing a CMS is one of the most critical decisions for your website. A platform that's beginner-friendly and scalable at the same time will help you launch your online business and grow your subscriber list.
In this article, we've discussed what makes the best CMS for building a membership website. To recap, you can't go wrong with WordPress, which dominates the market for a reason. It's open source and extremely flexible. Plus, you can easily transform it into a full-featured membership site thanks to plugins such as MemberPress.
Do you have any questions about what is the best CMS to build a membership site? Let us know in the comments section below!
If you liked this article, be sure to follow us on Facebook, Twitter, Instagram, and LinkedIn! And don't forget to subscribe in the box below.