People who want to maintain a healthier lifestyle might consider subscribing to nutrition advice blogs and websites. If nutrition advice happens to be your area of expertise, you might be running one of these sites or blogs already, and you may be wondering how you can turn it into a more profitable business.
Creating a membership site for nutrition advice is the quickest way to ensure a consistent revenue stream. Plus, you're also building an online community and becoming a reliable source of information within your industry.
In this post, we'll explain why a dedicated membership site can be immensely beneficial to your nutrition advice business. Then we'll walk you through how to set one up using our MemberPress plugin. Let's get started!
The Benefits of a Membership Site for Nutrition Businesses and Blogs
There are many benefits to running a dedicated membership site. First and foremost, it can generate recurring revenue by monetizing your content, requiring users to pay before they can access key resources: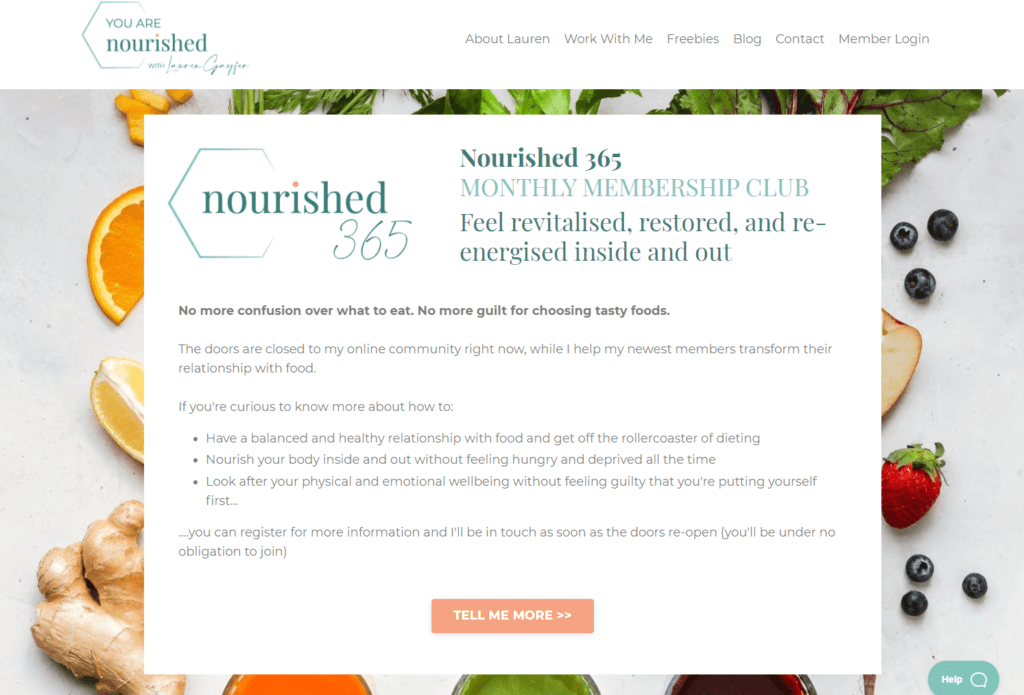 Plus, as health aficionados take interest in your content, your online audience should begin to grow, bringing in more revenue over time. Since you offer a subscription-based service within your niche, you'll also stand out as having an authoritative voice within your industry, which can increase your trustworthiness and brand image.
While many of these benefits apply to nearly any kind of business, this model is particularly sound for nutrition-based websites. That's because you have an audience that isn't looking for a quick fix.
If you play your cards right, they should want to come back to your site time and time again looking for support for their healthy lifestyles. This means there's a lot of potential for growing a strong, consistent community around your site.
When it comes to content, you can include and protect just about anything in your MemberPress membership site – everything from blog posts and videos to infographics and even a full-fledged nutrition course.
For example, MBSC Nutrition is an online nutrition program that offers three services – Lifestyle Nutrition, Sports Nutrition, and Personal Nutrition coaching.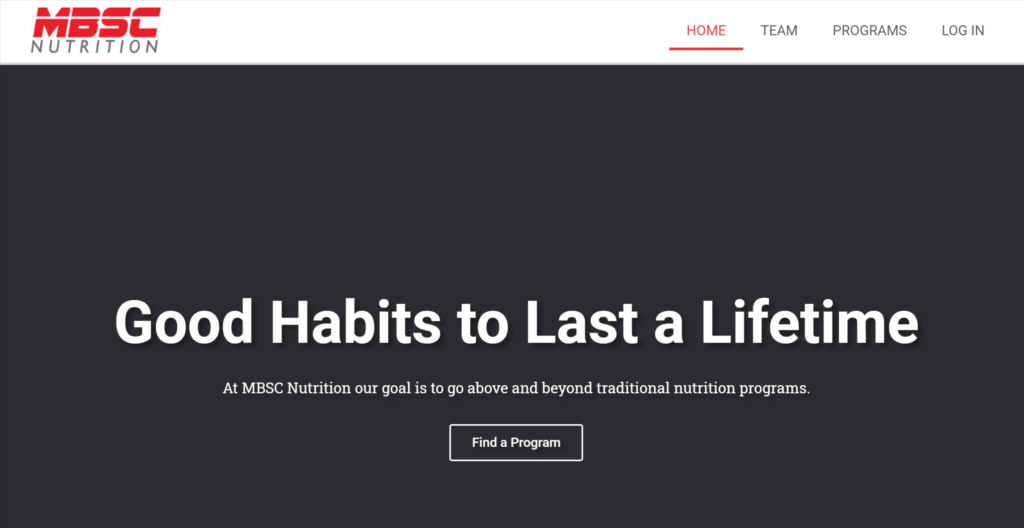 MBSC Nutrition uses MemberPress to operate its online program, which includes premium access to webinars, coaching sessions, a VIP community, and a whole lot more.
How to Start a Nutrition Membership Site Business (In 5 Steps)
So how do you get started? Fortunately, MemberPress can help you get your nutrition-based membership site up and running quickly. You'll need a WordPress website first – if you don't have one yet, setting one up is quick and simple.
You'll also need to choose a theme for your WordPress site. Fortunately, there are a bunch out there designed specifically for nutrition websites. Check out this article to get some ideas: 15 Best Nutrition WordPress Themes
Once your WordPress site is ready to go, it's time to get your nutrition business set up!
Step 1: Purchase and Install MemberPress
Head to our home page and hit Get MemberPress. Select the plan that works best for you and your business, and download the plugin: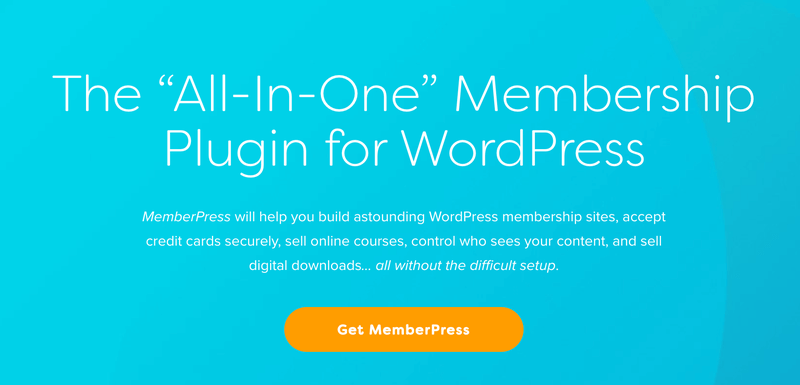 To activate MemberPress, you'll need to log in to your WordPress site and navigate to Plugins > Add New. Upload the zip file you just downloaded, and click on Install Now.
Once the installation process is complete, you can click on Activate Plugin. Then you're ready to start building your membership website.
Step 2: Add a Payment Method
Before you set up membership options, you'll need to select a payment method. To do this, navigate to MemberPress > Settings. From there, you'll want to select the Payments tab and click on the plus sign. A new menu will appear where you can start filling out the necessary information:
MemberPress enables you to use PayPal, Stripe, and Authorize.net. Select a payment method gateway and provide the required credentials.
You can add multiple gateways by clicking on the plus sign again. Once you are satisfied with your options, save your settings by clicking on Update Options at the bottom of the page.
Step 3: Creating New Memberships
Now you can move on and create new memberships. Navigate to MemberPress > Memberships. There you will be able to add plans that your users can purchase. Start by selecting Add New at the top of the page:
Add a title as well as a price tag, billing type, and billing interval. For this tutorial, we created a "Premium" membership that costs $29.99. This membership is on a yearly recurring payment plan, and we allowed users a free 7-day trial period (but limited them to one free trial each).
After customizing your membership, hit Publish to make your changes live. You can repeat this process to create as many membership plans as you'd like.
Step 4: Set Up Rules to Protect Your Content
Now that you have your membership options set up, it's time to create some rules. These allow MemberPress to control which users have access to certain content. For example, a free user would not have access to your paid content, but a premium user might.
To set up new rules, navigate to MemberPress > Rules and click on Add New. This will take you to the Add New Rule page, where you can set up a tag, page, or category and make them available to the corresponding membership plan.
For example, we ensured that our "Premium" page is only accessible to Premium-level members:
Add as many rules as you need, and select Publish to make your changes live when you are ready.
Step 5: Create a Registration Link
Last but not least, it's important to let users register for a membership from your home page. Navigate to Appearance > Menus, and you'll notice a new Memberships option in the Add menu items drop-down menu. Any memberships you've created will appear in this menu:

Select your membership and choose Add to Menu. You can also customize the menu entry to say whatever you like. For this tutorial, we are going to name the page "Get Premium":
If you check out your website on the front end, you'll see that a registration link has been added to the main menu. This will make it much easier for users to become subscribers.
BONUS: Publish Complementary Coaching Materials on Your Website
As a MemberPress customer, you have access to our built-in course builder, MemberPress Courses. That means you can publish comprehensive courses to complement your nutrition advice services that include multiple lessons and any materials you want to share:
Whether you want to offer classes as an add-on or make it the focus of your nutrition advice membership site is up to you. In any case, the Courses add-on gives you full flexibility to create lessons and restrict them only to paid members.
To use the Courses add-on, you'll need to activate it separately. In your WordPress dashboard, navigate to MemberPress > Courses and click on the Install & Activate MemberPress Courses Add-on button: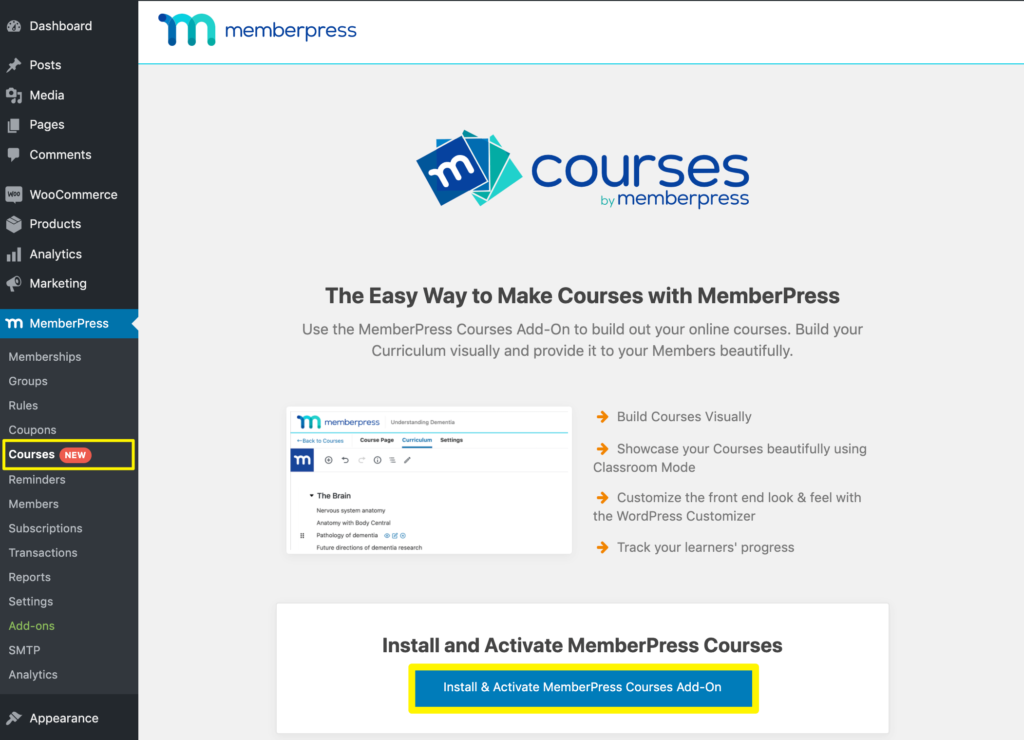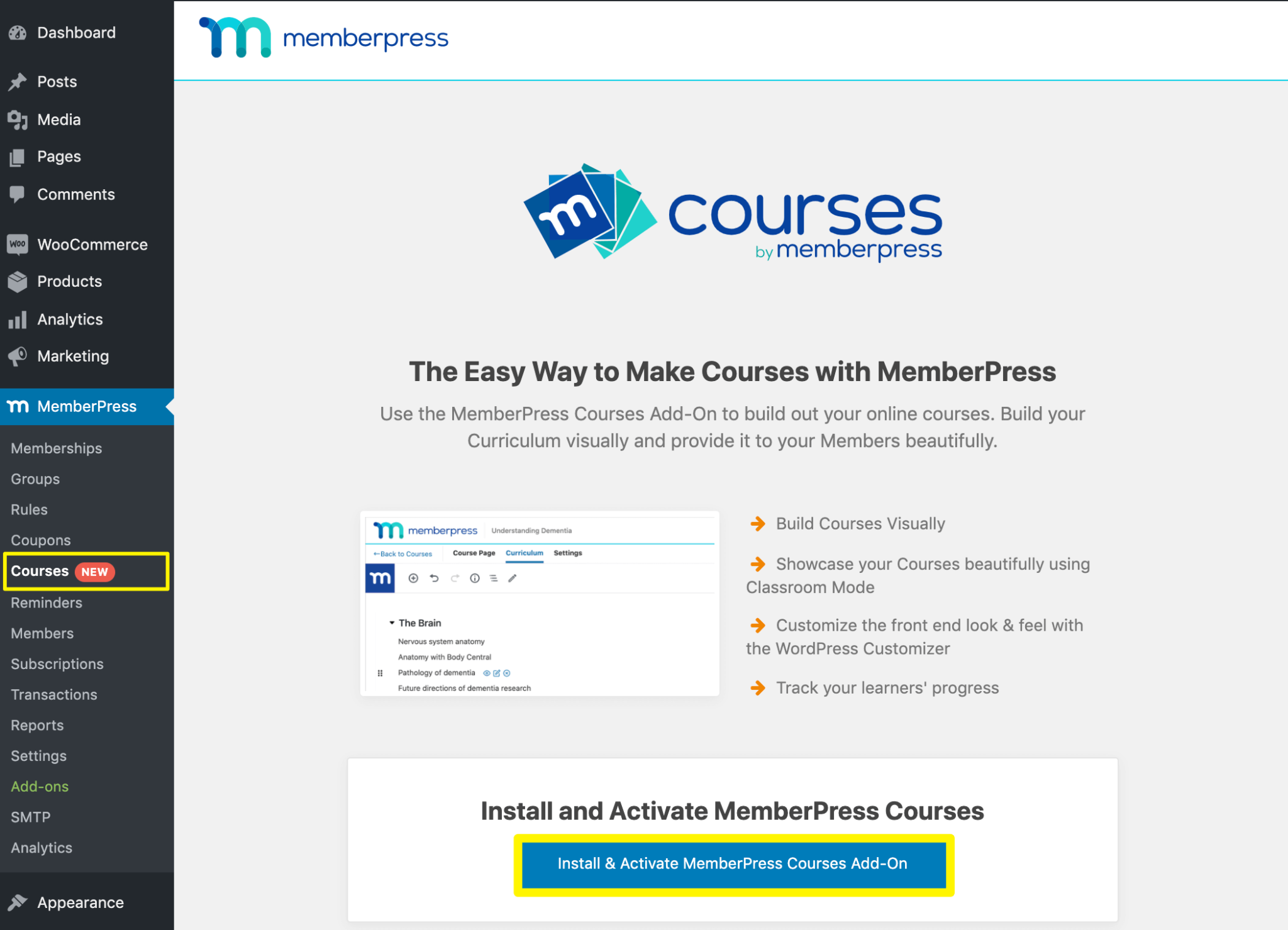 You can then go over our full guide on how to create your course curriculum and publish your first lessons.
Conclusion
Membership sites are one of the most efficient tools to increase site revenue, expand your online community, and make your business stand out among competitors. There will be benefits for both you and your users, and it should keep them coming back to your site for more content.
Just follow these five steps, and your membership site will be live in no time:
Purchase and install MemberPress on your WordPress site.
Add one or more payment methods.
Create and add membership plans.
Set up rules to protect your paid content.
Create a registration link for easy access to the membership page.
What kind of nutrition-based membership site do you plan to build? Share your thoughts in the comments section below!
If you liked this article, be sure to follow us on Facebook, Twitter, Instagram, and LinkedIn! And don't forget to subscribe in the box below.