A striking image can stop website visitors in their tracks and drive conversions. However, if you don't optimize your graphics for search engines, you may hurt your rankings.
We don't claim to hold all the secrets to search engine optimization (SEO) success. However, images typically make up around 17% of a webpage's weight. That means they present a huge opportunity to optimize your site for search engines.
In this post, we'll explore the role that visuals play in your rankings. We'll then share three easy ways to fine-tune your website images for SEO. Let's get started!
An Introduction to Image Optimization (And Why It's Important for SEO)
It's almost impossible to overestimate the impact that SEO can have on your membership site's success. Today, over 53% of all web traffic comes from organic search.
If you're not optimizing your site for search engines, you're almost certainly missing out on new members. Some websites have even boosted their traffic by up to 2600% after investing in SEO. That's a lot of potential new subscribers for your membership site!
When it comes to SEO, the ultimate goal is scoring that number one spot in the Google search results. With research suggesting that over 28% of Google users click on the first organic result, that's an advantage worth pursuing. However, even climbing just one place in Google's ranking can increase your click-through rates (CTRs) by more than 30%.
By optimizing your images for SEO, you can communicate crucial information to the search engines. In turn, they can index your content correctly and maximize your chances of appearing in relevant search results.
Beautiful high-resolution images can also increase page loading times. Search engines such as Google consider your site's performance when deciding where to place your content. Therefore, optimizing your images for performance should play a significant role in any successful SEO strategy.
How to Optimize Website Images for SEO (3 Tips)
With 40–60 billion searches happening on Google in the US every single month, you'll likely want to do everything in your power to appeal to the search engines. Let's make sure your images are contributing positively to your search engine status. Here are three ways to optimize your images for SEO.
1. Provide Clear and Descriptive Filenames
A keyword is a search term that you'll target as part of your SEO strategy. Whenever someone enters this phrase into a search engine, you'll want your content to appear in their results. You can find keywords using a tool such as the Google Keyword Planner:
Images present great opportunities to add some relevant keywords. Before uploading your graphic, you can begin optimizing for SEO by giving that file a relevant, descriptive name.
A descriptive name helps search engines understand what this image is all about. In turn, using one can increase the chances your graphic will appear in relevant image search results:
When creating your filename, always separate words with hyphens rather than underscores. Search engines cannot recognize underscores, which means they'll be unable to pick out individual words.
Apart from their SEO potential, filenames also need to make sense to your visitors. For example, someone with low vision might visit your site via accessibility tools like as a screen reader. These folks will rely on contextual information such as filenames to understand your site's visual content.
While it may be tempting to squeeze in as many keywords as possible, you should never do this at the expense of providing a clear, descriptive, and helpful name.
2. Use Alt Tags
Alternative text (alt text) is a description you can add to images after uploading them to WordPress. Like filenames, this text is vital for people with vision impairment who are accessing your site via screen readers. For this reason, your alt text should be clear, descriptive, and relevant: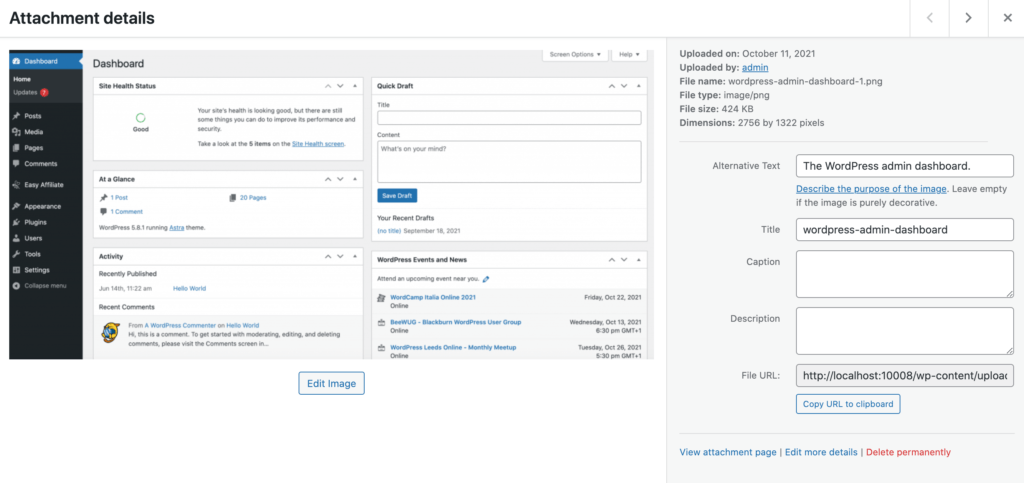 Also, keep in mind that screen readers typically process images more slowly. So you want to write alt text that is short and sweet, but informative. Make every word count. It might seem like a good idea to give as much detail as possible, but it could wind up frustrating your users rather than helping them.
While alt text is primarily an accessibility feature, search engine crawlers also use it to interpret an image's content. So you should always consider adding relevant keywords to your alt tags to boost your SEO.
However, remember these three points when it comes to alt text and SEO:
The primary purpose of alt text is accessibility.
Your site's accessibility affects its Google quality score.
Quality is king when it comes to Google ranking.
So only include keywords if they help describe the image.
3. Speed Up Image Loading
For years, Google has used page speed as a ranking factor. Now, the search engine giant also measures how users perceive a web page's speed, responsiveness, and visual stability. If your site fails these new Core Web Vitals metrics, it may affect your search engine rankings.
Large, high-resolution images can have a negative impact on your site's performance. Fortunately, there are many ways to wow visitors with beautiful images without undermining your SEO.
First, it's important to choose the correct file type. As a lossy format, JPEG is typically the best file type for images with bright colors. You can also adjust the quality level to find that perfect balance between crisp, clear pictures and lightweight files.
Meanwhile, PNG produces higher-quality images at the expense of a weightier file. This may not be an issue for simple pictures, but you'll typically want to avoid this format for more complex visuals.
After choosing your format, you can compress your images. Doing this reduces the size by removing or grouping certain parts of the file.
There are various compression tools that you can use. For example, TinyPNG is available as both a free service and a WordPress plugin:
We also recommend using a Content Delivery Network (CDN), such as the Sucuri service. This is a global network of servers that aims to reduce latency. It does this by serving your content from the server that's physically closest to the visitor: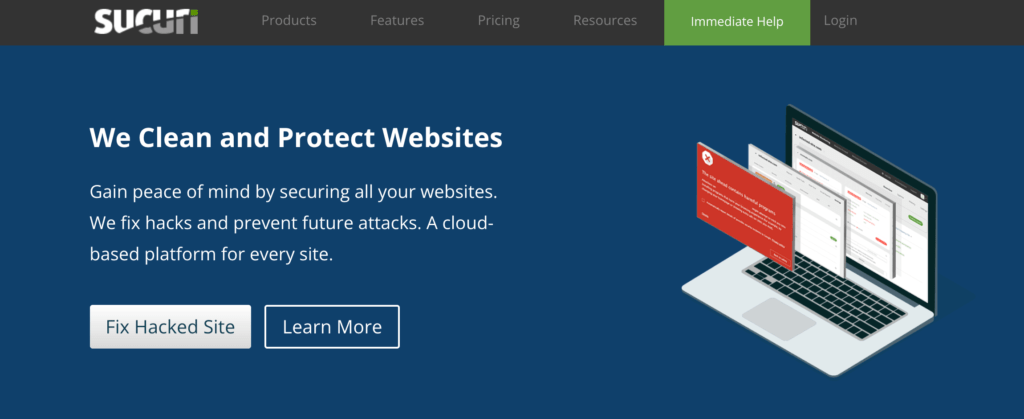 By delivering optimized images via a CDN, you can significantly reduce page load times. Once you've subscribed to a CDN, you can then integrate your network using a WordPress plugin such as W3 Total Cache or LiteSpeed Cache.
Conclusion
An SEO strategy is essential for running a successful membership site. By fine-tuning every part of your website for search engines, you can get ahead of the competition. You could potentially even land that coveted number one spot on Google's front page.
Let's quickly recap how to optimize your website's images for SEO:
Provide clear and descriptive filenames.
Use alt tags.
Speed up image loading using a compression plugin such as TinyPNG.
Do you have any questions about optimizing your images for search engines? Let us know in the comments section below!
If you liked this article, be sure to follow us on Facebook, Twitter, Instagram, and LinkedIn! And don't forget to subscribe in the box.