If your membership site is generating healthy revenue, then you may be tempted to think your business is set. However, it's not enough to simply turn a profit – you also need to know how to improve cash flow to stay on top of expenses.
Fortunately, there are ways to balance the revenue coming into your business with the money flowing out. With some simple tips and best practices, you can avoid cash flow problems and grow your membership site into a smoothly running business.
In this article, we'll explore what cash flow is and why it's important. We'll then share three ways to improve your cash flow and ensure that a shortfall of funds doesn't undermine all your hard work. Let's get started!
Understanding Cash Flow (And Why It's Important to Your Membership Site)
Cash flow is the movement of money into and out of a company. It accounts for your revenue as well as your operating costs, such as web hosting, marketing expenses, and employee salaries.
A positive cash flow means that more money is coming into your business than going out. In this scenario, your liquid assets are increasing, and your membership site can be considered a success.
This puts you in a strong position to grow your online business. For example, you might invest in new marketing and advertising campaigns, hire more employees, or upgrade your hosting plan.
A negative cash flow indicates that your liquid assets are decreasing. While it may be tempting to focus on the inflow of cash, it's important to look at the bigger picture. You can be generating lots of income and still have a negative cash flow.
Negative cash flow is typically caused by overspending. For example, you might have hired more employees than you really need, or you may be paying for premium tools and not using them to their fullest extent.
Learning how to improve cash flow for your membership site will enable you to make sure all your expenses are covered so you can focus on growth.
How to Quickly Improve Your Membership Site's Cash Flow (3 Key Tips)
Managing your cash flow is essential to running a successful business. Your membership site might be profitable, but poor cash flow management may still result in you struggling to pay your bills. Here are three easy ways to create a positive cash flow.
1. Analyze Your Pricing and Payment Cycles
It's pretty common for membership sites to offer multiple payment cycles, for example monthly and annual subscriptions. To help encourage signups, it's also smart to create a range of subscriptions with fees to accommodate different budgets and needs:
To balance your outgoing and incoming funds, it's vital you incorporate all of this information into your financial planning.
Accurate cash flow forecasting will help ensure you have enough money to pay your bills. This can mean the difference between growing your business or going bust.
In order to keep your cash flow healthy, you may also want to experiment with various payment models and pricing. For example, you might create a new, premium membership level, or offer a discount on annual subscriptions.
Many membership websites also incentivize customers to invest in an annual subscription by balancing it carefully against the price of a monthly subscription. By encouraging new users to splash out on a yearly payment plan, you can immediately boost your cash flow.
While it may be tempting to simply raise your prices, this isn't guaranteed to improve cash flow for your membership site. Higher prices may result in fewer sales, which will have a negative impact on your income.
It's smart to experiment with prices and payment cycles in order to find the sweet spot that delivers the best returns.
2. Reduce Your Churn Rate
Churn is the rate at which customers stop doing business with your membership site. This may involve users failing to renew their subscriptions, canceling their memberships, or even requesting refunds.
CHURN: The rate at which customers stop doing business with your site.
A study found that customer retention is the main driver of revenue. If you can reduce your churn rate by as little as 5%, you could boost your profits by up to 95% according to estimates by Harvard Business School.
Churn can occur when a customer loses interest in your brand. With so many sites to choose from, you'll need to work hard to keep your members engaged with your particular site.
New content or features represent opportunities to re-engage disinterested members. MemberPress integrates with email marketing services such as ActiveCampaign so you can always send a campaign out to drawing attention to exciting new offers: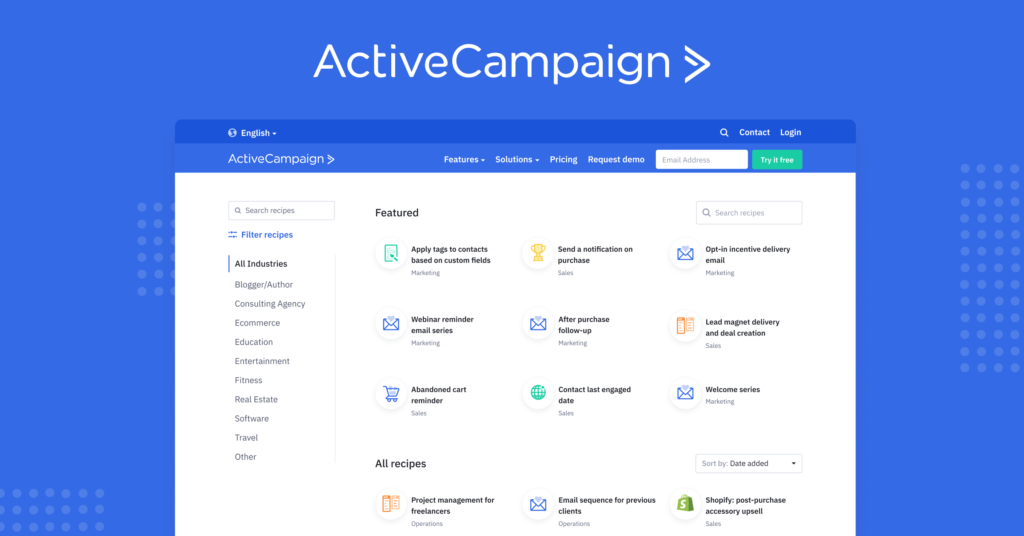 With studies to suggest that Americans spend over five hours per day checking their work and personal inboxes, an email blast can be an effective way to reignite interest among your audience.
It's also beneficial to monitor member engagement. For example, you might track how often people log in, and how many members are active on their profiles. This can help you identify subscribers who are losing interest so you can take action to re-engage them.
You might also use segmentation to target disinterested customers with additional email campaigns.
Your customer service also plays a role in your churn rates. Almost 70% of churn occurs due to poor service, but 91% of unhappy customers will leave without complaining.
To reduce churn due to poor service, you may need to be proactive and ask your members for their feedback. This can help you identify general issues with your membership site as well as specific users who are unhappy with your performance.
3. Upsell to Your Existing Members
Upselling to your existing customers can be an effective way to boost your bottom line by increasing your lifetime customer value (LCV). This is the net profit contributed over your entire relationship with a customer.
Since there's an established relationship, selling to an existing customer is typically easier than converting new prospects. This can significantly reduce the costs associated with securing the sale, including marketing and advertising fees. This high return on investment (ROI) is excellent news for your cash flow.
As a membership site owner, you might try to sell existing customers a more expensive subscription. Alternatively, you might offer them a one-off purchase, such as an e-book or online course.
The key to a successful upsell is to target the right customer at the right time. Generally, the right customer is someone who is highly engaged with your membership site.
If a subscriber is frequently logging into their account and spending lots of time on your site, this indicates they're happy with your services.
In this scenario, you may get positive results by offering this customer a discount on a higher membership tier, or access to exclusive content such as a premium forum.
Conclusion
If people are rushing to buy subscriptions to your membership site, then you're certainly heading in the right direction. However, cash flow problems have the potential to derail your success, and can even sink your business entirely.
In this article we shared three tips for how to improve cash flow for your membership site:
Analyze your pricing and payment cycles.
Reduce your churn rate.
Upsell to your existing members.
What techniques do you use to boost your membership site's cash flow? Let us know in the comments section below!
If you liked this article, be sure to follow us on Facebook, Twitter, Instagram, Pinterest, and LinkedIn! And don't forget to subscribe in the box up to your right.