The Tools You Need
Toys and games are great for impressing little ones. But you'll need some serious online business tools to build a website that'll impress your employers – aka the parents.
Luckily, the list of tools you'll need is short and affordable:
Later I'll show you how to use each of these tools to get more babysitting jobs. But first let's go over a few reasons why you need to create an online brand for your babysitting business in the first place.
3 Benefits of Creating an Online Brand for Your Babysitting Business
You might think your in-person service doesn't require an online presence.
Don't be fooled! That kind of thinking will put you in second place to other childcare providers.
That's because online childcare is already a thing.
For example, take third-party platforms like care.com. You sign up as a provider, and your name shows up on the list when parents search for local babysitters. Simple, right?
Well, it might be simple, but for independent caregivers like you, there are major drawbacks to using a third-party website. Things like…
Monthly fees
Limited communication between you and potential clients
Lack of transparency with clients and the platform
High competition
Building your own online babysitting platform removes all these hurdles and gives you endless opportunities to scale your business.
You Get to Keep the Focus on You (and Only You)
That last drawback (high competition) is a huge obstacle for babysitters on sites like care.com. Because when parents go to search, they're instantly overwhelmed by thousands of applicants.
As a newbie, your profile will most likely be lost among pages and pages of competitors. And if you do want to stand out, you'll need to be prepared to pay for a premium membership and additional fees.
Having your own website changes all that. On your website, there's no competition, no comparison – only you.
Plus, you're in control. You've got an entire website's worth of space to shine as brightly as possible. And an entire website's worth of content to optimize for search engine rankings (SEO).
---
Could you use some help in the content-writing department? Try the Jasper AI writer >>
---
You Can Reach a Larger Customer Base
Parents talk. So building up social proof is critical in the babysitting business.
But the old strategy of knowing someone… who knows someone… who knows someone else that has kids doesn't work these days. Old-fashioned word of mouth isn't enough.
However, when you create an online brand, you become easier to find with the added help of search engine optimization (SEO).
And your services become much easier to share and promote through referral marketing (also called affiliate marketing).
With referral marketing, you provide a way for happy parents to recommend your babysitting services – and increase your brand awareness – for you!
Another way to build up your social proof is to collect customer reviews and testimonials. Then include them on your site, and share them across social media.
The WP Forms form builder plugin (one of our favs) offers a pre-built review form you can customize and add to your site in just a few clicks:
If text is good, video is golden.
When it comes to any trust-based service, video testimonials are an extremely powerful marketing tool.
The downside is the tech barrier, which can make users apprehensive to leave video reviews.
However, with WordPress there's an upside. With a WordPress site, you can add plugins to make just about anything easy – including video testimonials.
The Easy Video Reviews plugin is our fav.
Easy Background Checks
Parents put a lot of careful thought into who's caring for their kiddos. As a new mom myself, you can bet I'm going to do some deep digging in my search for potential babysitters.
With a WordPress site, you can reassure parents with a dedicated About page showcasing your credentials.
You might add things like:
CPR and first aid training
Babysitting course certifications
Special needs care certification
Cooking experience
Foreign language skills
Business license number (if you've got one)
On this page, you should also consider adding a few of the parent reviews and testimonials mentioned above to help grow your customers' trust.
---
Now that you know the benefits, let's get to the nuts and bolts of getting more babysitting jobs…
How to Start a Babysitting Business with WordPress (In 4 Steps)
At the top of this article, I listed the 4 tools you need to take your babysitting business online. Now it's time to explore each of these tools and how you can use them on your website.
Step 1: Create a WordPress Website Using Bluehost
If you're a non-techie thinking you don't have the know-how to build a website on your own – think again!
WordPress is world famous for lots of reasons, but these 3 are the most awesome ones:
User-Friendliness
Affordability
Customizability
And because WordPress is the most popular web-building platform there is, tons of the top hosting platforms have 1-click WordPress installation built right in.
For starters, you've got:
For this tutorial, I'll stick with Bluehost.
After you choose your Bluehost plan, you can jump right into creating your domain name:
---
Stumped on a business name? Check out our article on How to Choose the Best Domain Name for Your WordPress Membership Site for tips on brainstorming a worthy name that represents your babysitting style.
---
Once you have an official name, Bluehost will walk you step-by-step through how to install WordPress.
Or if you'd rather set your WordPress site up yourself, take a look at WP Beginner's How to Make a WordPress Website guide.
The last step to building your website is choosing your theme.
WordPress has 10,000+ free themes to choose from. And lucky for you, a quick "babysitting" search will sort out the best pre-made templates to match your exact niche: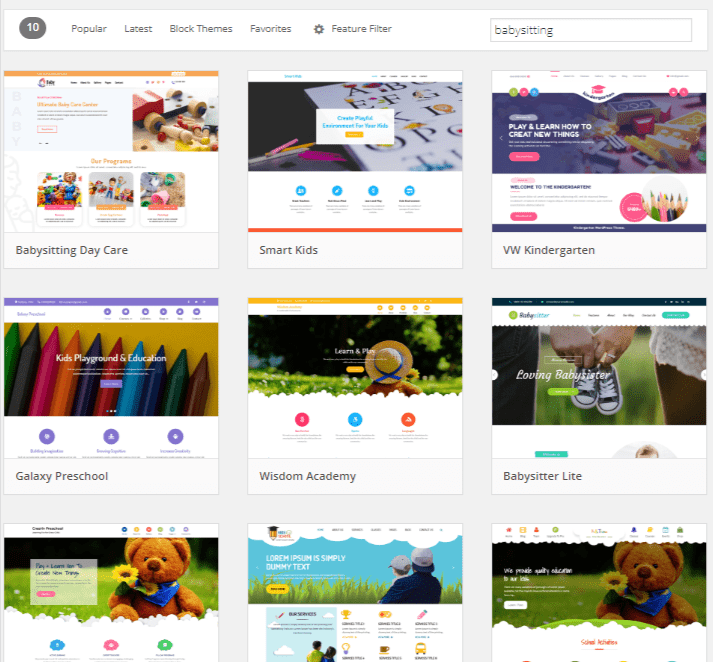 Just find one you like, press Install, and WordPress will set things up in seconds.
Step 2: Add Content to Introduce Yourself
A professional-looking website is an important step to taking your babysitting business online.
However, it's a meaningless step if you don't have well-written copy that highlights who you are and how your business satisfies the needs of potential customers.
Think of your website as a never-ending resume. Don't worry, it's not as bad as it sounds. It's actually a really good thing for you!
The content on your site should reflect who you are personally and professionally. And be honest.
The more parents can get to know you and determine whether your childcare services are a good fit for their little bundle of joy, the more likely you'll be hired.
WordPress is a content management system (CMS) built for endless amounts of content. But there are a few must-have pages your babysitting site will need from the start:
Home page
About me page
Contact page
Testimonials page
Step 3: Install MemberPress and Create Subscription Packages
Now that you have a website that makes it easy for customers to find you and learn about your business, now you need to add products for purchasing!
As an in-home babysitter (it's best to leave the virtual stuff to teachers), you don't actually have products to sell on your website. Instead, you have services you can sell as subscription packages on your membership site.
Install MemberPress
Take a look at our different MemberPress plan options and determine which one you need for a babysitting website – a Basic or Plus plan ought to do just fine. After you purchase your plan, you can jump right into the installation process:
Create Membership Subscription Packages for Parents
With MemberPress installed on your WordPress site, your next order of business is setting up your pricing.
With MemberPress you can create different babysitting packages parents can purchase based on your services. For example…
One-off rates for weekdays, weekends, after school, date nights, or overnight
Monthly bundles for added convenience and lower cost
Monthly service retainers where clients could secure a certain number of hours guaranteed at a premium rate
By creating annual, month-to-month plans, you can start earning recurring income – guaranteed money in your pocket every 30 days!
To create your first membership subscription (one-time or recurring), go to MemberPress > Memberships > Add New:

Next, add your membership title and set the price. Then in the Billing Type drop-down box, here you can select either One-Time or Recurring based on your service: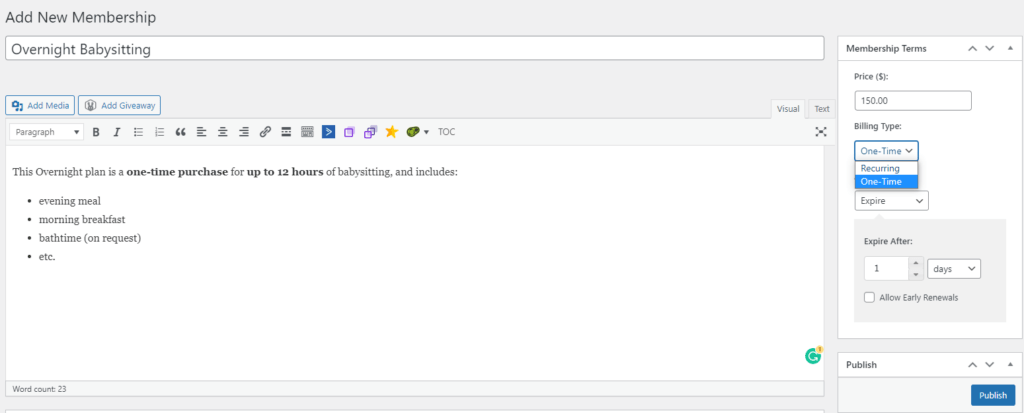 Don't forget to type in a quick description for your membership, then click Publish.
Step 4: Start Booking Clients with Simply Schedule Appointments
Before parents can purchase one of your babysitting membership plans, first they need to see if you're available.
The easiest way to do that (without blowing up your phone), is to add a scheduling plugin to your site.
Simply Schedule Appointments (SSA) allows you to create a calendar that maps out your babysitting availability. That way, parents can see what days and times you're free to watch their child[ren] and book accordingly.

After you install and activate the Simply Schedule Appointments plugin, it'll appear as Appointments on your WordPress dashboard.
Once you see that pop up, you'll want to click on it and customize your calendar with the help of the SSA Setup Wizard.
Conclusion
Congratulations! You officially have your own babysitting website! In no time at all, you'll be landing babysitting gigs every weekend (or everyday, if you want).
To recap, here are the tools you need and the steps to set them up on your site: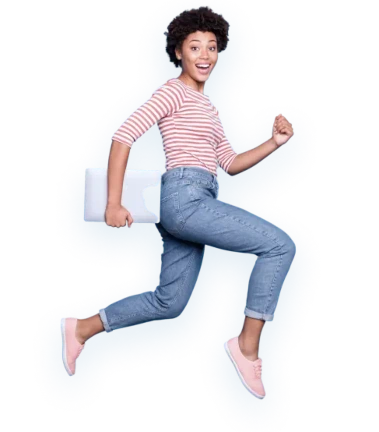 Get MemberPress Today!
Turn your babysitting skills into a recurring revenue business
Get MemberPress Now
See All Features
What ideas do have that would be great for an online babysitting business? Share them with us in the comments section below!
And if you liked this post, make sure you subscribe to the MemberPress blog!