Teachers aren't paid enough. Many of us found that out when we were stuck at home with our kids all day during the pandemic.
Teachers dedicate so much of their time to educating future generations. And it's not uncommon to see them working past the final bell to get things ready for the next school day.
In addition to all the unpaid time, most teachers also have to dip into their personal bank accounts to help supply their students with basic learning materials.
If you're a teacher reading this now, and this sounds all too familiar, we've got good news for you. We know a few ways you teachers can start up your own teacher side hustle that can bring in a recurring income all school year long!
Read on to learn more.
How to Start a Teacher Side Hustle with WordPress
From the moment that first bell rings, your school day is on a strict schedule. Whether you cover each subject for the same class, or you teach the same subject to a bunch of different classes – your work week is the same routine, day in and day out.
Wouldn't it be nice to switch it up every once in a while? While we can't go changing any school curriculums, we can put some educational power in your hands.
Starting an online business is an excellent way for you to take what you already know (and what you're already good at) and turn it into a second income stream.
The Tools You'll Need
Launching an online business may sound intimidating, not to mention time-consuming. But we've taken the stress out of planning your new business by laying everything out for you in this guide.
Starting with the 2 tools you need to cover your basics: WordPress + MemberPress.
WordPress

WordPress is the number one choice for website building. It's easy to use, affordable, and an extremely versatile content management system (CMS) that can handle a variety of online content.
It's also extremely user-friendly and packed full of amazing plugins that make managing an online business a breeze.
And that brings us to the second tool you need: MemberPress.
MemberPress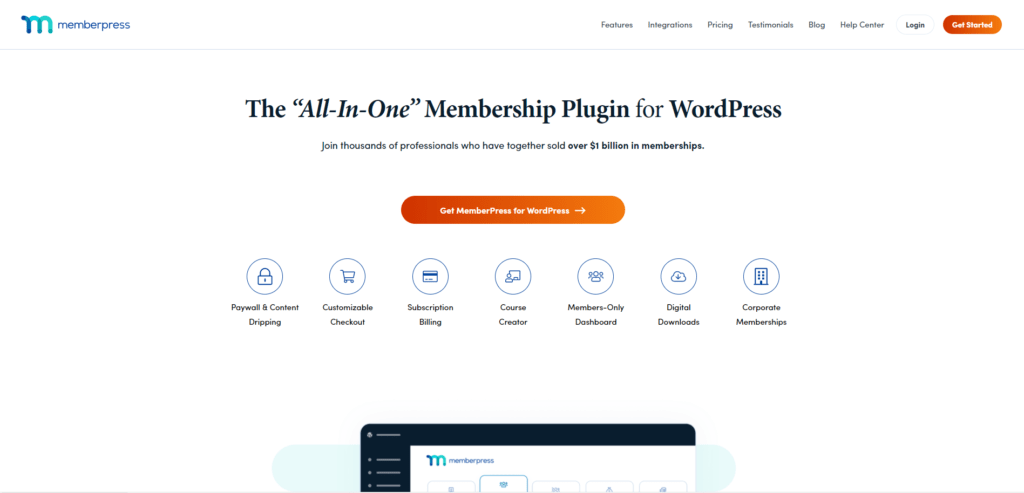 MemberPress is designed to turn any WordPress website into a full-blown online business. If you've got an idea, MemberPress can monetize it!
Our customers continue to amaze us every day! Together, they've made over $1 billion in creator earnings running online businesses like these…
My Mindful Movement: an online courses and membership business for practicing yoga
The Guitar Lesson: an online courses and membership business for teaching guitar lessons
40 Aprons: an online courses and membership business for sharing family-friendly recipes and healthy eating advice
There are just too many to list! But you've probably noticed a recurring theme here – online courses and membership websites. What are those?
Those are your ticket to being able to supply your classroom AND still have enough cash left over to splurge on yourself a bit.
How You Can Start an Online Courses Business with WordPress + MemberPress
You probably remember the pandemic a little differently than your students' parents do. Instead of decorating your classroom or arranging a seating chart, you had to completely rethink your teaching methods.
You had to learn how to teach through a computer screen.
I bet it was difficult at first – but you did it! And now you can take what you learned from that experience and turn it into a business of your own.
You just need the perfect course-building tool…
MemberPress Courses: A Feature-Loaded LMS for WordPress
To run a successful online classroom, you need:
A curriculum builder
A way to test and quiz student retention
A way to communicate with your students
A way to review student performance
And if you want to make money: a way to protect your content
MemberPress takes care of all of that (and more) in one, single add-on. That's what makes our MemberPress Courses add-on a customer favorite.
Not to mention that it's included in every MemberPress plan option – completely free.
Here's just a glimpse at what you can do with MemberPress Courses:
Create fully customized online courses with a visual drag-and-drop curriculum builder.
Stimulate student retention with interactive tests and quizzes.
Monitor student progress and track their success.
Monetize your learning content by charging a fee to take your course.
The best way to really grasp what MemberPress Courses has to offer is to see it in action. So let's dive into how you can create your first online course.
How to Create an Online Course with WordPress and MemberPress
Before you start writing your first course, you'll need to decide what you want to teach. In the online business world, this is known as "finding your niche".
Sure, you can stick to the subject you teach now, and finally have the freedom to put your own creative spin on the curriculum.
Or, perhaps you want to share another side of who your are, and profit from a different passion – maybe something like crafting, cooking, photography, or gardening.
What you teach is entirely up to you! You just want to make sure there's an audience out there who has an interest in what's covered in your course.
Don't worry, there most certainly is. But in case you'd like some reassurance, here's a good read on how to find your target audience…
After you've got your niche narrowed down and your target audience picked out, all you need to do now is follow the 6 steps detailed below.
First, it might be helpful to watch our full course building tutorial:
Step 1: Start a WordPress Website
WordPress has a pretty straightforward setup process on how to get your website up and running:
Then, to get your WordPress site ecommerce ready, just visit this free guide created by our good friends over at WPBeginner:
Step 2: Purchase and Install MemberPress
Like we said earlier, the MemberPress Courses add-on is available with all MemberPress subscriptions. All you need to do is pick the plan that works for you.
Next, you'll need to add MemberPress to your WordPress website. This is super simple and only takes a few seconds.
Step 3: Create Your First Course
Now that you've got the tools you need, do you have your content?
Before you get too far into creating your first course, it's important that you have your actual course content written out and ready to go.
With your lesson plans drafted, go to MemberPress > Courses > Add New. This will generate your course title page: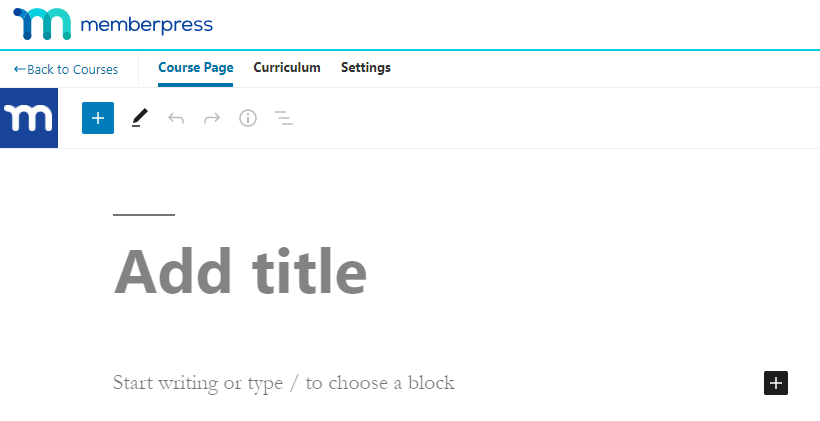 Here, you'll name your course and write out a brief description – nothing else.
With that done, scroll on over to the "Curriculum" tab at the top. Press the "Add Section" icon (as shown below) to start adding in your course content.
This could be things like reading materials, images and infographics, quizzes, videos, and so on.


Step 4: Categorize Your Course
Once you get a few course lessons created, you'll want to assign categories and/or tags to help you organize them. NOTE: This is a critical step if you want to monetize your courses.
Back on the MemberPress > Courses page, you'll see the Categories and Tags buttons at the top. In most cases, you can just use Categories:
After clicking Categories, you'll be taken to a page where you can create new Categories or edit existing ones.
Keep in mind, the name of your category will be used to assign protection rules.
Step 5: Protect Your Course
All that's left now is to put a price on your course and start monetizing your hard work! You'll do this using MemberPress Rules.
To protect a Course, head to the MemberPress > Rules > Add New page. Select "Single Course" from the drop-down menu. Then, search for your Course by title, and select it.
Finally, select which membership(s) your users will need to purchase to gain access to the Course. Your rule should then look something like this: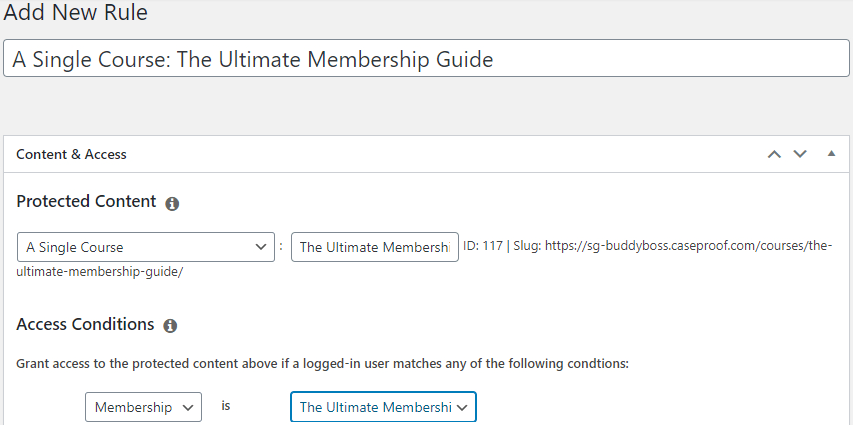 Read our full Getting Started with MemberPress Courses Help doc >>
How to Turn an Online Membership Business into a Teacher Side Hustle
Courses has been live for a while now. But before its launch, MemberPress was busy being the world's most powerful and widely used membership plugin.
What's this talk of a membership business?
In short, a membership site is a popular online business model where customers (otherwise known as members) pay to access protected website content.
For example…
Have you ever been reading an online article on The Wall Street Journal when you're suddenly blocked by a "wall" that prevents you from reading the full article?
This "content gate" is what's referred to as a "paywall".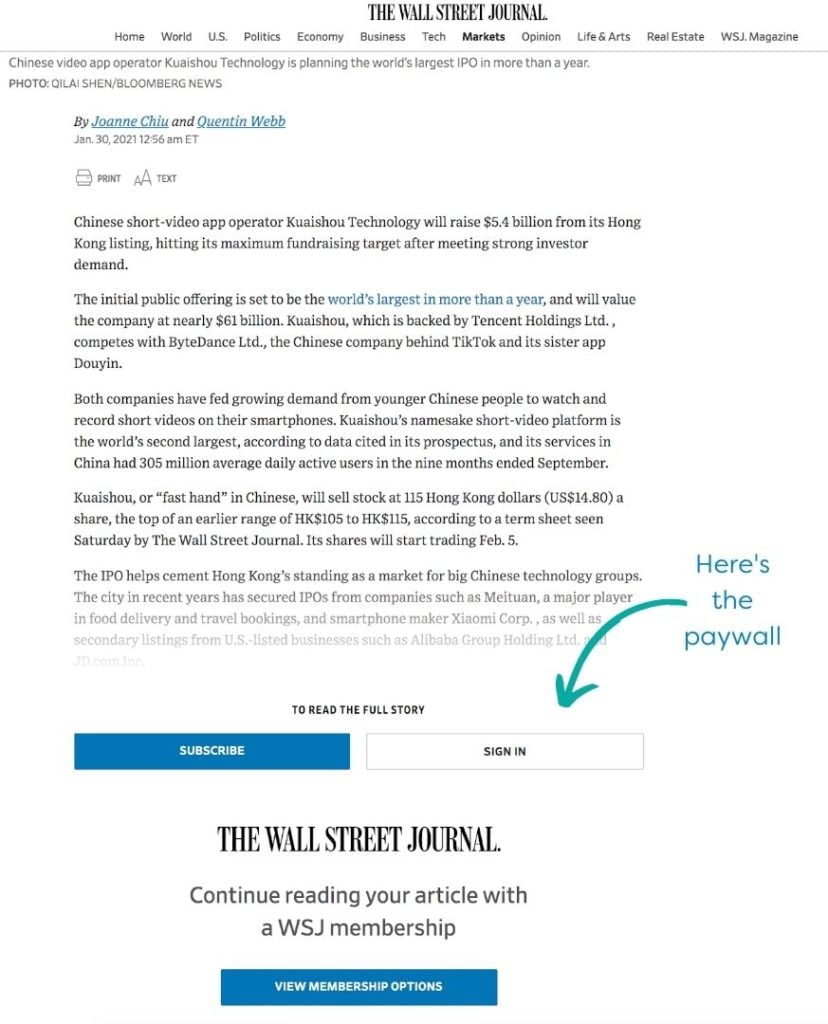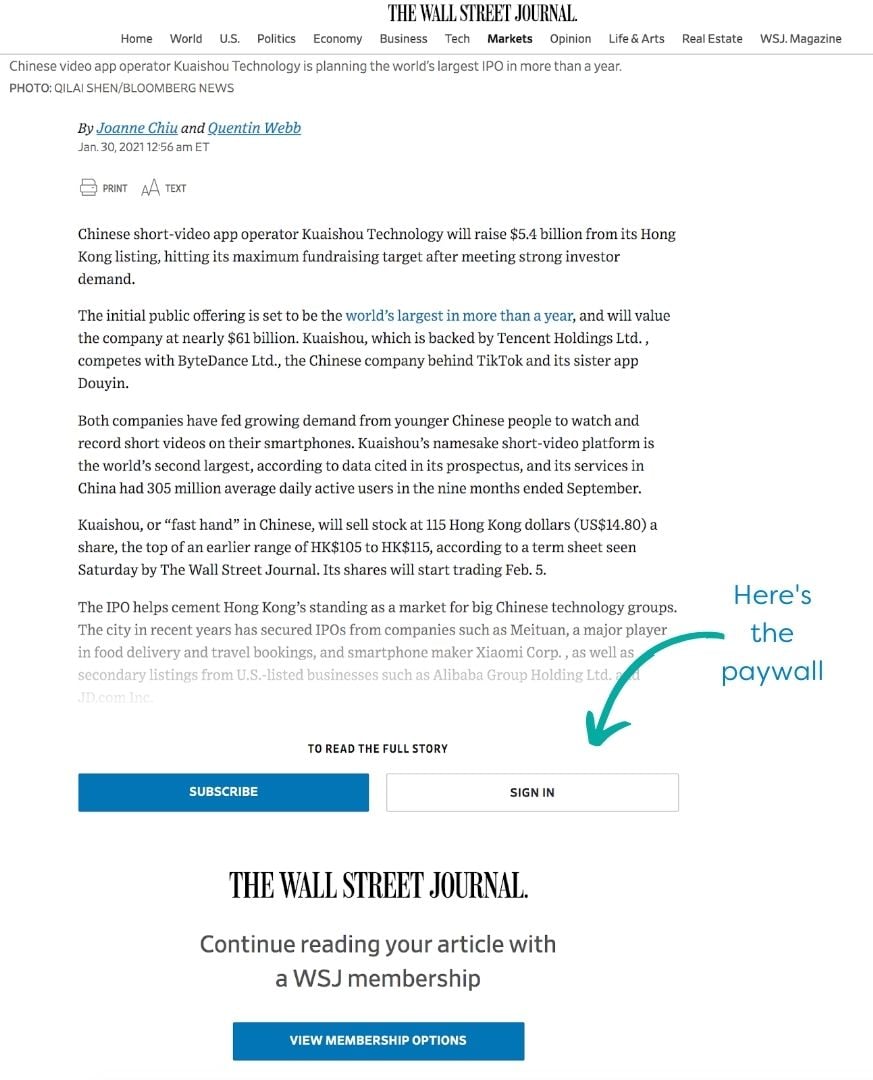 To access paywalled content, readers have to create an account and log in before they can read the "protected content".
Protected membership content can be…
Free – requiring the user to perform some action (like providing an email address), OR
Monetized – requiring the user to pay a subscription fee
For an in-depth description of what a membership site is, give our article, What is a Membership Site, a quick read.
What is Membership Content?
Now you're probably thinking, what kind of content could I possibly offer that people would be willing to pay for?
Well, we already talked about how to sell online course content. But if you want to take a break from teaching, there are many other forms of content you could offer that can make a pretty penny.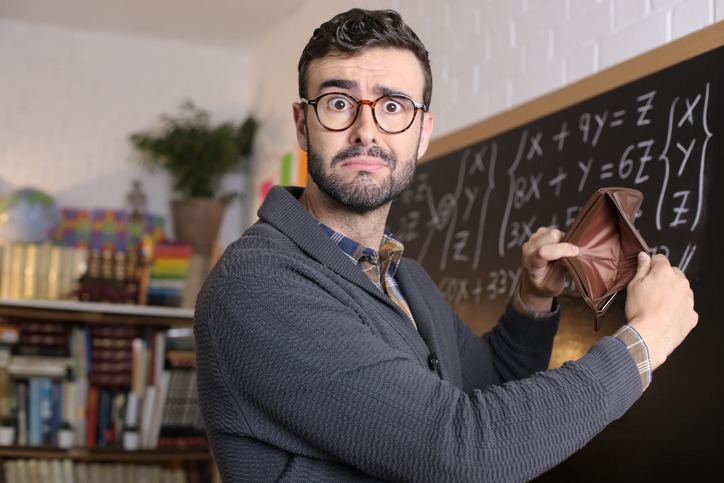 This content might include things like:
Subscriptions
Digital products
Podcasts
Blog posts
Ebooks
White papers
Images and infographics
Audio content
Videos
Coaching sessions
Online communities
Virtual conferences
…and so much more!
Whatever type of content you decide to create, make sure you have the knowledge to create lots of it.
The more content your membership site has to offer, the more likely your members are to renew their subscriptions each month.
And renewed subscriptions equal a successful recurring income business – the best teacher side hustle there is!
How to Create an Online Membership Business with MemberPress
Much like online courses, you can start a membership business in any niche.
If you want to keep things educational, you might consider building a content library that turns your lesson plans into a collection of blog posts, video downloads, or audio files.
Use Case Idea 1 – Enhance your classroom
Extend your classroom to your MemberPress site. Share resources relevant to what your students are learning in class right now, such as extra learning materials, study guides, and test prep questions.
Use Case Idea 2 – Tutoring services
Still want to offer a way to help students without going all in on an online courses business? You can use MemberPress to offer tutoring services.
Take advantage of integrated tools like Simply Schedule Appointments, and allow students to schedule times to meet with you for extra 1:1 time.
Want to reach into one of those different pastime hobbies we talked about earlier? Not a problem! Like we said, MemberPress can help you monetize any idea!
Use Case Idea 3 – Digital downloads
If you spend your weekends behind a camera lens, you can start a MemberPress membership site to sell digital downloads of your images.
Use Case Idea 4 – Recipe site
Turn some of great grandma's famous recipes into protected blog posts that really roll in the dough. You can see how food blogger Cheryl Malik did it in the customer story video below:
Along similar lines, using MemberPress + Formidable Forms, you could also create an online discussion forum where members share their own juicy-secret family recipes.
Use Case Idea 5 – Nonprofit
Are you involved in any community betterment projects? What about non-profit organizations? MemberPress can help organize member information, tally up event registrations, or even house a donation portal.
---
I bet we've got your membership business idea gears turning now!
Because there's quite a bit that goes into building an entire membership site, we'll sum up this article with our comprehensive, step-by-step tutorial video:
Prefer written instructions?
Final Thoughts – How to Start a Teacher Side Hustle with WordPress
It takes a special person to be a teacher. Between late nights grading homework assignments, uncomfortable parent-teacher conferences, and constant budget cuts – you truly need passion to make it in education.
Here at MemberPress, we know all about passion. That's why we create products that help creators turn their passions into a profitable side gigs – and in most cases, full-time careers!
Starting an online courses business or membership site is a great way to earn a little something extra every month. And you never know – your teacher side hustle might just become your new career path.
Any thoughts or ideas we didn't cover on starting a teacher side hustle with WordPress? Let us know in the comments.
If you liked this post, make sure you subscribe to the MemberPress blog!